The Progressive International Motorcycle Show plays host to the Ultimate Builder. Every custom bike is placed on a J&P Cycles' oval carpet surrounded by a steel ring and positioned on the red carpet that runs through the main isle. Custom bikes are the first and last bikes you see as you enter the friendly confines.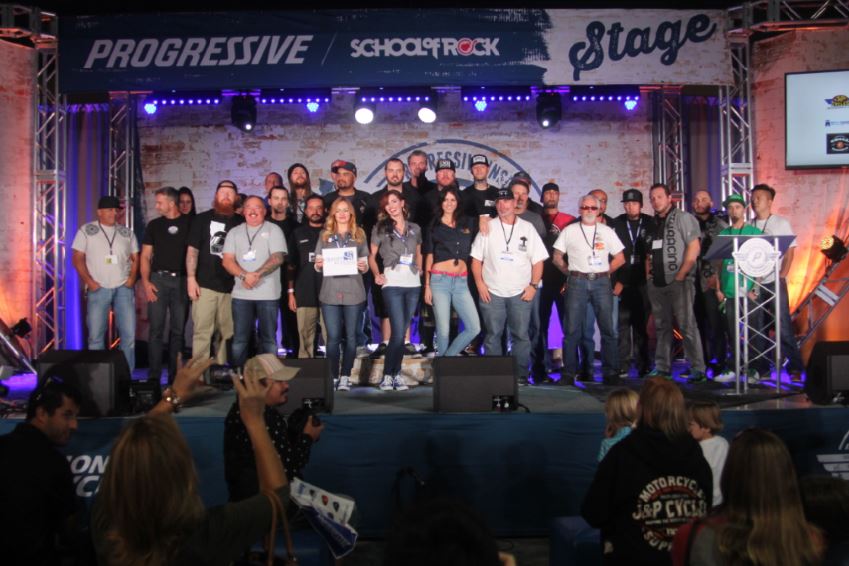 Keith "Bandit" Ball of Bikernet.com provided the Editor's Choice Award to Todd White for his Lunch Box Special, his KZ440 LTD hardtail Bobber and the Bikernet Bagger Award to Raul Machin for his Lifestyle Cycle-built 2012 Road Glide.
The builders brought their A-Game when it came to engaging with the crowd. They brought models, handed out flyers, stickers and stayed around their bike to promote their business. The company that did it the best and cross-promoted with their booth was Hanson Motorcycles. They won the Show Dog award and a Solo Bag from The Leather Works.
A Bell Helmet and a Special Ops Vest from 5 Ball Racing Leathers are the two prizes provided to Imagine Vehicles Int'l for the People's Choice Award.
The J&P Cycle's Ultimate Builder Award for FreeStyle
Dave McGovert connected with the Ultimate Builder team on Friday morning and wanted to know if he could enter the show as he was in San Jose, just 5 hours away. He loaded his gear and blasted down to Long Beach and made it into the show with minutes to spare. We are glad he did because his 2010 Road Glide called Purple Haze with his eye-catching 30" billet front wheel and ear-bleeding stereo took the win. Dave pumped the engine with cams and added exhaust and tuner. He applied the paint himself. The bike just gleamed on the center aisle. His stereo was so powerful that it competed with the live School of Rock show.
Dave McGovert –  Purple Haze, 2010 Road Glide
Sam Baldi – Lost Angel, 2013 Custom Build
The J&P Cycle's Ultimate Builder Award for MOD Custom
Of the 32 bikes in the competition, 20 of them where in the MOD Custom Class. So the competition was fierce. It was a horsepower delight with super chargers, turbos and big inch engines. We even had a 500 horsepower Busa. But the custom bike that really stood out was the Sporty from Samuel Jung San KAO. He migrated to the United States to build motorcycles because in his home country of Korea it is illegal to build customs. His Café Racer styled bike is called the Ivory Comet features a single sided swing arm, custom tins, updated front racing suspension and single rear shock. It's built off a 1997 Harley-Davidson Sportster with paint by Air Runner Custom Paint.
Samuel Jung San KAO – Ivory Comet, 1997 H-D Sportster
Jim Carducci – SC3 Adventure, 2003 HD Sportster
The J&P Cycle's Ultimate Builder Award for Retro MOD
The Retro MOD class is a fan favorite because the platform is any bike that is 1984 and older. And you never know what type of bike you will find. In SOCAL we had strong competition, but the bike that rose to the top was from Casey Johnson of Headcase Kustom Art. He rolled in Medusa, his 1983 Ironhead Sportster. It featured handmade gas tank, tail section, oil tank, handle bars and exhaust.
Casey Johnson, Headcase Kustom Art – Medusa, 1983 Ironhead Sportster
Rich Nolan, Torch Ind. – Nickel Pan, Panhead
The custom bike show has become the number one feature at the Progressive International Motorcycle Show with new bikes presented at each round of the traveling motorcycle circus.
Jeffrey Najar, Partner
Biker Pros