(Photography by Ray King, Pinups and Lace Photography)
Who says you can't turn a late model Sportster into a Euro-cool café racer? Not Josh Deen. In fact, that's exactly what he did, short-cutting his way to a head-turning classic-looking bike that claims all of the modern reliability and none of the vintage bugs.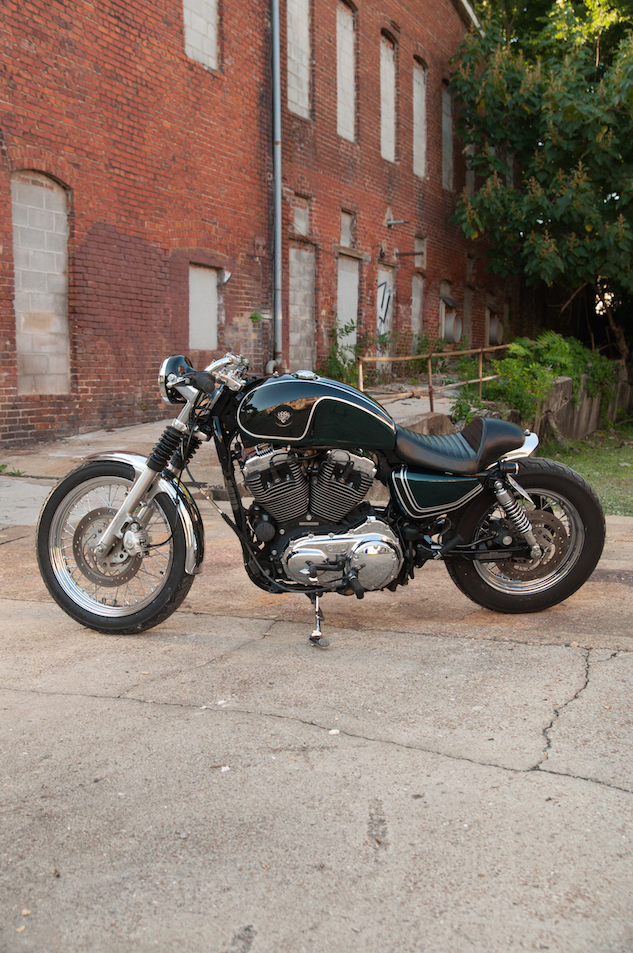 Working from his shop, Confederate Customs Speed Shop in Lebanon, TN, Josh and his buddies traded a 1950 Shoebox Ford for most of a 2006 Sportster Low: a frame, an engine, and a title. What followed was a frenzy of Ebay buying and trading with friends. I say "frenzy" because this project took all of a month, from start to finish. Ah, the beauty of a pared-down bike!
The frame was left stock, as was the engine for the most part. Any special sheetmetal modifications? "Yeah," said Josh, "no stock H-D sheet metal here. Benelli and Honda."
Effort went into trimming and lightning-up, maintaining the essentials and adding only what styling cues were necessary to achieve the café look. "She is all stock except the diet we put her on with a sawzall," joked Josh. But the tailoring was finely focused, not random. You see, Josh started riding when he was just 8 years old (27 years ago!) and he opened his first shop in 2004. His first custom build was a 1977 Shovel that he still owns and rides. "My dad picked up my mom in the 1960's on the pre-unit Triumph bobber he use to drag race, so I guess you could say it's in my blood."
He learned to wrench the way many do: out of necessity: "I never could afford to pay anyone to fix anything so had to learn to myself," he explained. Watching his dad helped, too.
The inspiration for building this bike was to create a vintage styled café racer with the power and reliability of a modern powertrain and suspension. "Something to raise hell through the mountain back roads of TN, NC and GA!"
And when the finishing touches were put on the bike, that's exactly what the Confederate crew had done "We finished it and didn't even take it out on a shake down run; we just hopped on it and rode 10 hours straight on a back-roads trip," Josh said.
"I love giving a vintage feel to something that's new and reliable," said Josh. "Plus you can't beat the feeling of blasting through the mountains on a bike like this."
RESOURCE:
Confederate Customs Speed Shop
572 Forest Retreat Rd., Hendersonville, TN
615-430-7031
confederatcustoms@gmail.com
You can keep up with the shop on Facebook, twitter or instagram @confederate customs speed shop
Specifications
Owner: Josh Deen
Builder: Confederate Customs
GENERAL
Year, Make & Model: 2006 H-D 1200 low Sportster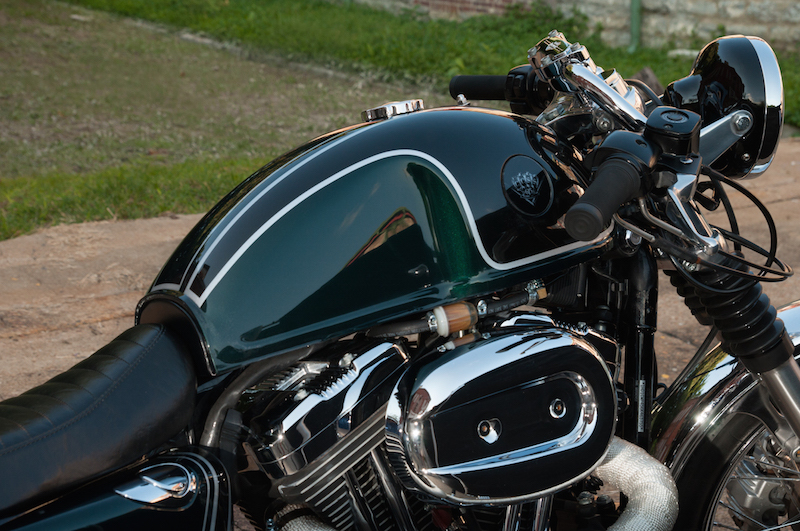 Timeline: one month
FORKS
Year/Model: 39mm H-D
Type: stock
Triple trees: stock
ENGINE
Year/Model: 2006 Sporty
Displacement: 1200
Lower End: stock
Balancing: stock
Pistons: stock
Cases: stock
Heads: stock
Cams: stock
Lifters: stock
EFI/ Carb: stock
Air Cleaner: stock
Pipes: Vance and Hines sideshot
Ignition: stock
TRANSMISSION
Year/Modifications: 2006
FRAME
Year: 2006
Designer/Builder: HD
Rake/Stretch: stock
ACCESSORIES
Bars: Clubmans
Risers: stock
Fenders: Old Honda chrome
Gas Tank: Late NOS '60s Benelli / Wards Riverside Mojave 360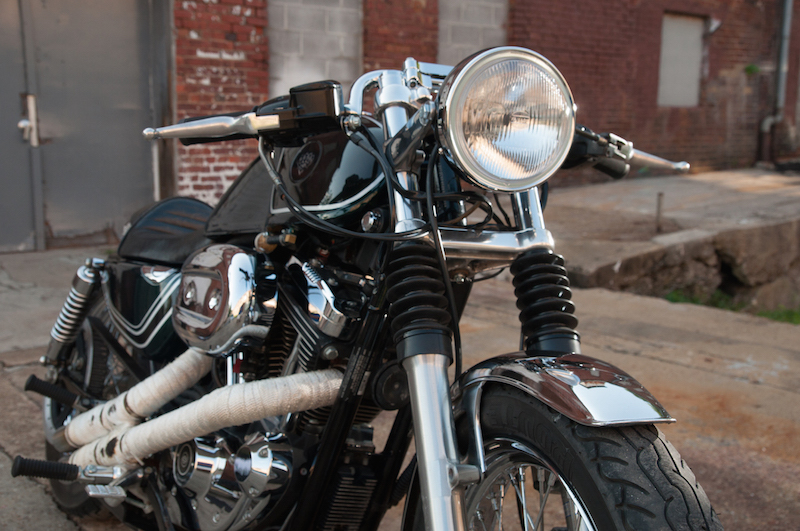 Oil Tank: stock
Headlight: Aftermarket / Emgo
Taillight: Aftermarket
Speedo: None
Electrics :stock
Seat: Le Pera stubs seat
WHEELS/TIRES
Wheels: HD spoke off a 1200 custom
Front Tire Size:19
Rear Tire Size:16
Hubs: stock
Rotors: stock
Brakes: stock
PAINT
Painter: Troy Miller, REDRUM customs Hendersonville TN
Color: BMW green metal flake, black metal flake and aluminum metal flake