Klock Werks Unveils Custom Indian Scout "Outrider" at the New York Progressive International Motorcycle Show Dec. 12-14, 2014
(Mitchell, SD) December 11, 2014 – Following the Sturgis reveal of the new 2015 Indian Scout model, Indian Motorcycle chose a select few shops to customize a Scout. Klock Werks graciously accepted the opportunity, and decided the design lead of the project should fall to their youngest team member – Karlee Cobb.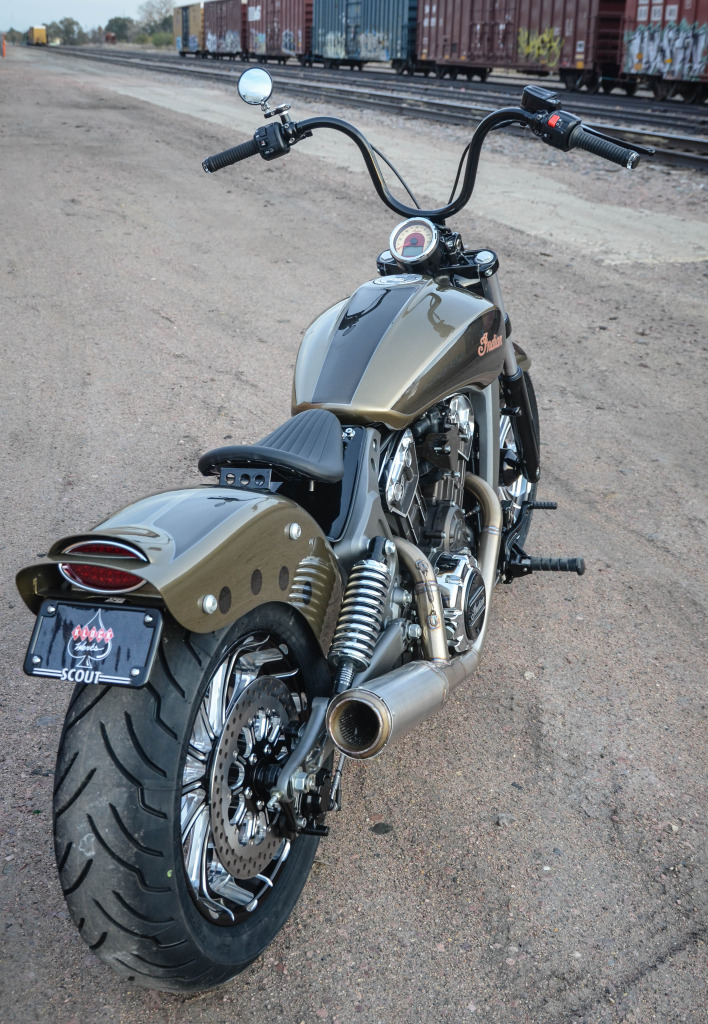 "At just 14 years old in 2008, Karlee became the youngest person to set a land speed record at the legendary Bonneville Salt Flats", says Klock Werks owner Brian Klock. "That same year she, her Mom and sister became the first Mother-Daughter-Daughter trio in land speed racing history to hold records at the same time and were named to a list of the 100 most influential women in land speed racing history. Karlee has grown accustomed to taking on challenges at a young age, and has gained a great eye for design through her years working at our family shop. We felt giving her the design lead on the customizing of this 2015 Indian Scout project would be a natural fit."
"My goal was to design something that looks completely customized, but yet is simple enough that someone could do something similar to their own Scout in their garage," says Cobb of her project she calls "Outrider". "I was really blown away by the power and quality of the production Scout, so maintaining the ride-ability of the bike was really important to me. I decided to go for the old-skool bobber look, and I think it turned out great! I've got a great team of friends and family in and around Klock Werks, and want to thank Indian Motorcycle for the chance to be one of the first to customize this historic bike!"
"Outrider" will be on display at the New York Progressive International Motorcycle Show at the Javits Center, December 12-14. Karlee, along with parents Brian and Laura Klock, will be there with the bike to interact with the crowd and answer any questions about the project.
About "Outrider":
Changing the stance towards a bobber was the first task on Karlee's list. She pushed the envelope to add a 180 tire to the rear and use a 130mm / 19″ front. Dunlop tires wrap both "one-off" contrast cut Reveal Wheels by Performance Machine to ensure that the bike has great traction and handling that suits the new attitude. Karlee called upon friend Kully Millage of Kully Co., to create a one-off stainless pipe for the Scout. Twenty two year-old Kully from Hartford, SD, has a proven exhaust performance cred for AMA race winning flat track bikes. The intake was modified with a K&N air filter for a nice boost to the already potent 69 c.i. powerplant.
The handlebars are custom-fabbed for this bike specifically, finished in black powdercoat and sport stealthy bar-end signals, while the back of the bike features tucked in rear signals from Motogadget for a clean, tight look. The front fender is a Klock Werks custom trimmed to fit, and the rear fender is an upswept traditional bobber look featuring a "half-frenched" oval tailight that splits the fender surface. A low profile seat pan was fitted to give Karlee the feel of being "in" the bike. Brad Smith at The Factory Match in Tea, SD, expertly laid down PPG Paint in various panels of gray and earth tones to blend with the stock cast frame color and to highlight the incredible engineering on the latest generation Scout.
Klock Werks has developed several new "Outrider" series parts that will be available for the new Indian Scout models. The Outrider line of parts is scheduled to be released the first quarter of 2015 and will include front and rear fenders, seat pan kit, and the Outrider Rad Guard Radiator Screen. Be sure to watch for announcements coming soon on the release of these parts.
About Klock Werks
Located in Mitchell, South Dakota, Klock Werks has grown from humble beginnings to a nationally and internationally recognized Brand. Achieving status as "Air Management Experts", Klock Werks credits this to the success of the original, patented, Flare™ Windshield. Also supplying fenders, handlebars, and other motorcycle parts, Klock Werks proudly leads the industry through innovation in design and quality of materials and fitment. Team Klock Werks has been successful for years designing parts, creating custom motorcycles, and setting records on the Bonneville Salt Flats. You will find motorcycles, family, and faith at the core of Klock Werks, along with a commitment to caring for the needs of enthusiasts around the world who enjoy their products.
For More Information please Contact Sara Liberte at Sara@kustomcycles.com