Being at Las Vegas Bikefest this year reminded us of a cool custom Twin Cam we found there last year and photographed for IronWorks, a bike built by Cody Collins and the crew of Valhalla Customs in Reno, Nevada. But before we could feature the bike, IronWorks was wrapped up.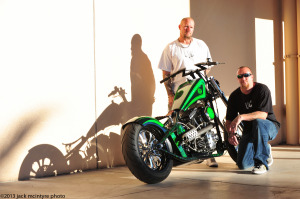 But that fact doesn't make Valhalla's build any less worthy of attention so we're pleased to bring it to you at Iron Trader News.
Cody Collins has been building motorcycles on and off for about nine years. He had a shop in Las Vegas for two years before opening Valhalla Cycles in Reno about 18 months ago when it became his full time gig. That takes a leap of faith and a dose of confidence in one's abilities, not to mention some strong principals. "I have always been inspired by the great bike fabricators like Indian Larry, Billy Lane, and Jesse James—guys who believe in building and not assembling," he said.
And that was the idea behind this bike, said Cody: "To get our name out there and show that we do everything by hand with very minimal bolt on stuff." A worthy goal certainly and one the crew met by working overtime for the seven weeks it took to complete the build.
Driven by a desire to learn and a hefty interest in the subject, Cody learned the mechanical side of bikes by wrenching on his own motorcycles. He's also essentially self-taught where his real love is concerned: fabrication and welding. "Building bikes has been my life long goal so every chance I had to learn anything about metal I jumped at the chance," he said, also giving credit to Ron Covell's excellent metal working DVDs. "When you work with metal you are always testing your abilities and expanding your knowledge, every time you take it to the limits of your current know how," he added.
This bike was inspired by a wrecked 2009 H-D Crossbones. The engine and drivetrain were all that was salvageable. The guys at Valhalla fabricated the frame from 11/2" 4130 chromoly tubing for a strong light base. Cody says he learned the benefits of chromoly over mild steel from his days working at off-road shops in Las Vegas.
The engine was given a solid overhaul, treated to new PM rocker boxes and an S&S Super E, then fitted up with a hand-fab'd intake. At 103 c.i. the engine is even tempered but competent. "I love for my bikes to be functional," said Cody. "After all, no matter how nice or cool a bike is, if you can't ride it, it's just a paper weight." Valhalla made the exhaust system, too, and as you'd guess all the sheetmetal components were fabricated in house, too.
The inverted Milwaukee Twins forks are 4-over to add some attitude. RC Components wheels shod with Avon Cobras are reared in by a GMA sproter at the rear and a 6-piston unit up front. Painter Randy Richardson handled the metallic black and green candy paint job deftly.
Added Cody, "I built this to show not only my skills but the skills of the class A crew we have at Valhalla Cycles. It has always been my goal to get at least close to the level of the builders I've looked up to my whole life and I hope this bike is just another step towards that goal."
Special thanks to:"I would really like to mention everybody at the shop: Andy Showen general manager, Ethan Scott machinist/fabricator, Randy Richardson paint/ and body and especially my wife Amy Collins for the endless support she has given me to do what I love everyday."
RESOURCE:
Valhalla Cycles
180 River St. Unit C
Elko, NV 89801
775-385-4037
www.valhallacycle.net
Specifications
Name: Sidewinder
Owner: Valhalla Cycles
Builder: Cody Collins
GENERAL
Year, Make & Model: 2013
Assembly/Builder: Valhalla Cycles
Timeline: 7 weeks
FORKS
Year/Model: 2013 inverted
Builder: Milwaukee Twins
Type: inverted
Triple trees: 58mm
Extension: +4
ENGINE
Year/Model: 2009 Harley-Davidson
Rebuilder: Valhalla cycles
Displacement: 103 ci
Lower End: Harley-Davidson
Balancing: Valhalla cycles
Pistons: Harley-Davidson
Cases: Harley-Davidson
Heads: port and polished/ Performance Machine rocker covers
Cams: Harley-Davidson
Lifters: Harley-Davidson
EFI/Carb: S&S super E
Air Cleaner: Valhalla Cycles
Pipes: Valhalla Cycles
Ignition: Harley-Davidson
TRANSMISSION
Year/Modifications: 2009 Harley-Davidson 6-speed
Engine sprocket: stock
Trans sprocket: chain sprocket conversions
Wheel sprocket: 48-tooth
Primary drive: chain closed
Final drive: 530 RK
FRAME
Year: 2013
Designer/Builder: Valhalla Cycles
Rake/Stretch: 38 degree rake / +4 in the backbone, 5 in the down tubes
ACCESSORIES
Bars: LA Choppers
Risers: Drag Specialties
Fenders: Valhalla Cycles
Gas Tank: Valhalla Cycles
Oil Tank: Valhalla Cycles
Headlight: Performance Machine
Taillight: RSD
Speedo: none
Pegs: GMA forward controls
Electrics: Valhalla Cycles
Seat: Valhalla Cycles hand tooled
WHEELS/TIRES
Front Wheel: RC components
Front Tire: Avon Cobra
Size: 120/ 19
Rear Wheel: RC Components
Rear Tire: Avon Cobra
Size: 200/ 18
Hubs: RC Components
Rotors: GMA
Brakes: GMA sproter rear GMA 6-piston front
PAINT
Bodywork/Molding: Valhalla Cycles
Painter: Randy Richardson
Color: Metallic black and green candy
Powdercoating: none