It's the largest Evel Knievel collection ever assembled—a collection more complete than the daredevil himself amassed in one place and it's never been shown in its entirety until now!
Get a first hand look at the most comprehensive and authentic collection of Evel Knievel memorabilia in the world, on display at the Buffalo Chip CrossRoads during the Sturgis 75th, from July 31 to August 9. This isn't a bunch of plastic toys and lunch boxes, folks; these are museum quality, genuine articles that belonged to an American idol who inspired people across the globe to take risks. Evel Knievel's bigger than life persona still resonates strongly in the public memory, dredging up nostalgia for a time when rule breakers were an anomaly.
The exhibit includes many sets of Knievel's performance leathers including the exact set he wore on the cover of Sports Illustrated before the Snake River Canyon Jump. There are Evel's actual X-rays showing his broken bones, color-coded to a full-scale human skeleton. You'll see his personal and performance helmets, many painted by longtime Evel Knievel artist George Sedlak.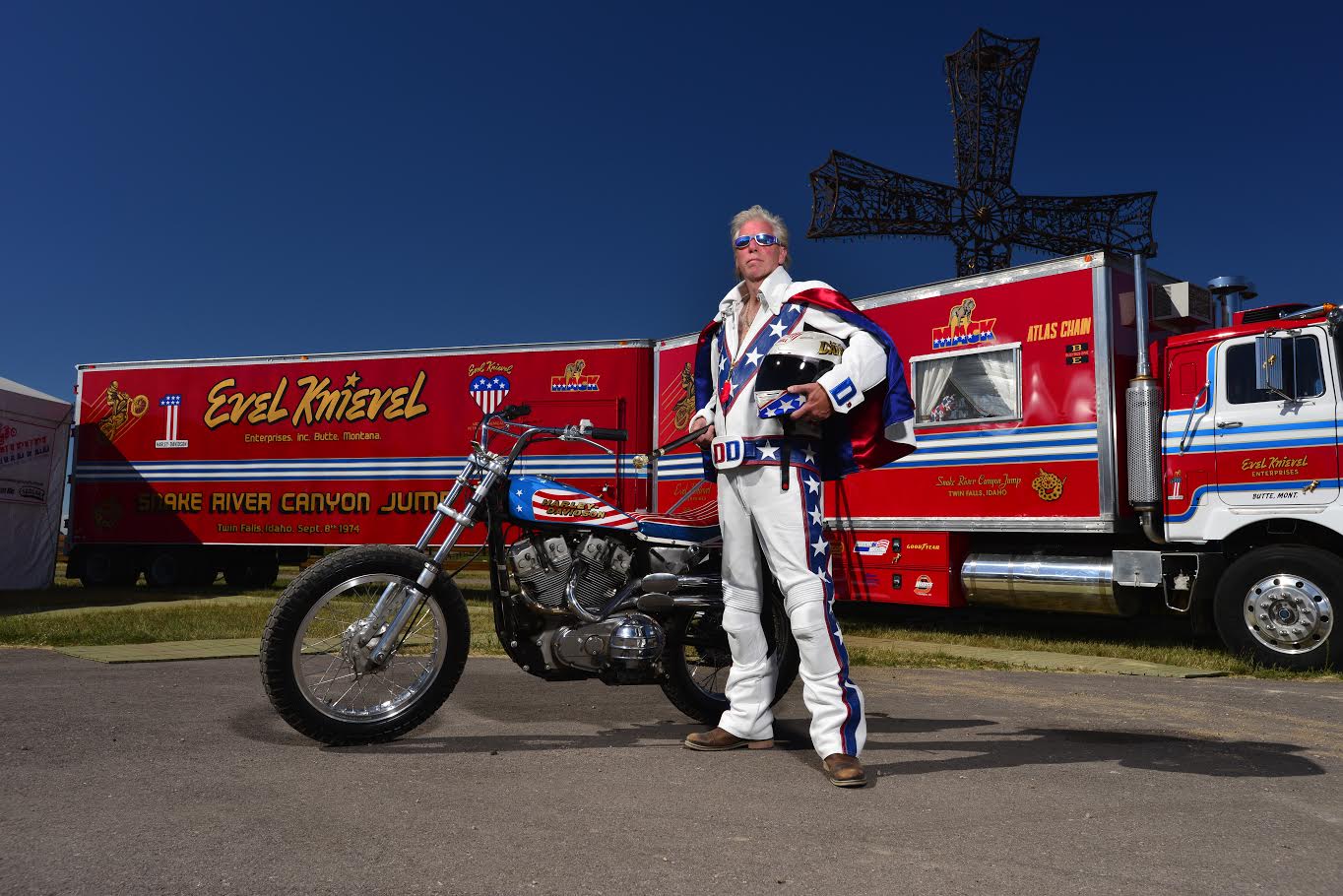 And, of course, the exhibit includes several of Knievel's jump bikes: the American Eagle, Triumph and two XR750s with their original George Sedlack painted sheetmetal, restored to period condition. One of these motorcycles, Evel's XR750, will be used by Doug Danger on Thursday, August 6, here at the Sturgis Rally in a record-attempt jump over 22 cars, a feat Evel tried but failed. It happens in the Buffalo Chip amphitheater beginning at 4:30 PM, two days from now. It's a must see event.
"Evel was generous—he gave things away all the time! That's why it was such a challenge to find his belongings," said Lathan McKay, owner of the collection. "It's gratifying that after years of Evel's possessions being lost in obscurity and so many things sold, stolen or missing, the collection is back together." He terms the hunt and discovery process, "Evel Archaeology," and spent years of effort, plenty of money and eclectic resources to obtain many of the items.
McKay scoured the globe to track Knievel's personal effects. In the process he also located and acquired Evel's original Mack truck rig and dressing room, known as Big Red, which is also onsite at the CrossRoads. Revealed to the public for the first time on July 17th at Historic Harley-Davidson in Topeka, KS, it has been completely restored to its former glory, down to the smallest detail. The rig is transported through a partnership with Mack Trucks and its restoration brought together the Midwest's most capable and knowledgeable experts to accomplish the feat. Tours of the coach—Evel's dressing room —are available for a small fee.
Evel Knievel is indeed an emblem of Americana recognized worldwide. So said Mike Patterson, owner of Historic Harley-Davidson in Topeka, KS, at the Big Red press conference. Patterson also announced plans to create a permanent home for the EK Collection adjacent to his dealership. "We are honored and humbled that the Knievel family has put their trust in us to tell Evel Knievel's story," he said.
So come to the Crossroads to see this collection of memorabilia that was once owned and used by the ultimate daredevil, a man whose fearlessness is still imprinted on the imagination of an entire generation. And see Big Red on its inaugural and likely only trip to the Sturgis Rally, ever. Once the artifacts are installed in the museum, a collection of this size and magnitude will likely never travel again. Take this chance to see the Snake River SkyCycle, Evel's jewel-encrusted canes, and other authentic artifacts that belonged to Evel Knievel, the world's preeminent risk-taker and the most notorious daredevil of the 20th Century. Everyone has an Evel Knievel story! What's yours?
Tickets are $10 and can be obtained onsite, at rallytickets.com or www.buffalochip.com/EVENTS.