Posted by Don Muret | Feb 2, 2023 | Amphitheaters & Festivals, Pulse, Technology
PARTY PASS: The Buffalo Chip Campground, home of the Sturgis motorcycle rally and
music festival, has upgraded its credentialing system to make it simpler to buy passes.
(Courtesy venue)
TIXR PLATFORM FEATURES CAMPGROUND SITE MANIFEST
The Legendary Buffalo Chip Campground has signed a long-term ticketing deal with
Tixr to sell reservations and passes for the world's biggest motorcycle rally outside
Sturgis, South Dakota.
The agreement translates to a major upgrade in technology for the massive 800-acre
campground complex and streamlines the purchasing process for the two-week rally
and music festival.
Tixr's system went live at midnight Wednesday (Feb. 1)  for the 2023 rally. The data tied
to consumers purchasing passes before that date was rolled over to the new platform,
said Rod Woodruff, the rally's producer for 42 years and owner of the campground.
"We're tickled with it overall," Woodruff said. "It's a big step for us, because it's not in-
house, which we did for decades. Now, we genuinely have some experts with a
marvelous program."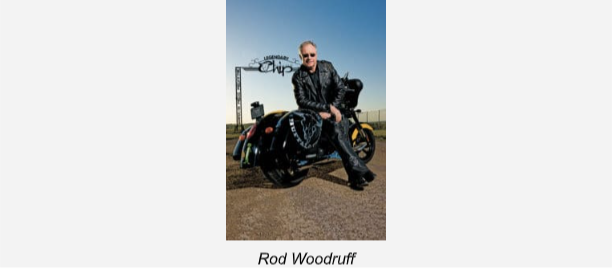 For the rally, historically, customers buy campground passes with add-ons such as VIP
concert upgrades. All activities, including nine nights of concerts, are included in a
campground pass. Under Tixr's white-label system, rally attendees can now go online
and select and reserve campsites from a reserved space interactive map, similar to
buying concert tickets at a traditional venue.
"It works well on a mobile phone as well as it does on a computer," said Patrick Bradley,
Tixr's chief revenue officer. "It's almost like when you pick a seat at an arena; you can
now pick a campsite and add on all the extras you need for that part of the
entertainment experience."
In addition, the Tixr platform allows customers the option to purchase credentials for the
rally through an automated layaway solution with interest-free payments. There's also a
new loyalty rewards program for those consumers influencing friends to purchase
campground passes.
Tixr, a 10-year-old old firm headquartered in Santa Monica, California, has deals with
500 events and venues across 40 countries, including the Riot Games, Acura Grand
Prix, Luke Bryan's Crash My Playa, Dead & Company's Playin' in the Sand and LIV
Golf, the new pro golfing tour founded by Greg Norman.
In South Dakota, Woodruff has been in search of a ticketing provider for a few years.
The Chip's old credentialing system was designed by a high school student more than
20 years ago. Campground officials kept improving it over the years, but at some point,
it was no longer compliant with Internet requirements, Woodruff said.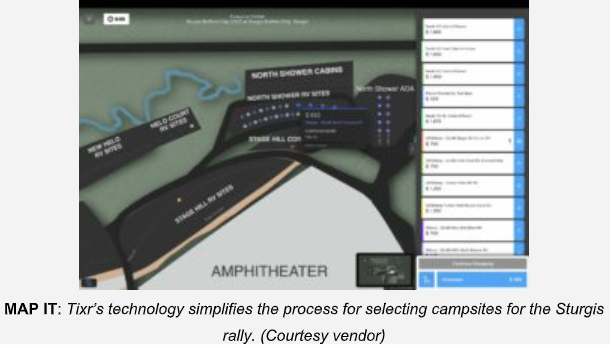 Bradley attended the 2022 rally through a mutual acquaintance who introduced him to
Woodruff. Bradley had his eye on potentially adding the Chip as a client, but wanted to
experience the rally to get a taste of what it's like to be a part of an event that draws
hundreds of thousands of motorcycle enthusiasts every year.
"When I saw what Rod does in allowing people to reserve camping spots, whether it's
RVs or tents or cabin rentals, and all the admission passes they do for live
entertainment overnight, all these extras people can get to furnish their experience —
there's so much going on that need a fluid system," he said. "It's very complicated from
a tech standpoint, so it was our job to show Rod and his team how our system get make
it simple, take all this stuff and offer it in a seamless way."
Woodruff said he spoke with other ticketing vendors as well before ultimately selecting
Tixr as the right solution.
"Our motto is 'ride free, take risks,' but we didn't feel like we were taking a big risk with
these guys, because they gave us such a sense of confidence in their abilities and
commitment to quality," he said.
The Tixr system is largely a mobile user experience for rally goers, tied to QR code
technology. Customers can store passes in Apple wallet, whether it's for an RV space,
passes for concert admission or portable toilet rentals, Bradley said. There's also the
option of printing out credentials for those who prefer the old-school method, he said.
In addition, there's now an option to pre-purchase certain concession and merchandise
items. Woodruff, in tandem with Bradley, is in the process of selecting a new mobile
point-of-sale system for food, beverage and retail business. The cost to buy food, drink
and merchandise are separate fees apart from campground passes.