Support Bikers Announces a World Record Poker Run from Florida to Sturgis Buffalo Chip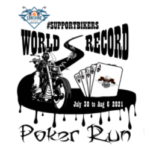 Support Bikers, a biker supporting community, announced a World Record Poker Run that will establish a new Guinness World Record. The event will start in Florida and end at the Sturgis Motorcycle Rally, more than 3,000 miles along the way.
The newly announced event aims to set a new record for the longest motorcycle poker run. Opening registration to all enables anyone interested to be a part of breaking this record and entering the history books.
The current Guinness World Record for the longest poker run is 3,122 miles, set by Richard Gibbs in Ipswich, UK, on July 19, 2014. The route between Florida and Sturgis will meander along an indirect route to pile on the miles and exceed the current record.
Support Bikers is a website and community dedicated to helping motorcycle enthusiasts support businesses, motovloggers, and other resources run by fellow bikers. Anyone interested can "get on the map" and add themselves to this resource and community.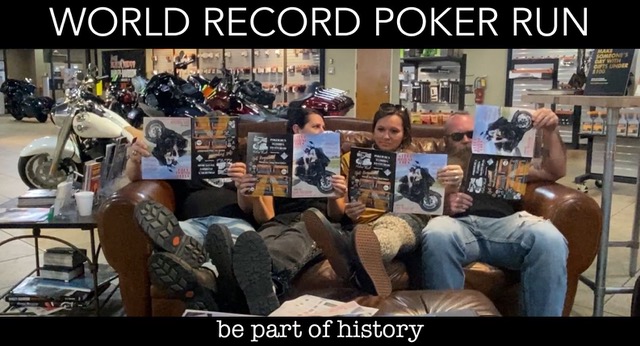 In addition to setting a record, the World Record Poker Run will also be fundraising for BikerDown, a non-profit organization that was established in 2011 with a mission to assist motorcycle accident victims. BikerDown provides emotional support to family members of injured or killed riders, medical equipment, and even financial advice to help victims keep creditors at bay as they recover.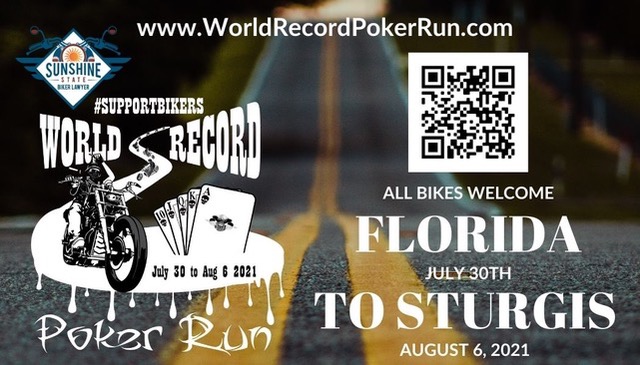 The World Record Poker Run will begin on July 30. 2021, at Twisted Fork and Bert's Black Widow Harley-Davidson in Port Charlotte, Florida. The route will include stops in Georgia, Arkansas, Texas, Colorado, and Wyoming before arriving at Buffalo Chip in Sturgis, South Dakota, on August 6, 2021.
"This event is going to be an epic, once in a lifetime, bucket list ride across the United States," said Sonny "The Badger" Gartin, co-founder of Support Bikers. "With a group of like-minded bikers out to set the World Record, make memories, and answer the call of the open road, ending in Sturgis for the opening day of the world's biggest biker rally, it doesn't get any more epic than that."
Visit 
https://supportbikers.com/registration
 to sign up for the ride of a lifetime. The registration fee is $175 for a solo rider or $200 for a rider and passenger. Registration is open until May 31, 2021. Entries will not be accepted after this date.
Summary
Support Bikers is holding a World Record Poker Run that will set a new Guinness World Record. Riders will travel from Florida to the Sturgis Buffalo Chip between July 30 to August 6, 2021.
Images
Images are available upon request.