Balance Bike Builder Supports Sturgis Motorcycle Museum & Hall Of Fame
Sturgis, South Dakota, February 16, 2017
– Strider Bikes, the world's leading manufacturer and marketer of children's no-pedal balance bikes, has stepped up to support the Sturgis Motorcycle Museum. Based in nearby Rapid City, Strider will be the presenting sponsor for the annual Hall of Fame induction ceremonies held in conjunction with the Sturgis Rally in August, as well as working with the Museum on local charity events and fundraising efforts throughout the year.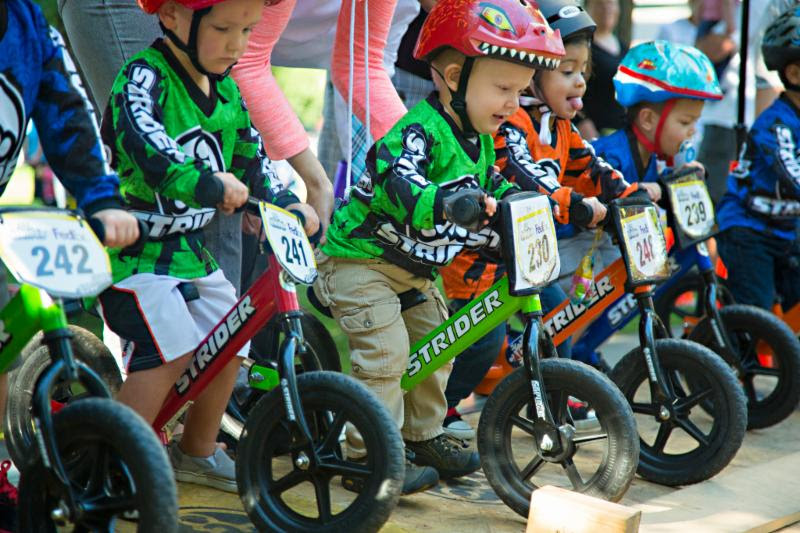 "It is the museum's goal to not only honor the history of motorcycling, but to continue to build a lasting legacy," says Executive Director Myrick Robbins. "Ryan McFarland and the team at Strider make a perfect partner to build the future with. Starting with toddlers still in diapers, Strider opens up a lifetime of two-wheeled adventures to future generations of motorcycle history makers… one stride at a time."
The Sturgis Motorcycle Museum documents history, but with an emphasis on the people who have shaped and changed the motorcycle lifestyle… shaping the industry and getting people on two wheels is in line with Strider's goals as well. "We love inspiring kids to ride," adds the visionary balance bike maker, McFarland. "Strider's mission is to simplify a bike to its essence, eliminate any fear of riding and instill confidence in the rider." Boil it down to the essentials, and isn't riding fearlessly and confidently into the future the lifetime goal of any biker?
"Strider is changing the paradigm of how kids learn to ride and setting the new standard for how young children explore the world on two wheels and ultimately make their own history," says McFarland. "To that end, we recently formed a non-profit, the Strider Education Foundation, whose mission is to inspire new riders of all abilities to a life of two-wheeled adventures for years to come. Someday, these kids may be future inductees into the Sturgis Museum's Hall of Fame."
The 77th Sturgis Rally is set for
August 4-13, 2017
and the Sturgis Motorcycle Museum Hall Of Fame Induction Ceremony presented by Strider will be held
August 9th
at the Lodge at Deadwood in Deadwood, South Dakota. Breakfast tickets are available for a $40 donation, tables of eight for $400. Tickets are available by calling the Museum at
605.347.2001
or they can be purchased online
http://www.sturgismuseum.com/shop/hall-fame-breakfast
About The Museum: The Sturgis Motorcycle Museum & Hall of Fame's mission is to collect, preserve and interpret the history of motorcycling; honor those who have made a positive and significant impact on the sport and lifestyle; and pay tribute to the heritage of the Sturgis Rally. Our vision is to continue as a world-class museum offering comprehensive and educational exhibits and showcasing rare and unusual motorcycles significant to our history and our sport. The Sturgis Motorcycle Museum & Hall of Fame stands out because of the fact that we not only document the history of the machines, we document the history of the people who have shaped and changed the sport and lifestyle. This will be a resource and inspiration for future generations. Honor the Ride… Build the Legacy!
About Strider Sports International, Inc.:
Founded in 2007 and headquartered in Rapid City, SD, Strider Sports designs efficient, no-pedal balance bikes for children as young as 18 months, as well as for older riders with special needs. Strider No-Pedal Balance Bikes are industry-leading training bikes that help children as young as 18 months learn to ride effectively on two wheels. Strider also manufactures balance bikes for individuals with special needs and for seniors wanting to stay active later in life. The patented Strider Balance Bikes focus on the fundamentals of balancing, leaning, and steering without the distractions and complications of pedals or training wheels. Strider Bikes are now distributed in more than 75 countries worldwide. In 2017, Strider former the Strider Education Foundation.. To learn more visit
www.StriderBikes.com
<
http://www.StriderBikes.com
> , like them on Facebook, and follow them on Instagram.