In 1992, about five years after he started making Saddlemen seats for motorcycles, founder Tom Seymour came up with an idea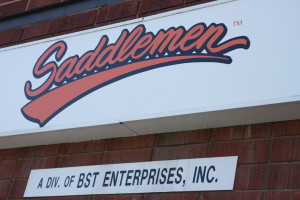 that changed everything: he added gel to Saddlemen seats. That's now the hallmark of a Saddlemen motorcycle seat; that and the fact that they're made in the USA in a compact, efficient factory in southern California that employs about 60 people.
The company, long known for their cruiser seats, makes sport bike and touring seats too, and that just might be the secret to Saddlemen's longevity.
"We go to shows to listen to what people are asking for," said Tom. "People always ask: what's new? It brings a lot of energy to your company when you have new product and it keeps you relevant."
An in-house R&D team reviews new bike models, studies sales volume, and collaborates on which products to develop each year. They've got over 600 new part numbers in seats and luggage in just the last two years.
To keep current they send field people to events almost every week of the year, "We get to train our dealers so they're knowledgeable about the product and we get to talk directly to the customers. Maybe it's an old school approach, but there's nothing like talking to people face to face."
So what about the technology behind a Saddlemen seat? The pan is made in house from fiberglass, a very rigid and lightweight material, and all seats have metal bracketry. On top of the pan is poured a dual-density "Black Magic" foam developed to have just the right amount of firmness and softness.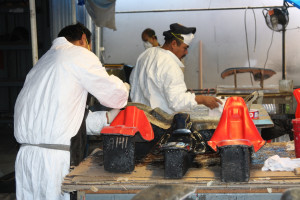 The "secret sauce" is the gel pad, which was derived from the medical industry specifically to reduce pressure points, shock and vibration. Another vital quality of the gel is that it keeps its stability in varying temperatures. And though the idea of a gel insert has been imitated since those early days, Saddlemen manufactures their gel from scratch rather than buying an off the shelf substitute, something that sets them apart.
Once the foam expands around the gel in a mold, the seat becomes an integrated unit. From there the cover, which can be leather or vinyl, is stitched with thread that has a UV protectant to resist the sun and other elements. All those pieces together make a premium product.
If you want to ride long distances, you have to be comfortable. To that end, Saddlemen offers custom work. "People thank us for helping them ride 100 more miles a day when they couldn't before," Tom said. Ergonomics play a role too, and that's where customer contact and their own test riding come in.
Options abound including integrated backrests, with heat or without, and custom stitching. Saddlemen's customer service people can help direct riders of various shapes, heights, and sizes to a seat that will fit them best. The possibilities are just about endless because they're the manufacturer. Look at it as another way to personalize your bike.
If you have an older seat you love but it's seen better days, chances are the company can provide a new cover. They have designs that can restore seats to like-new condition from as far back as the late 60's and early 70's. These covers—like Saddlemen seats—are available through Drag Specialties dealers exclusively. They can usually get a seat or cover to a dealer in one or two days.
Here's something you might not know: Saddlemen has been a staunch supporter of racing, especially flat track competition, for more than 20 years. "We think it's important to put money back into the sport," said Tom. "It's a source of pride for us to see the Saddlemen logo on racer leathers. And the demands of racing help us make better seats."
So the next time you see the Saddlemen people at a bike event, stop and say hi. As they're fond of saying, "The best way for people to know our product is to know us."
Resource
Saddlemen
Rancho Dominguez, CA
800-397-7709
www.saddlemen.com