Story and Photos by ITN European Reporter Herve' Rebollo 
Salut à toi American rider,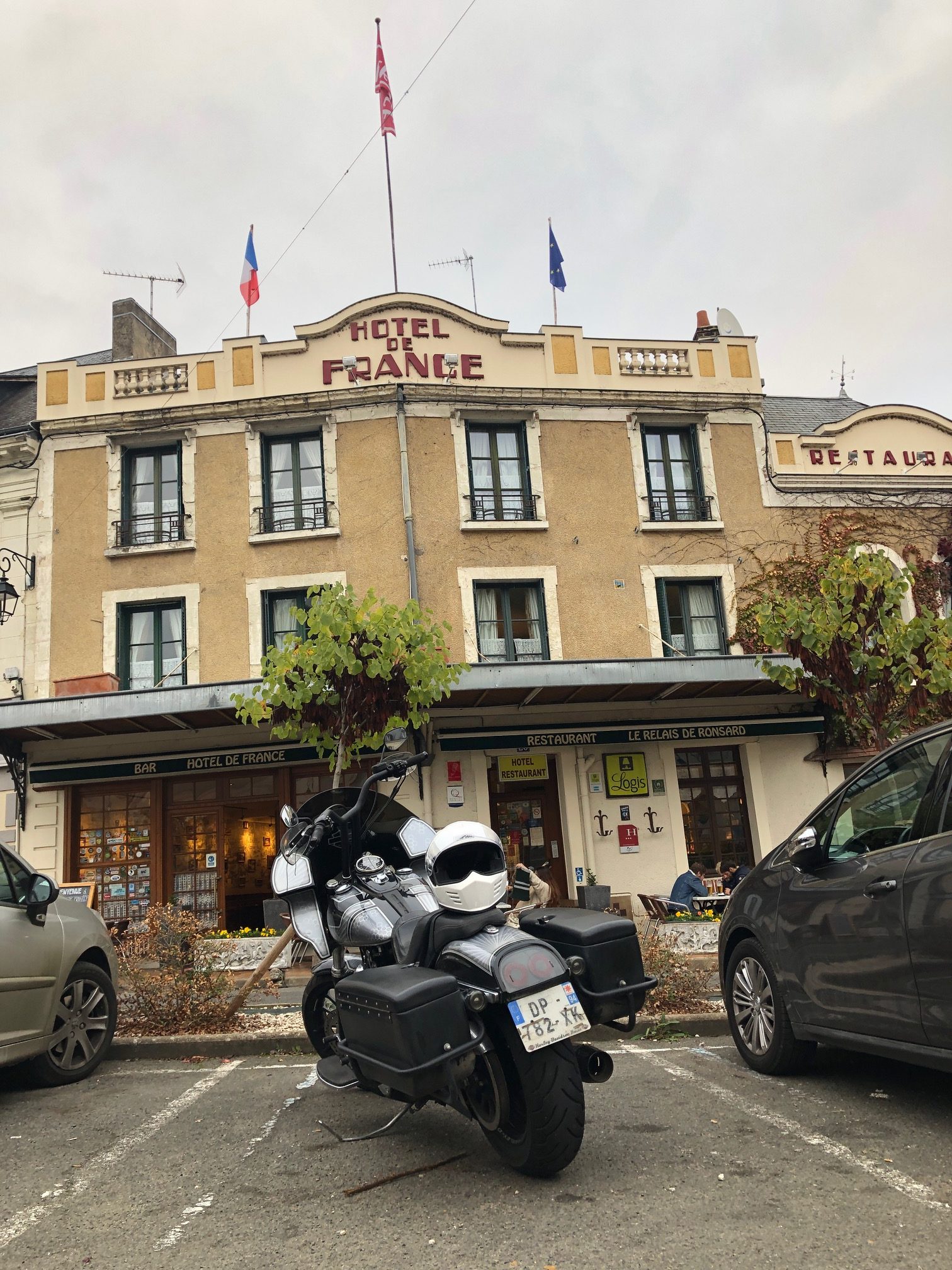 Remember, in my last post I took you to the temporary PORSCHE 917 exhibition at Le MANS museum …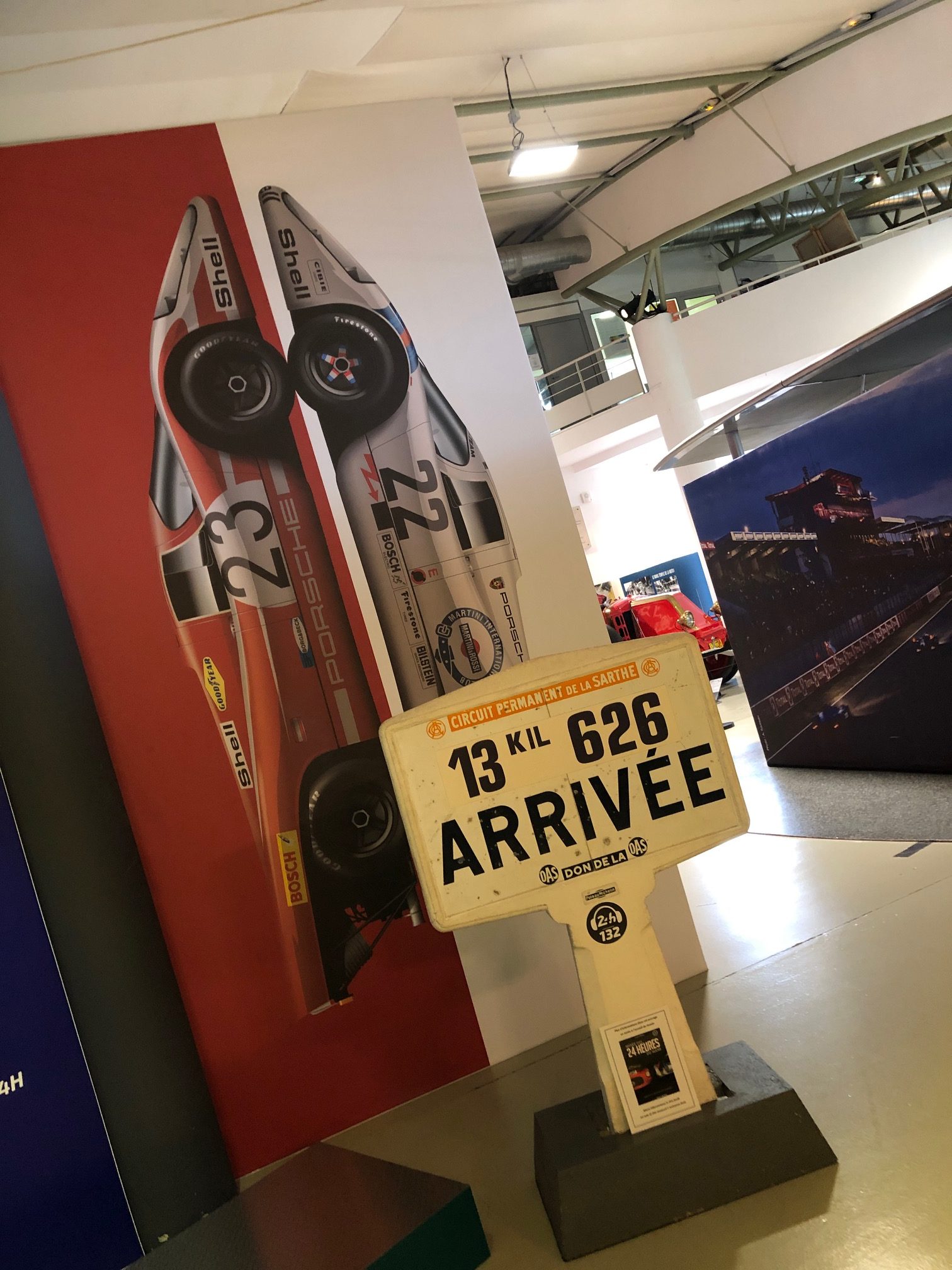 When you leave this exhibition, you directly enter in the museum where you can see about a hundred exceptional cars and motorcycles masterpieces from the 19th century to nowadays…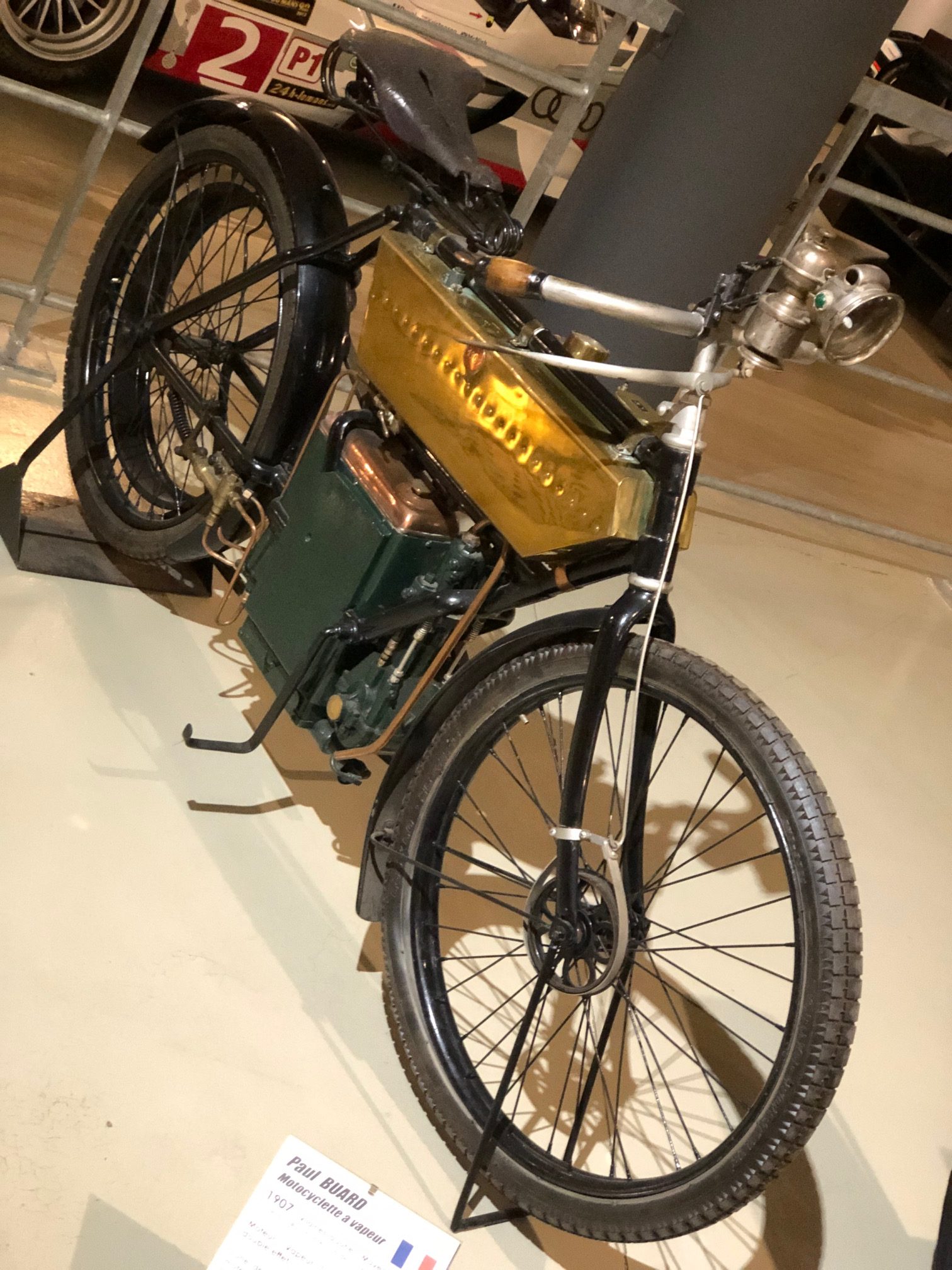 I think that in the all collection of vehicles, my favorite is the incredible 1957 – 58 Cadillac Fleetwood Eldorado Brougham. Which is without doubt the most luxurious car that the American manufacturer has ever made. It was the queen of luxury cars. Produced in a limited edition for a well-off clientele, it lent Cadillac a certain air of nobility through its cutting-edge technology. It stood out for its "brushed" stainless steel roof, its chrome bumpers and its so-called "suicide" doors with no central support. Its top end interior was a jewel of elegance and refinement, with air conditioning, six electric windows, an electrical remote control for opening/closing the boot from the driver's seat, a glove compartment equipped with a silver guilloché cigarette-holder, a set of assorted cups with magnetic bases, a back armrest containing toilet bag necessities including a perfume bottle containing "Arpège" by Lanvin, an electrically-adjustable front seat with "preferred position" memory, an electronic eye that automatically activated high or low beams, and a separate back/front heating system with under seat fans. And as if that was not enough, the Fleetwood Eldorado Brougham was the first production car to have pneumatic suspension, providing even more comfort and a smoother drive. It is not surprising that the Fleetwood Eldorado Brougham was the car that every collector dreamed of acquiring.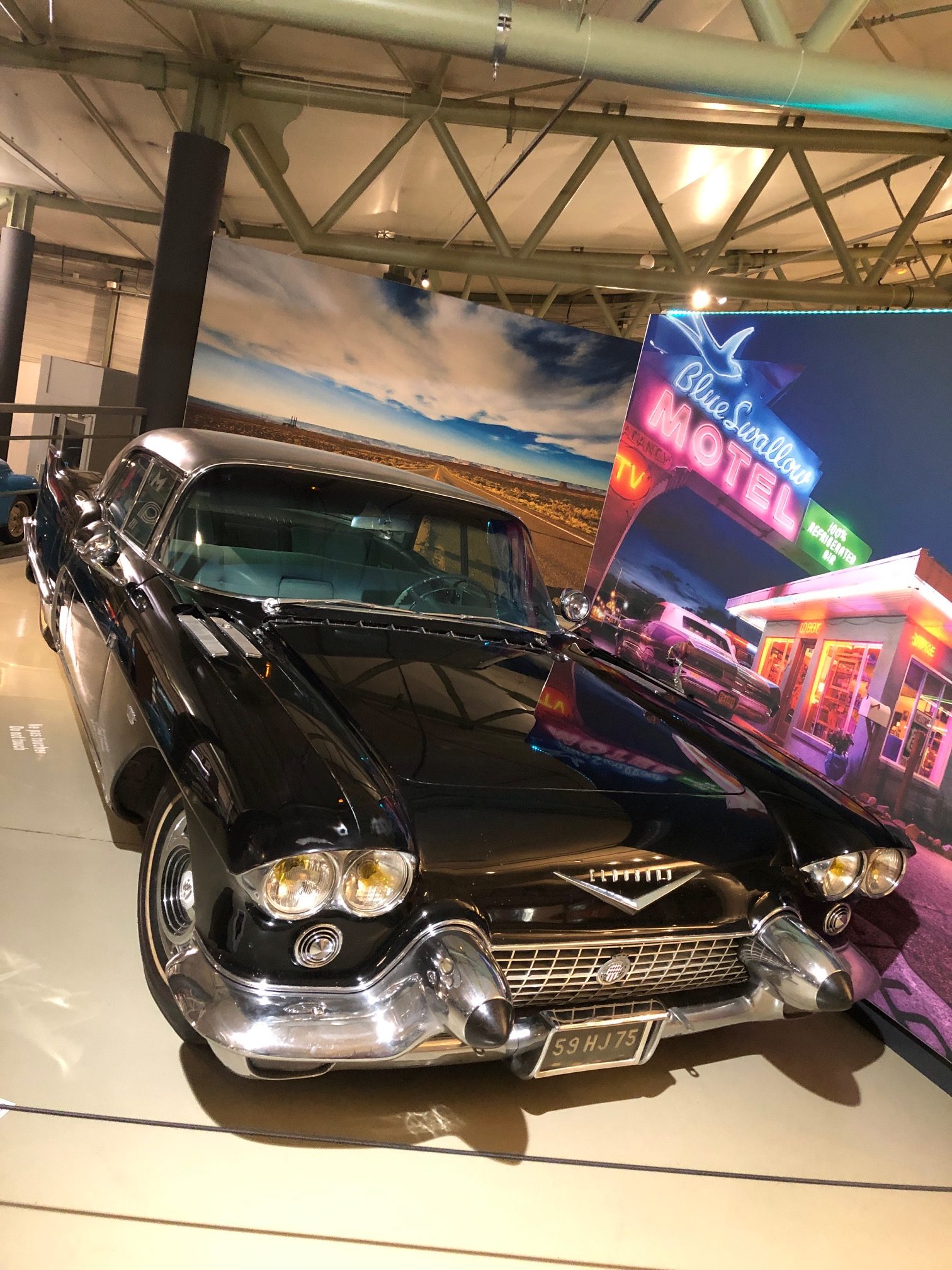 And, at the end of the visit, you enter in a total different world of contemporary high technology with cars designed for racing in endurance events. Very impressive …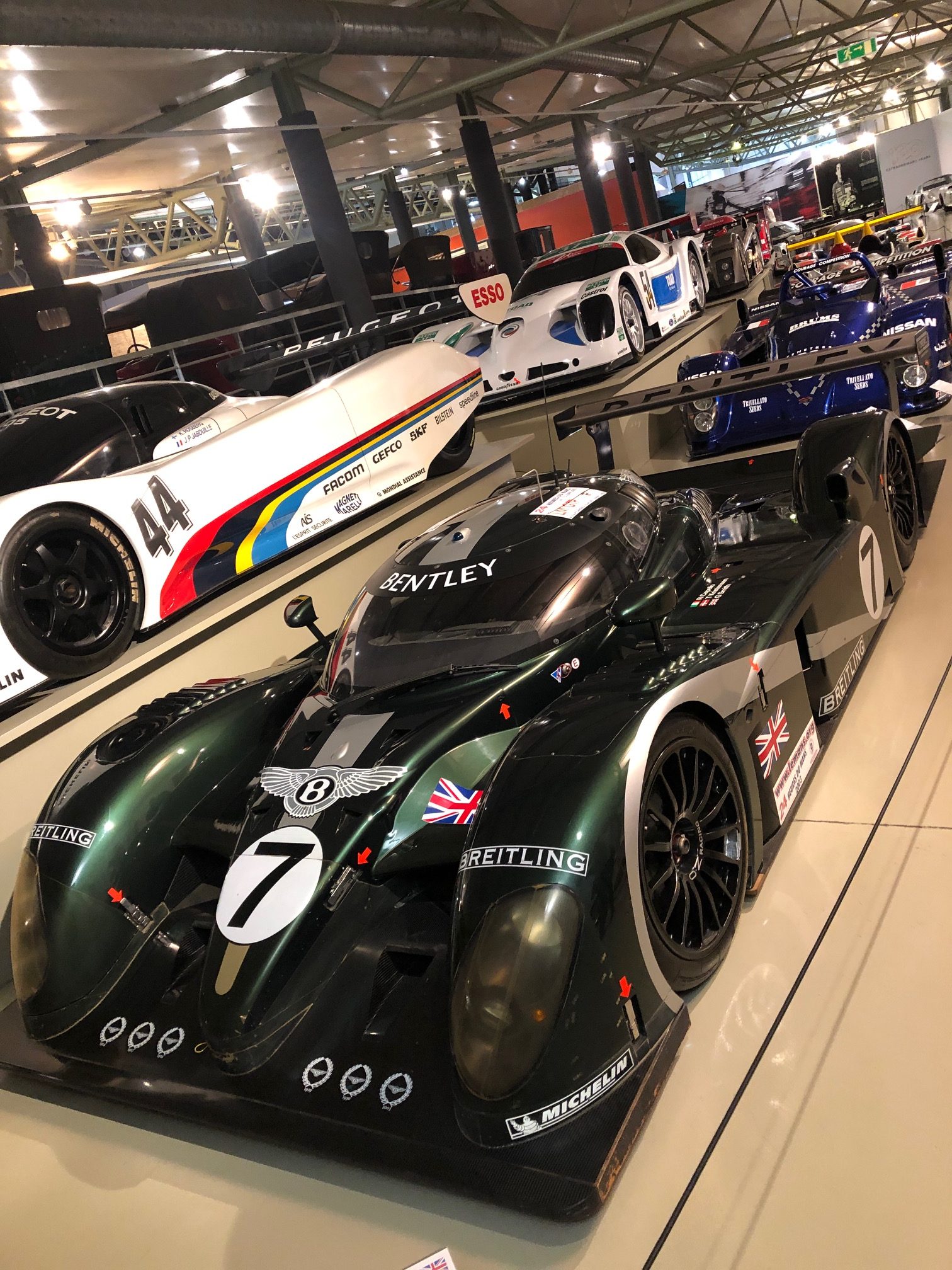 Next time you will visit France, I strongly recommend to make a stop in Le MANS city and spend two hours visiting this mythical museum …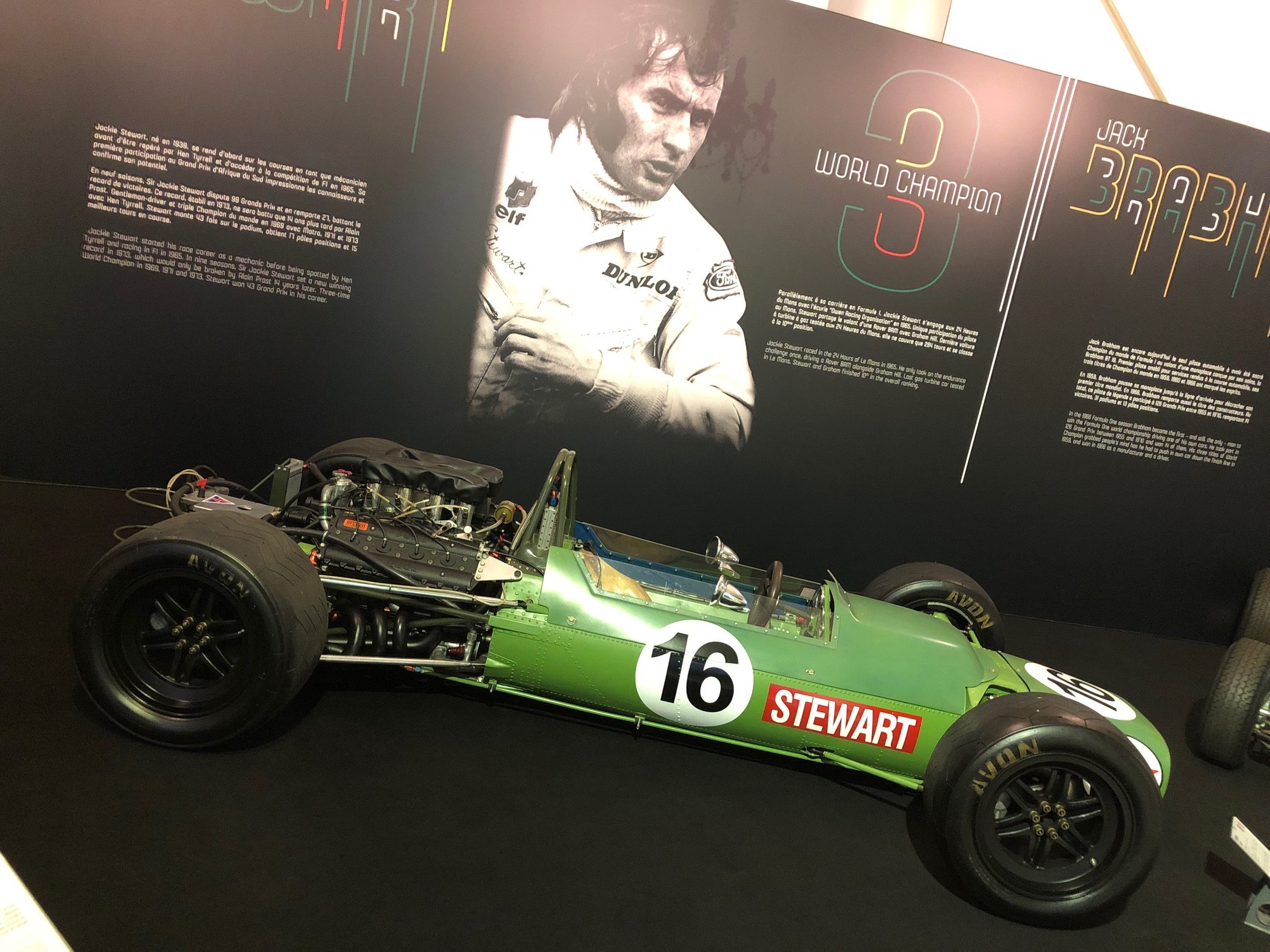 So, it was time to get back on the road for our next stage … the HOTEL DE FRANCE!!  And make another step in the motoring history. Finding anywhere peaceful during race week at Le Mans can be a challenge, which is why many racing teams from the 1950s to 1970 were based out of the Hotel de France, 26 miles south-east of the circuit. This place is a historic hotel in the center of the town of La Charte Sur Le Loir. Welcome in the deep France ! The 22 room hotel, with its Art Deco façade (located at 20, Place de la République), is famous for its long association with the drivers, teams and cars of the Le Mans 24 Hours race.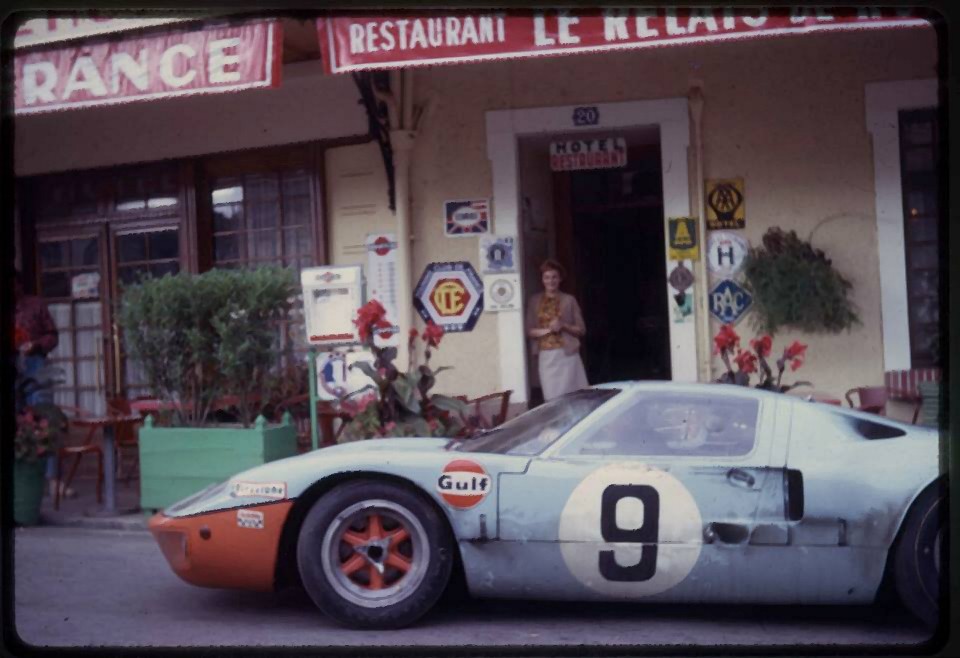 For nearly 65 years, The Hotel de France has been THE secret hideaway of choice for some of the greatest drivers competing in the Le Mans 24-hour race. It was first discovered by racing managers in the early 50s and over the years teams from Aston Martin, Porsche, Ford, Ferrari, Triumph and TVR have all prepared their cars in the hotel's courtyard, then driven them to and from the circuit on public roads. Le Mans winner Derek Bell MBE, Jacky Ickx, Jochen Rindt, Bruce McLaren, Sir Stirling Moss OBE, Jackie Stewart, Mario Andretti and many more have stayed, often returning again and again (premier and deluxe rooms are named after them in homage).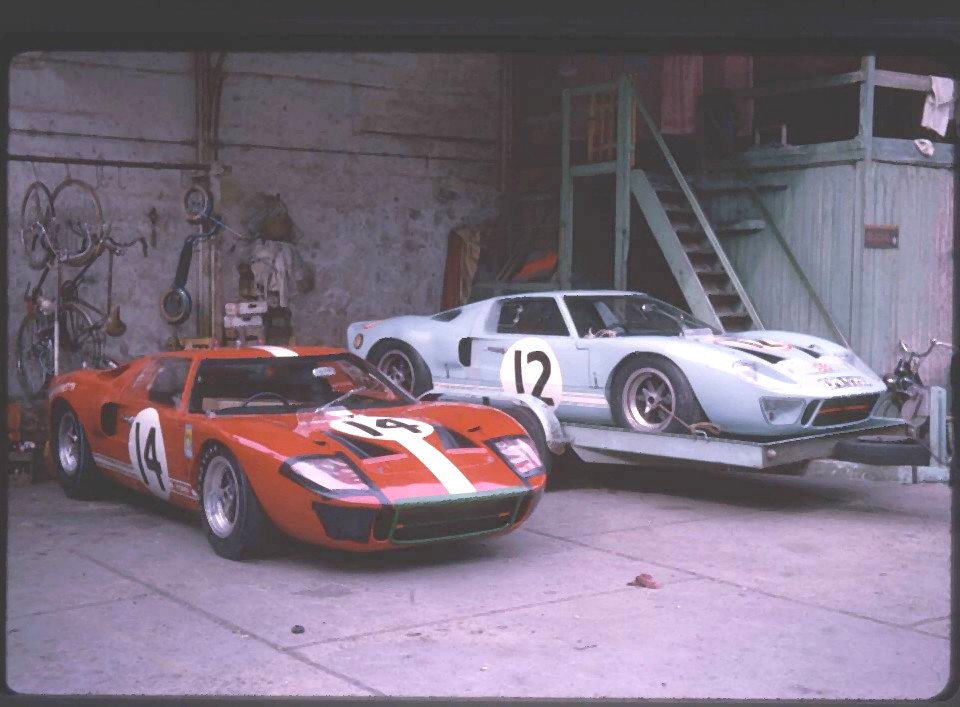 Classic car super-enthusiasts can read the full history of the Hotel de France. May I insist to tell you to take time to watch the following pdf file. It's a rare document. You have never seen such a witness of the good past time of before:
https://lhoteldefrance.fr/wp-content/uploads/2017/06/Hotel-de-France-Hostory-11.pdf
You are going to discover photos of the old France and from the middle of the document, absolutely incredible old pictures of race cars, star drivers, legendary champions, an atmosphere / ambiance disappeared for ever and that we shall never know again. A time where champions and their engines were totally accessible to everyone …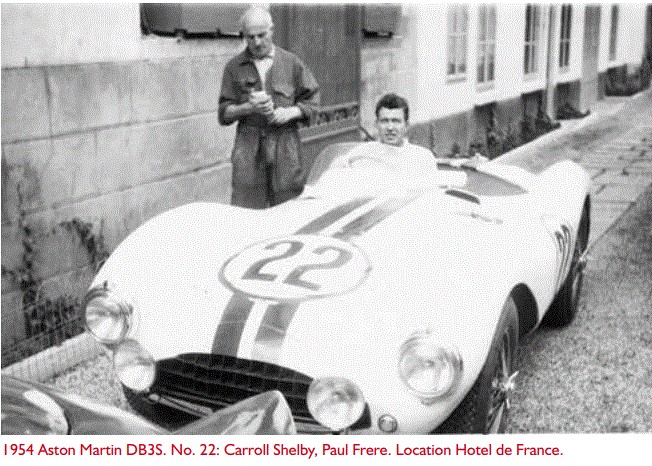 The hotel opened for business in 1905, having been run by the Pasteau family for the past four generations, before a change of ownership at the end of 2013. From 1953, it was used as headquarters for Le Mans racing teams, most notably by teams managed by John Wyer. Wyer ran the victorious Aston Martin and Gulf Oil teams from the hotel, his first Le Mans victory, celebrated at the hotel, coming in 1959.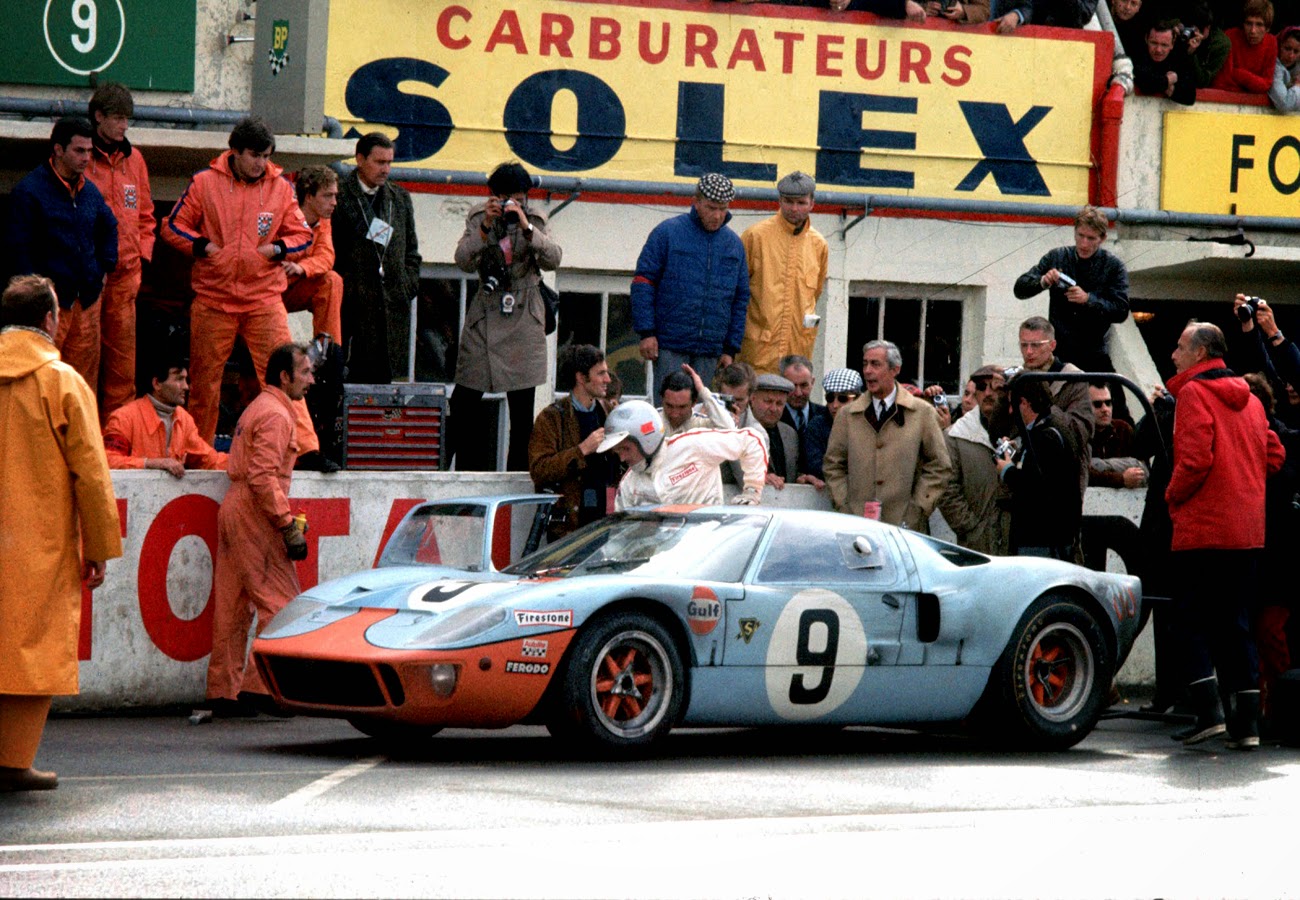 As a consequence, the hotel is full of motor racing history.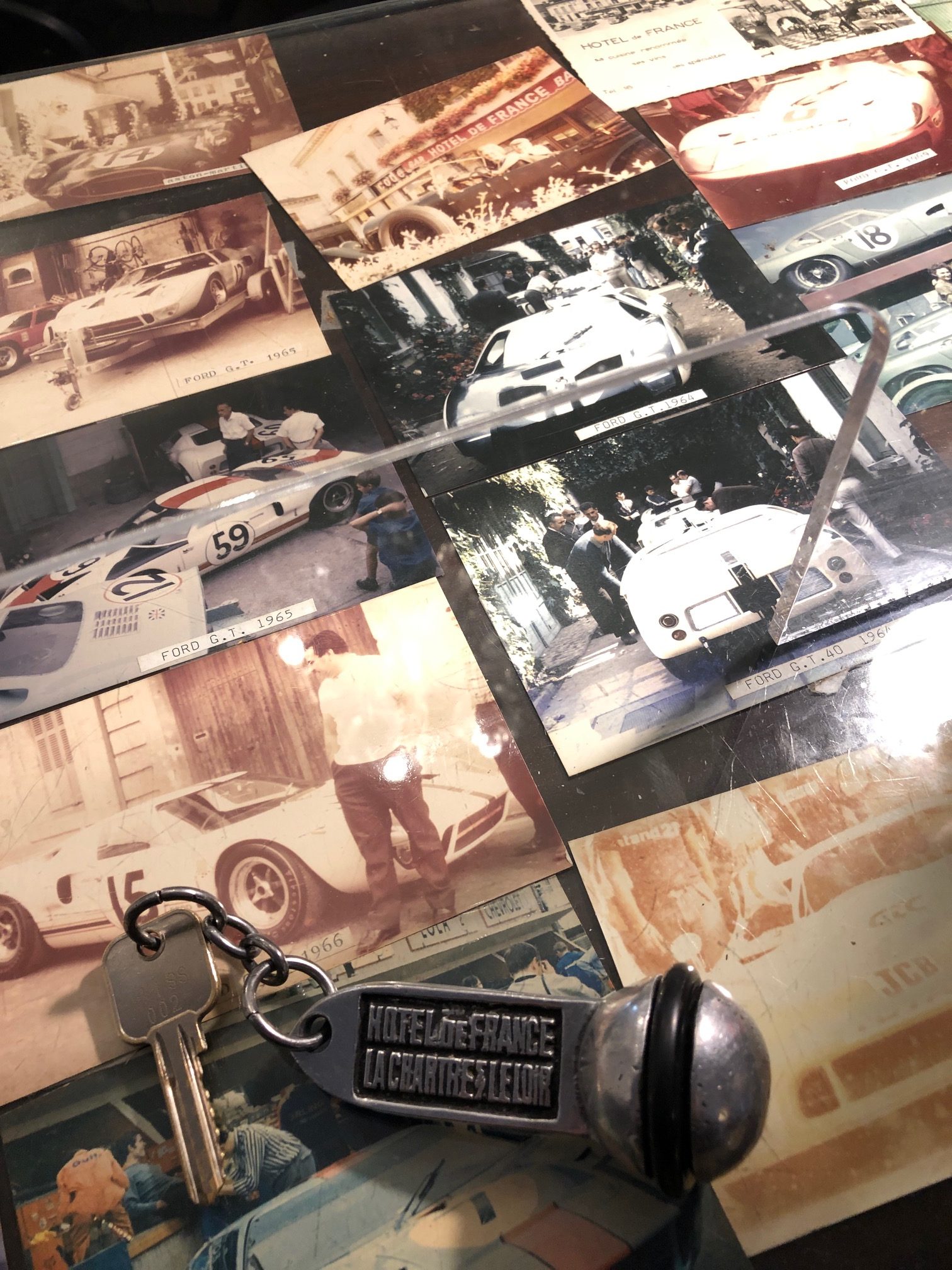 The garage to the side of the hotel and what is now a car park at the rear were used by mechanics to work on the race cars …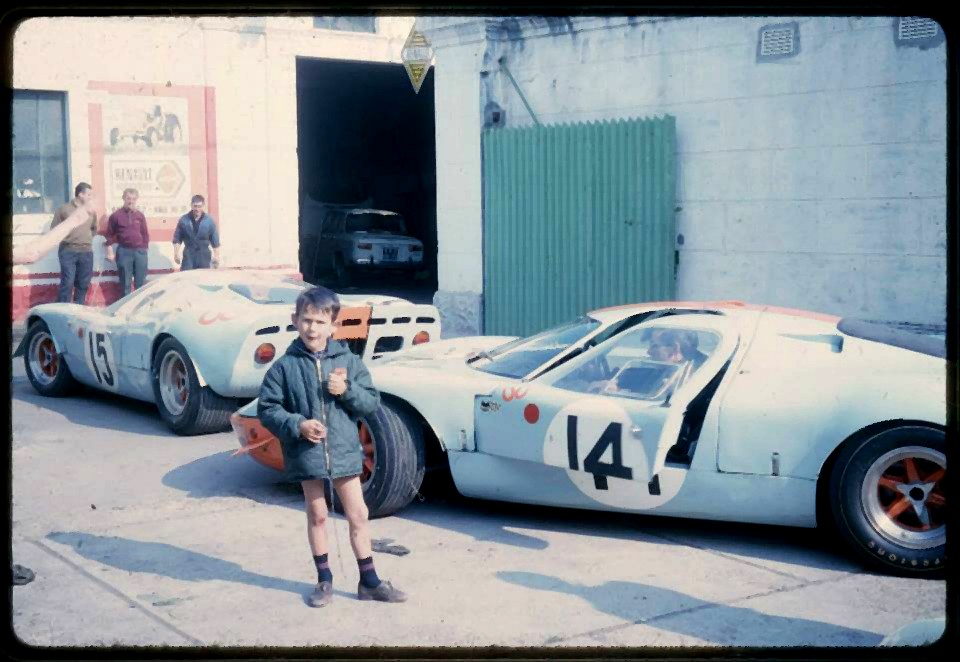 … which would then be driven on public roads to and from the circuit until the early 1970s.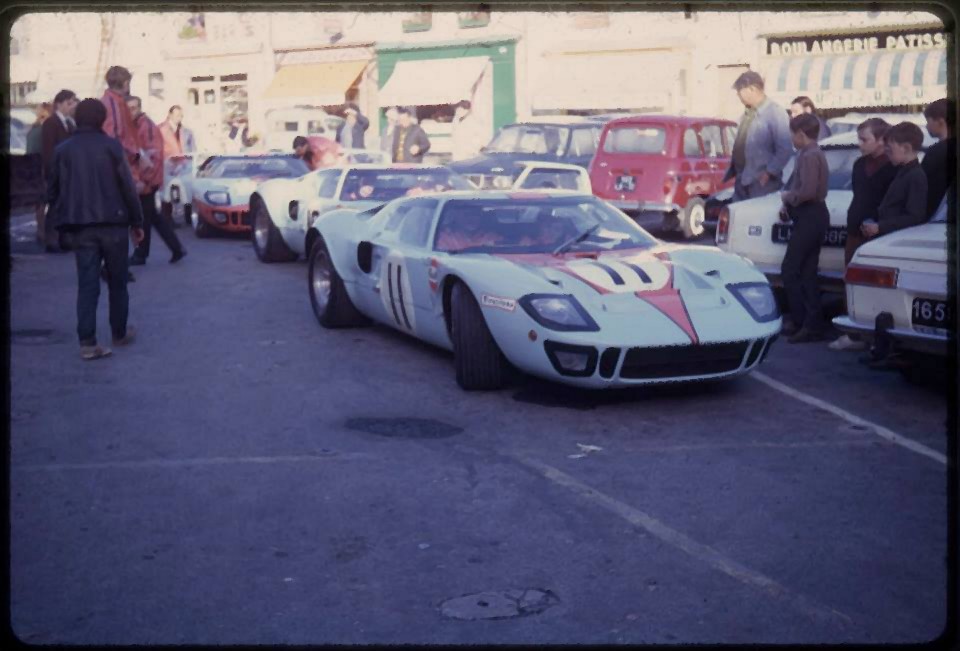 The hotel is a mecca for fans of the Le Mans 24 Hours race. The bar walls are covered with photos of past and present racing drivers, many of them signed by the drivers themselves. The hotel's extraordinary motoring heritage comes to life in the famous brasserie with this specially designed wallpaper. Memorabilia also adorn the walls. Happy petrolheads can wander and soak up the atmosphere with a gutsy espresso or chilled beer.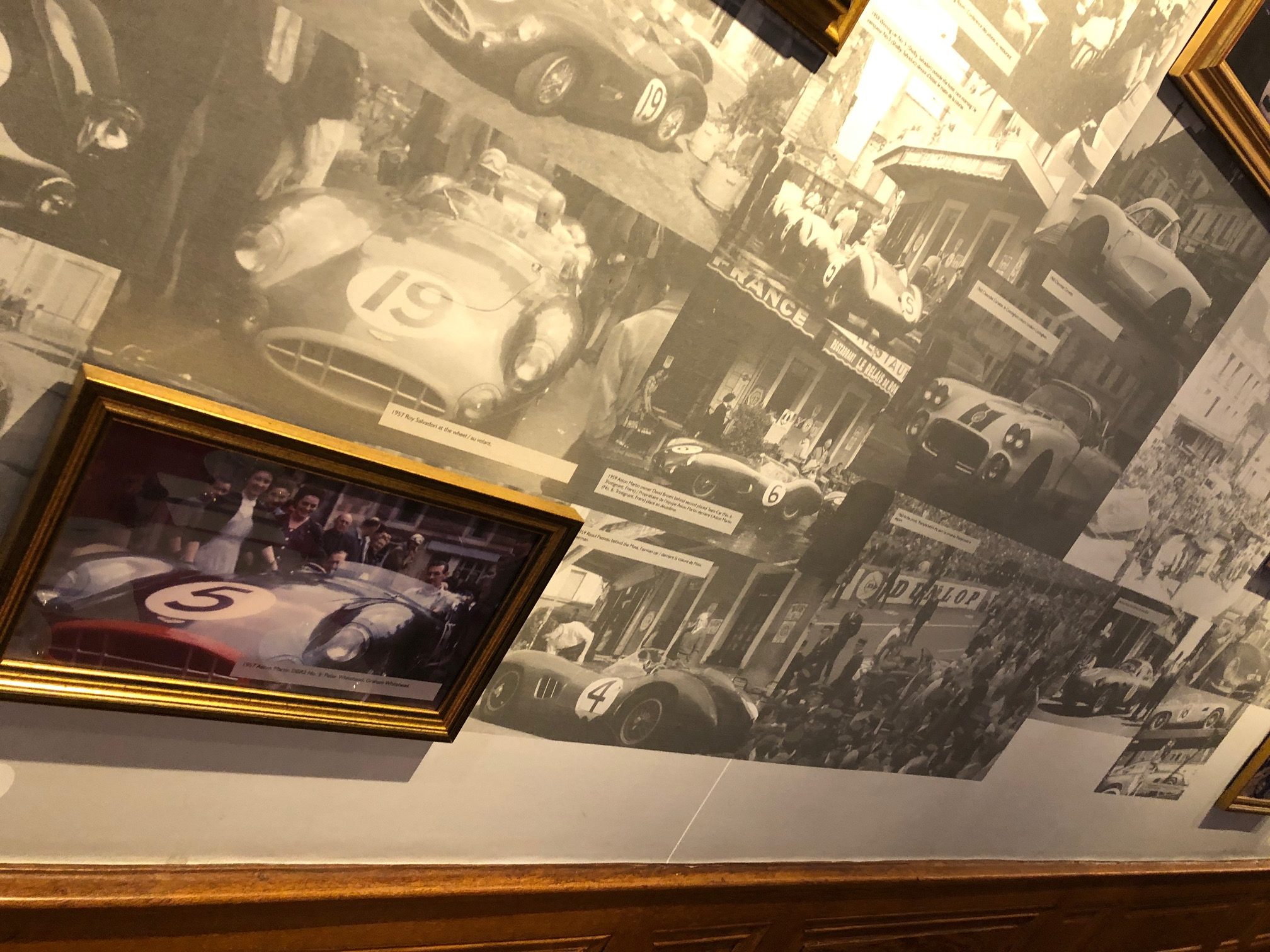 The hotel underwent an extensive refurbishment at the start of 2014, retaining and highlighting its motor sport heritage. When you arrive in this little typical French village, it's like making a step in a glorious past …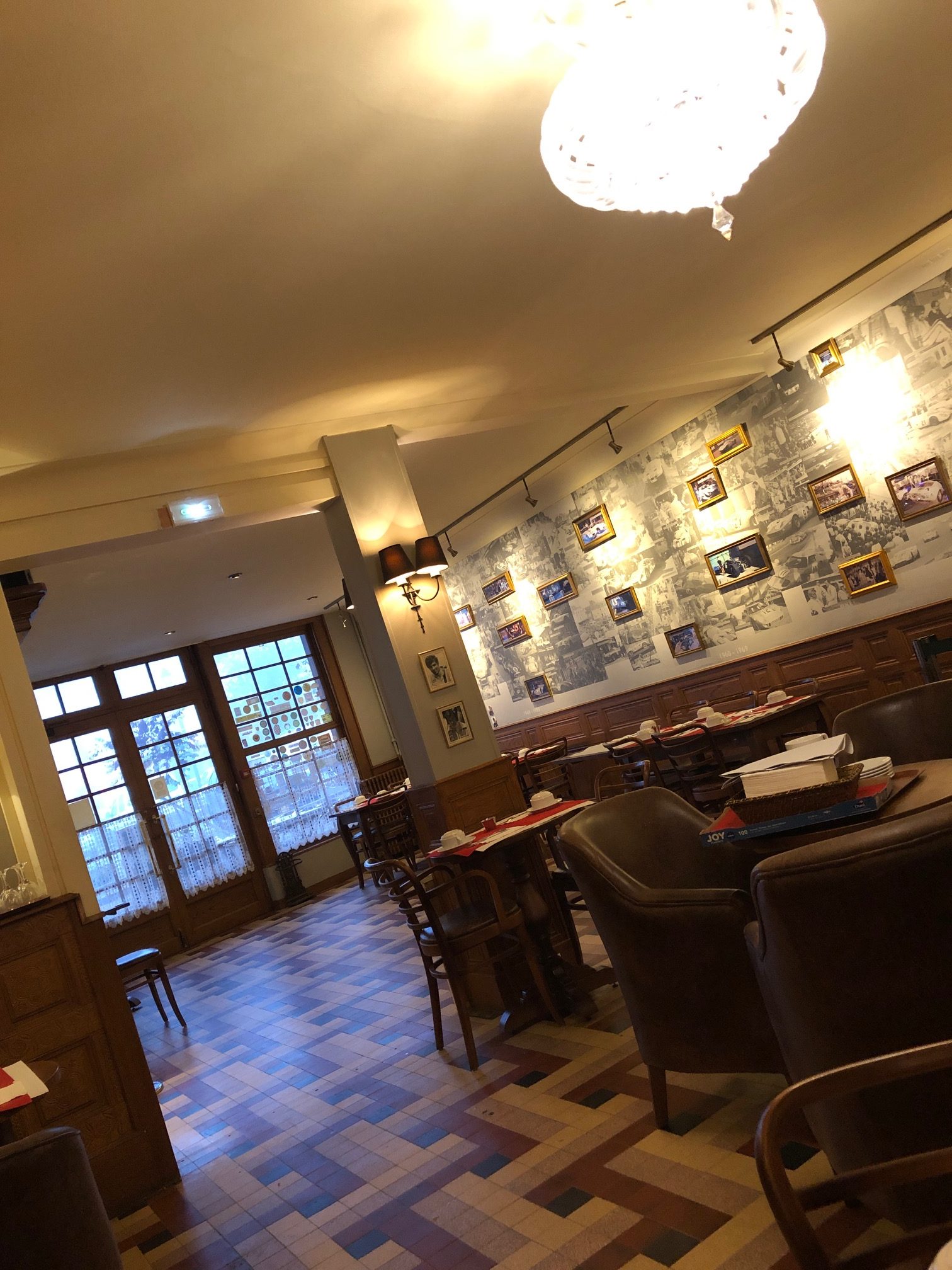 The 1959 winners CARROLL SHELBY, STEVE Mc QUEEN when preparing for the cult 1971 movie Le Mans, celebrities, politicians and socialites have flocked here during the Le Mans races of yesteryear, Jackie Onassis, Bobby Kennedy, French president René Coty and many others have all visited. The Aston Martin and Ford Owners Clubs and many auto associations and manufacturers have hosted celebrations and functions at the hotel since the glory days. They still return regularly. And when you arrive on the place du village, you have sport cars almost everywhere.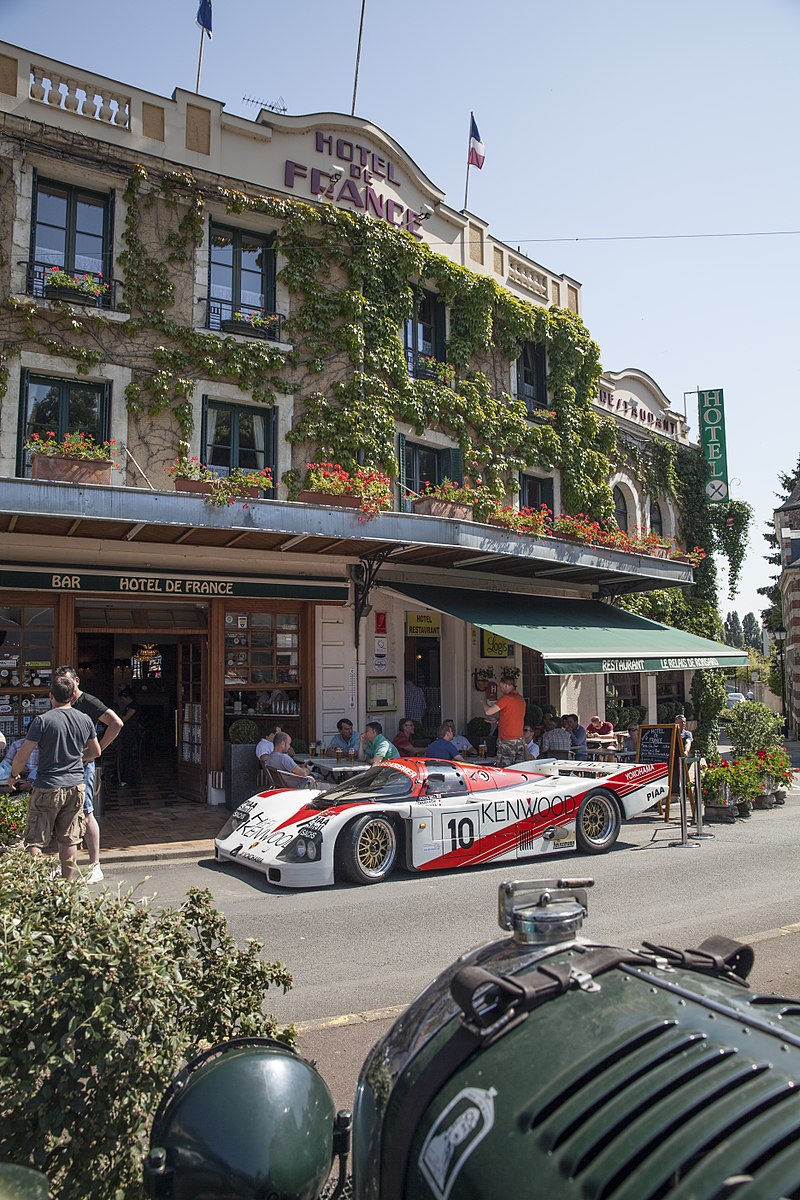 The Hotel de France in La Chartre-sur-le-Loir, is an excellent touring base: miles of famously empty roads and wide, sweeping curves beckon in all directions.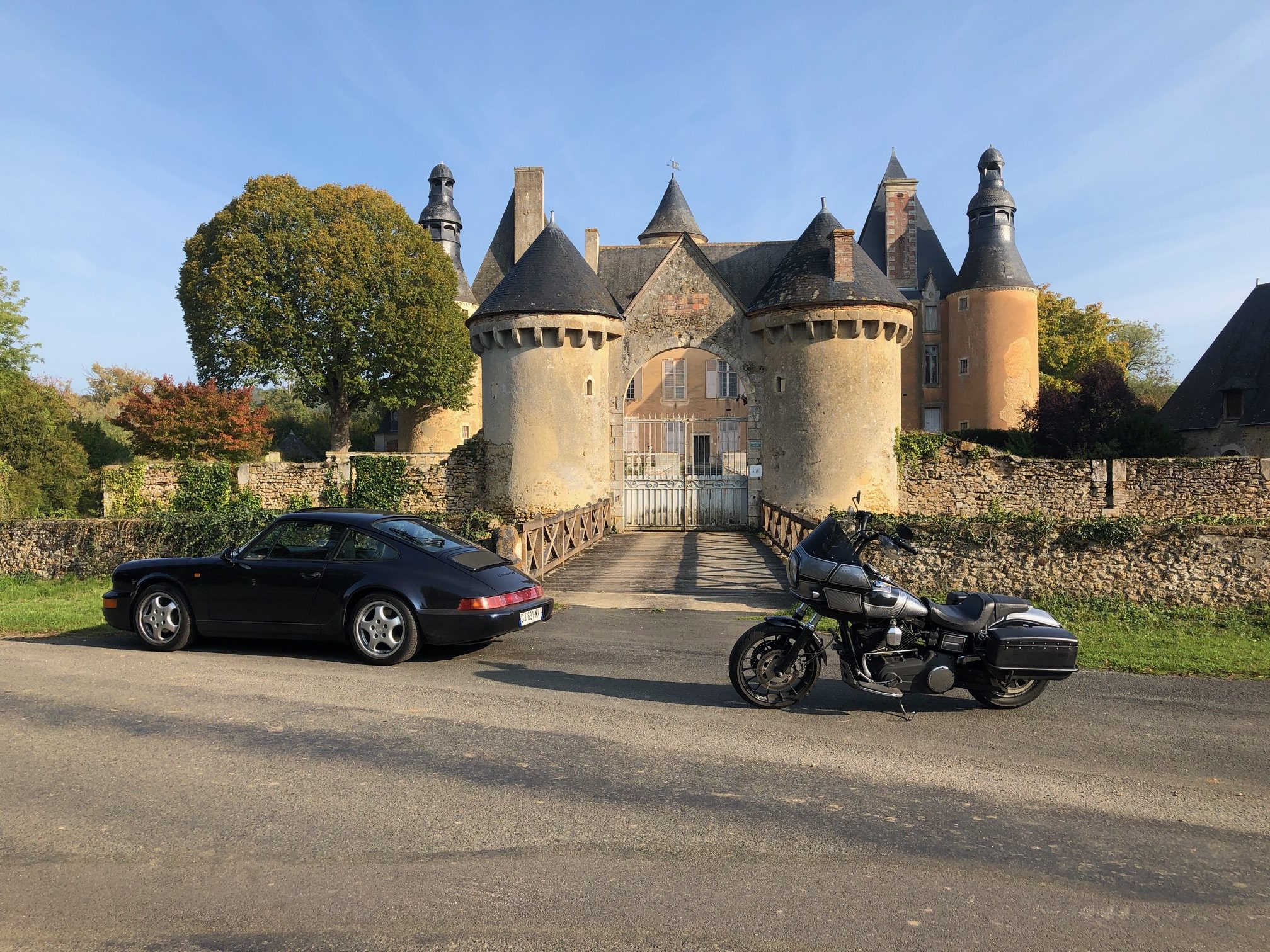 And the Loire Valley offers utterly glorious motoring, chateaux and vineyards to the south. And a tour of Tours guarantees history and culture.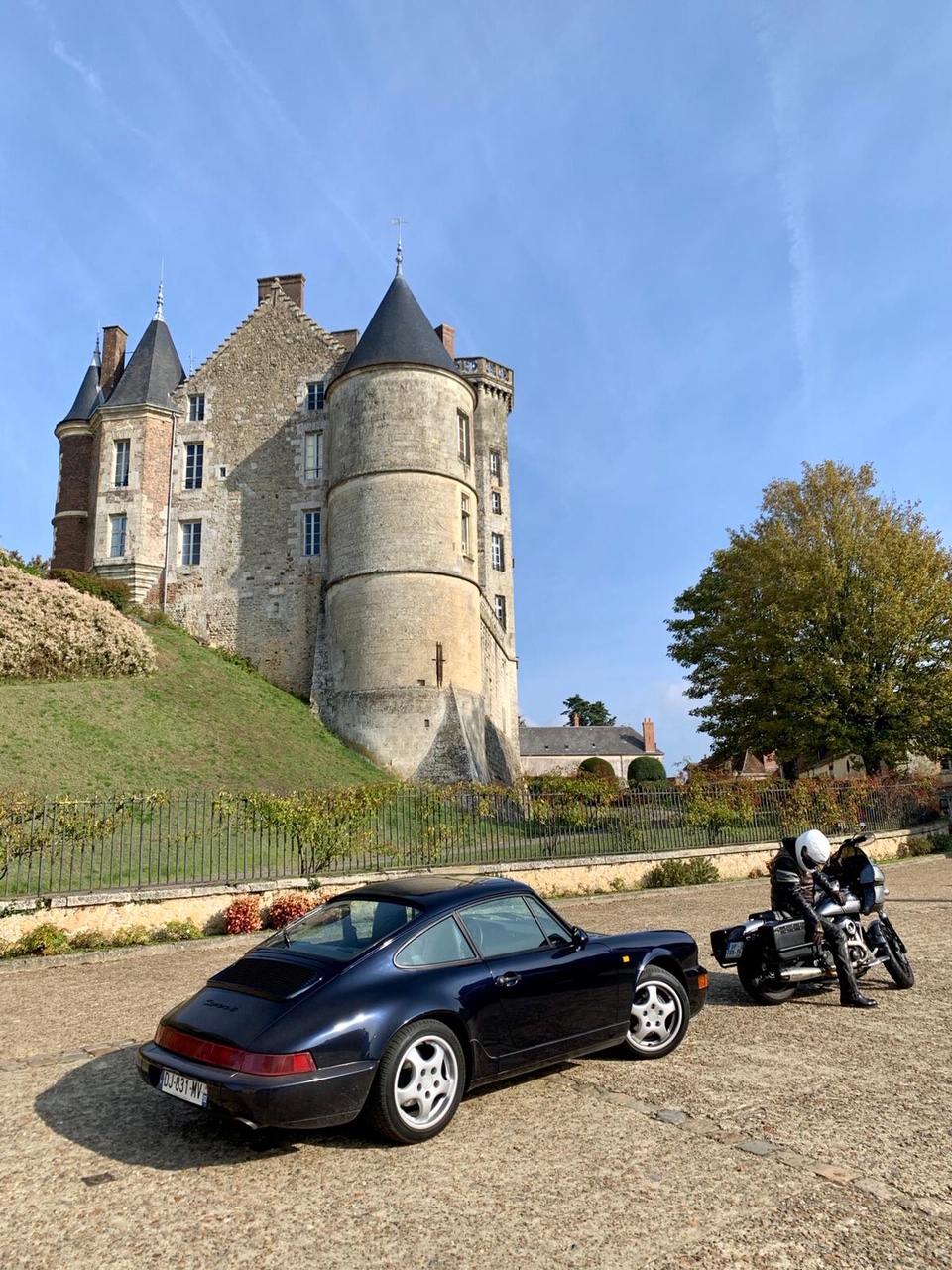 The hotel has secure gated parking – a boon for those with classic cars or motorbikes. And you even can admire the old truck Citroën HY, "Tube" (its nickname in French), in a perfect state, belonging to the Hotel, in the back court …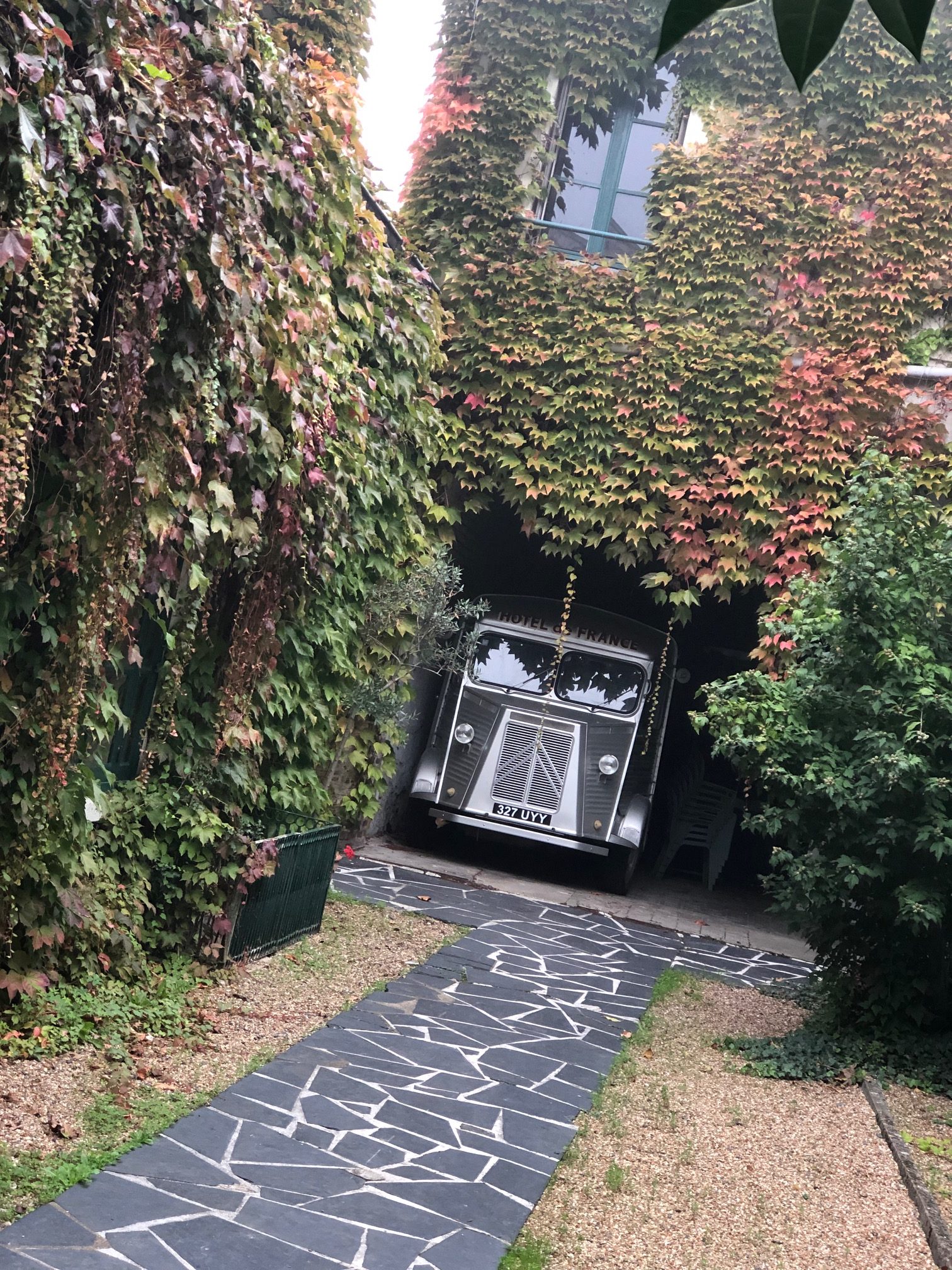 ASTON MARTIN RACING, TVR and FORD are just a few of the big factory teams that utilized the hotel back in the day. Anything and everything from Porsche 917s to Ford GT40s were prepared, stored and driven to the circuit from the garages either side of the building. It set the scene for reflecting on a year which saw a race at Le Mans, that because of a worldwide fuel crisis, provided a swan-song for an oil company pulling out of the sport.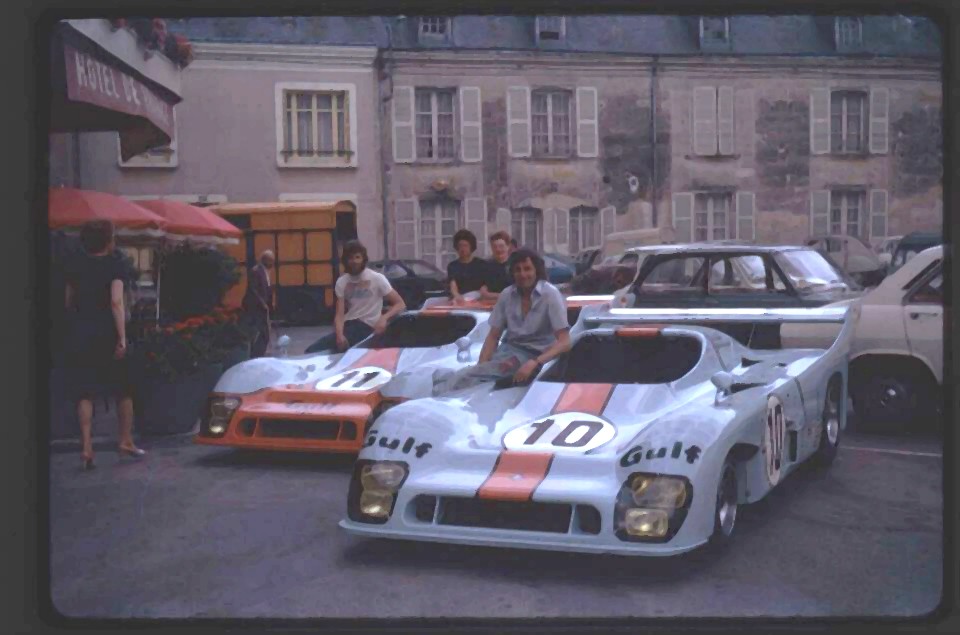 It's not an extravagant hotel which oozes affluence, instead it feels rather homely. It's an old hotel rich in character, and after its restoration, modern and very comfortable. Stunning, individually designed rooms and exquisite food and wines match brilliant staff – and service that's just right: attentive, but friendly and unstuffy. It' just as appealing for those who are looking for a romantic weekend away.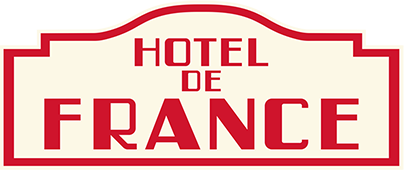 After a great diner on this Saturday and a very good sleepy night, it was time to leave. But, at 8 in this Sunday morning, in  this part of France, be prepare to deal with a local specialty: the famous fog of the Vallée de la Loire … funny but quite dangerous on tiny local roads.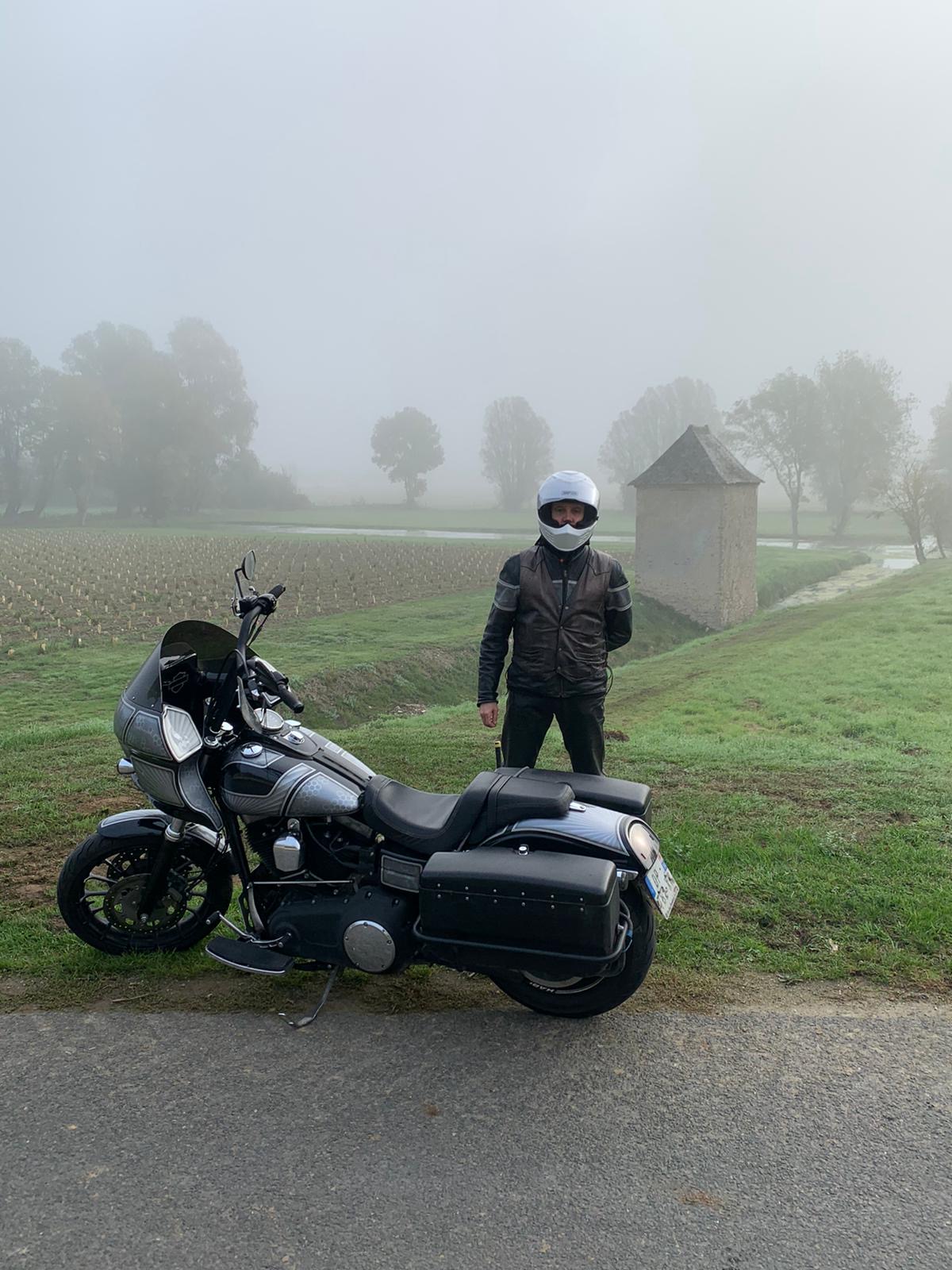 But very quickly, the sun is back and we enjoy a marvelous countryside with incredible places …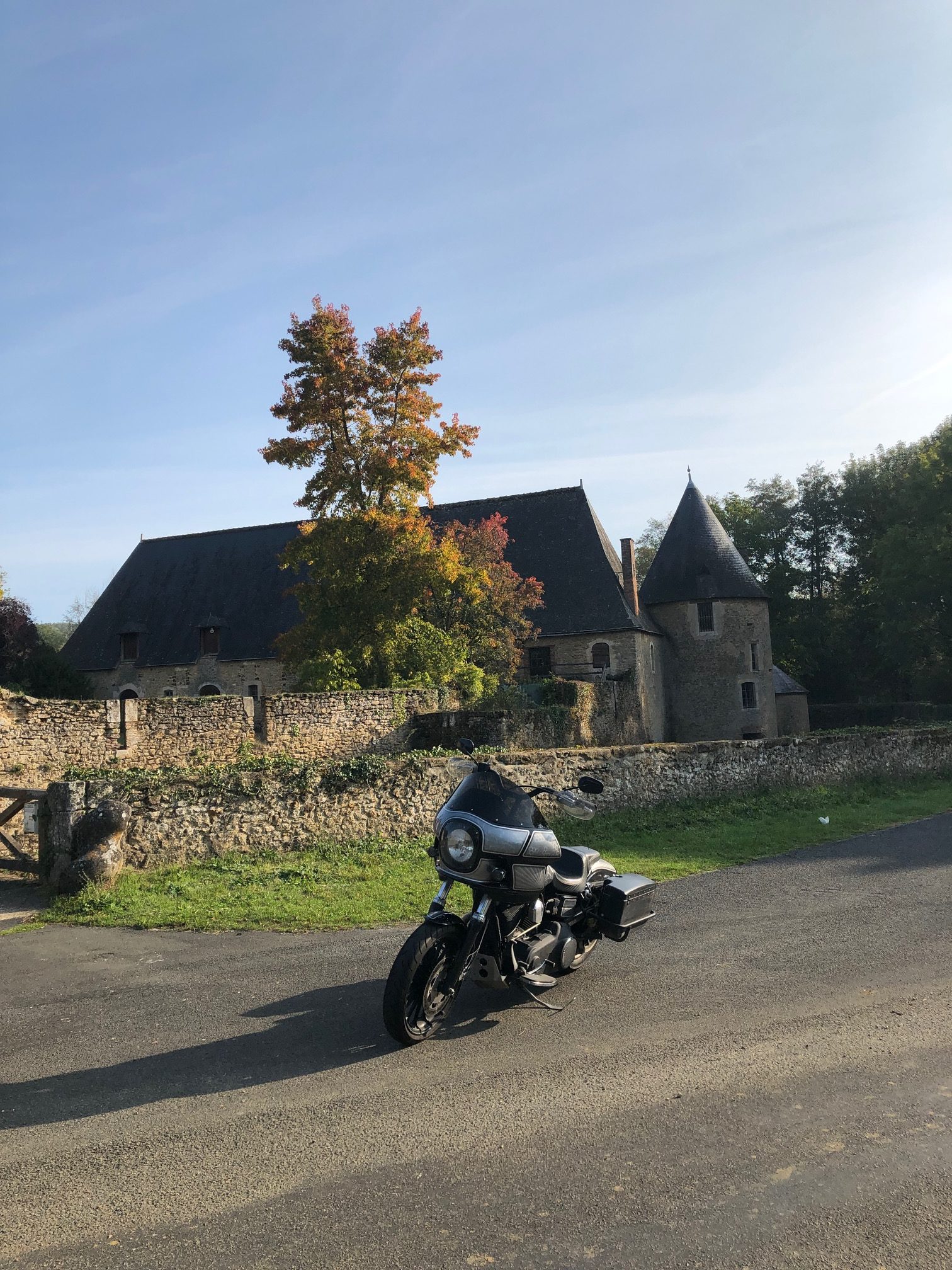 And finally, it's time to come back home … with the head full of fantastic images …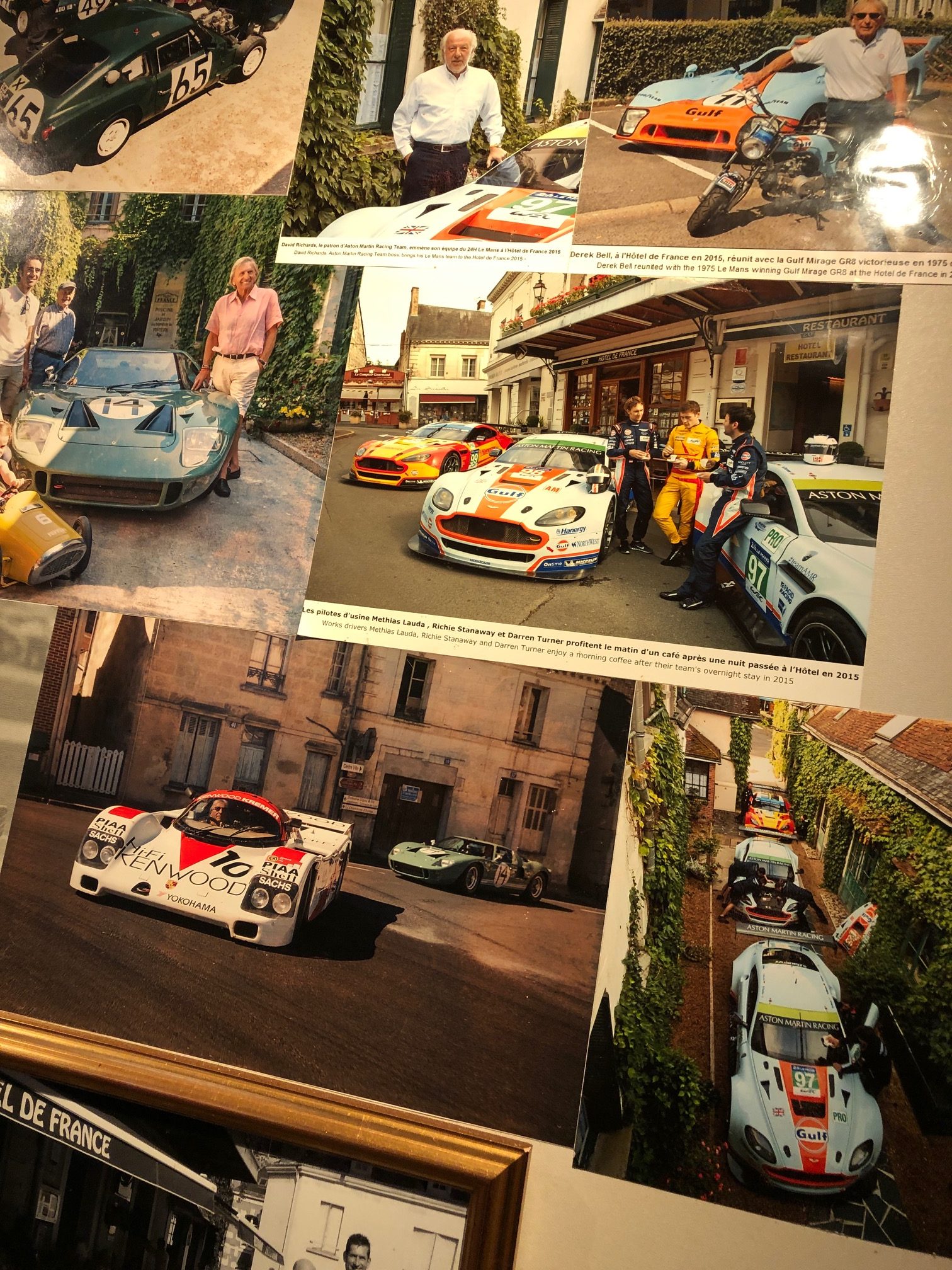 So, as we're once again under lock-down in France for at least 4 weeks, I already know my movie program for the coming day: Le Mans, Le Man 66 and Rush. It's gonna be great for sure!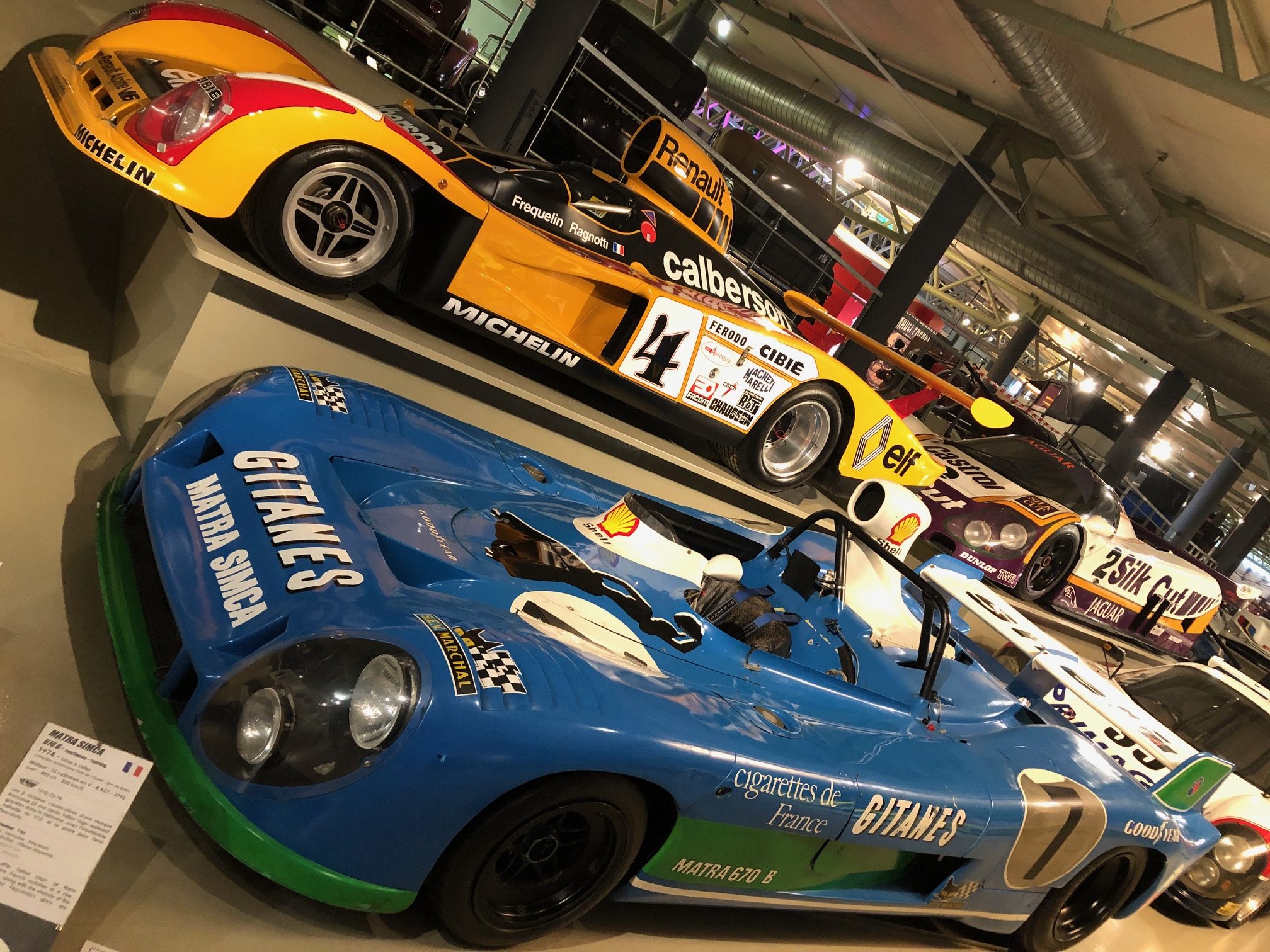 See ya soon on the road … who knows?!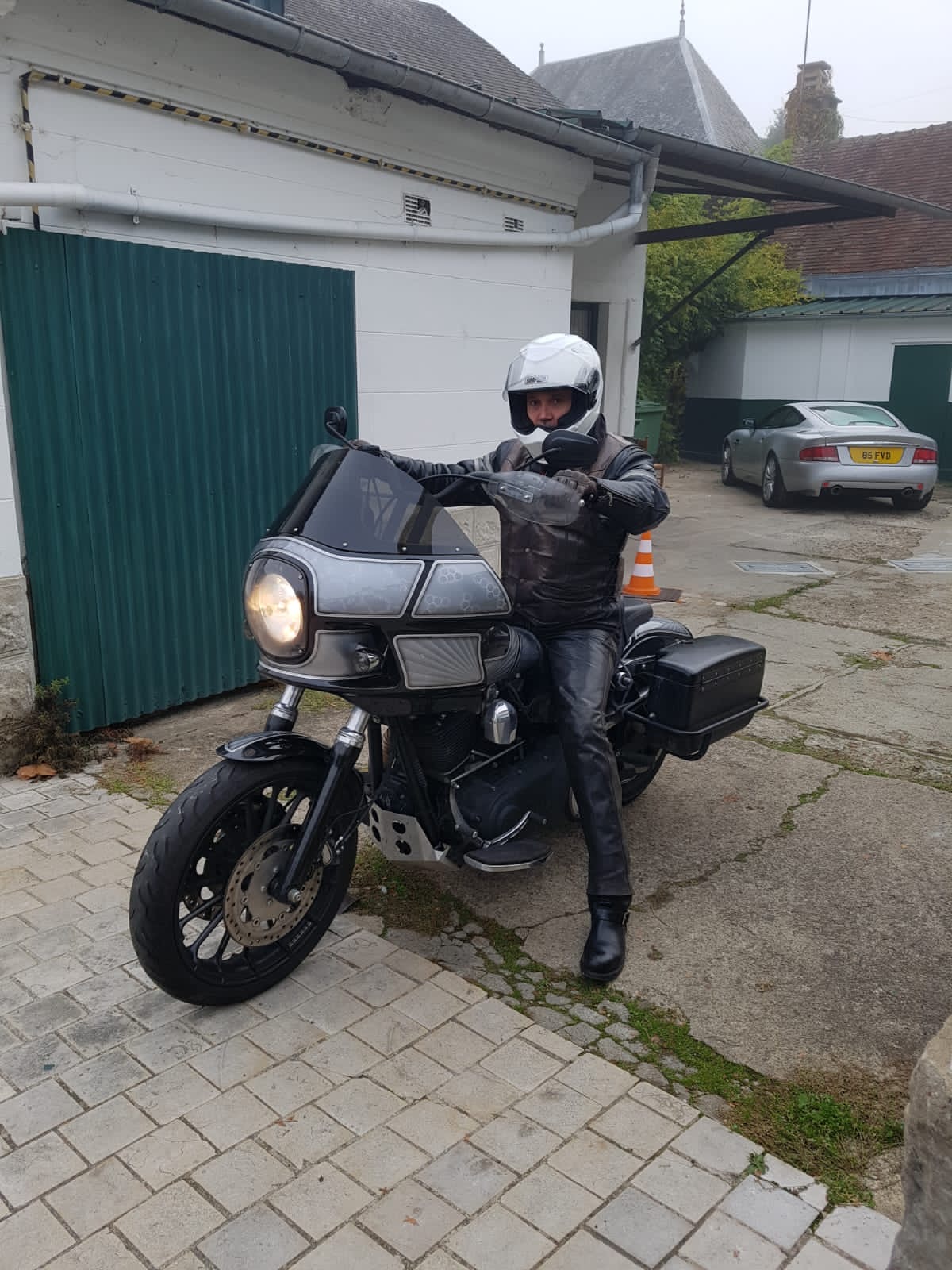 Hervé, your French biker friend.