The Chicago edition of the Progressive International Motorcycle Show hosted the 2014 US Championship of the J&P Cycles Ultimate Builder Custom Bike Show with killer custom bikes in all classes. Paul Widman of Bare Knuckle Choppers took the FreeStyle win, a check for $5,000 and is our Grand National Champion.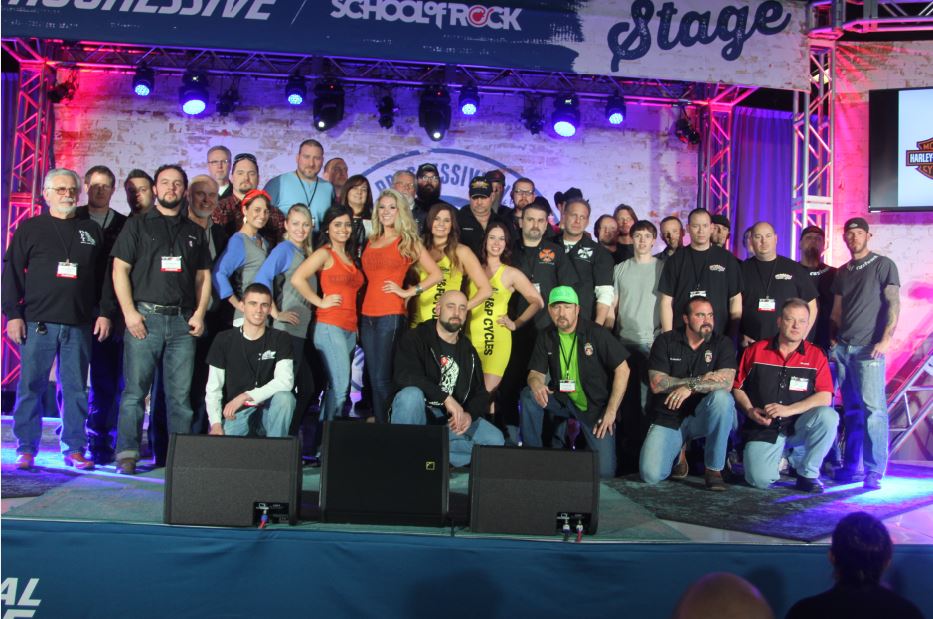 For the championship, cash prizes were doubled to $14,000 and prizes to $7,000. Jon Shipley won the MOD Harley class and took home a check for $3,000 and a Harley-Davidson 120R motor.
FreeStyle
Paul Widman's Championship winning ride is a 1940 EL Knucklehead named Jane Doe. The jewel-like bike features HD 74" mil with shaved and resized flywheels, large port heads and Kibblewhite valves. The chopper sports a handmade frame and front end. The handmade tank sports 1 ¾" coco bolo wood inserts.
1.       Paul Widman, Bare Knuckle Choppers – Jane Doe, 2014 Custom Knucklehead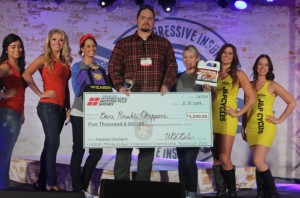 2.       Ron Harris, Chop Doc Choppers – 'Ol 48, 2013 Board Tracker
3.       Rich Worley, American Biker – Steampunk Shovel, 2012 Custom
MOD Harley
Jon Shipley of The Hoosier Daddy Choppers was all smiles as his Firehouse Racer took the win at the Championship. He received a check for $3,000 and a Harley-Davidson 120R motor for his efforts.His custom sled features a Harley-Davidson 96 CI Twincam engine with hand-fabricated exhaust tipped with 1920′s fire hose brass nozzles, S&S Carb and Ultima 2in belt drive. Illumination comes from a 1910 Jose Lucas Carbide headlight and an After Hours Choppers tail light. The leather seat is from Anvil Customs.
1.       Jon Shipley, Hoosier Daddy Chopper – Firehouse Racer, '13 Boardtracker
2.       Joel Gurath, Backbone Built Bikes – Retro Sexy, 2005 HD FXST
3.    Dell Battle – 2009 Racer, 200 HD Roadglide
Retro Mod
Mark Webster of MW Performance won Retro MOD with Stack of Dimes. It is a 1977 XS650 that features extensive engine work lightened chassis, a GSXR 750 front end and hand fabricated and formed tank and rear section.
1.       Mark Webster, MW Performance  – 1977 Yamaha XS650
2.       Kyle Shorey, Shade Tree Fabrications – Priceless, 2013 Shadetree Customs
3.       Dennis Crabtree – Baby Stroker, 1941 HD WL
Performance Custom
The Beast was built by Fusion Custom Cycles on a 2007 Suzuki Hayabusa platform. It's a custom sled with 1397cc mil with ported heads, 360 swing arm, air ride and front and rear swing arm, LED lighting and chrome throughout.
1.     Ortiz, Fusion Custom Cycles – The Beast, 2007 Suzuki Hayabusa
2.     Biggums – Bigboy, 2008 Hayabusa
3.     Matt Jung, Fornallis – Rump Shaker, 2008 Hayabusa
MOD Street
Tony Prust of Analog Motorcycles found one ulgly motorcycle, a Bimota DB3 Mantra, and then found a Bimota enthusiast that wanted a custom bike. Analog transformed the bike into a thing of beauty. It features a custom subframe, 1 off tank and seat, custom fork brace, Alpina tubeless spoke wheels and a $6,000 ISR brake system. Engine updates include FCR carbs with velocity stacks, EVR slipper clutch, custom exhaust and belt covers.
1.       Analog Motorcycles – DB3.5, 96 Bimota DB3 Mantra
2.    Team Triumph – Green Manalishi, 2014 Thruston
3.       Thomas Foulds, Working Class Choppers – Jizzeppi, '82  Suzuki  GS450
Additional Awards
People's Choice was won by Josh Weinmann. He received a Bell Custom 500 helmet that was pinstriped from Skratch.  Working Class Choppers took the Hashtag Hustler award and received a J&P Cycles $150 gift certificate. SHO DOG Awards: Mark Gates takes the Rocking K Custom Leather's chain wallet and Backbone Built Bikes takes the Garage Leathers' Solo Bag. All award winners received a swag bag of Metal Rescue and a premium cleaning kit from Wizards.
Program sponsors include Progressive Insurance and Harley-Davidson. Contributing Sponsors include Wizards, Bell Helmets, Metal Rescue, Rocking K Custom Leathers and Garage Leathers Solo Bags.
Post by Jack McIntyre, Info & images by Jeffrey Najar, Partner BIKERPROS.COM