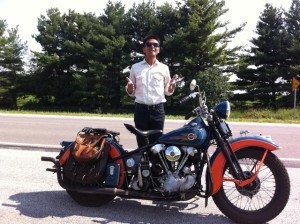 Carl's Cycle Supply is holding a low volume sweepstakes event for an opportunity for someone to ride Matt Olsen's 1936 H-D Knuckle in the 2014 CannonBall Event. The cannonball golden ticket is set up as a team fundraiser for the two 36 ELs that were built and prepped by Carl's Cycle Supply to compete in the 2014 Motorcycle Cannonball Coast to Coast run that takes place in September of 2014. The promotion continues from now to June 29th 2014.
The first place prize is an all-expense paid trip on the Motorcycle Cannonball from Florida to Washington riding on Matt Olsen's 1936 Harley Knucklehead. The winner will get airplane tickets to the beginning and from the end of the race, the $2500 entrance fee, the hotels, $60/day food allowance, and a $60/ day gas allowance. The race team will be Carl Olsen on his '36 EL and the winner of the Cannonball Golden Ticket on Matt Olsen's '36 EL. There will also be a chase truck with Matt and Brittney Olsen to take care of maintenance on both bikes, carry the riders' luggage and do whatever is possible to make the trip as simple and enjoyable as possible.
Second place prize is an all-expense paid trip from anywhere in the world to visit the Harley Davidson Museum in Milwaukee Wisconsin. The winner will have a private guided tour of the museum and power train factory as well as a behind the scenes look into the Factory Archives.
For more information about the Cannonball Golden Ticket go to: www.cannonballgoldenticket.com .
Source and images: Carl's Cycle Supply
Posted by Sam Kanish