Florida's Gulf Coast Spring Rally takes place April 30th – May 4th, 2014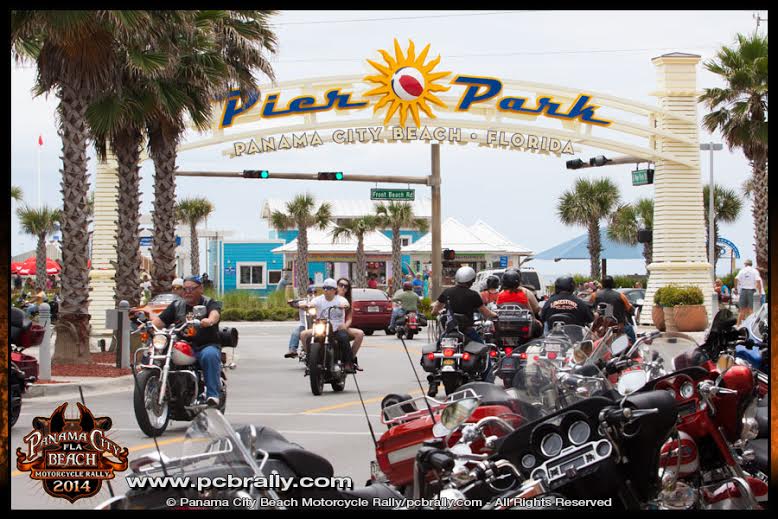 (April 10, 2014 – Panama City Beach, FLA) -The Panama City Beach Motorcycle Rally®, is less than three weeks away with Bike Week activities starting on April 30th at the Sandpiper Beacon Beach Resort and Tiki Bar.  The Sandpiper's legendary Tiki Bar hosts beachside concerts and entertainment throughout the rally and is the official location for the 2014 rally Kick-Off party. They will be featuring a regional favorite band Mustang Sally, followed by Big Engine.  The party continues daily with more shows from both Mustang Sally & Big Engine concluding Saturday night with the return of the long time PCB rally favorite artist ELI.
New activities scheduled for the Spring 2014 Panama City Beach Motorcycle Rally® include daily Poker Runs benefitting the Toys for Kids Foundation. The Toys of Kids Foundation is one of the most prestigious charities in Bay County FL, providing services to families with children in need to make Christmas a little brighter every year.  Registration for the Poker Runs are at 11:30 AM each day/ $10.00 per rider.  Sign up at Shrimpboat Restaurant on Thursday, May 1st, Patches Pub on Friday, May 2nd, and the Sandpiper Beacon Beach Resort on Saturday, May 3rd.
The Spring 2014 Ms. Newby's Old School Bike Show will be held on Friday May 2nd from Noon to 6:00 PM, dedicated in memory of the show founder Scott Davis lost to a motorcycle accident in early March.  Ms. Newby's and the show sponsors will continue the tradition a few years ago into it's 9th show.
Classes Include:
Stock Shovel Head | Custom Shovelhead | Stock Panhead | Custom Panhead | Antique American (Indian, Knucklehead Flathead, or other) | British / European | Sportster (89 & Older) | Metric / Other
Trophies awarded for First Place and runner up for each class.  Additional Trophy awards for: People's Choice  Entry Fee is $10.00
Spinnaker Beach Club, one of the best beach-front rally venues along the Thomas Dr. corridor. is also gearing up to welcome the riders. The vendor lot will open daily at 9:00 AM featuring outdoor bar service, live music, and rally vendors that include Hot Leathers, Trick Lites, It's a Steel Jewelry, Cross Creek Leather, Original Bike Spirits Shitzengiggles Leather Repair and Advanced Auto Parts. As the daytime activities wind down Spinnaker's nightclub comes to life with DJ's in the Groove Room, Karaoke in the Portside, and nightly shows featuring Grand Theft Audio in the Rock Arena
The Lucky 13 venue features a stage with daily & nightly bands and entertainment and serves as the new home and headquarters for Full Throttle Magazine during the rally. Full Throttle's signature events such as the Thunder Thursday Bike Show, Miss Full Throttle Competition, Real Women of Full Throttle Competition and the Nearly Famous Strong Man Competition will all take place at "The Lucky 13". There will also be celebrity appearances by John Landstrom, Wayne "Hill Billy" Nix, Tony Parrot and regular performances by JB Walker and the Cheap Whiskey Band.
Panama City Beach Bike Rally Details
Entry into PCB Rally is Free, parking is Free, and nearly all events and shows have no cover charge.
New and returning riders can find a schedule of events, lodging information and anything they ever needed to know about the PCB Motorcycle Rally by visiting http://www.pcbrally.com
About Panama City Beach Motorcycle Rally®
Panama City Beach Motorcycle Rally® is a citywide rally with its Welcome Center located at Spinnaker Beach Club on Thomas Dr. The Panama City Beach Motorcycle Rally has, for many years, been a popular destination for tens of thousands of riders and motorcycle enthusiasts every Spring and Fall. It is considered to be one of the best rally events in the entire country and one of the best reasons to take a beach vacation on two wheels in Panama City Beach.
For more information on the Rally, including schedule, lodging options, and more, visit http://www.pcbrally.com.
Ken Conte
Rise Above Consulting
970.227.3588
1717 Deweese Street
Fort Collins, CO  80526