After poorly qualifying in the first 2 rounds, Harley-Davidson Screamin' Eagle/Vance & Hines riders Andrew Hines and Ed Krawiec finished 1-2 in the Charlotte 4-Wide Nationals at zMAX Dragway. The pair of Harley-Davidson Screamin' Eagle/Vance & Hines riders eventually swept the top 2 finishing positions in the 4-wide format unique to this event that has the first and second-place rider in each heat advance to the next round of eliminations. For Hines it was his first win of the season.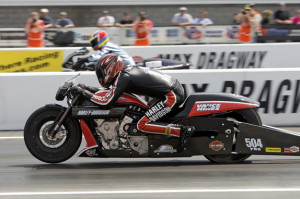 "I'm still not a big fan of four-wide drag racing, and I told everyone I'd be happy when this weekend was over," said Hines, who leaves Charlotte with the Pro Stock Motorcycle points lead. "But I'm even happier to be leaving here with a Wally. I've never even won a round in four-wide racing before today."
"I would say we struggled a bit on Friday, but on Saturday our Harley V-Rods started to respond," said Krawiec. "We've learned some things since Gainesville, and we tried some new parts, and on Saturday we started to come into our set-up. Andrew made that big jump. We are still young in this program but have made some significant progress."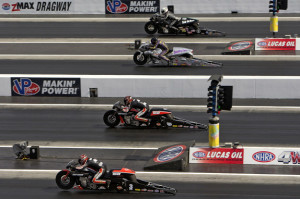 It was a "Hectors vs. Harleys" second round, as Hines and Krawiec lined up against the Lucas Oil Buell riding father and son team of Hector Arana and  Hector Arana Jr Arana. Krawiec won the round followed by Hines as both of the Harley-V-Rod riders advanced to the final round of eliminations. In the final round the V-Rod powered bikes prevailed with Hines winning his 33rd race with  Krawiec second followed by Quality Tire Buell rider Scott Pollacheck and Matt Smith Racing Buell rider John Hall.
Hines leads the 2014 NHRA Pro Stock Motorcycle series with 180 points after the first 2 races on the 16 event schedule. Pollacheck is second with 169 points, Hall third with 152 points,  Krawiec fourth place with 151 points, and Arana Jr. fifth with 145 points. The next 2014 NHRA Pro Stock Motorcycle series action is May 16-18 at the 34th annual Summit Racing Equipment NHRA Southern Nationals at Atlanta Dragway in Commerce, Ga.
Source and images: Harley-Davidson
Posted by Sam Kanish