In case you didn't know it this week, April 14-21th, is AMA Go Ride For A Cause! Week. Good-hearted generosity by motorcyclists can be displayed during this 7-day campaign, the third week of the American Motorcyclist Association's AMA Go Ride! Month.
"Motorcyclists are well known for their support of children and families in need, as well as causes that celebrate the freedom of motorcycling," said AMA President and CEO Rob Dingman. "During AMA Go Ride For A Cause! Week, we salute those who work in their communities to make life better for others and encourage all riders to support causes that embody the American spirit of giving back."
Some examples of what motorcyclists can help are:
The national Ride for Kids program that supports research and family programs for children diagnosed with brain tumors. Learn more at www.rideforkids.com.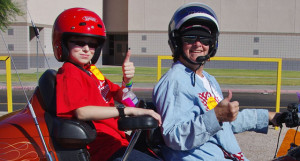 The March of Dime's Bikers for Babies nationwide charitable initiative. AMA-sanctioned rides are expected to involve more than 35,000 participants across the country this year. More information can be found at www.bikersforbabies.com.
The non-profit AMA Motorcycle Hall of Fame preserves the history of motorcycling and its legends. AMA Vintage Motorcycle Days, the Hall of Fame's biggest annual fundraiser, is held each July at the Mid-Ohio Sports Car Course in Lexington, Ohio. Proceeds benefit the Hall of Fame, located on the AMA campus in Pickerington, Ohio. More information can be found at www.americanmotorcyclist.com/events/AMAVintageMotorcycleDays.
Each "Freedom Friday" during AMA Go Ride! Month, riders are urged to  join the cause to fight for America's motorcycling freedoms. This week, Freedom Friday focuses on access issues important to motorcyclists, including access to public lands, health insurance, parking structures and more.
To make AMA Go Ride! Month even more rewarding, AMA Benefit Partners like Avis, BikeBandit.com, ColorRite, Cortech, FLY Street and FLY Racing, PowerTye, Red Roof Inns and Tour Master are supplying cool prizes. During AMA Go Ride For A Cause! Week, Powertye and Red Roof Inn are providing prizes geared for both street and dirt riders. Anyone who "likes" or comments on a post on the AMA Facebook page by 4:45 p.m. EDT on April 18 is eligible to win. One winner for each prize will be chosen at random.
At the end of AMA Go Ride! Month, one Grand Prize winner will be chosen from everyone who "likes" or comments on an AMA Facebook page post between March 31 and 4:45 p.m. on May 2. The prize package includes a FLY Racing Roller Grande gear bag, a Cortech Super 2.0 8-liter tank bag, a $100 gift certificate from BikeBandit.com, a Rental car voucher from Avis and one night's lodging from Red Roof Inns.
Contestants do not have to be AMA members to win and can enter as often as they wish during AMA Go Ride! Month. Contest rules are posted on the AMA website: www.americanmotorcyclist.com/GoRideContest. Updates will be available on the AMA Facebook page.
Source and image: AMA
Posted by Sam Kanish