It's been all about Indian on the dirt track lately but Harley-Davidson is putting in effort at the drag strip, too. Here's info on their all-new NHRA Pro-Stock competition bikes being debuted this weekend.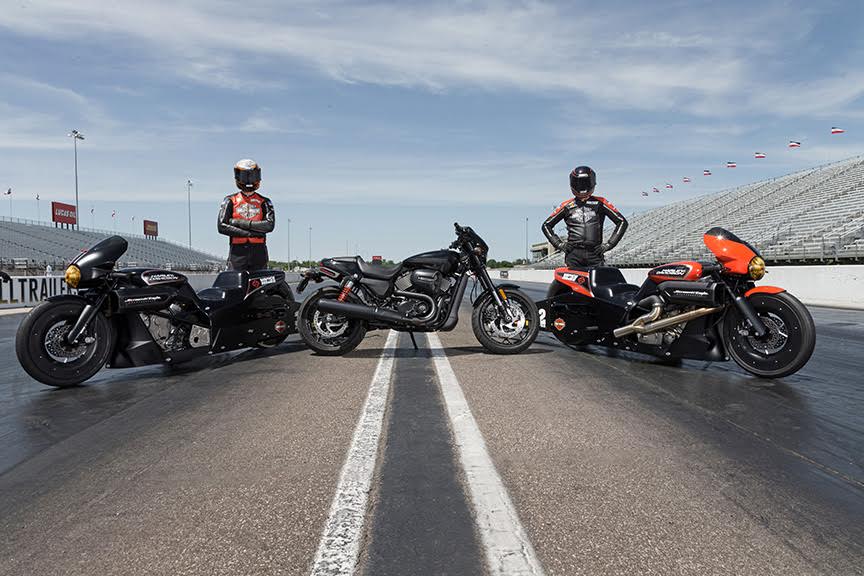 MILWAUKEE (June 7, 2017) – The Harley-Davidson® Street Rod™ will hit the drag strip this weekend when the Harley-Davidson Screamin' Eagle/Vance & Hines drag racing team debuts all-new Street Rod-inspired bodywork for its Pro Stock Motorcycle competition bikes at the NHRA Summer Nationals, June 8-11, at Old Bridge Township Raceway Park, Englishtown, N.J.
Powered by the liquid-cooled High Output Revolution X 750 engine with suspension tuned for maneuvering through traffic and gritty urban streets and steeped in tough Harley-Davidson® Dark Custom™ styling, the Harley-Davidson® Street Rod™ inspires the sleek, menacing lines of carbon-fiber racing bodywork that will look right at home on the NHRA starting line.
"With its muscular stance, high-performance engine and hot-rod inspired styling, the new Street Rod motorcycle is the perfect vehicle to carry Harley-Davidson's championship winning Pro Stock Motorcycle program forward on the race track and in the showroom," said Scott Beck, Harley-Davidson Global Brand Director.
The new Street Rod competition bodywork was designed at the Harley-Davidson Design Studio in Milwaukee in collaboration with Vance & Hines Motorsport and was wind-tunnel tested in Indianapolis during its development.
"The Street Rod is a contemporary interpretation of American performance and Harley-Davidson design heritage. It's a tough looking motorcycle with design cues that reflect hot rod and muscle car DNA," said Brad Richards, Harley-Davidson Vice President of Styling & Design. "We wanted to create a new body that would not only be competitive on the track but also embodies the personality of the production Street Rod, which we think is a great tie in because they are both motorcycles with dynamic performance deeply rooted in their DNA. We particularly love the design of the fairing and the bobbed tail section because they truly identify the motorcycle. Whether it's the race bike or the production bike, from 200 feet away you know it's a Street Rod."
In addition to the new bodywork, riders Andrew Hines and Eddie Krawiec will also be racing all-new chassis for the first time at Englishtown.
"The launch of the new Street Rod motorcycle was the perfect opportunity to give our championship winning drag bikes new bones," said Harley-Davidson Screamin' Eagle/Vance & Hines crew chief Matt Hines. "We used CAD and other digital tools to design a new chassis that minimizes weight while maximizing strength and rigidity. Track testing confirmed that the new bikes are aerodynamically sound and these new bikes run as great as they look with the sleek new body."
The Harley-Davidson Screamin' Eagle/Vance & Hines team will campaign the new Street Rod drag bikes for the remainder of the 2017 NHRA Mello Yellow Drag Racing Series. Krawiec, a three-time NHRA Pro Stock Motorcycle champion (2009, 2011-12) currently leads the series with 306 points and scored a final-round win at the season-opener in Gainesville, Fla. Hines, a five-time NHRA Pro Stock Motorcycle champion (2004-06, 2014-15) is third in the current season standings with 230 points.
For more information visit h-d.com/racing.