Motorcycle riders the world over know this iconic brand: London's Ace Café. And now both riders and non-riders stateside have the opportunity to know it better with the opening of the Ace Café USA in Orlando, FL – the first in North America.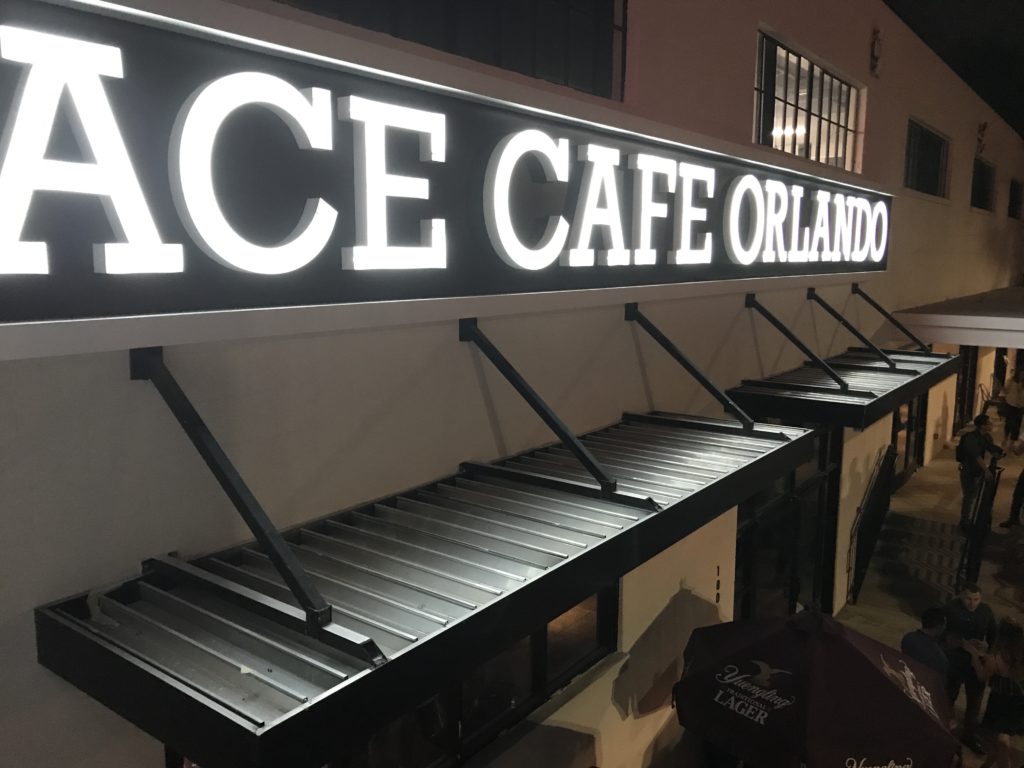 It joins other Ace Cafés located in Barcelona, Spain; Helsinki, Finland; Luzern, Switzerland; and Beijing, China. Yes, gearheads, right next door to the Magic Kingdom where fantasy reigns, there's a new venue for flat out fun where grit and grease rule the roost and authenticity is king.
Housed in a hundred-year-old building that originally operated as a boiler plant, the Ace Orlando sits alongside the Atlantic Coast Line Railroad and trains rumble by daily. The multi-level structure maintains an industrial feel sporting brick, galvanized metal and diamond plate that brilliantly accompanies the subject matter: classic cars, hot rods, motorcycles and all things internal combustion.
Inside there's a coffee and gelato bar for sugar and caffeine fiends and a restaurant offering a full menu for lunch and dinner. Selections include chrome diner comfort food on the lines of pot pie, meatloaf and sliders laced with British classics such as curry chicken, fish & chips and bangers & mash. The open stage is literally set for live music performers circled by up-and-downstairs spectator enjoyment and seating at the bar.
For shoppers, Stonebridge Motor Gallery on the mezzanine is stocked with a changing line-up of original motorsports and rock 'n roll-inspired artwork, photography, sculptures, and memorabilia, as well as collectable one-off custom motorcycles. On opening weekend we recognized images by Michael Lichter, David Uhl and Scott Jabobs. Rockers Speed Shop sells official branded Ace apparel, and there's a compact BMW motorcycle dealership, a Dainese D-Store and EagleRider motorcycle rental company.
There's ample outdoor space for dining or people watching while grabbing a cold beer, glass of wine or signature cocktail. The spacious car park—the envy of the original Ace in London—allows room for show and shine action, all day every day. And construction continues in the adjacent space. Soon to open is Oklahoma Joe's Bar-B-Cue, Backyard Beer Garden and Blue Cap Shack show venue. Special events welcome!
A contingent from across the pond joined Ace Orlando's Chief Gearhead Mark McKee, CFO Eric Forward, and Chief Marketing Officer Steve Glum for the grand opening. These included George Tsuchnikas and Mark and Linda Wilsmore of the Ace Cafe London.
Mark Wilsmore spoke about the difficulty of bringing an historic building back into service after a long hiatus, comparing it to a classic vehicle restoration. "When you start pulling them apart you think you've got it, then you find all the horrors," he said.
And he knows the topic firsthand. In 1994 the Wilsmores staged London's first Ace Reunion to mark the 25th anniversary of the original Ace Café's closure and they were astounded at the turnout. This led to efforts that resulted in the re-opening in 1997 of the London Ace in its original location, a building that had done various duty—and sat abandoned—through the years.
So Wilsmore is cognizant of the challenges a hundred-year-old building can present. "But it's here, and it's done, and it is delivering as I expected it would," he said. He especially appreciates several of the amenities he can't match in London. "There's more room here, room to die for! The stage, the car park, the space is vast. And you've got air conditioning!" he said.
Opening weekend proved it: the Ace is the place for mavens of gearhead culture and those who aspire to participate. Stop in for a visit. Both Mods and Rockers are welcome.
RESOURCE:
Ace Cafe USA
100 West Livingston St.
Orlando, FL
407-996-MOTO
www.acecafeUSA.com