This is a re-post of a post we did in 2018. Masha Nepomnyaschaya is caught in the middle of a terrible situation in the Ukraine. Please keep her & the Ukraine people in your prayers.
Story and Photos by ITN European Reporter Herve' Rebollo
Salut à toi American rider,
I'm a proud heavy rider … But I have to confess that I use to spend a consequent time on social networks (and I'm proud too to confirm that  …I'm not on FB …I'm sure you can't believe it).
And It regularly permit me to meet amazing persons. As MASHA, met via Instagram …
So … Let me introduce my friend YAMASHA.
More precisely, Masha NEPOMNYASCHAYA is a 27 n-year-old Ukrainian female painter with degrees … and she is crazy about motorcycles.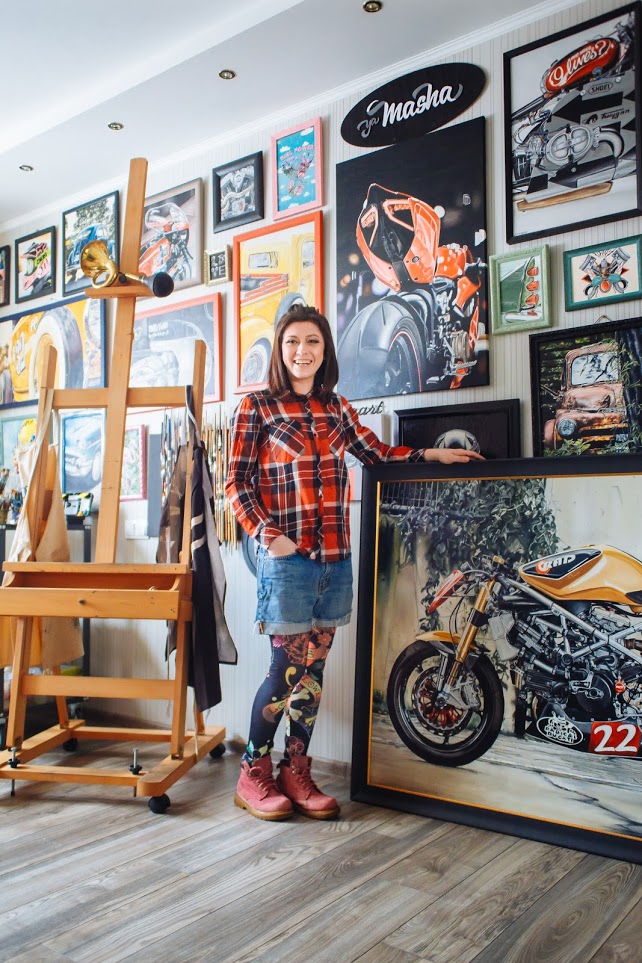 All the motorcycles … even if she does not have her driver's license for two wheels yet.
It does not really matter, she has plenty of time to pass it … for the time being, she has decided to try to live entirely by her pictorial art and paint as many motorcycles and other Mechanical (four wheels in particular) as possible.
Masha was born in Ukraine and currently has been living in Kharkiv (in Ukrainian or Kharkov in Russian), second largest city of the country, in the east, almost on the border with Russia.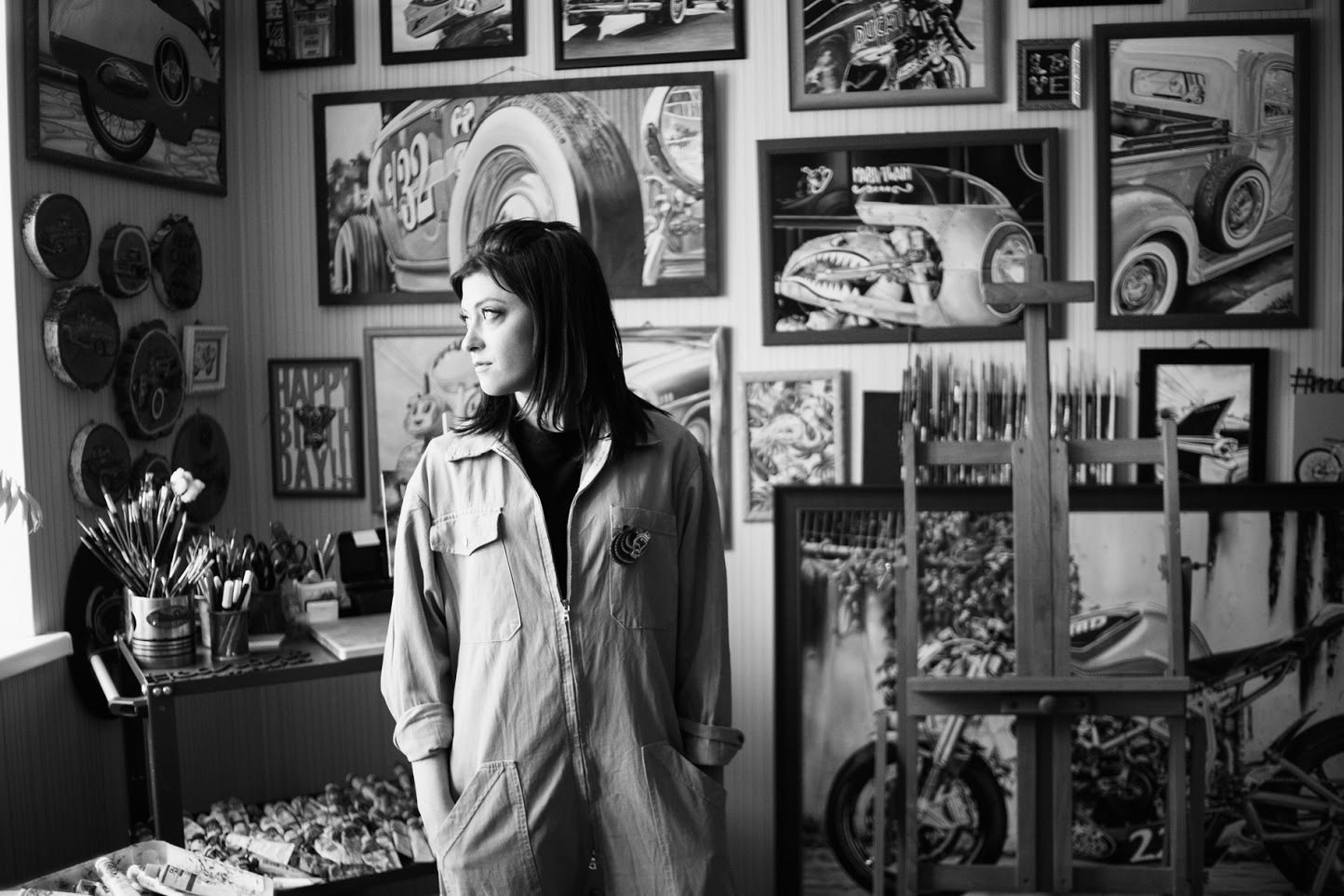 She remembers that she draws and paints from her early childhood, from daycare, and speaks of her as a self-taught person (none artist in the family) whose dreams have become reality.
She successfully completed art studies at the university and graduated as a lawyer last year in 2016. Artist and lawyer, she speaks English perfectly. She is such a brilliant person.
In search of her artistic vocation in different directions (such as advertising design) she says she has recently realized that creation is a private and intimate process.
Convinced that everyone must find their own place to participate in the harmony of the world, she believes that she is precisely finding her own ; thanks to her artistic ability and her fascination with motorcycles.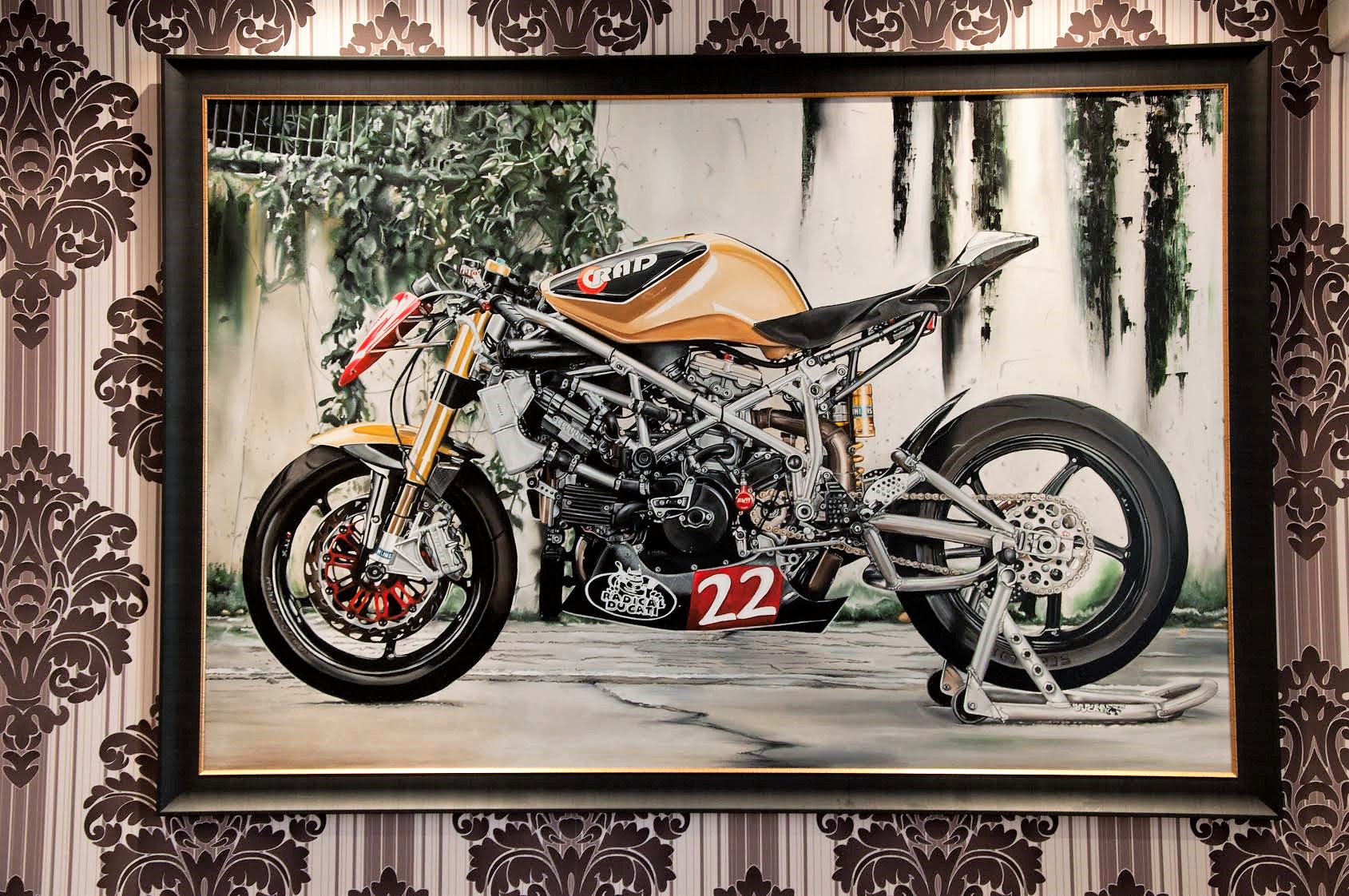 She gives immense gratitude to her parents who have always given her the right to choose and have supported her choice of orientation.
It's the encounter with her boyfriend that will rush her into the world of motorcycles.
He inspired her with what she paints today. "Every day he helped me to get into the world of motorcycles. We read articles of the motorcycle press, we talked about it in my workshop. I fell in love with motorcycles with him. Day after day they have made me more and more fascinated. Thus "motorcycle art" has taken a preponderant part in my life ".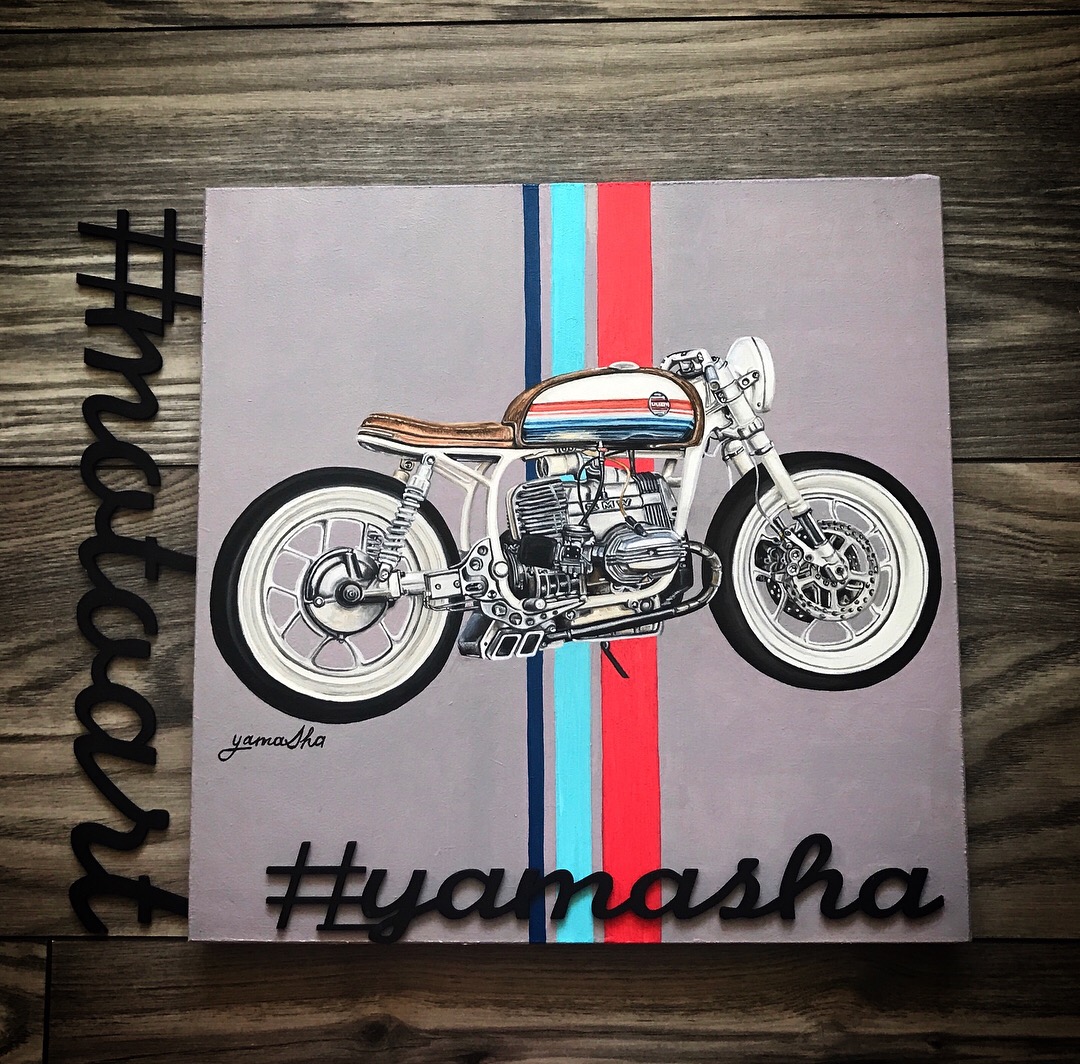 All really began at the end of 2011 with a RADICAL DUCATI MATADOR, Masha's favorite motorcycle, she has beautifully restored it on a canvas of 150х120 cm. She considers that this work, which took four months, is the one that propelled her into auto / motorcycle painting after a fairly classic journey marked with drawings / paintings, portraits, landscapes and other still lifes (Which to date, at 26 years of age, represents about three hundred implementations using different techniques).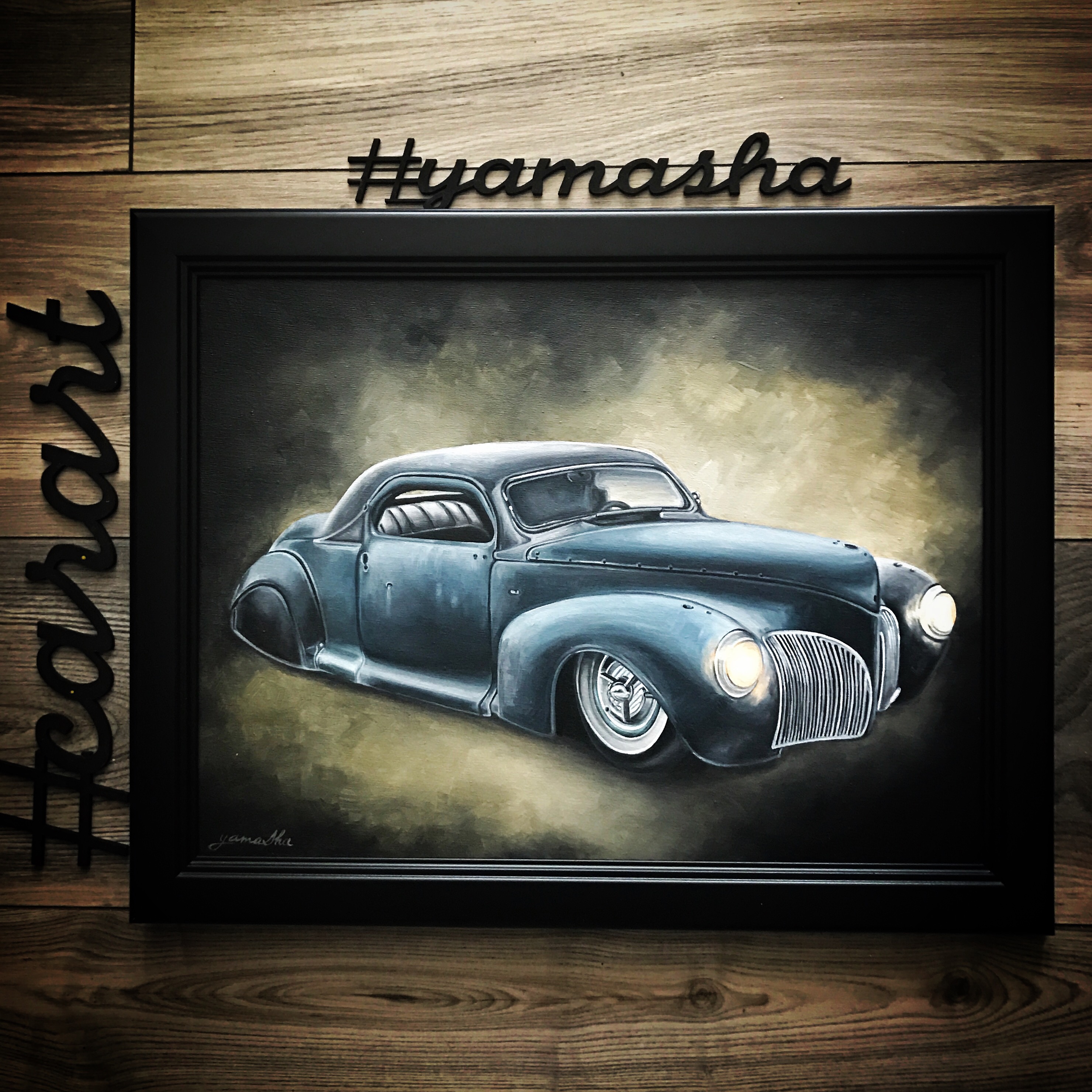 Subsequently, Masha began to select photos with the utmost attention. Once the work begins, his will is such that it cannot stop until it is finished. A work can take her a few days as a few months. The feeling of creation is so strong that Masha says to take himself for a motorcycle preparer / customizer; Especially when she approaches the details of her works to which she attaches a particular care which brings her much pleasure. – "I try not only to paint but also to feel and restore the charm of course but especially the character of the motorcycle. And I try to carry out the exercise with the right frame of mind because painting, matter can feel everything. I put my love and my soul into it. My opinion is that you can feel this. That's why I think now I can say I'm an artist. "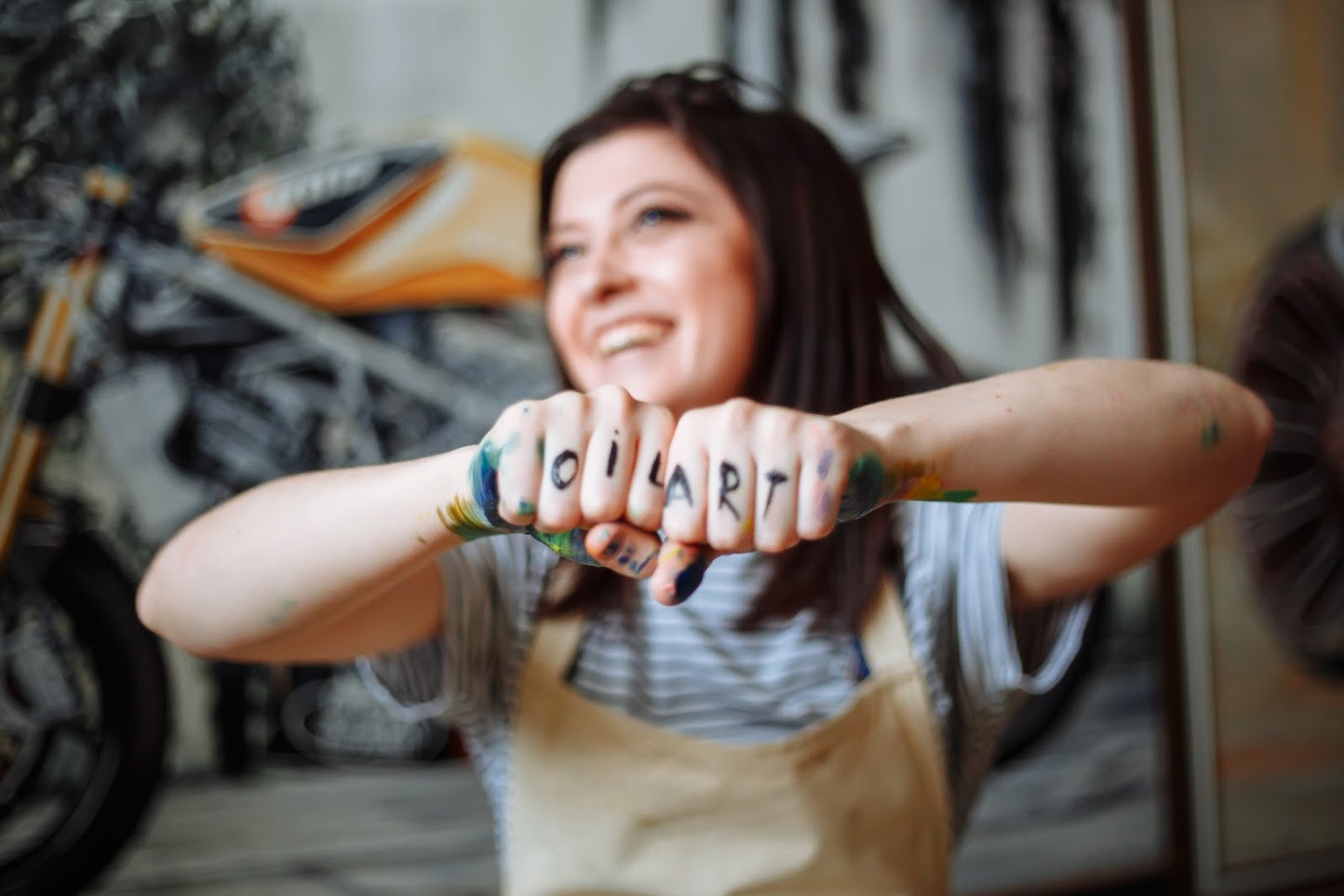 Masha, took the name of artist YAMASHA. It sounds a bit like the name of a famous Japanese brand but ultimately has nothing to do with the said brand with tuning forks. In fact, by dint of presenting herself in English, "I am Masha", the sound has finally come to the fore and Masha became YAMASHA …
She loves to paint motorcycles, cars and everything related to custom culture. She has nothing against the stock production machinery but does not find them personality, character. Each custom has its own history and of course a soul. She endorsed the famous proverb that says " FOUR WHEELS MOVE THE BODY — BUT TWO WHEELS MOVE THE SOUL".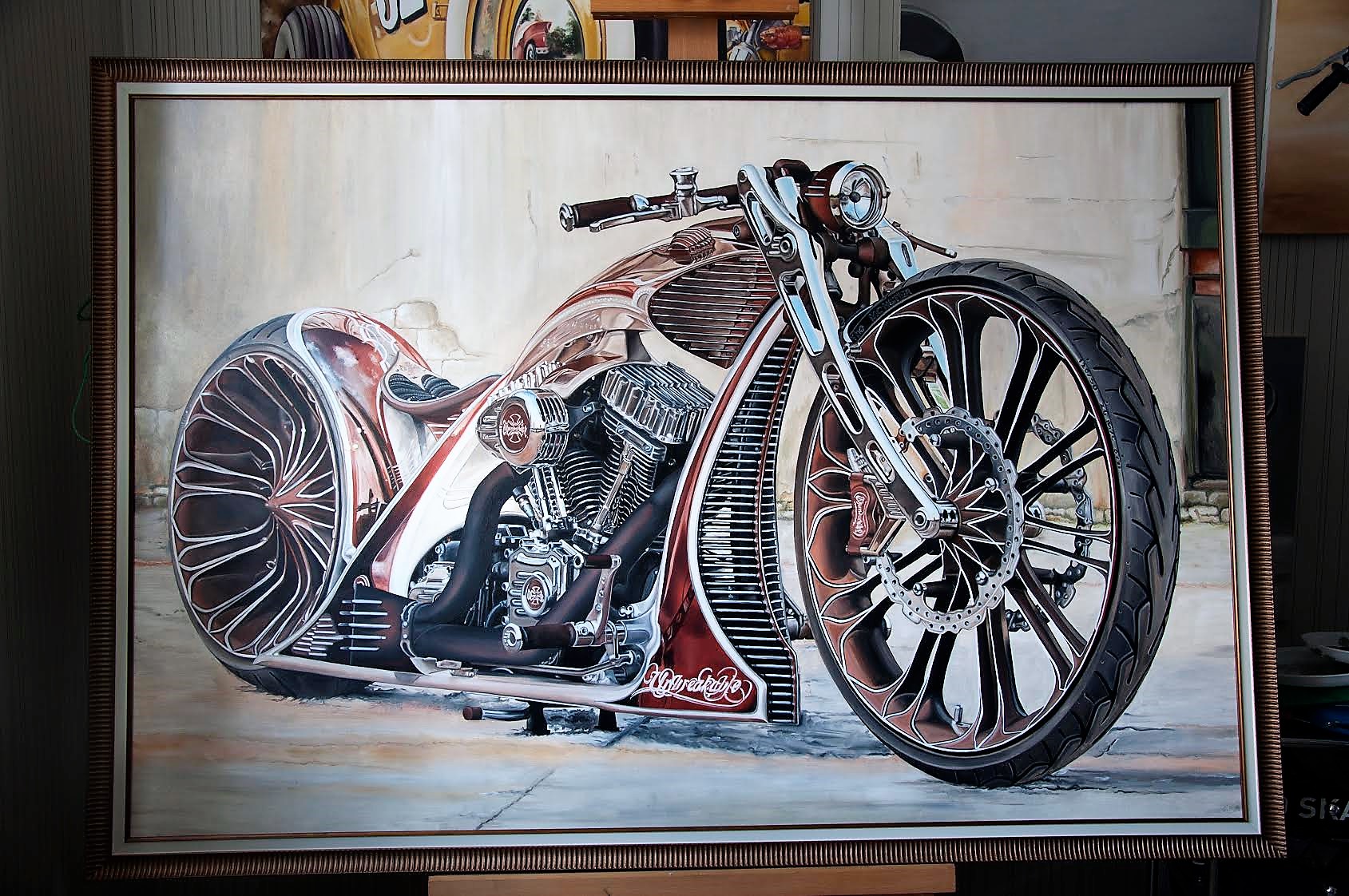 Her style belongs to photorealism (art by which an artist studies a photograph and then tries to reproduce the image in the most realistic way possible on another medium). The precision required and the number of details to be restored required by this technique requires a great deal of preparation, a thorough study of the subject and takes a long time
Yamasha can use various techniques but it is the oil painting that has his preference. She practices it daily to improve her technique. One can easily admire her works on Instagram (on the _yamasha account) or on her website yamasha.com.ua (in addition to her work as a painter, she also produces decorative objects related to custom culture).
It is through these modern medias and other social networks that she develops its fading notoriety … and its sales. A few days ago she just sent to the USA, Alabama, a painting that an American motorcyclist had ordered – his homemade coffee racer on the basis of Kawasaki Z750. She currently works for an English client.
As far as the practice of the motorcycle is concerned, she is only owns three scooters. A Honda Julio with an unforgettable neo vintage look which serves her to move through the streets in bad state of Karkov and its suburbs. An unlikely Honda Zook, a craft by nature quite rare and even more particularly in Ukraine that she adores because it gives her a great success with children. And a Honda Scoopy for every day. As for her husband, he plays in another category with a Husqvarna Supermoto … She adds, laughing: "I want my husband to build me a custom bike to explore the streets of my city."
Masha defined his present life and the birth of his artistic adventure far from being finished by a simple and pleasant remark: – "I am happy to be able to do what I love."
Her dream: to meet his idols, the French artist BLACK MAT and obviously the American master DAVID UHL.
Until then, she hopes to be able to exhibit one day in a specialized gallery in Paris (she will be in Paris in February 2019 to attend the famous European exhibition AUTO RETRO).
Note that for any biker, motorcyclist, rider and other amateur of fine mechanicals who dream of embellishing his living room with an original painting of the machine of his dreams, Masha practices a policy of extremely affordable prices which makes it possible without having to give up to buy the last accessories essential to our bike of love. Do not hesitate to contact Masha / YAMASHA.
So, it's time to follow this young and promising artist of the East …
See ya soon on the road to Ukrain my friend …who knows?
Hervé