95% of All 1,214 Motorcycles Hammered Sold
WALWORTH, Wis. – May 5, 2021 – The 30th anniversary return of the Mecum Las Vegas Vintage & Antique Motorcycle Auction was held this past weekend, April 28 through May 1, and results were strong for the event that has long held status as the world's largest of its kind. The 2021 auction achieved overall sales of $17.5 million as 1,151 motorcycles changed hands in just four days, and with a total of 1,214 motorcycles offered at the auction, the sell-through rate equaled a hearty 95%, a remarkable achievement for a reserve-based auction.
Individual sales at the auction were also a marked success with all 10 motorcycles in the top-seller list achieving six-figure prices. The celebrated Harley-Davidson name dominated top sales with eight of the 10 bearing the instantly recognizable branding of the venerable American builder. Led by a rare and desirable 1907 Strap Tank (Lot F191) that brought $297,000, the top 10 also included a 1943 E Model (Lot S111) and a 1946 FL (Lot S114) that each sold for $220,000, as well as a 1947 FL (Lot S115) that sold for $192,500 and a 1936 EL (Lot F151) that achieved $159,500. Other marques to make the list included Vincent, with a 1953 Black Shadow (Lot F103.1) selling for $165,000, and Indian, with a 1903 model (Lot S185) bringing $143,000.
Private collections were a highlight in Las Vegas, and the headlining J.C. Burgin Collectionof approximately 50 vintage and antique motorcycles was among the standouts bringing a total of $2.2 million. As one of the only collections in the world to contain at least one example of all 12 of Harley-Davidson's famed Knucklehead series, the stellar results came as little surprise with six of the lots from the group claiming a spot in top sales, including several of the aforementioned Harley-Davidsons.
The complete top 10 motorcycle sales at the Las Vegas 2021 auction include:
1907 Harley-Davidson Strap Tank (Lot F191) at $297,000
1943 Harley-Davidson E Model (Lot S111) at $220,000
1946 Harley-Davidson FL (Lot S114) at $220,000
1947 Harley-Davidson FL (Lot S115) at $192,500
1953 Vincent Black Shadow (Lot F103.1) at $165,000
1936 Harley-Davidson EL (Lot F151) at $159,500
1938 Harley-Davidson EL (Lot S106) at $154,000
1903 Indian (Lot S185) at $143,000
1944 Harley-Davidson FL (Lot S112) at $143,000
1942 Harley-Davidson EL (Lot S110) at $137,500
For access to complete auction results, sign up for a free MyMecum account at Mecum.com. Mecum's next live auction event is Dana Mecum's 34th Original Spring Classic slated for this May 14-22, which is set to feature 2,500 classic and collector carsheadlined by the Personal Collection of Parnelli Jones and his Big Oly Bronco racer. For more details on upcoming auctions, to consign a vehicle or to register as a bidder, visit Mecum.com, or call (262) 275-5050 for more information.
Copyright © 2000-2021 Mecum Auction, Inc. All rights reserved.
Road Art®, Infonet® & The Bid Goes On® are registered trademarks of Mecum Auction, Inc.
#  #  #
1907 Harley-Davidson Strap Tank (Lot F191) sold at $297,000
1943 Harley-Davidson E Model (Lot S111) sold at $220,000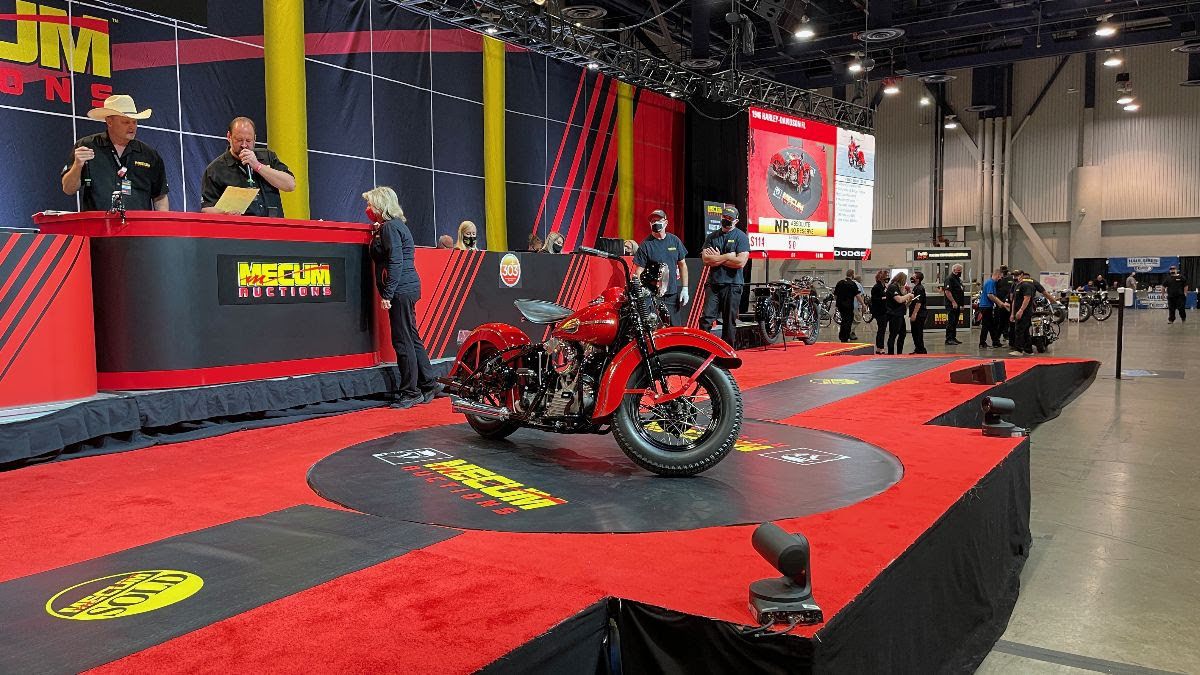 1946 Harley-Davidson FL (Lot S114) sold at $220,000
1947 Harley-Davidson FL (Lot S115) sold at $192,500
1953 Vincent Black Shadow (Lot F103.1) sold at $165,000
445 SOUTH MAIN ST // WALWORTH, WI 53184
M-F 7AM-6PM CT // 262-275-5050
EMAIL mecum@mecum.com