By Marilyn Stemp
I met Laura Berenger at the Buffalo Chip a few years ago and she's become a friend. A longtime rider herself, she taught her husband, actor Tom Berenger, to ride and that's what first brought them to the Chip as Legends Ride road captains several years ago.
We met up in Myrtle Beach last May and she was delighted with her 2015 H-D Street Glide's new paint job, ghost flames and all. What she wasn't thrilled about was her bike's stock seat. It simply wasn't very comfortable or very attractive.
So, I asked Laura to look around, then tell me what her "dream seat" would be. Here's her response: "Well I actually hunkered down today and did my homework… Favorite choice of bike seat would definitely be LePera. Told Tom it was like comparing an Italian shoe to one made in China! Good clean lines, low profile and well made. I have some ideas on the leather and stitching but basically it would be black with purple stitching. Lines that sort of mimic the flames on my bike."
So with Laura settled on a solution, I figured two smart women could make headway towards an improvement and that's when I reached out to the other one of them: Christine LePera of LePera Seats.
Established in 1972 and still family owned, Christine and her brother Bob run the company their father started. LePera seats, known for stellar design and epic craftsmanship, are made in the U.S.A. Top quality materials, precision fit and unerring design combine at LePera for the perfect storm of quality and function in motorcycle seating. Yes, this was exactly the connection Laura was looking for.
Christine asked all the proper questions about Laura's riding style. She's clearly done this before. She wanted to confirm that the style Laura chose aesthetically also matched her riding profile, ensuring comfort and confidence. She described the Outcast model as an around town, day trip seat with very good support and Laura deemed it just right. Custom stitching and colors? No problem!
Laura's custom LePera seat arrived at the Sturgis Buffalo Chip just in time for the Rally. Laura popped it on in minutes and we stepped back to admire it, judging it splendid in the looks department. She jumped right on the bike and was ready to ride. Here's Laura's review after several months of riding:
When customizing my 2015 H-D Street Glide I saved the seat for last. I began my search on the Internet. Time and time again the LePera seat caught my eye with it's fine grain leathers, tightly woven seams and fast designs. The choice was LePera! I requested certain custom features and I got them …and then some!  Christine LePera paid close attention to my suggestions and along with that added a few of her own. The end result… a beauty I'd compare to a fine Italian leather shoe!  Note to self; customization project complete!
My LePera Outcast seat differs quite a bit from the stock Harley-Davidson Street Glide seat. For one, the style is a bit more narrow and a bit deeper cut, which gets me in a lower position to the ground. There's also a huge difference in the interior padding. The stock seat seems much softer but the LePera is by far a more high density/high grade foam interior that gives more support and comfort even on long rides.
Don't you love happy endings? I do. Not to mention my great good luck to know two smart and savvy women who ride.
Learn more: www.lepera.com
BEFORE: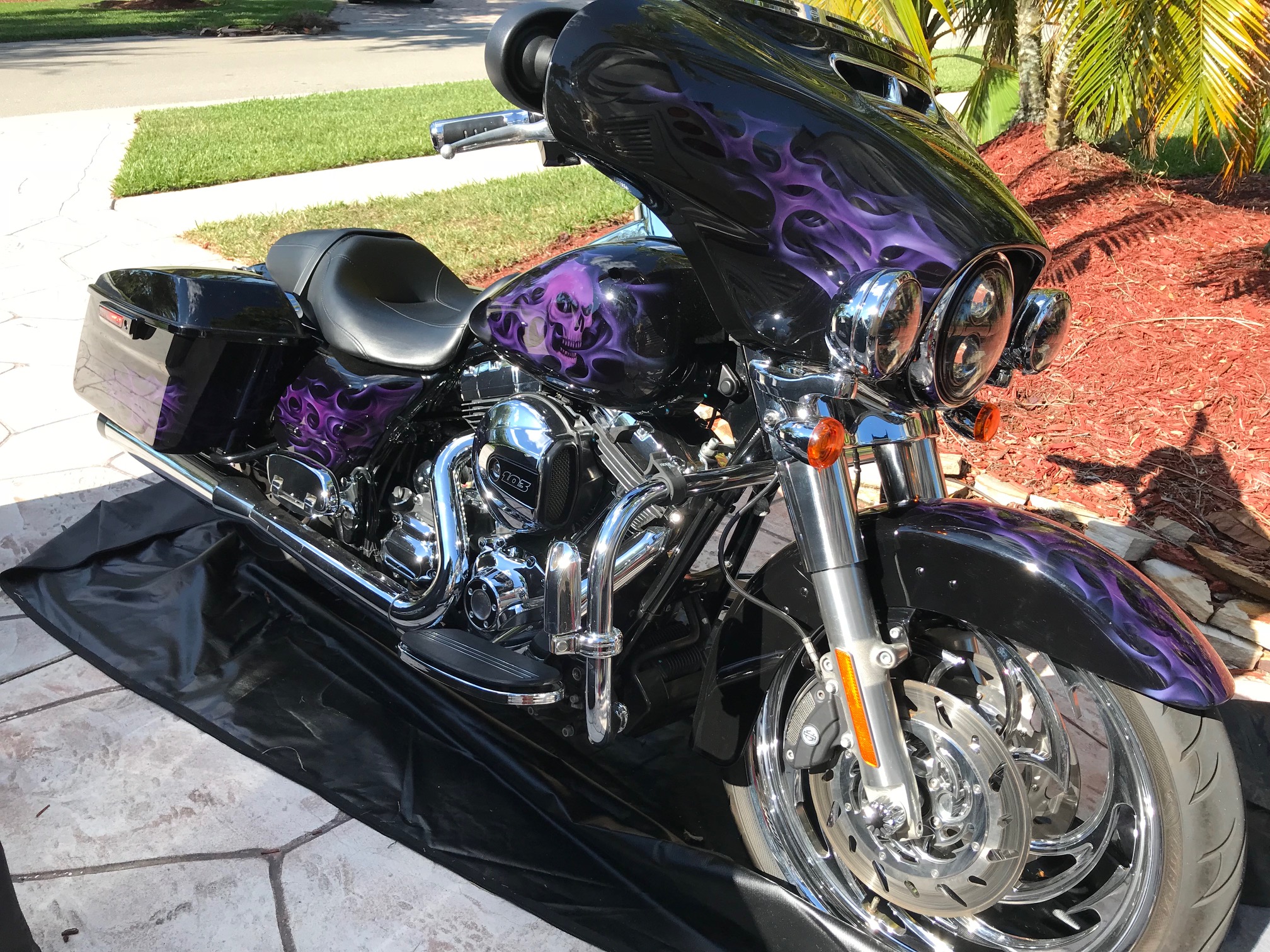 INSTALL: