Mees moves closer to sealing the deal on his fourth American Flat Track premier-class championship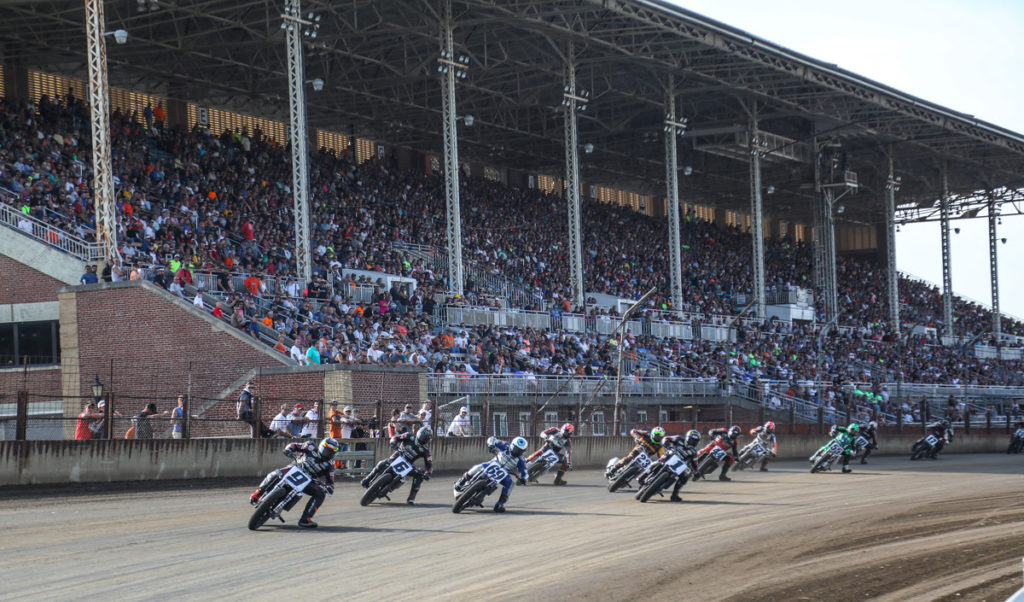 SPRINGFIELD, Ill. (September 3, 2017)
– Jared Mees
continued his march toward the 2017 AFT Twins presented by Vance & Hines crown in
Sunday's
epic Harley-Davidson Springfield Mile II. It was win that may go down as Mees' signature victory in a season which has been lined with them.
The grandstands at the Illinois State Fairgrounds were packed once again as American Flat Track turned out in huge numbers to find out how the highly-anticipated rematch between rivals Mees and Bryan Smith (No. 1 Indian Motorcycle Racing backed by Allstate Scout FTR750) would play out. When the series last visited the venue back in May, the reigning champ was in full control. On that day, the flat track faithful witnessed the "Master of the Mile" work his magic to perfection, upping Smith's win streak to four with a trademark 0.005 of a second acing over Mees.
Mees (No. 9 Indian Motorcycle Rogers Racing Scout FTR750) returned motivated to demonstrate just how completely the tables had turned since that defeat. Smith has yet to win since his Springfield Mile I triumph, while Mees has assembled an imposing championship advantage on the strength of five wins during that same span.
On Sunday, the two were joined at the front in a six-rider, three- and four-wide melee by Brad Baker (No. 6 Indian Motorcycle Racing backed by Allstate Scout FTR750), Sammy Halbert (No. 69 Estenson Logistics Yamaha FZ-07), Briar Bauman (No. 14 Zanotti Racing Kawasaki Ninja 650), and Jeffrey Carver Jr. (No. 23 Ben Evan's Racing/Carver's BBQ Kawasaki Ninja 650).
The prospect of a six-way shootout to the end was shot down on lap 17 of 25. A red flag was displayed due to an incident involving Kenny Coolbeth (No. 2 Harley-Davidson Factory Flat Track Team XG750R), who had fought his way up from 13th to seventh to lead the second group.
When racing resumed, it quickly took shape as a four-way fight for victory involving Mees, Smith, Baker, and Halbert.
Mees took the white flag to open the final lap down in third. He then stormed up the inside of Baker entering Turn 1, and then went the other way heading into 3. He powered alongside Smith around the outside as they negotiated Turns 3 and 4, and slotted just in front of him in the decisive sprint to the checkered flag.
Mees hit the stripe 0.021 seconds ahead of Smith. Baker narrowly edged Halbert to claim third another 0.051 seconds back to secure the Indian Wrecking Crew's sixth podium sweep of the season.
The victory stands as Mees' eighth on the season, upping his career mark to 30 to move equal with Bart Markel for 10th on the all-time list. Additionally, Mees now boasts a 46-point championship advantage (317 to Smith's 271) with three races remaining. That means Mees could clinch the 2017 title two races early by claiming his ninth victory on the season at next weekend's Harley-Davidson Williams Grove Half-Mile presented by Appalachian Harley-Davidson.
An ecstatic Mees said, "It feels so good to get this win. In the springtime, I got nipped at the line ever so slightly. My guys really gave me a good, strong motorcycle that was so hooked up. After practice, I thought this really could be my day, but I've felt that before and Bryan has always outsmarted me at the line… If there was one race I wanted to pull off this year after the first half of the year, it was the Springfield Mile II on Labor Day weekend."
Runner-up Smith said, "It was a fun race — I'd have much rather won though. Hats off to Jared. He just got around me in the last corner and outsmarted me a little bit. The track was totally different than in the spring; you didn't have to play chess so much as checkers and make moves quick. Unfortunately, I came up a little bit short, but nonetheless, it's awesome to see the Indian boys battle for every spot on the podium again."
Third-placed Baker said, "It was a really fun race. It was a blast out there. We all knew where we needed to be — whoever led off Turn 4 usually got to the stripe first… It was a dogfight whoever was going to get that spot. I was right there, but I think I set Jared up good to get us both. Bryan and I were right on his tail and we were all reacting at 140 miles per hour a couple inches away from the wall. It gets a little hectic there the last 50 feet of the race. To only lose by a half bike and get third just shows how close the racing was."
Brandon Robinson (No. 44 Harley-Davidson Factory Flat Track Team XG750R) made the most of the second chance provided by the red flag, outdueling early contenders Bauman and Carver to complete the top five.
Catch American Flat Track on NBCSN every Thursday at 10 p.m. ET. The Harley-Davidson Springfield Mile II will air on NBCSN on Thursday, September 21 with the Springfield ST as part of a doubleheader with another classic venue, the Peoria TT. The Peoria TT show kicks off at 10:00 p.m. ET (7:00 p.m. PT) with the Springfield Mile II episode at 11:00 p.m. ET (8:00 p.m. PT).  The full schedule for American Flat Track on NBCSN can be viewed at http://www.americanflattrack.com/events-nbcsn.
Catch the highlights on Facebook (https://www.facebook.com/AmericanFlatTrack/videos/1651918971508867/) and YouTube (https://youtu.be/gDIX_pOKP8w).
Next Up:
American Flat Track will be back in action next weekend as the series travels to Mechanicsburg, Pa., for the Harley-Davidson Williams Grove Half-Mile presented by Appalachian Harley-Davidson on Saturday, September 9. Live coverage can be viewed on FansChoice.tv beginning at 1:00 a.m. ET with Opening Ceremonies scheduled for 2:00 p.m. ET. Tickets are on sale and can be purchased at https://www.showclix.com/event/williams-grove-half-mile .
Fans can keep up-to-date with American Flat Track on Facebook (@American Flat Track), Twitter (@AmericanFlatTrk) and Instagram (@AmericanFlatTrack). AFT mobile apps are available for iPhone on the App Store and for Android at Google Play. For more information, please visit http://www.americanflattrack.com.
Awards Update:
AFT Twins presented by Vance & Hines
Öhlins Fastest Lap  – #14 Briar Bauman
McElroy Packaging Lucky 13 – #69 Sammy Halbert
How to Watch:
NBCSN
and
FansChoice.tv
are the official homes for coverage of American Flat Track events. All 18 rounds, from the season-opening Harley-Davidson DAYTONA TT to the American Flat Track Finals in Southern California, will air in one-hour primetime telecasts throughout the summer and fall on NBCSN. FansChoice.tv remains a cornerstone of AFT's digital strategy and provides live streaming coverage of every event.
About American Flat Track:
American Flat Track is the world's premier dirt track motorcycle racing series and one of the longest-running championships in the history of motorsports. Sanctioned by AMA Pro Racing in Daytona Beach, Fla., the series is highly regarded as the most competitive form of dirt track motorcycle racing on the globe. For more information on American Flat Track, please visit http://www.americanflattrack.com, like us on Facebook, follow us on Twitter, check us out on Instagram, live stream the events at FansChoice.tv and catch all the American Flat Track racing action on NBCSN.