Story and Photos by ITN European Reporter Herve' Rebollo
Salut à toi American rider,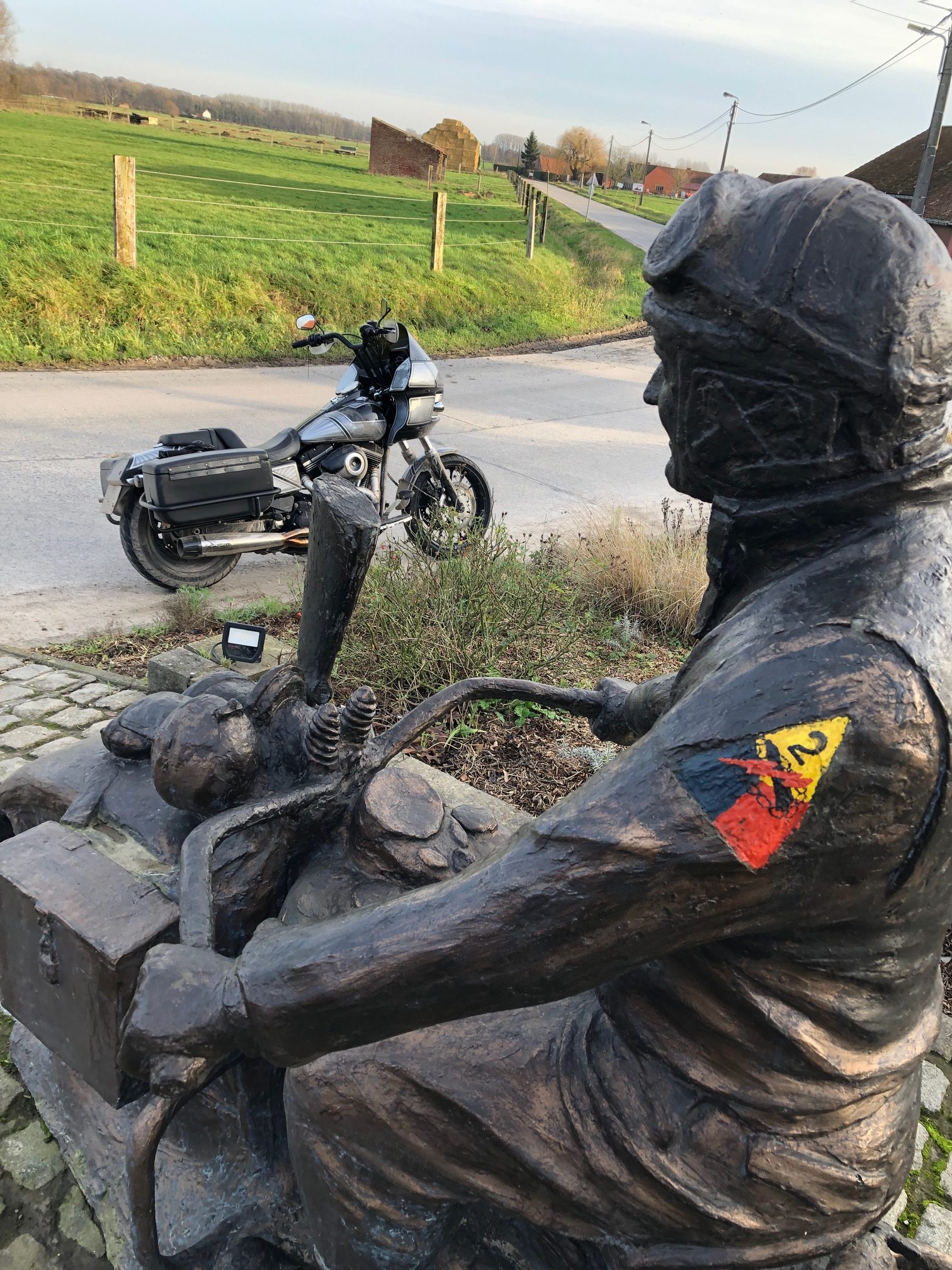 Right before Christmas I was studying maps to find some tiny roads for my next monthly ride. I wanted to go to visit my daughter who is being living in the magnificent city of Lille in the north of France, near by the Belgian border. It was a good opportunity to have a beer in Belgium (a great specialty of this country) and a coffee at the local Harley Davidson dealer in MONS city.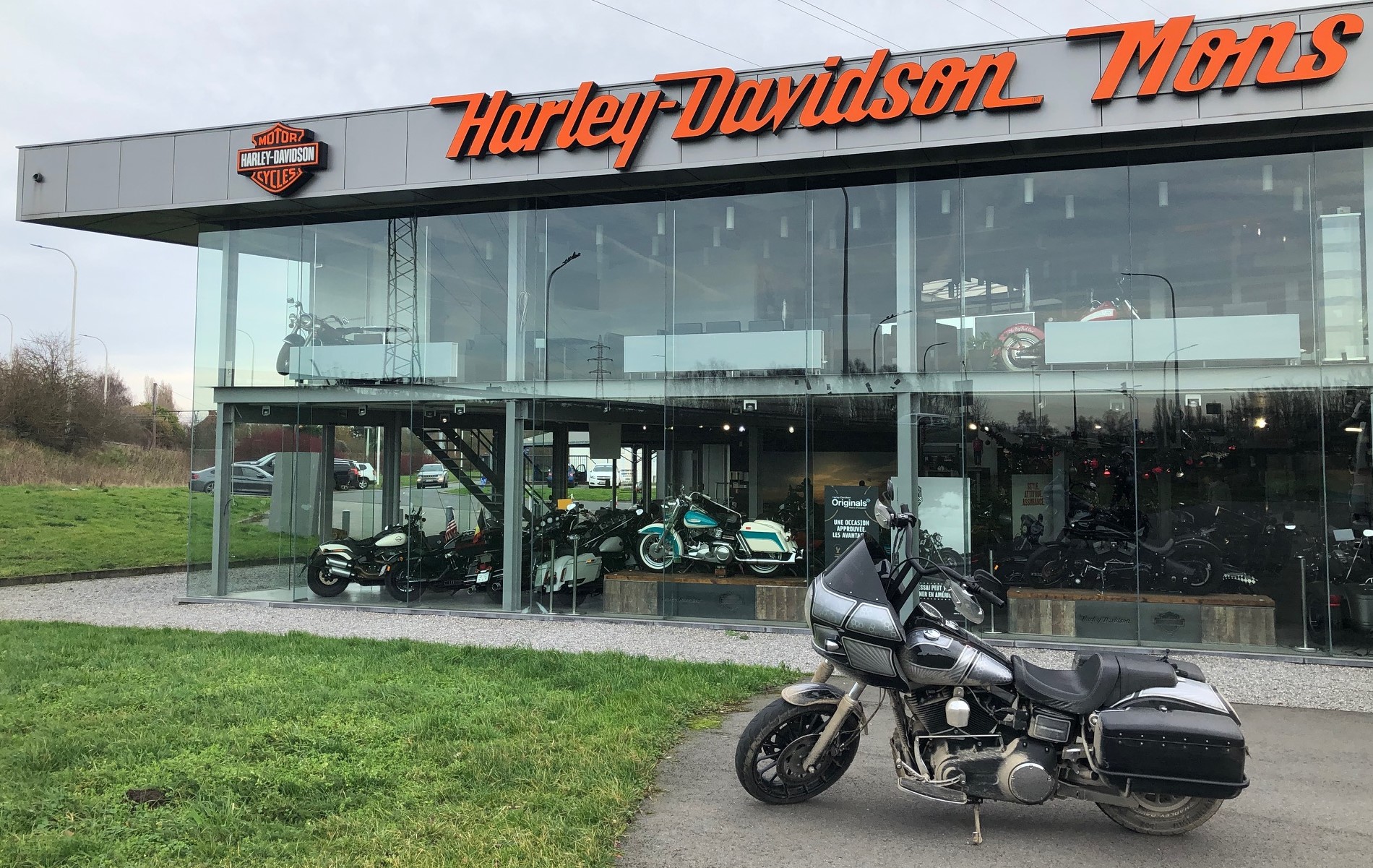 Of course, it's not always easy riding in winter. But I appreciate this season which always brings an appropriate, natural and ecological answer to the proliferation of speed cameras on our roads (lol!).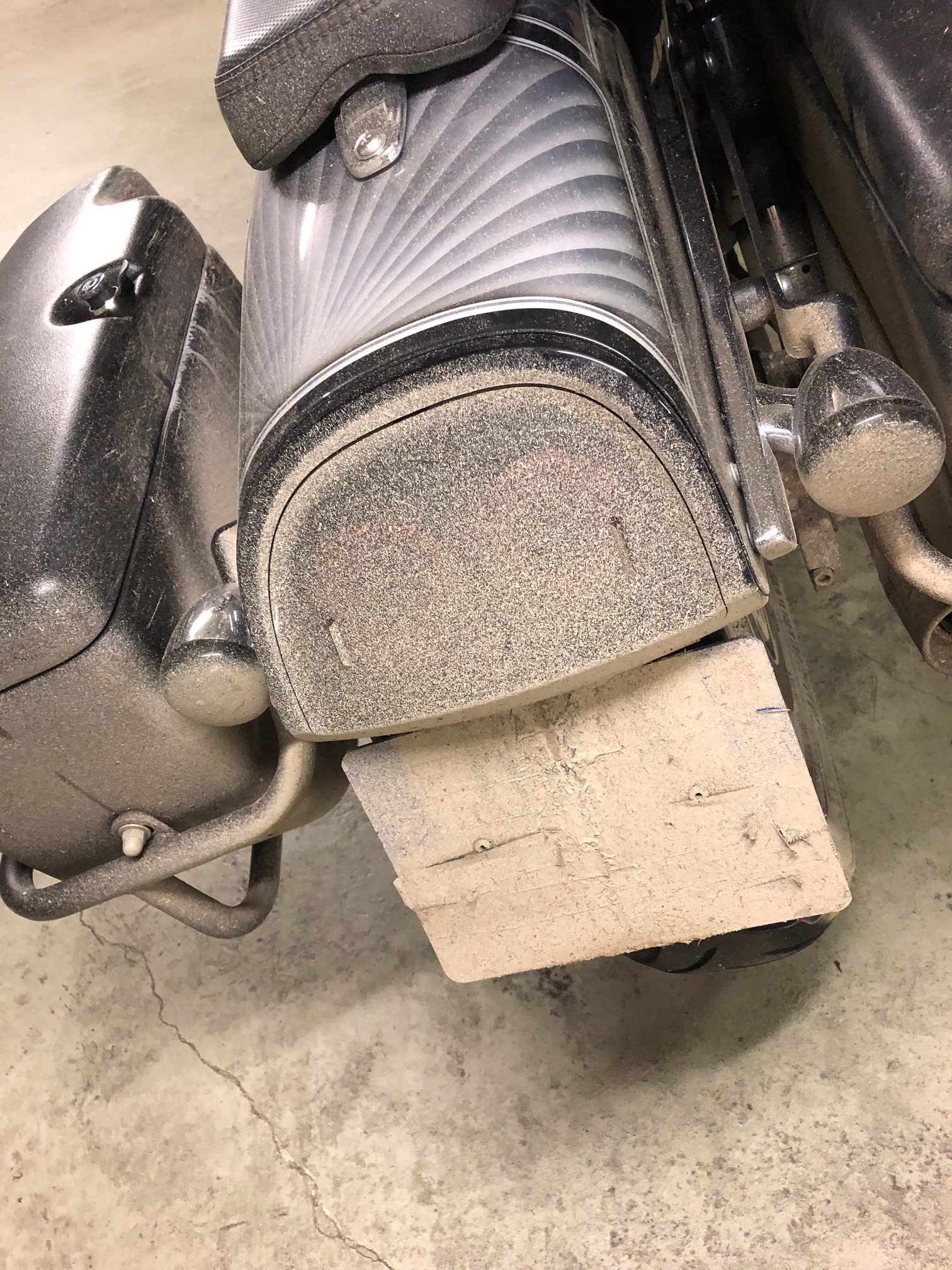 Preparing my road trip I found of course many information on the Net and totally by chance I discovered an amazing story which definitively made sense of  my ride: I was ready to meet the Belgian Liberator!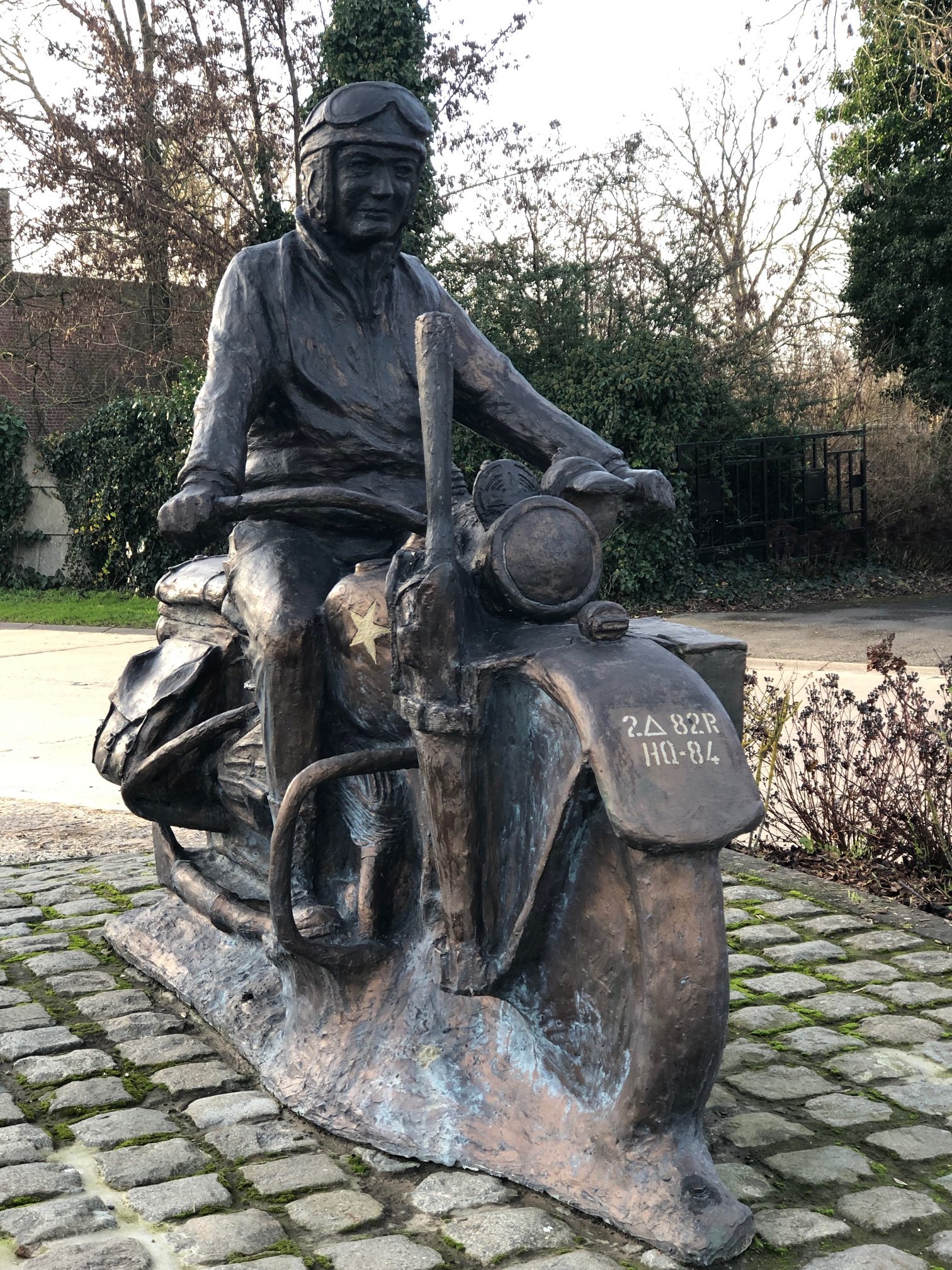 Every September, people all over Belgium are celebrating the anniversary of its liberation from Nazi Germany during the Second World War. 75 years ago, Belgian citizens first welcomed their Allied liberators after living under a repressive, dictatorial regime for four years. Due to the disarrayed German retreat after their defeat at Falaise and the aid of the Belgian resistance, the Allied forces spread through the country like wildfire.
However, many incidents and fierce battles occurred which tend to be lost in the bigger stories of history.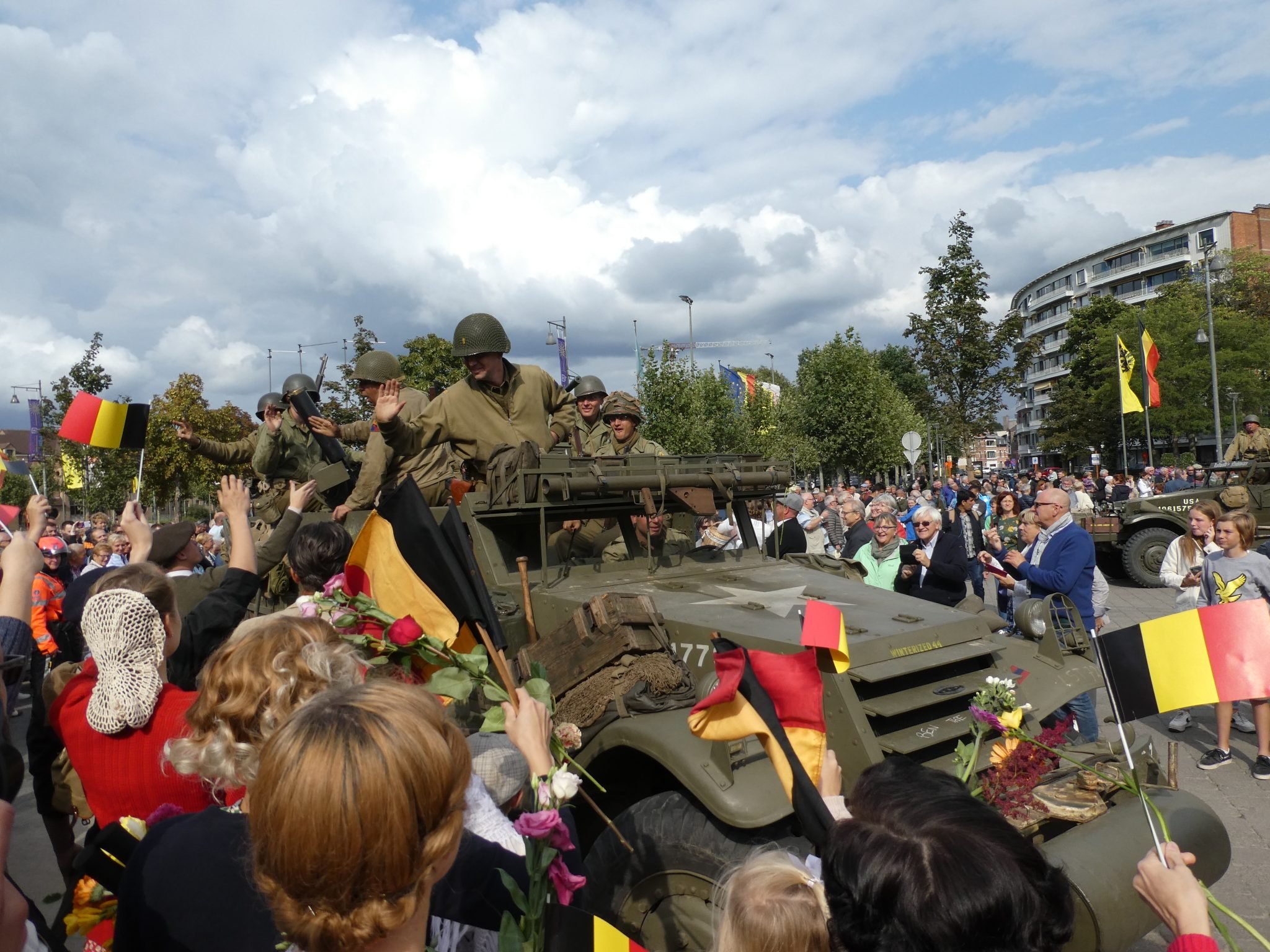 I discovered that a WLA monument was inaugurated in RUMES / LA GLANERIE, Belgium in 2009 …  I couldn't believe it, I had no idea of it!!!! … and it was just 5 hours from home. I absolutely had to see it by myself: a commemorative monument dedicated to my favorite motorcycle brand and a great unknown historical fact.
Rumes / La Glanerie is a very small village on the French-Belgian border which was "liberated" by a WLA rider of the 2nd Armored Division "HELL ON WHEELS" in early September 1944.
When the rider realized he had crossed the border, he turned back as that day he wasn't supposed to drift that far ahead of the main unit … But the incident made him the first American in Belgium that day … The following days, the 2nd AD would liberate large parts of Belgium…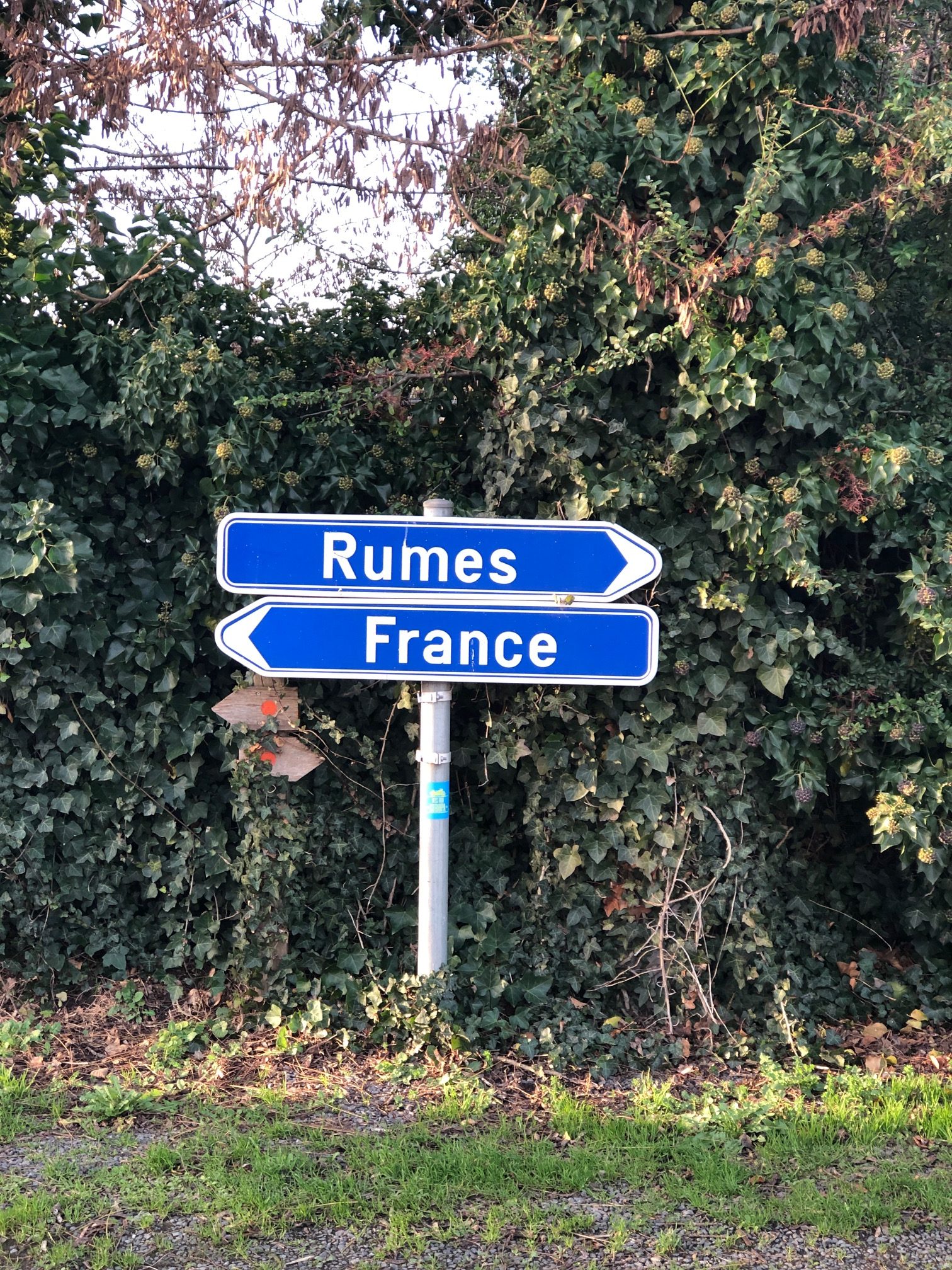 Officially, one of Belgium's most remembered 'Liberators' is commemorated every year in the Belgian town of PERUWELZ where James CARROLL of the 628th Tank Destroyer was the first GI to enter the village on 3rd September 1944 after 4 long years of German occupation. The following is the most popular photo of James Carroll's WLA surrounded by overjoyed locals in Peruwelz, Belgium, on September 3rd, 1944.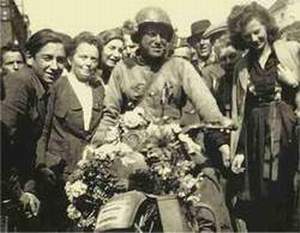 Harley-Davidson produced about 70.000 WLA and WLC military motorcycles for the US Army and their Allies during WW2. Spare parts for an additional 30.000 bikes were also produced.
WLAs were used extensively by US Troops for messenger and Military Police duties and thousands were supplied to other countries thru Lend Lease Agreements.
These bikes were nicknamed 'LIBERATORS' in Europe since they were ridden by troops liberating their towns and countries from German occupation. The name has stuck ever since….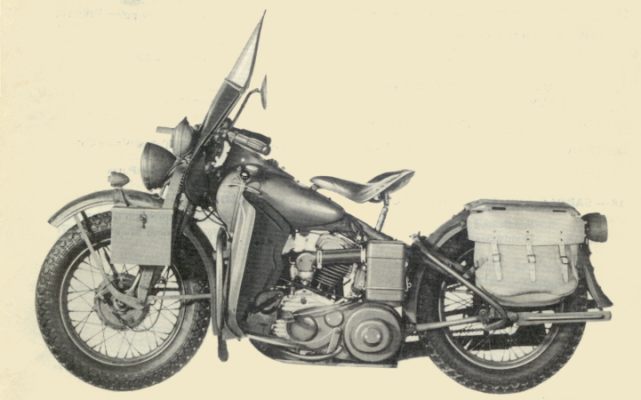 During the first half of the 20th century, the Motorcycle was a common means of transport for both civil and government use. The US Army had fielded motorcycles since the Great War and had continued to use them as the ideal transport for messenger, reconnaissance and traffic control purposes… You may remember this photo of Cpl Holtz on his Harley-Davidson: the first Yank to enter Germany at the end of the Great War.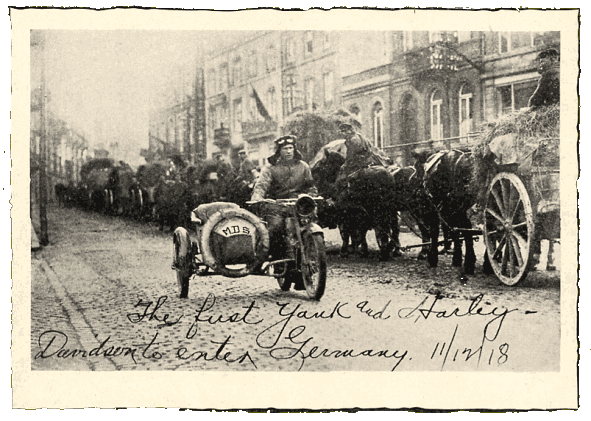 So … Belgium, here I am!! I'm on my way for a two days round road trip of about 900km / 560 miles.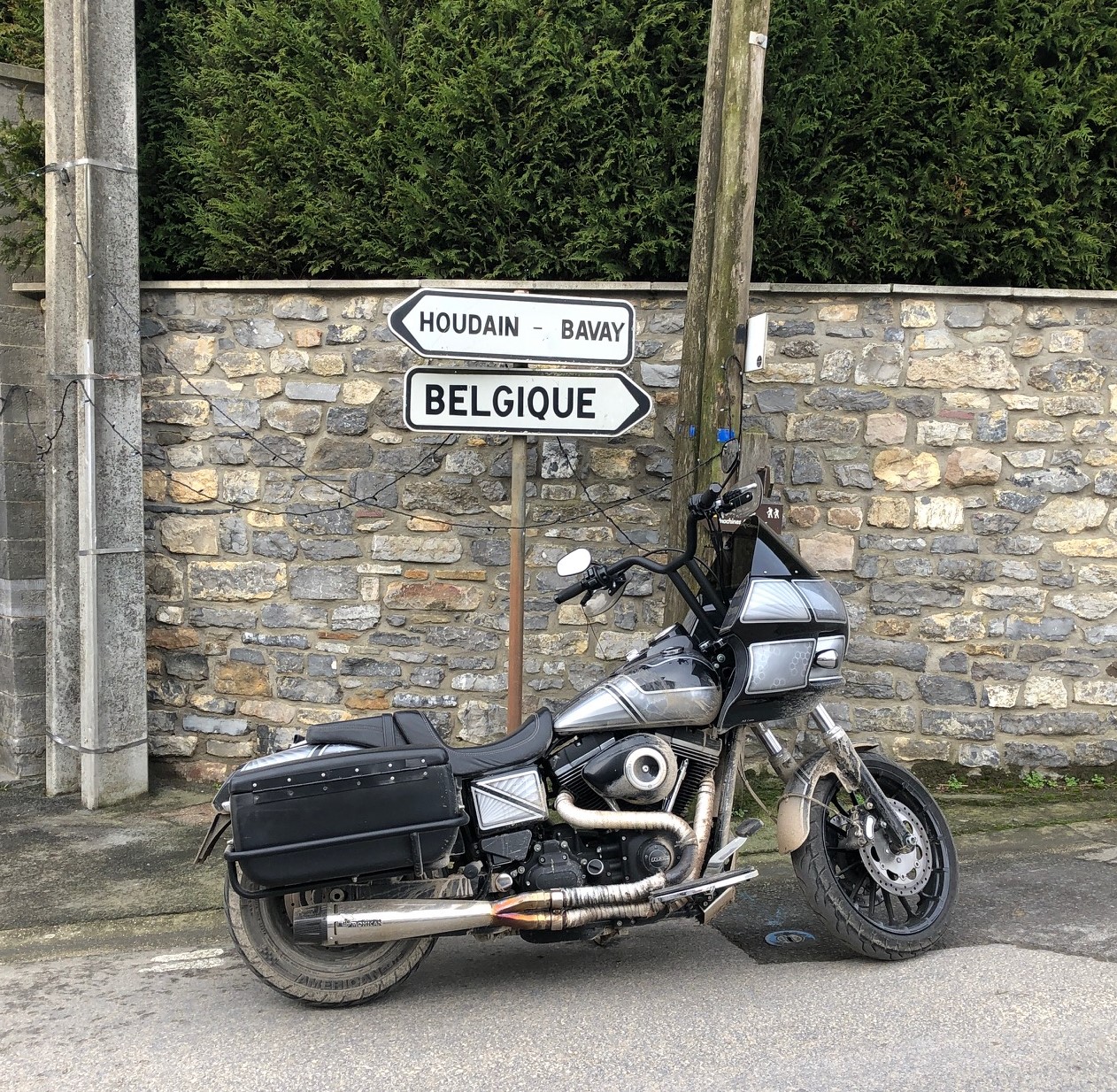 In fact, the liberation of Belgium started … the day before James Carroll entered Perulwez, on the morning of September 2, 1944 … almost by accident.
After a single American motor rider crossed a small creek near La Glanerie, he is greeted by an enthusiastic mob displaying a Belgian flag. He had not realized that the small stream called "L'ELNON" he had just passed, defined the Belgian-French border.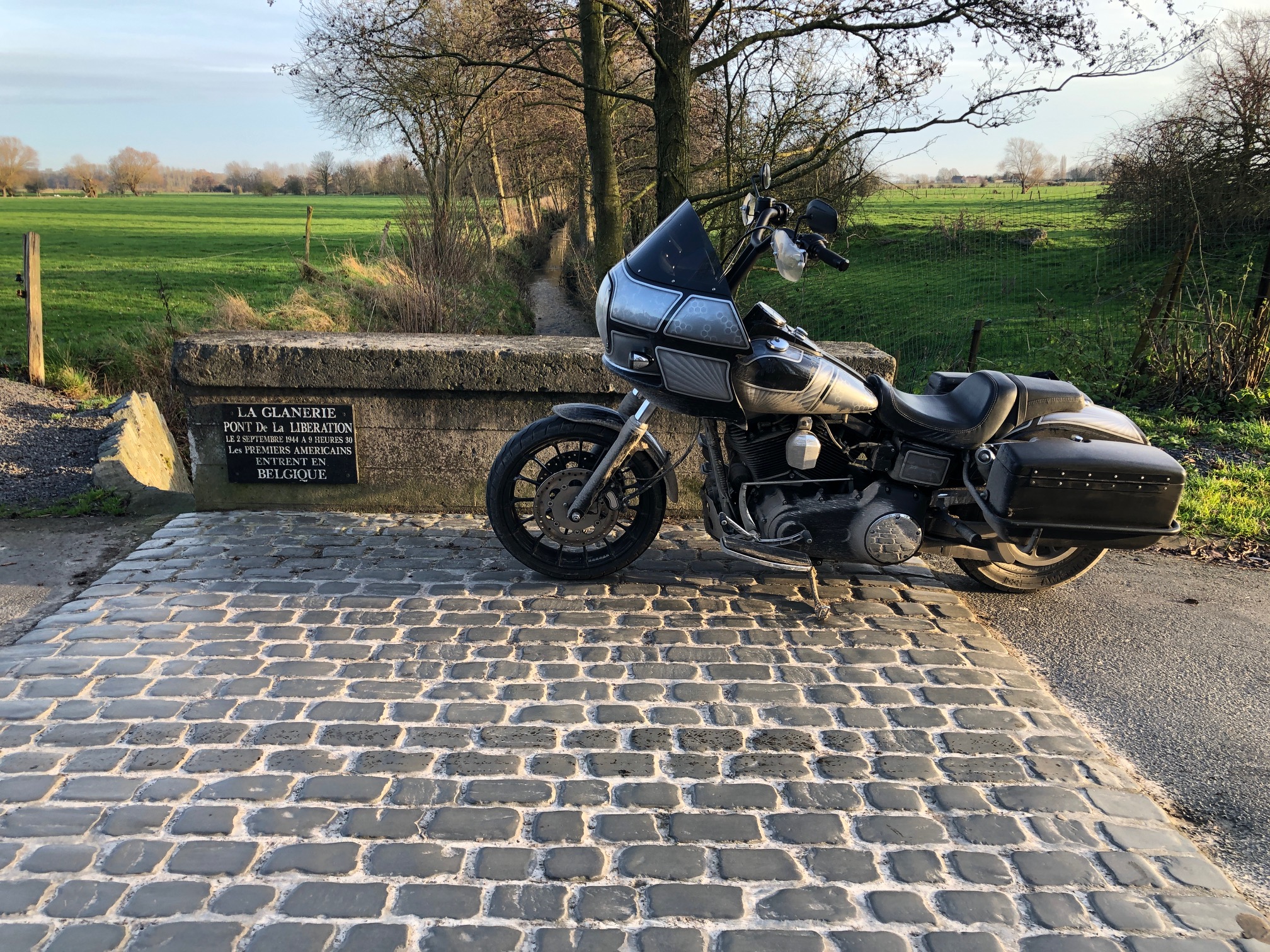 After asking why these villagers didn't raise a French blue-white-red banner, the G.I immediately made a right turn and headed back the way he came, as he didn't receive orders to cross the border! Only minutes later, elements of the American forces start crossing the French-Belgian border in the province of Henegouwen, quickly mopping up any remaining German resistance.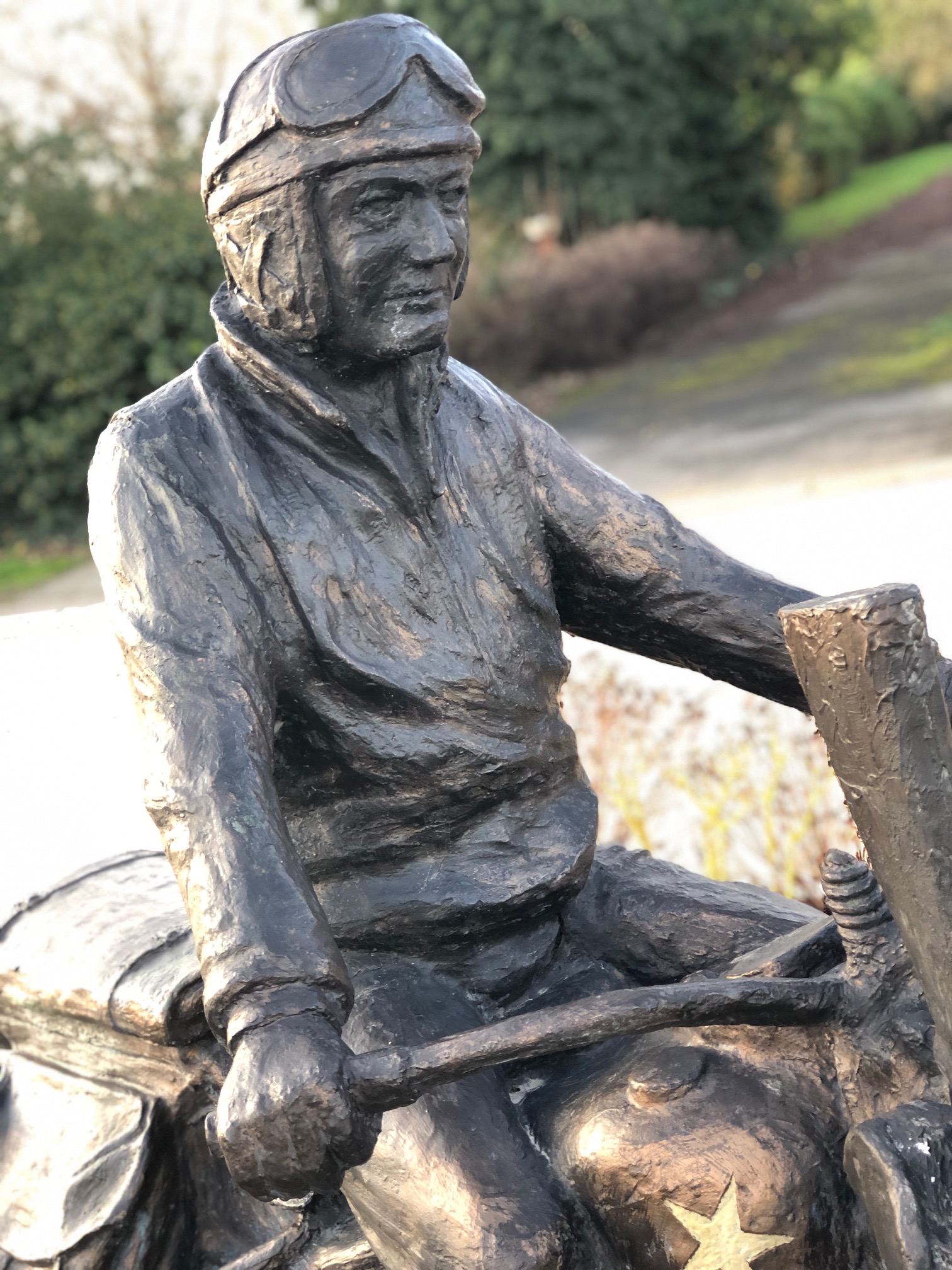 And you know what?! Which is absolutely incredible it's that no one knows the name of this biker of the Hell on Wheels division …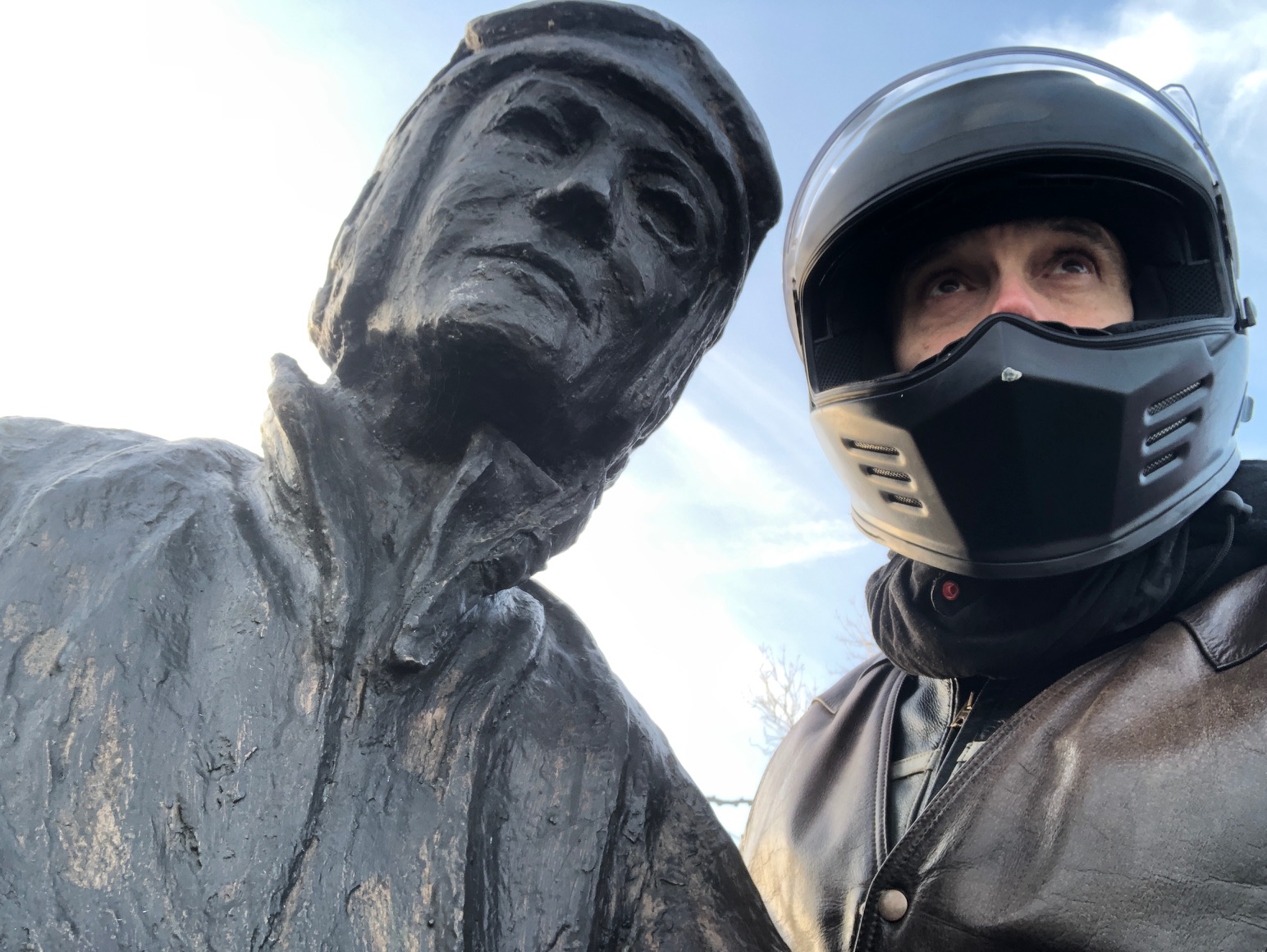 You only can find on the Net a guy who posted an old photo of his father, Zeke DeVane, who was a WLA rider and remembers "liberating" a town in Belgium or Holland where he was the only soldier to enter the place. But the guy is not sure.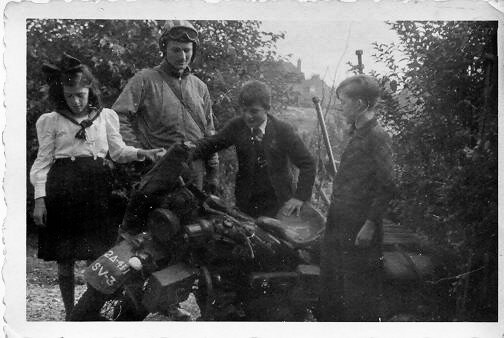 The photo makes sense as you can see the markings of the 2nd Armored Division on the front fender.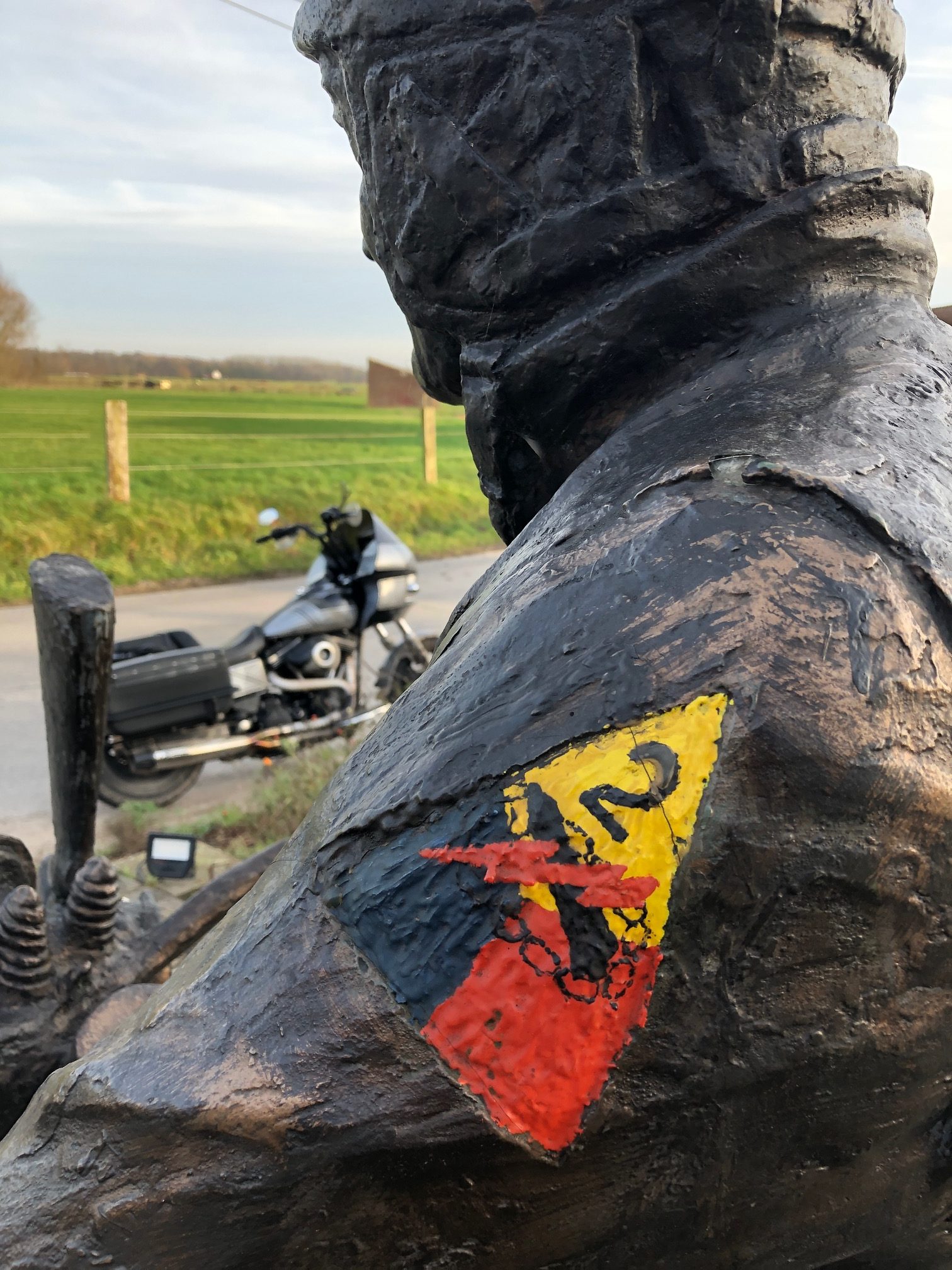 The place where is located this amazing sculpture is not so easy to find, right in the middle of nowhere in the Belgium countryside. It was really exciting to try to find it, and of course (as I refuse to ride with a gps) I got lost several times before finding this treasure. It was a great fun on this very cold and sunny Saturday afternoon. You can see the spot with Google Maps: http://maps.google.nl/maps?ll=50.524299 … &t=h&hl=nl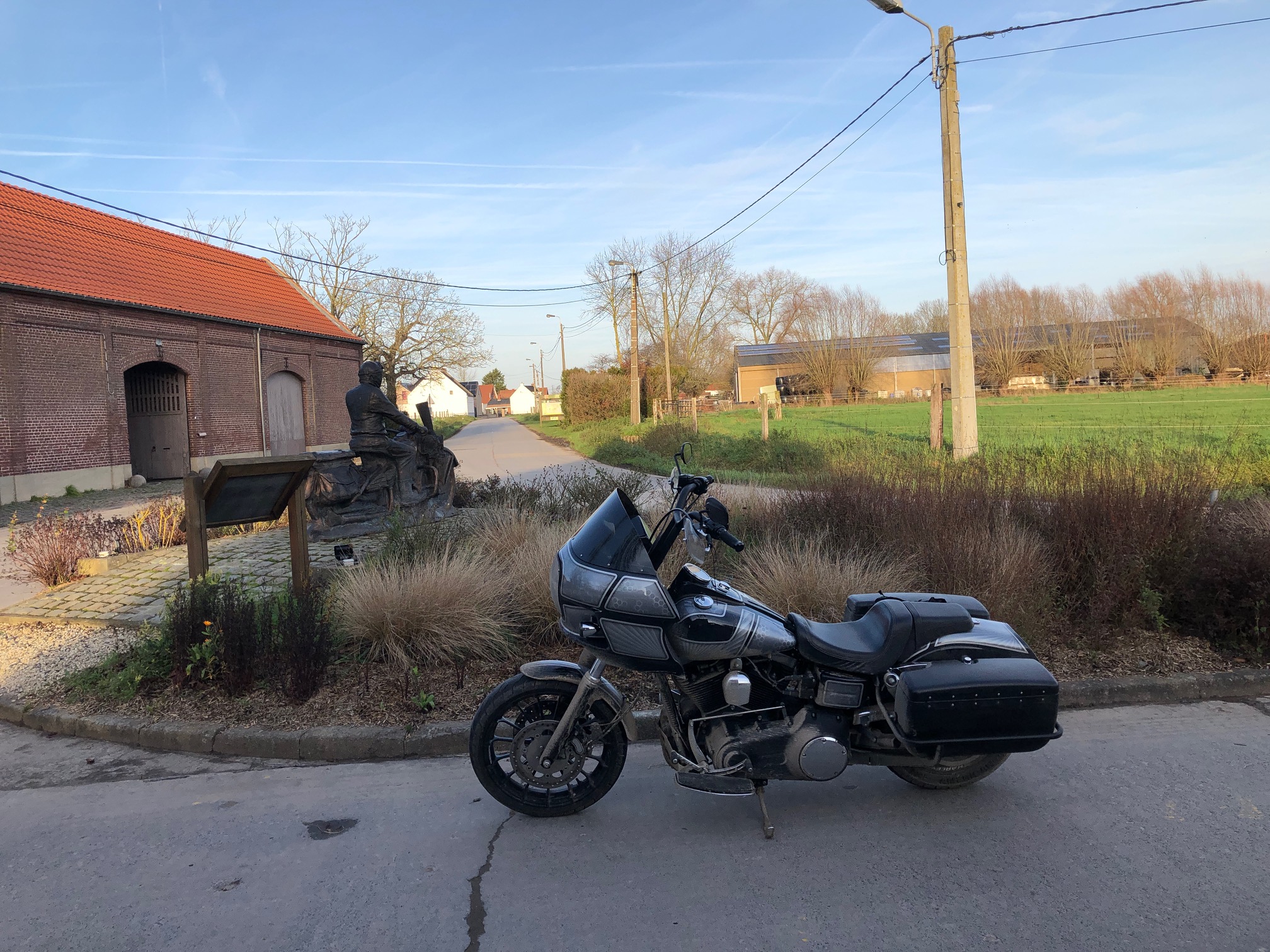 The artist who produced this beautiful artwork (which is a resin), with many great details, is a Belgian named Erik Dupon and is being living 40 miles from Rumes / La Glanerie in the small town of Poperinge. He was borned in 1944, the precise year when this story took place.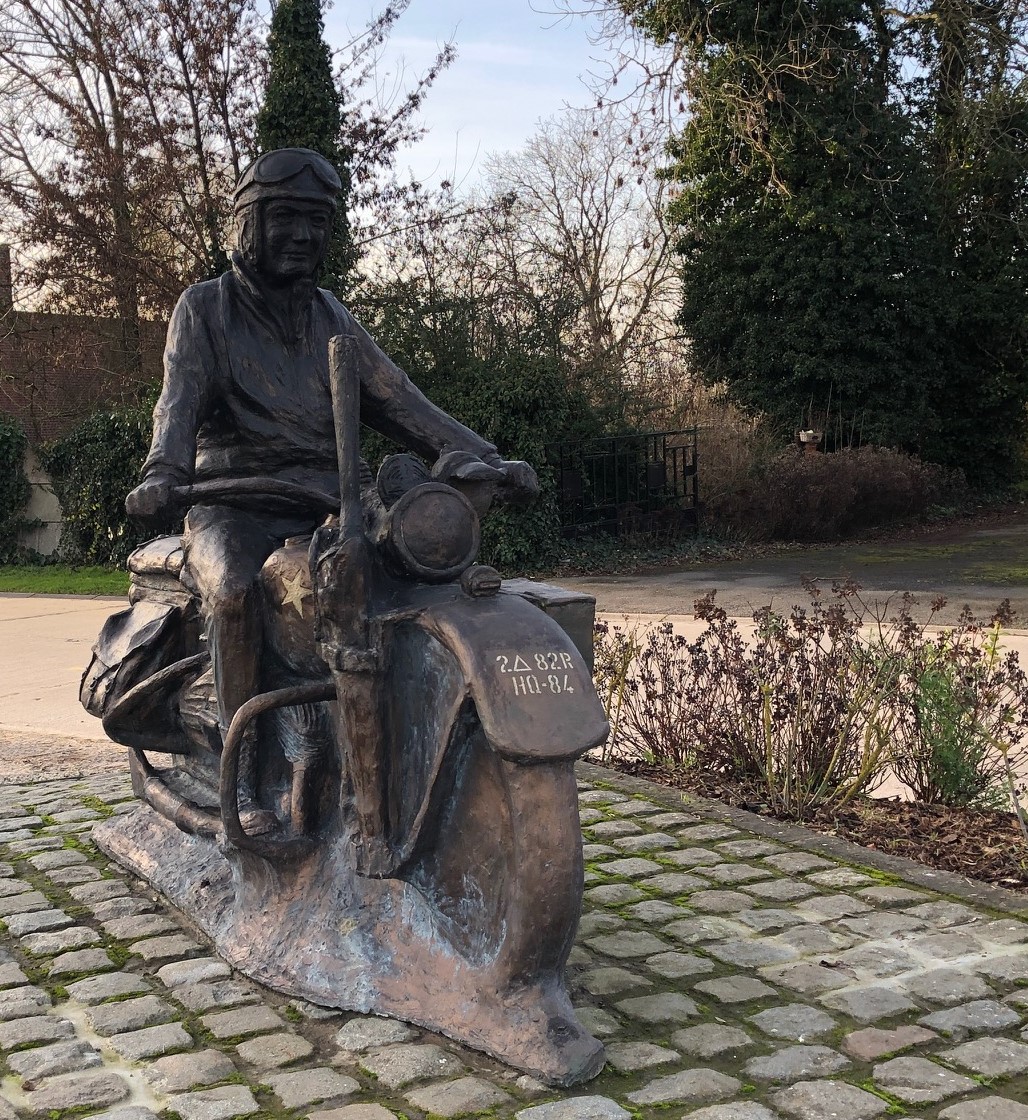 It was a great ride which gave me such an emotion and permitted me to improve my general culture level. Happy to known about this little part of great History!!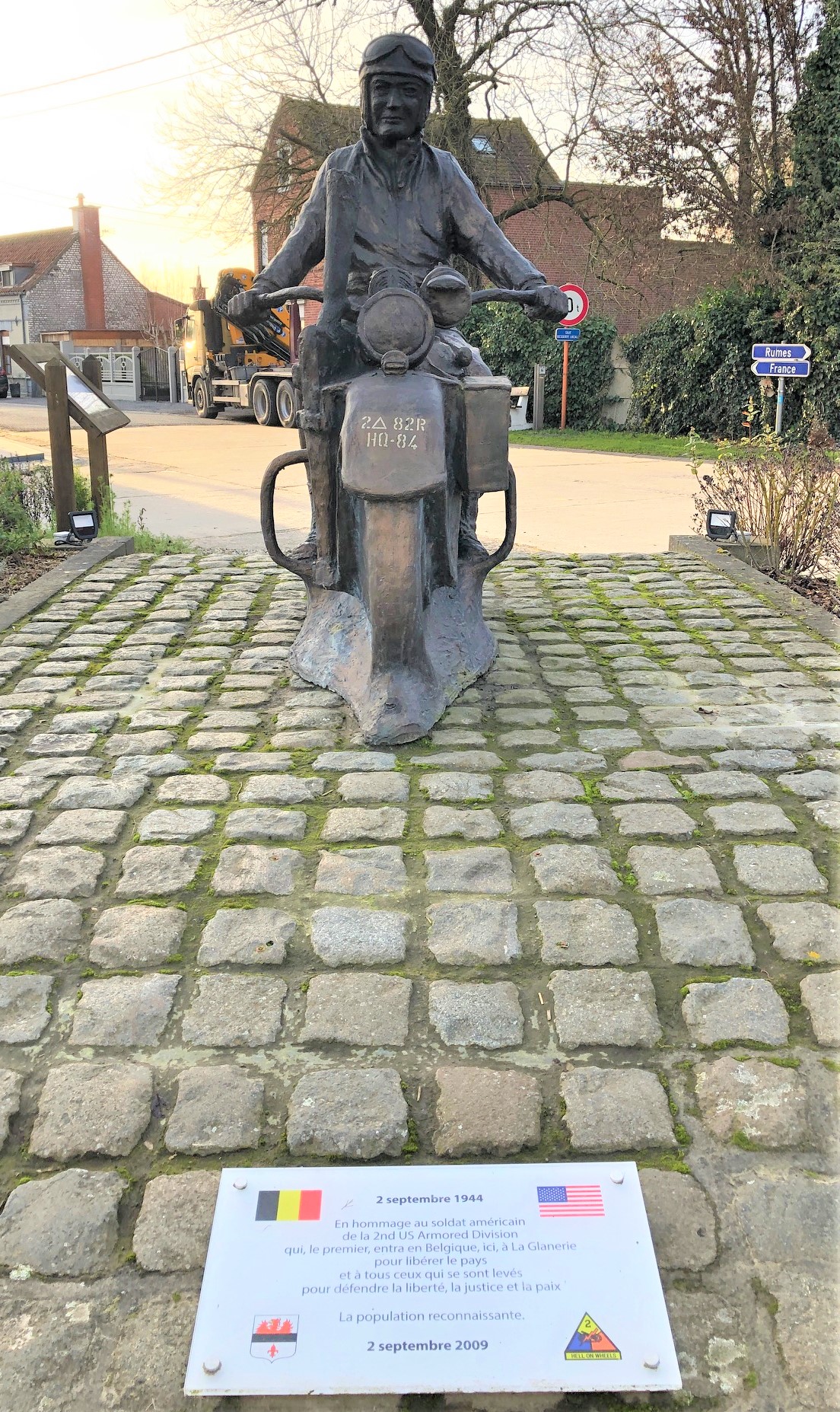 Ride hard, stay humble and learn every-day!!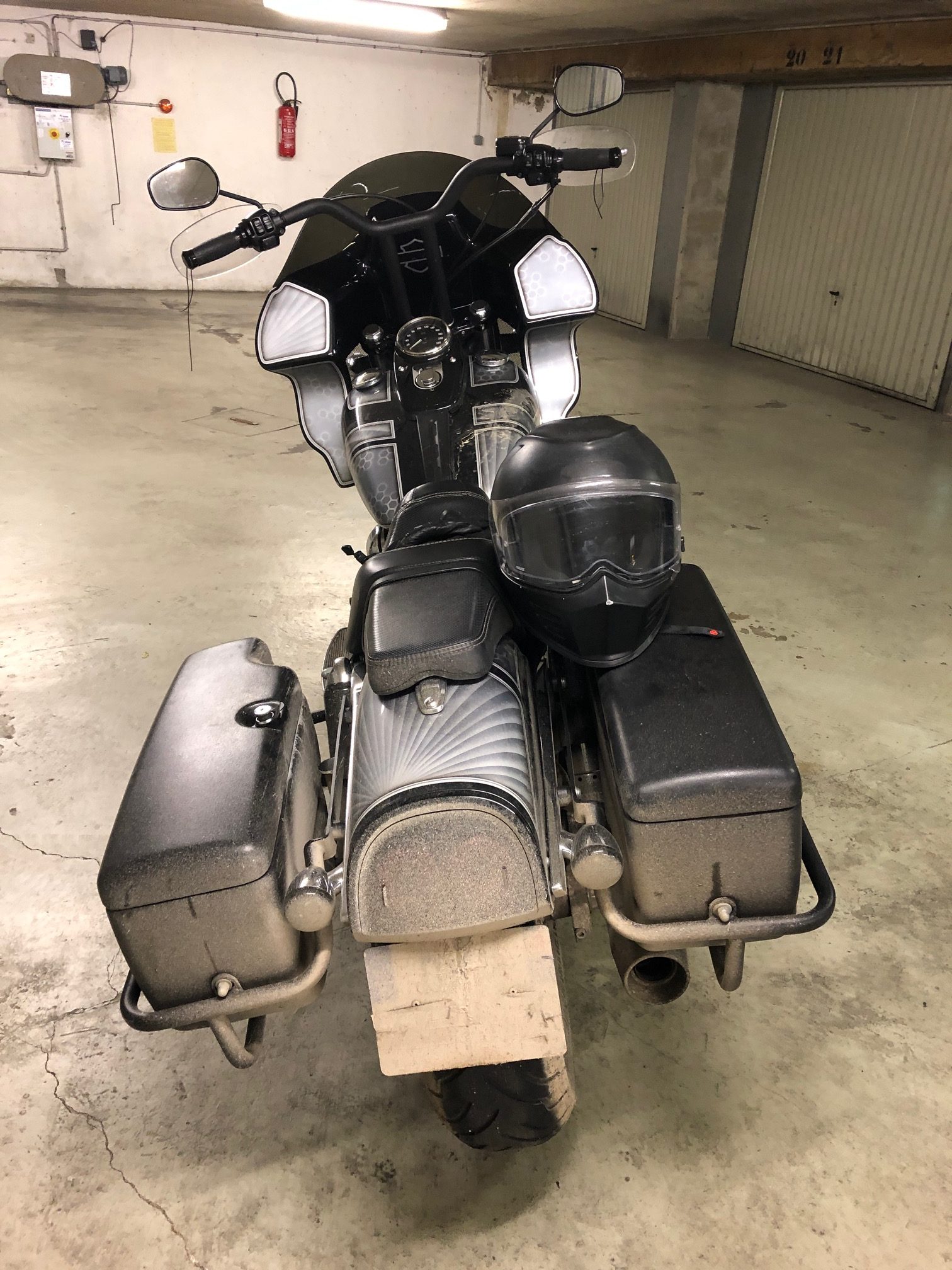 See ya soon on the road …who knowns?!?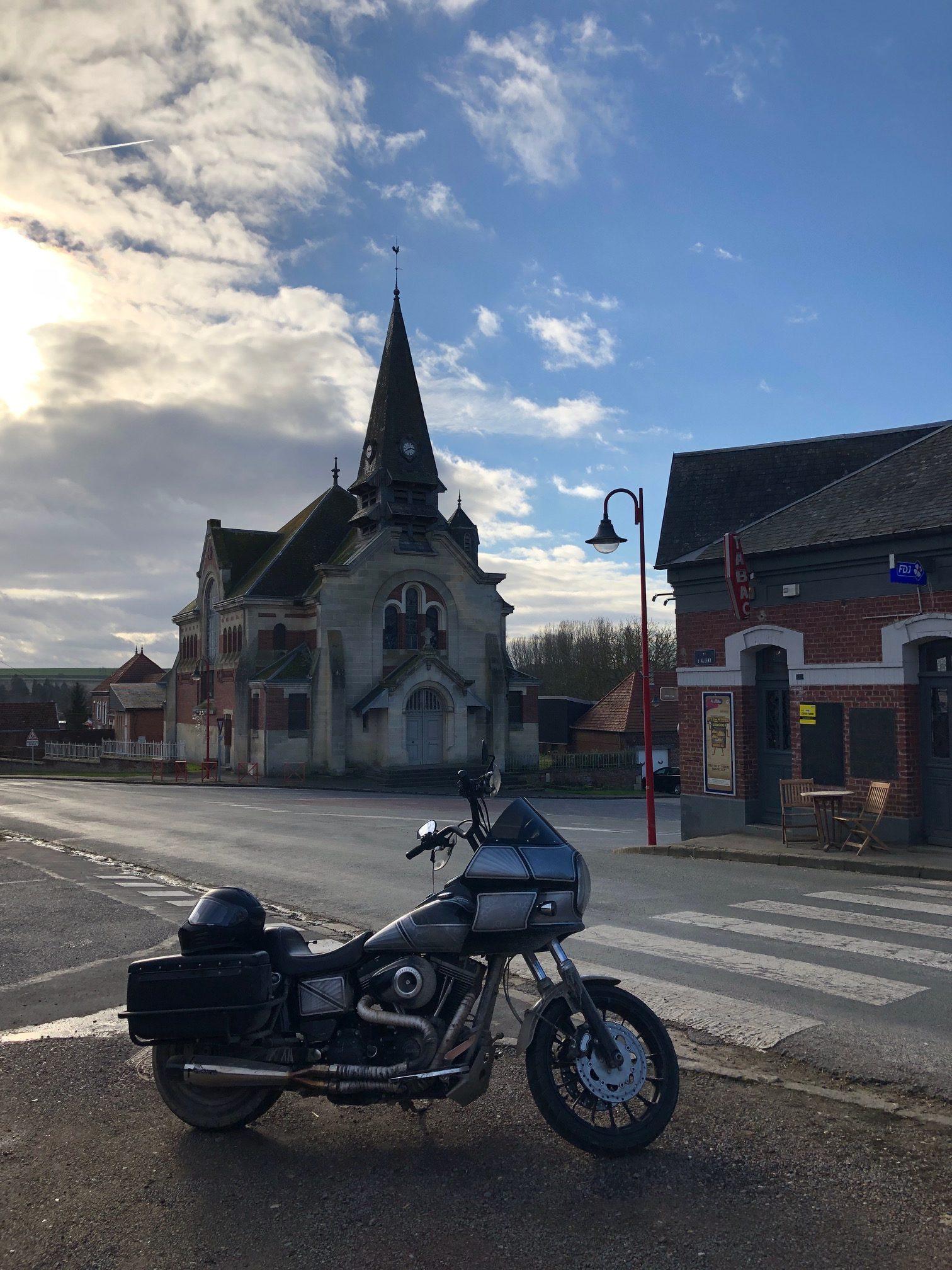 Hervé, your French biker friend.