Story by Leah Misch
Photos compliments of Indian Motorcycles
Indian Motorcycle released the Scout FTR750 at Sturgis, made its victorious race debut at AFT's Daytona TT, and owned the podium on Saturday's Atlanta Short Track race.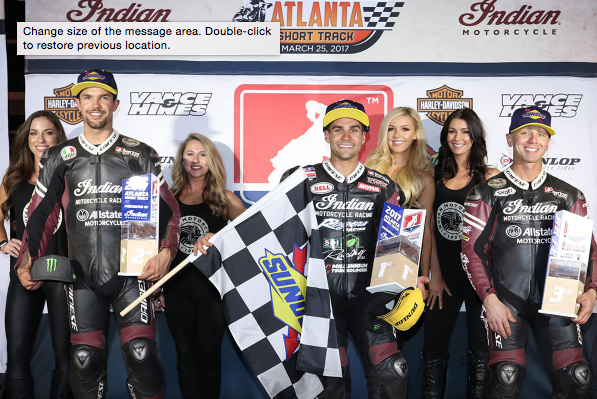 The Wrecking Crew
The new Indian Wrecking Crew—Jared Mees, Bryan Smith, and Brad Baker—are legends in the making after conquering the podium in a 1-2-3 placement at the Atlanta Short Track races on the Indian Scout FTR750. They revived the original "Wrecking Crew" name claimed by legendary racers Bobby Hill, Bill Tuman, and Ernie Beckman. The original "Wrecking Crew" is known for beating all its competition from coast to coast on their Indian Scouts in the post WWII era.
The Track
Fittingly, the racetrack is where George Hendee and Oscar Hedstrom met and founded the Indian Motorcycle brand in 1901. "We have a lot to live up to in our founders," said Gary Gray, Director of Motorcycle Product for Indian Motorcycle. "They raced, they won, and they created the largest motorcycle company in the world."
Flat track racing is gaining ground and new popularity. Michael Lock, CEO of American Flat Track, is working hard to bring flat track back to the people, an effort that appears to be effective by the nearly sold out seating at Saturday's race.
The Races
At the Daytona season debut the podium was dominated by Jared Mees and Bryan Smith who took first and second. The third Wrecking Crew member, Brad Baker, had crashed sustaining a mild concussion. He underwent testing to ensure his safety upon returning to the racetrack in Atlanta. "Brad had a baseline concussion test prior to the season start and performed better on the retest. The season is too long to rush him back so he wouldn't have raced if there was a concern," said Gray.
Baker not only came back to the track, but joined the podium alongside Mees and Smith for a 1-2-3 place finish after a nail biting break in the action toward the end of the final. After Sammy Halbert went down on his Harley-Davidson XR750 in a neck-in-neck race with Mees, the last 5 laps were delayed while the track was re-groomed, followed shortly by Indian's sweep.
The Power of the Scout FTR 750
The Scout FTR 750, a purpose-built race bike that required tedious hours of development, is revolutionizing Flat Track racing. Gray states, "It was forged to win. We have a very narrow V angle and super compact motor designed to give us great flexibility in packaging. It is lighter and smaller than our competitors but still makes power to win races."
Catch the Wrecking Crew in action this race season here: http://www.indianmotorcycle.com/en-us/flat-track-race
Find the 2017 AFT schedule here: http://www.americanflattrack.com/news/view/ama-pro-racing-announces-2017-american-flat-track-schedule
Next race is in Charlotte, NC on April 1st.