Wiles scores 13th-straight win to tie Chris Carr for Grand National wins at the legendary Peoria TT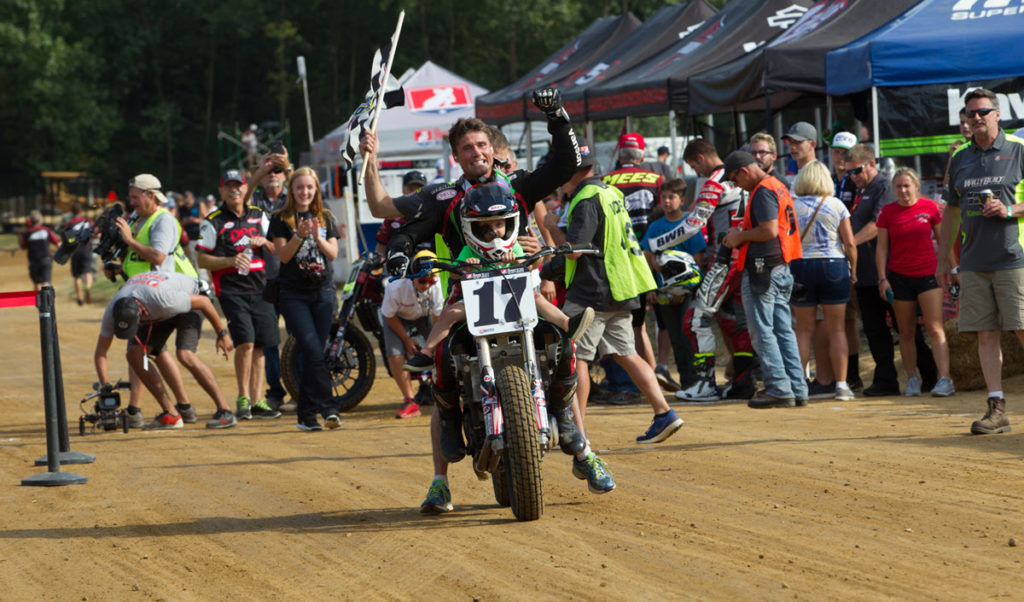 PEORIA, Ill. (August 13, 2017) – American Flat Track witnessed a coronation of sorts on Sunday, as the assembled fans and media joined in proclaiming Henry Wiles (No. 17 DPC Racing Kawasaki Ninja 650), "King Henry," as he extended his reign over the Peoria TT to a nearly unthinkable 13 victories in succession.
Wiles' 13th triumph at the Peoria Motorcycle Club moved him equal in all-time wins at the legendary venue with the "Prince of Peoria" Chris Carr — the two masters representing two generations of racing royalty at the longest standing event in America Flat Track history.
There was at least some inkling that this might be the year Wiles' streak finally came to an end. After all, the return of the Twins to Peoria for the first time in two decades provided a significant x-factor. Additionally, the layout was altered slightly with a two-stage jump introduced in anticipation of the heavier, more powerful machinery.
The reality proved otherwise, however, as Wiles was once again all alone in a class of his own. He was as dominant as ever, firmly controlling the day's AFT Twins presented by Vance & Hines action from start to finish.
In addition to his Peoria accolades, Wiles' victory also saw him up his overall all-time TT wins record to 18.
Wiles said, "It's awesome to be able to tie Chris' record. A lot of people asked what I thought about this race going to Twins, and I thought it was going to be even tougher to win… Honestly, I felt like the underdog coming into this race. It was a little bit stressful, but I got out in front of that Main Event and was just able to click off the laps. I had a lot of fun out there.
"I can't tell you how excited I am for all of my sponsors and to be able to take my little guy (Wile's son) on the victory ride — that's been a dream of mine."
While Jared Mees (No. 9 Indian Motorcycle Rogers Racing Scout FTR750) was unable to finally vanquish heavy-favorite Wiles, he did continue to pile on his already-expansive championship lead with a runner-up finish.
Mees engaged in a tight scrap with Buffalo Chip TT winner Briar Bauman (No. 14 Zanotti Racing Kawasaki Ninja 650) until the pair encountered traffic. At that point, Mees called upon his experience and racecraft to slip free from Bauman on his way to a 13th podium finish in 14 races this season.
Mees will carry a 41-point advantage into the four-race homestretch with an eye on earning his fourth-career premier class championship.
"It was a pretty good ride for me, I guess," Mees said. "I just didn't have anything for Henry whatsoever… I felt Briar breathing down my neck early. I just made sure I got off Turn 4 smooth and good, and the Indian FTR750 pulled me strong down the straightaway."
Bauman's third place was his third podium finish of the season, adding onto his wins at the Buffalo Chip TT and Lima Half-Mile.
He said, "It feels good to be back up on the podium. We were close to Jared for a while there, but then we got into some lappers. He's just so smart on the motorcycle. He worked his way through there, and bottom line, I didn't.
"I'm happy to be up here. Consistency is important, and we've been inside the top five pretty often this year."
Bryan Smith (No. 1 Indian Motorcycle Racing backed by Allstate Scout FTR750) did well to minimize the damage Mees was able to do on Sunday by finishing a strong fourth at a venue where he's historically struggled.
Third "Wrecking Crew" member Brad Baker (No. 6 Indian Motorcycle Racing backed by Allstate Scout FTR750) completed the top five.
AFT Singles
One week ahead of his 30th birthday, Jesse Janisch (No. 132 West Bend Harley-Davidson-backed Yamaha YZ450F) scored his second-career AFT Singles victory with a masterclass performance at the Peoria TT. The win backed up Janisch's breakthrough 2015 victory in Peoria.
Janisch tangled early with a feisty Kolby Carlile (No. 36 Estenson Racing Yamaha YZ450F), as the two went back and forth over the race's opening two laps. However, once Janisch locked down control at the front, he gradually worked up a mammoth advantage en route to his convincing win.
"It's great to get it done here," Janisch said. "This is one of my favorite tracks, and the new layout is great… It was definitely a good day."
Similar to Mees in the premier class, Carlile was a winner in terms of the big picture despite finishing as runner-up on the day. With AFT Singles championship leader Shayna Texter (No. 52 Richie Morris Racing Honda CRF450R) watching from the fences, Carlile narrowed the gap to Texter to just two points (201-199).
Carlile said, "Wherever we are in the points is fine, but what I'm most happy about is that we've got the Estenson Racing Yamaha really going now. My team worked their tails off all day."
Fellow title hopeful Brandon Price (No. 92 Brandon Price Racing backed by Parkinson Brother's Racing/DPC Racing/Don's Kawasaki Honda CRF450R) made up some ground as well with a 13th-place result. Price now has 191 points as the championship's three primary contenders are all within 10 points of one another with only four races left to decide the champion.
Fourth-ranked Ben Lowe (161 points) made a late-race move aboard the No. 20 Bruce Lowe Excavating Honda CRF450R to claim the final spot on the podium.
The Peoria TT will air on NBCSN on Thursday, September 21 as part of a doubleheader with another classic venue, the Illinois State Fairgrounds in Springfield, Ill. Catch the Peoria TT at 10:00 p.m. ET (7:00 p.m. PT) with the Springfield Short Track and Harley-Davidson Springfield Mile II episode at 11:00 p.m. ET (8:00 p.m. PT).  The full schedule for American Flat Track on NBCSN can be viewed at http://www.americanflattrack.com/events-nbcsn .
Catch the highlights on Facebook (https://www.facebook.com/AmericanFlatTrack/videos/1626795360687895/) and YouTube (https://youtu.be/rzyc_DI1UFk).
Next Up:
American Flat Track will return to action in early September with the Springfield ST on Saturday, September 2, and the Harley-Davidson Springfield Mile II on Sunday, September 3. Live coverage can be viewed on FansChoice.tv that Saturday beginning at 3:00 p.m. ET (12:00 p.m. PT) with Opening Ceremonies scheduled for 7:30 p.m. ET (4:30 p.m. PT), and at 11:00 a.m. (8:00 a.m. PT) and 2:00 p.m. (11:00 a.m. PT) respectively on Sunday. Tickets are on sale for both races and can be purchased at https://www.springfieldmile.org/.
Fans can keep up-to-date with American Flat Track on Facebook (@American Flat Track), Twitter (@AmericanFlatTrk) and Instagram (@AmericanFlatTrack). AFT mobile apps are available for iPhone on the App Store and for Android at Google Play. For more information, please visit http://www.americanflattrack.com.
Awards Update:
AFT Singles
McElroy Packaging Lucky 7 – #132 Jesse Janisch
Motul Move of the Race – #132 Jesse Janisch
AFT Twins presented by Vance & Hines
Ohlins Fastest Lap – #17 Henry Wiles
McElroy Packaging Lucky 13 – #17 Henry Wiles
How to Watch:
NBCSN and FansChoice.tv are the official homes for coverage of American Flat Track events. All 18 rounds, from the season-opening Harley-Davidson DAYTONA TT to the American Flat Track Finals in Southern California, will air in one-hour primetime telecasts throughout the summer and fall on NBCSN. FansChoice.tv remains a cornerstone of AFT's digital strategy and provides live streaming coverage of every event.
About American Flat Track:
American Flat Track is the world's premier dirt track motorcycle racing series and one of the longest-running championships in the history of motorsports. Sanctioned by AMA Pro Racing in Daytona Beach, Fla., the series is highly regarded as the most competitive form of dirt track motorcycle racing on the globe. For more information on American Flat Track, please visit http://www.americanflattrack.com, like us on Facebook, follow us on Twitter, check us out on Instagram, live stream the events at FansChoice.tv and catch all the American Flat Track racing action on NBCSN.