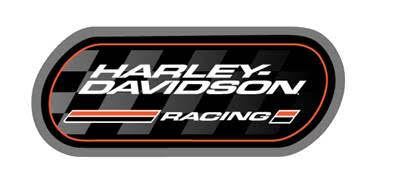 Krawiec's Fourth Championship is the Ninth Title for the Harley-Davidson Screamin' Eagle/Vance & Hines Team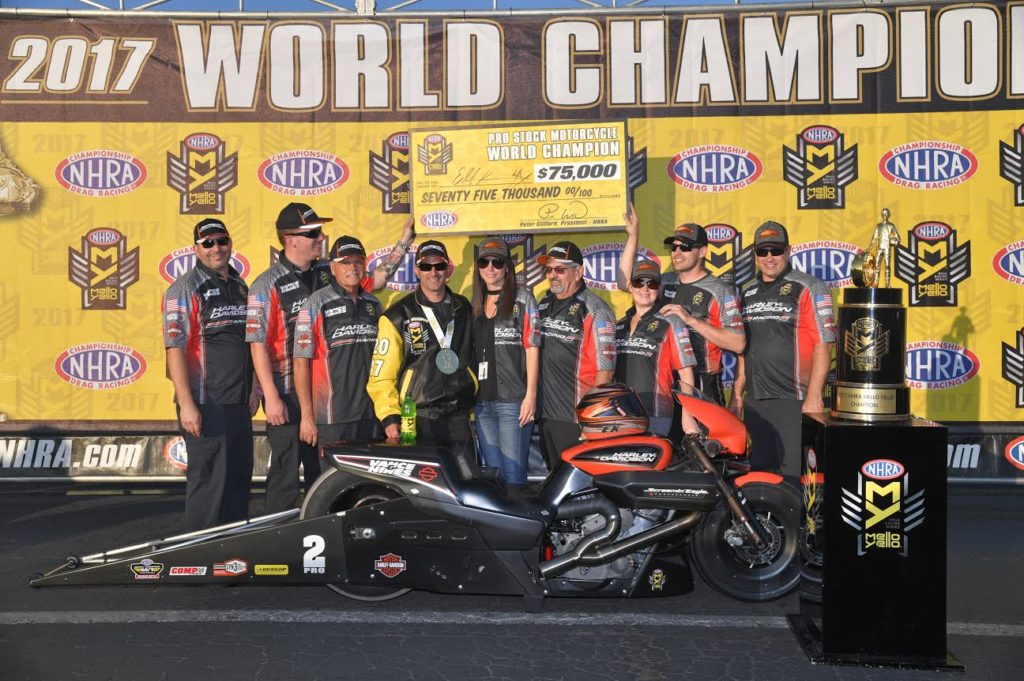 POMONA, Calif. (November 11, 2017) – Harley-Davidson® Screamin' Eagle®/Vance & Hines rider Ed Krawiec locked up his fourth NHRA Pro Stock Motorcycle championship today by qualifying for the Auto Club NHRA Finals at Auto Club Raceway, giving the team nine of the past 14 NHRA Pro Stock Motorcycle world championships.
Krawiec will guide his Harley-Davidson® Street Rod™ competition motorcycle to the starting line for Sunday's elimination rounds with an insurmountable points lead over his closest rival heading into the last race of the 2017 NHRA Mello Yello Countdown to the Championship playoffs.
"This championship was won by the entire Harley-Davidson® Screamin' Eagle®/Vance & Hines team," said Krawiec. "We are a group of individuals who are never happy if we are not winning, and we come to work every day with that goal in mind. It's so hard to win just one Countdown race against this very competitive field, and to win four of five is just amazing. This is a very gratifying championship."
The Street Rod competition drag bikes are based on the Harley-Davidson® Street Rod™ production motorcycle, an agile middle-weight powered by the liquid-cooled High Output Revolution X 750 engine tuned for maneuvering through traffic and congestion.
Krawiec closed out his title run in style, charging to the top of the qualifying order with a 6.781 elapsed time (ET) in the third round of qualifying on Saturday. Krawiec started the weekend with a 150-point lead in the Pro Stock Motorcycle Countdown standings and with bonus points earned in qualifying holds an unsurmountable 156-point advantage heading into Sunday elimination rounds.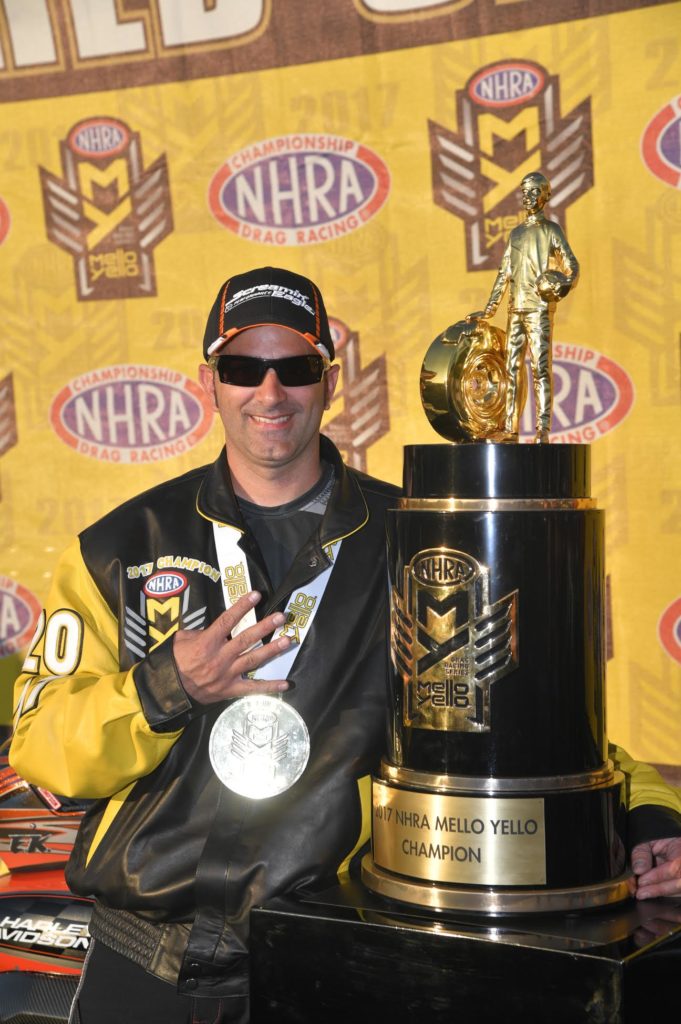 Krawiec scored a big win at the NHRA Chevrolet Performance U.S. Nationals in Indianapolis on Labor Day weekend, and that momentum propelled him into an incredible run in the Countdown playoffs. Krawiec was seeded second for the Countdown and won the opening round at Charlotte on September 17 to take a points lead he would never relinquish as he won four of the five Countdown events leading up to this weekend's NHRA Finals in Pomona.
"We had a real struggle in the middle of the season trying to get our new motorcycles to work the way we wanted, but I really think that stretch made us better," said Krawiec. "It caused us to look at every detail of our bikes and our tuning, which ultimately strengthened our program. Everything came together at the right time with the win at Indy."
Krawiec, who previously won championships in 2008 and in 2011-12, joins five-time champion Harley-Davidson® Screamin' Eagle®/Vance & Hines rider Andrew Hines and six-time winner Dave Schultz as the only racers to claim the title more than three times. Heading into the Pomona elimination rounds, Krawiec is third on the career wins list with 43, trailing Schultz (45) and Hines (47). Krawiec made his NHRA debut in 2004 and joined the Harley-Davidson Screamin' Eagle/Vance & Hines team in 2007. He has won each of his four championships on Harley-Davidson competition motorcycles.
Harley-Davidson and Vance & Hines Motorsports created the Harley-Davidson Screamin' Eagle/Vance & Hines team in 2002 to compete in the NHRA Pro Stock Motorcycle division. In 2004 the team was the first to win the NHRA title with a V-Twin-powered motorcycle.
The Harley-Davidson Screamin' Eagle/Vance & Hines team is led by Vance & Hines Motorsports owners Byron Hines and Terry Vance and crew chief Matt Hines, a three-time Pro Stock Motorcycle champion.
About Harley-Davidson Motor Company
Since 1903, Harley-Davidson Motor Company has fulfilled dreams of personal freedom with cruiser, touring and custom motorcycles, riding experiences and events, and a complete line of Harley-Davidson motorcycle parts, accessories, general merchandise, riding gear and apparel. For more information, visit www.h-d.com.