Daytona Racing News
For all of you who enjoy watching the boys have at it on the track to see who'll take home the checkered flag here's the results from some of the racing action during this year's Daytona Bike Week: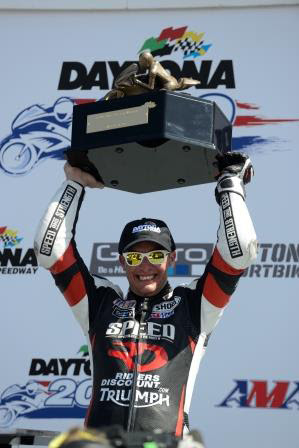 Eslick Wins Daytona 200
Danny Eslick started his Triumph on the pole and then lead 44 of 57 laps on his way to win Saturday's 73rd Daytona 200 AMA Pro GoPro Daytona SportBike race at Daytona International Speedway. By beating Yamaha riders Jake Gagne and Jake Lewis, Eslick became the first Triumph rider to win the Daytona 200 since the late Gary Nixon in 1967.
"It's awesome," Eslick said. "I've gotten the pole before. My very first 200 I got fourth. There's been a lot of hard work and a lot of years have passed by to get this victory. It means a lot."
Eslick had some fierce racing with DiSalvo and Westby during the race, but his pit stops from proved to be the difference. "Pit stops for the Daytona 200 are the most important thing," Eslick said. "You can't have bad stops and we had great pit stops."
"This one was pretty nerve-wracking," Eslick said. "This is one of the biggest races in the world. Obviously the biggest one I've ever won. Laguna Seca was pretty special a couple of years ago. But anything involved with Daytona is pretty incredible. This trophy is going to sit up loud and proud right in the middle of my house."
Rounding out the podium were
AMA SuperBike Round 2
Cameron Beaubier won a four-bike shootout with Josh Hayes, Roger Hayden and Martin Cardenas to take the AMA Pro SuperBike Race. Beaubier drafted past Hayden coming out of the chicane on the final lap to win by .090 seconds. Beaubier won last year's Daytona 200.
"I knew it was going to be close if I let everyone onto the banking. It all just kind of worked out," Beaubier said. "Roger had to stretch it out coming out of the chicane, which was good for me because he kind of pulled me back in the draft. Then I was able to get him across the line and I'm really happy."
AMA Pro SuperSport Round 2
Corey Alexander led Wyatt Farris at the finish to win the 10-lap SuperSport race. "The past three years I've been on the podium and I hadn't gotten a win," Alexander said. "I kind of lucked out every time. I'm really happy to come here and pull off the double and just give them a good show."
Source and image: DIS-Communications
Coolbeth Jr Brings Home Round 2 of the Grand National AMA Pro Flat Track
Kenny Coolbeth,Jr got off to a great start in 2014 at Round 2 of the Grand National AMA Pro Flat Track season at Daytona. Kenny won by over 4 seconds over Jake Johnson while lapping many of the other riders. Coolbeth passed on lap five and never looked back.
Brandon Wilhelm Takes AMA Pro Singles
Brandon Wilhelm came away with his first win of the year in the 18-lap AMA Pro Singles main event. "I can't believe this is happening right now," said an ecstatic Wilhelm. "It feels so good. The track was a little slick but it wasn't bad. I just had to work the throttle a little bit and it worked in my favor. I've never felt anything like this before, it's truly an amazing feeling."
Bauman Wins Daytona AMA Pro Flat Track
Briar Bauman got the first AMA Pro Flat Track Grand National win of his career Thursday evening at the Daytona Flat Track as he won the AMA Pro Flat Track event.
"I saw those halfway flags I definitely knew I had a chance to win and felt myself tense up a little bit." said Bauman.
Wells Takes The AMA Pro Singles
Ryan Wells started hot and went on to win the AMA Pro Singles race by over three seconds over second-place rider Justin Jones.
"The first day at Daytona I usually struggle quite a bit so to come out here and get the win is huge for me," said Wells. "I knew I had to have a good start and that I would be forced to make very few mistakes if I wanted to win. I'm just glad I was able to do that and it paid off. Hopefully I'll be back up here tomorrow night; the goal is to get the sweep."
Source: American Dirt Track Magazine
Wyman Wins AMA Pro Vance & Hines Harley-Davidson Race at Daytona
On Friday Kyle Wyman won his 3rd in 4 career tries at the Daytona International Speedway in the AMA Pro Vance & Hines Harley Davidson series race. He set up a move on the final lap that gave him 0.068-second margin of victory over Tyler O'Hara on the famed 3.5-mile road course.
"It was awesome," Wyman said. "This is what we live for, and I was just loving it. That's the third win for me, and I just love this place. I spent all winter thinking about coming here to Daytona. I'm just so happy to be up here. It was a long year last year, and I feel like we're off on the right foot."
The second round in the AMA Pro Vance & Hines Harley Davidson series is May 30-June 1 at Road America in Elkhart Lake, Wis.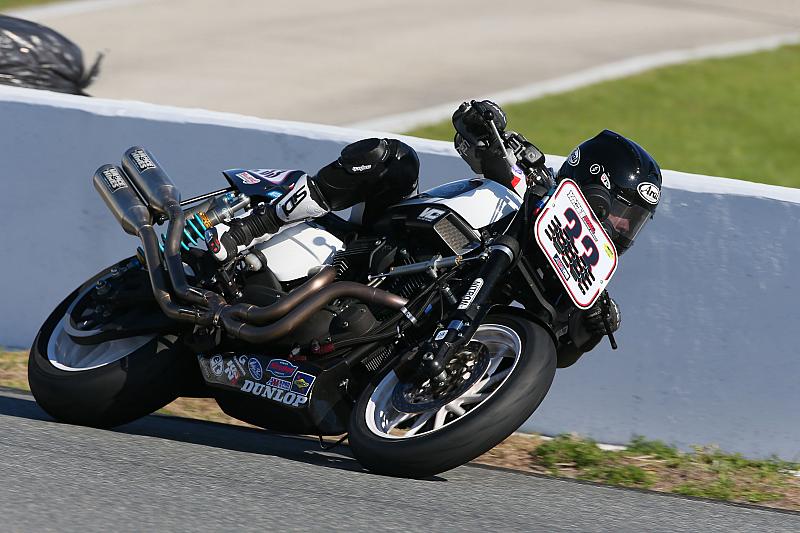 Daytona International Speedway Race Results:
1. Kyle Wyman (KWR/Millennium Technologies), 7 laps
2. Tyler O'Hara (Josh Chisum Racing/Bartels' H-D), +0.068
3. Gage McAllister (Folsom H-D), +0.108
Source and image: Harley Davidson
Posted by Sam Kanish