We all like a story about a builder with no formal training who knocks it out of the park on their first shot, but down here on earth, those stories are as rare as a dry Ironhead rocker box. The fact is, there's no magic formula for building a great bike, and the only certain way to succeed is to work for it until you do.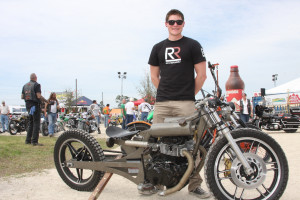 That was the path Joey Chanel took when he began building this radical Honda-based chop. Inspired to take a creative approach when tasked with completing a senior year design project for his fine arts degree at George Mason University, he eventually convinced the staff that a chopper can be art, too. Hey, we already knew that, but word spreads slowly sometimes.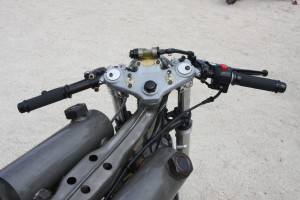 Starting with a dirt-cheap '79 Honda CM400, there were hurdles to overcome right out of the gate. Joey had plenty of welding experience, but the resources at his school didn't include a tubing bender. Working on a budget too tight to allow flagrant spending on pre-bent steel or a one-off frame built by someone else, Joey tackled the problem from another direction…or should we say dimension? Abandoning the preconceived notion that motorcycle frames have to be made from round tubing, he designed and fabricated the entire tail section out of flat 1/8″ sheet steel. "It's 26 individual pieces, cut and shaped by hand," Joey points out.
This radical section was mated to what was left of the front of the bike, where more cool touches can be found. The front is suspended on later-model CB650 forks, shortened to bring the geometry in line and capped with clip on bars, a trick brake master made from a glass fuel filter, and an LED headlight housed in what used to be a scuba tank pressure nut!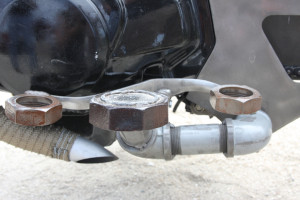 Joey had a friend chip in with a bucket of good quality steel – in the form of pipe fittings and union joints! The free material ended up wrapping the bike together, visually. The kick pedal, pegs, heel/toe shifter, tail light housings – they all use the union fittings as their raw material, and were carefully worked into functional, artful pieces by Joey. Even the unique twin tanks are secured via these union joints. "My dad was joking that I wouldn't know how much gas I had in the tanks, but I told him I could just unscrew them and carry them down the road if I ran out," Joey laughs.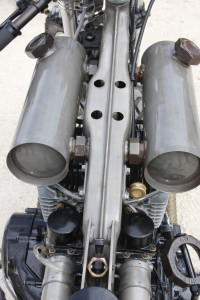 He even worked in another craft that he loves, woodworking. "I was tired of propping the bike up with a broom stick, so I finally shaped a piece of black oak for a kickstand. It's hinged to fold neatly against the frame, and has neodymium magnets to keep it in place," he says.
That's some serious blending of hard work and craft. After finishing the bike earlier this year, he met Copper Mike of Gravesend Cycles, who agreed to help get Joey's bike down to Daytona bike week where he made an impressive appearance at several shows. He even scored the "Best Creative Custom" award at the legendary Willies Tropical Tattoo show, putting everyone on alert: this young man has talent, drive, and ambition. If he can turn heads like this with a $300 Honda, we can't wait to see what he comes up with next.
Spec Sheet
Owner/Builder: Joey Chanel
GENERAL
Year, Make & Model: 1979 CM400T
Assembly/Builder: Honda
FORKS
Year/Model: 1985 CB650
Builder: Honda
Type: Telescopic
Extension: Lower!
ENGINE
Year/Model: 1979 CM400T
Rebuilder: Soon to be me!
Displacement: 400cc
Pipes: Joey Chanel
TRANSMISSION
Year/Modifications: Stock
Trans sprocket: 18
Wheel sprocket: 47
Final drive: 150 link O-ring chain
FRAME
Year: Stock frame, modified w/welded-on handmade flat stock rear section
Designer/Builder: Joey Chanel
Geometry: Stock frame was tilted forward to toe the front in
ACCESSORIES
Bars: Clip ons
Fenders: None
Gas Tank: Handmade using converted fire extinguishers, detachable for emergency fuel shortages
Headlight: Handmade AR 111 Bright white LED projection bulb, housed in a scuba tank pressure nut
Taillight: LED, housed in 4140 steel nuts
Speedo: Naaah…
Pegs: 4140 steel nuts
Electrics: Hand-wired
Seat: Cold formed 3/8" steel…cozy!
WHEELS/TIRES
Front Wheel: '82 Honda FT500 mag
Front Tire: Off road
Size: 20"
Rear Wheel: '85 Honda Ascot mag
Rear Tire: Off Road
Size: 19"
Brakes: Nissin CBR600RR caliper
PAINT
Bodywork/Molding: None
Painter: NOVA Powder Coat, www.Novapowdercoat.com
Color: Sand blasted bare metal
Powdercoating: Clear powder coat with black powder coat accents
Awards:
2014 International Motorcycle Show, Washington D.C. 2nd in Freestyle
2014 Timonium Motorcycle Show, Timonium Maryland. 2nd in Nostalgic Custom. Best Handcrafted Parts of show
2014 Willies Tropical Tattoo, Daytona Florida. Best Creative Custom
2014 Boardwalk Bike Show, Daytona Florida. 3rd in Radical Metric.
2014 Rats Hole Custom Bike Show, Daytona Florida. 3rd in 251-1000cc Class