Post by Onno Wieringa.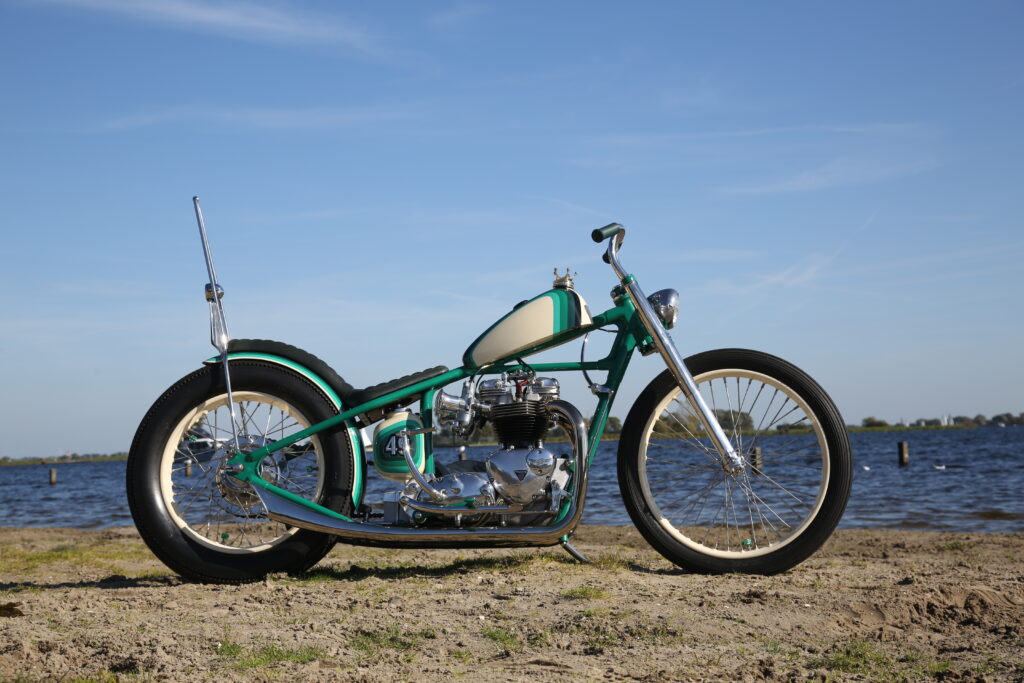 Probably the statement 'God is in the Details' has never been more applicable than to this Triumph. Not only because just about every detail is made by hand, but also because every part, no matter how small, is finished to perfection. Fourteen years of work on the Triumph took place in their spare time, resulting in a bike that not only looks perfect, but, to the surprise of many, rides perfectly too!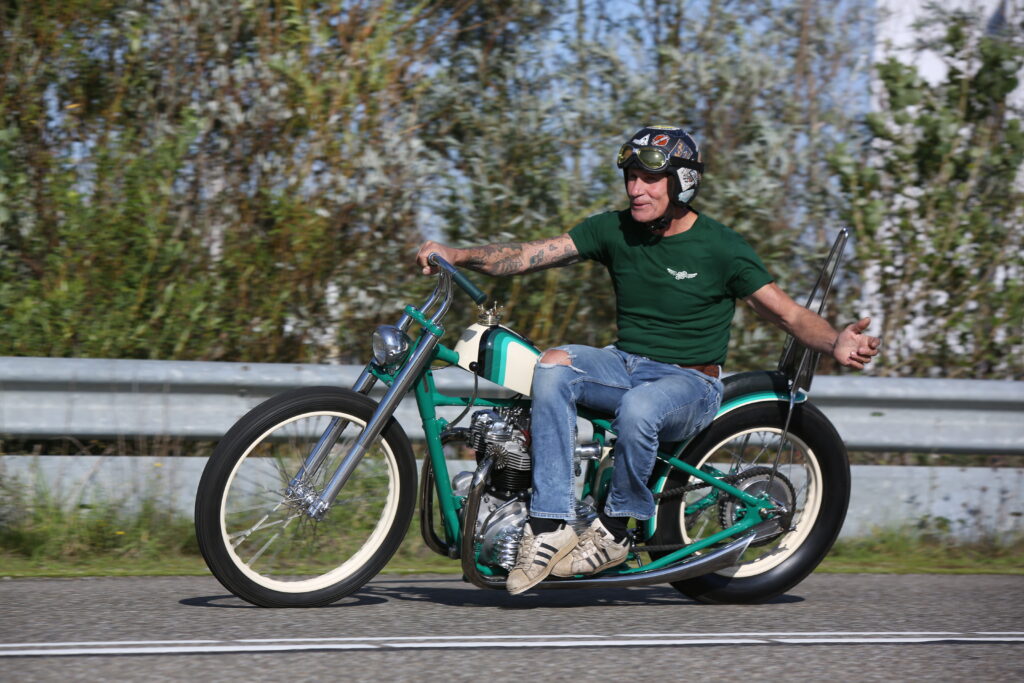 Unbelievable, it's one of those projects that you can't take your eyes off, where every perfect detail delights your eyes over and over again, where the camera has to greedily capture every part on photo and you keep seeing new things and you keep wondering how it is possible, how it is made and admiringly you take in this 'drive to perfection' mentality, the obsession, or is it passion, combined with so much creativity and craftsmanship, it makes you dizzy.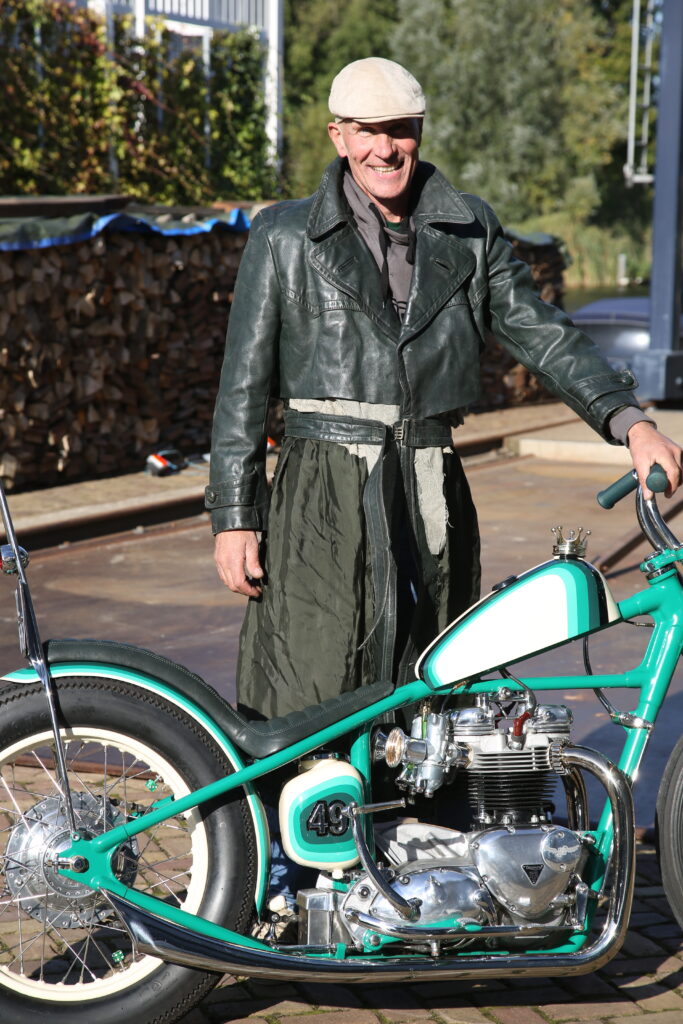 The builders, Aad, aged 57 and a metalworker by trade, and Mark, aged 58, Industrial Designer, living in the west of The Netherlands, are smiling while looking at their motorcycle. And motorcycles have long been in the blood of both, they have had their driver's license since they were nineteen and have been riding even longer. Aad says he has had an NSU scooter, all kinds of Japanese, three Shovelheads, two FXRs and currently has an Evo Custom, a Buell and a Triumph. Mark once started on Honda CBs, followed by a BMW R51, Norton Commando and a Harley WLC, and currently has two Shovelheads, an Evo Chopper, BMW R90 Bobber and a Panhead Project.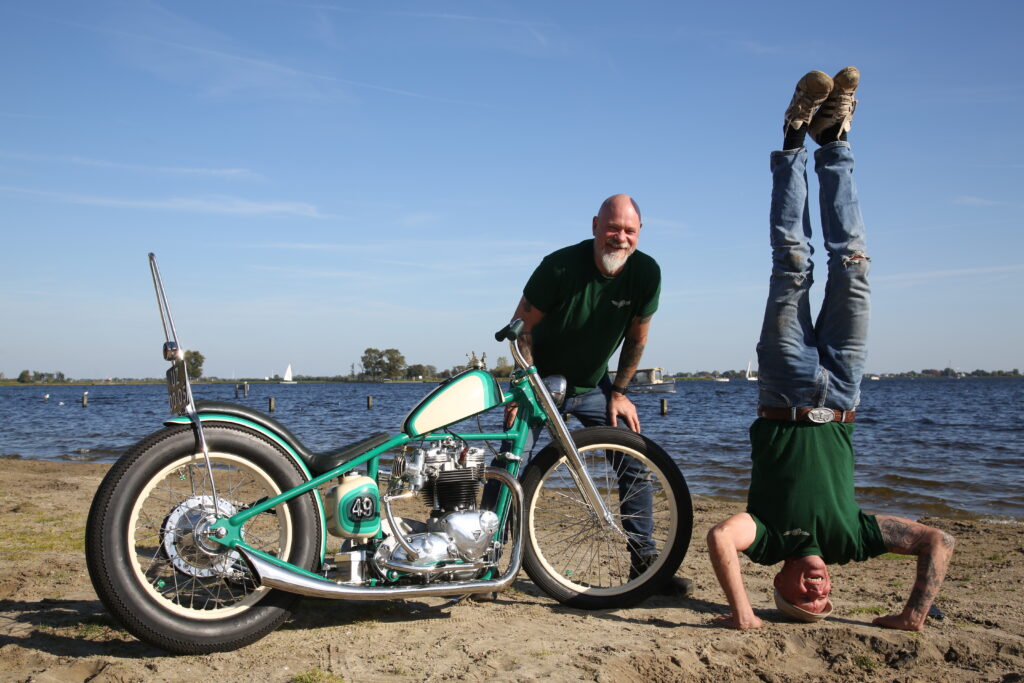 Aad bought this motorcycle somewhere in Zeeland (south west county in The Netherlands) about fourteen years ago, as the basis for a sleek custom. "Aad and I have been working on this project together from the start, I mainly do the ideas and design, such as the whole motor in 3D and the wiring, and Aad mainly the metalwork and polishing," explains Mark, while we look at the bike, meanwhile taking photos on the beach.
"We never have problems, we see technical and optical problems as a challenge and do not shy away from the difficulties, but we see it as something on which we can unleash our skills and creativity," Until the perfection they strive for is achieved. And plenty of time is taken for this, and despite technical insight at great heights and ingenious tools and machines, things sometimes go wrong with them too as things don't always turn out the way they wanted. It is said lightly, "Yes, we had to make a few parts again, such as the saddle, the mudguard and the fork shrouds because the first version was not entirely to our liking. But that is part the job." And to think that sometimes a single part is worked on for days, even weeks and then because of a tiny imperfection, often barely visible to the naked eye, it is thrown away and made again. For example, it bothered the gentlemen that the thin wire of the headlight was slightly visible. So the top yoke was 'casually' disassembled to drill a hole through it, where the wire was fiddled through. After which the entire steering head was removed from the frame, a hole was drilled in it, a pipe was welded into the steering head and frame, so that the wire was no longer visible. Weeks of work to hide a thin wire, and this is just a small example… Talking about perfection, dedication and passion for custom bike building!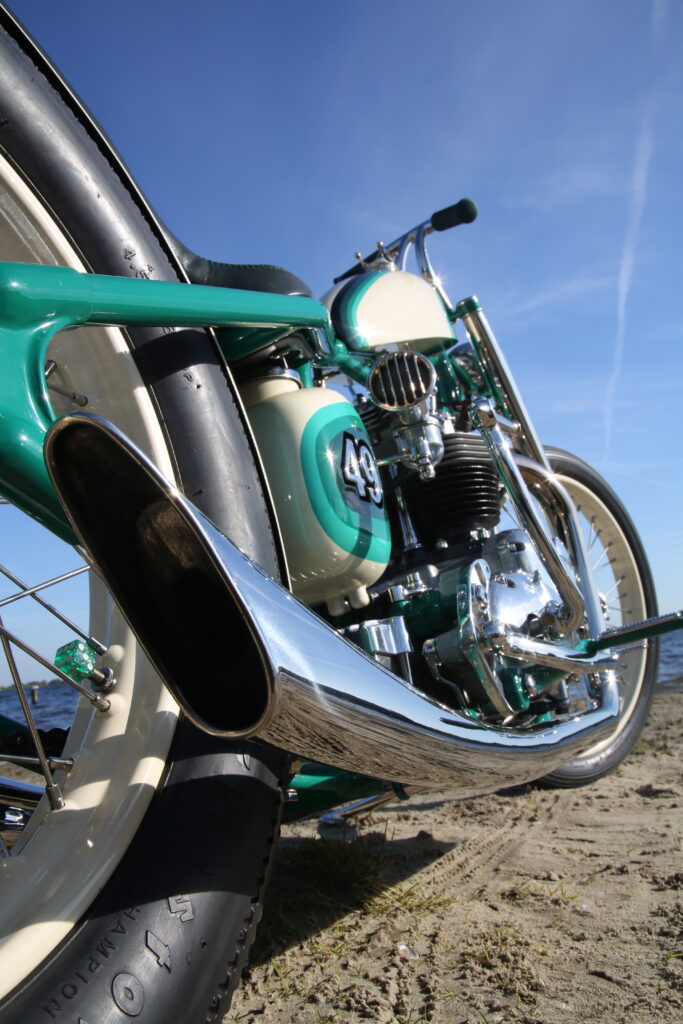 Mark talks about fabricating the many parts, "Anything that shines is polished stainless steel, often made from pieces of scrap material. Aad works at a metal company where many stainless steel parts for expensive boats are made, so he is now very handy with it. He even did all the polishing himself." He points, "even the chain tensioners are of his own design and made of polished stainless steel."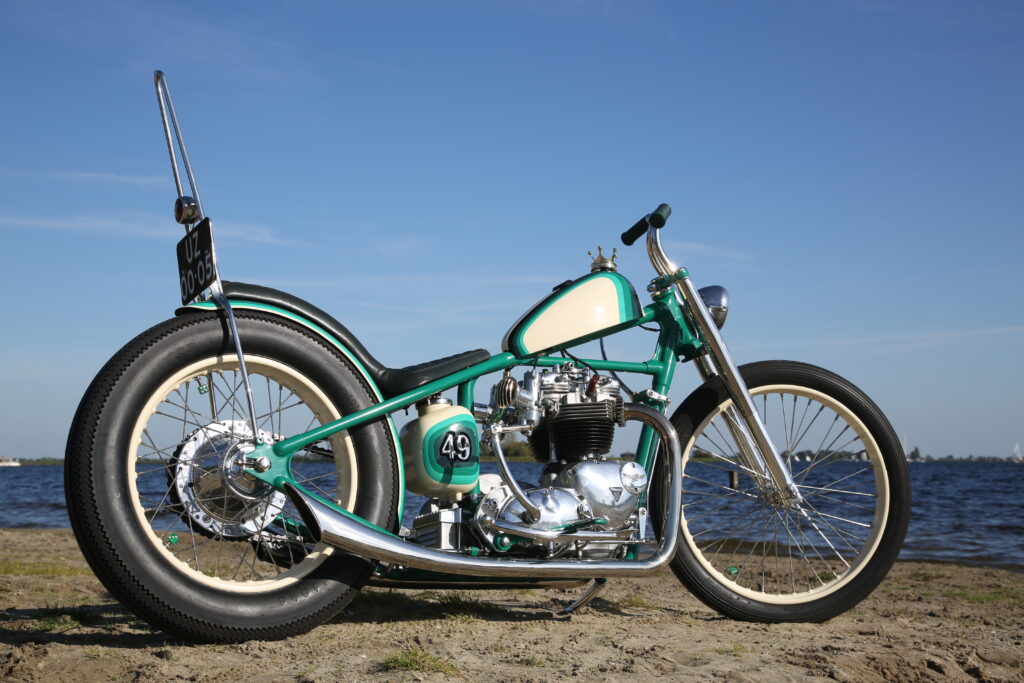 The kickstarter arm and foot pedals are completely handmade, tapering from oval to round and curved in almost organic shapes. The kickstarter pedal is held tight with a ball and spring. The manual gear lever and lever of the Jiffy are also tapered and curved stainless steel. "But the 'party piece' is the disappearing side stand," explains Mark, "After spending a lot of time on the stainless steel exhausts, we found out that there wasn't really a good place to mount the side stand anywhere without disturbing the line of the exhaust. And would come to touch the road riding through tight bends. I came up with a system in which the side stand is hidden between the exhaust and the frame, and is operated by means of a lever, the jiffy first goes down 5 cm and then turns outwards. While riding, it does not protrude anywhere from under the frame and you cannot get it to the ground in the corners either."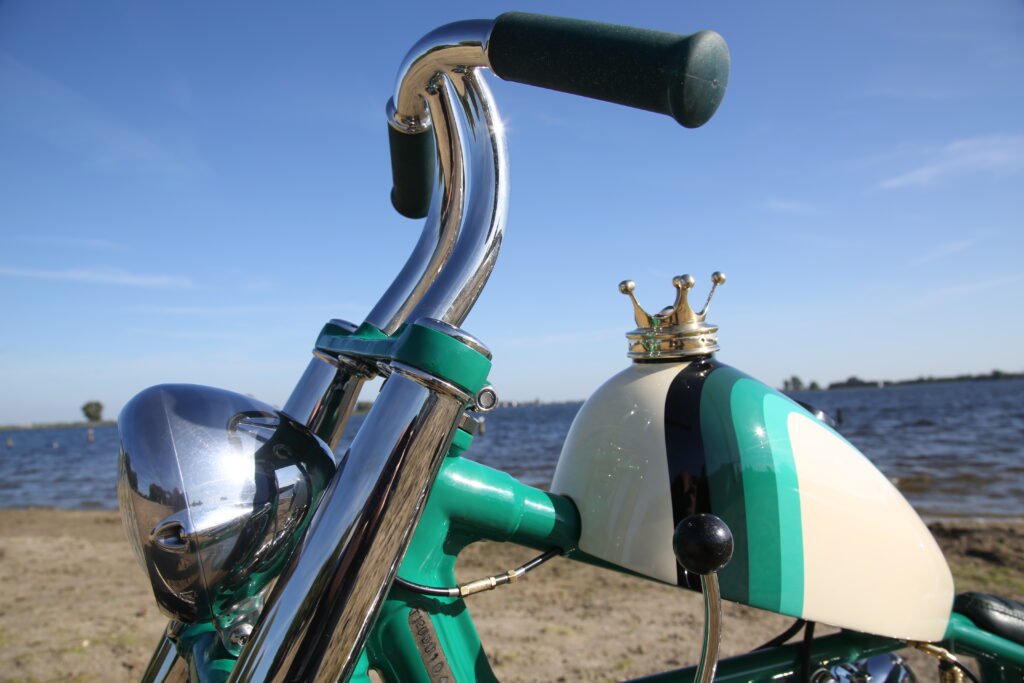 We should also mention the fuel cap, Aad was visiting friend Louk who has a glass eye and said that he gets a new one every three years, because a real eye also changes over the years. He showed a bowl full of glass eyes, of which Aad immediately stole one and it is now artfully incorporated into the fuel cap! Each part has a story about how it was invented, designed, the materials used and the function. As a small example; the rear light is self-made from a piece of solid stainless steel and welded to the sissy bar, the glass and the LEDs come from a Motone rear light. Very few builders would go that far to even do so, to create it themselves. "It's fun for us to come up with such ideas and just make them," say Mark and Aad, "We were therefore deeply disappointed when 'suddenly' the motorcycle was completely ready and we didn't have to do anything anymore! So we are already working on the next project!"
While lying down shooting photos from below, – how the hell is that gas tank mounted?! – and so look at the world upside down, Aad does the same, but upside down, literally… by standing on his head! After which the bike is kicked alive in just one firm kick and Aad and Mark show how everything works; for example, all cables are mounted invisibly internally, for which the most ingenious solutions have been invented. There is nothing attached on the, of course, self-made handlebars, no lever or cable is visible. The foot clutch is pressed, and with the manual handshifter – another beautiful construction – the Triumph is put into gear and Aad races off with the greatest of ease, to then pull off the craziest antics while riding like a true stunt rider! Back home, Aad puts on the old leather jacket, which turned out to be the perfect donor for the saddle in terms of color and material. "We found an old dark green coat that Aad had once worn at carnival. While we were discussing whether or not we could make a saddle cover out of it, the local 'village idiot' who had just visited decided to save the jacket. Before we knew it, he had jumped on his pushbike with the jacket on and took off quickly. Days later we managed to track down the jacket again and Jeroen van Silvermachine cut out a piece and covered the saddle with it!"
It is one of those custom bikes where superlatives fall short. A story like this also falls short, filling an entire magazine is still too little to pay tribute to this masterpiece, perhaps a book with dozens of pages of text and hundreds of photos can only approximately show what it takes to build something like this. CAD49 won Best in Class at the Bigtwin Show in The Netherlands for a reason and even won Best of Show at the Custombike Show in Germany. Few motorcycles are built on this lonely, high level; 'custom bike building to the limit' you could say. Unfortunately, there is not enough space to describe all details, so read the technical specifications as Aad and Mark have described them carefully!
Text and photography Onno "Berserk" Wieringa – www.madnessphotography.nl
TECHNICAL DATA
(stating according to owner/builder)
GENERAL
Owner: Aad
Builder: Aad and Mark
Brand: Triumph
Model: Bonneville T120
Construction time: 14 years, between regular work
ENGINE
Year of manufacture: 1964
Builder: Triumph, overhauled by Jos Reijnders
Cylinder capacity: 650 cc
Type: T120
Carter: Aad had been go-karting and crashed into a hay bale, result: three bruised ribs that made it almost impossible for him to do anything. Then he sat down on a stool and with the engine on the table he sanded away all the rough slabs and seams and then applied an even texture to the entire crankcase with a vibrating needle. Three whole days of therapy!
Crankshaft: original
Pistons: 1st oversize
Cylinders: original
Cylinder heads: fitted with new valves, seats and guides, suitable for unleaded petrol
Camshaft, make and specifications: original
Oil pump: original overhauled
Fuel system: Amal carburettors with polished float bowl and top cover
Air filter: homemade aluminum velocity stacks with brass grilles
Ignition: electronic, works without battery
Exhaust system: handmade from stainless steel
Gearbox: original, but equipped with own design hydraulic clutch
CHASSIS
Frame: swingarm converted to hardtail with internal cables, wiring and oil line. Original wheelbase, axle plates made to look like castings
Front fork: original fork shortened and fitted with shrouds made from solid stainless steel. Lower legs shaved, to make the gap between shroud and legs as small as possible.
The headlight wiring goes through the head tube through the lower yoke. At the top yoke the holes for the handlebars were not exactly in the middle of the moldings, so carefully welded and filed until they were perfect, and the handlebars fitted nicely again. Removed unnecessary brackets for the clocks. Nuts of fork legs and steering head homemade from stainless steel
Front wheel: Spool hub from Flying Choppers, stainless steel spokes and 21" rim, Avon Speedmaster tyre
Rear wheel: original hub polished, stainless spokes and 18" rim, Firestone Deluxe tyre
Brakes: original rear drum, overhauled by Mascotte in Eindhoven, all polished, arm homemade from stainless steel
MISCELLANEOUS
Rear fender: self-made from flat plate on English wheel
Fenderstruts: hidden mounting under the seat, the seat is made to take the weight without further supports
Fuel tank: Japanese tank completely rebuilt, invisible mounting, compartment for ignition coil above the tunnel, self-made fuel cap with glass eye
Oil Tank: Based on original oil tank and mounted upside down. Originally the tank has a convex side and a flat side, we have copied the convex side so that it now has two convex sides. Shovelhead internal oil filter, internal oil lines, concealed mounting and Number 49 in 10mm thick stainless steel recessed in oil tank
Handlebars: homemade in stainless steel with internal gas through the left (!) riser because the bend was less sharp. Internal guide tube for throttle cable. Very narrow.
Handlebar risers: welded to handlebar, bent and tapered
Grips: green
Switch housings/brake clutch lever: no, handlebar is completely clean
Headlight: from swapmeet, mounting moved, model changed a bit
Rear light: homemade from solid stainless steel and welded to the sissy bar, the glass and the LEDs come from a Motone rear light
Saddle: homemade base plate with old jacket upholstery by Silvermachine
Sissy bar: homemade in stainless steel with fixed welded rear light and license plate holder with a small slot in it so that the wire of the rear light is not visible
Footrests: Stainless steel homemade, serrated profile put on planer and then bent
Brake-shift pedal: brake pedal moved from left to right, homemade stainless steel pedal and transmission via rear fender support. On the left side there is now a self-made stainless steel pedal for the foot clutch. Shifting is now done via a manual handshifter made of stainless steel with stainless steel rods connected to the gearbox, all homemade of course
PAINT
Color: Ivory white with three shades of green
Painter: KustomBart
Idea and Design: Graphics devised together with KustomBart
THANKS TO
Kustombart for the paintwork and Jeroen van Silvermachine for covering the saddle Jos Reijnders for the engine overhaul
(nickname) of the bike:
Cadbike 49. Mark explains: "Besides my own company, where I design motorcycle parts for all kinds of companies, I have also been designing motorcycles in CAD for fun for years, of which we occasionally build one for ourselves. This was the 49th, now I'm at number 56, a Panhead that will become for myself. All designs can be seen on www.dbbp.com, one of the oldest (since 1996) and largest (8761 pages) motorcycle websites out there…
I also have Cadbike 1, 13 and 33 in my possession, and Aad has Cadbike 31 and now 49!"