25th annual Dealernews Top Dealer competition recognizes powersports retailers
Dealernews, the premier business information resource for North American powersports retailers, has named Cycle Center of Denton, in Denton, TX, as its Dealer of the Year. The multiline dealership north of the Fort Worth metro area carries Aprilia, BMW Motorrad, Honda, Kawasaki, KTM, Polaris off-road, Polaris Slingshot and Suzuki vehicle brands.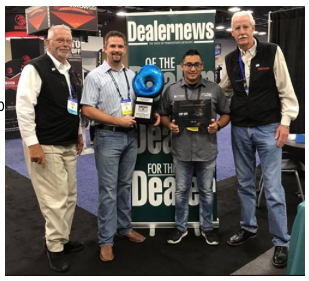 Fun Bike Center Motorsports of Lakeland, FL, and Simply Street Bikes in Eden Prairie, MN, tied for first runner-up to the Dealer of the Year. Second runner-up is Conrad's Harley-Davidson in Shorewood, IL.
"These are four distinct dealerships making great strides in being ambassadors for the sport, the industry and the rider lifestyle," said Mary Green, vice president and general manager of Dealernews.
The Dealernews 25th Anniversary Top Dealer Awards is the motorcycle and powersports industry's largest, longest running and most prestigious retail competition, recognizes motorcycle and powersports dealerships across the United States for their Commitment to the Customer. For the 25th anniversary year, Dealernews is paying special tribute to the Top 25 Dealers whose entries scored highest in this year's competition.
The Top 25 Dealers in America are:
Cycle Center of Denton, Denton, TX (Dealer of the Year)
Fun Bike Center Motorsports, Lakeland, FL (First Runner-Up – tie)
Simply Street Bikes, Eden Prairie, MN (First Runner-Up – tie)
Conrad's Harley-Davidson, Shorewood, IL (Second Runner-Up)
Lakeside Motor Sports, Mecosta, MI
Black Sheep Harley-Davidson (formerly Charlie's Harley-Davidson), Huntington, WV
Pioneer Motorsport Inc., Sardinia, NY
Road Track and Trail LLC, Big Bend, WI
Central Texas Powersports, Georgetown, TX
Texas Harley-Davidson, Bedford, TX
Babbitt's Sports Center, Muskegon, MI
Bud's Harley-Davidson, Evansville, IN
Hot Rod Harley-Davidson, Muskegon, MI
Indian Motorcycle Charlotte, Lowell, NC
Mad River Harley-Davidson, Sandusky, OH
Harley-Davidson of Waco, Waco, TX
Bob Weaver Motorsports & Marine Inc., North Tonawanda, NY
Commonwealth PowerSports, Prince George, VA
Ray Price Inc., Raleigh, NC
Smokin' Harley-Davidson, Winston-Salem, NC
Cole Harley-Davidson, Bluefield, WV
Select Cycle, Greensboro, NC
Ride Now Powersports Concord / Indian Motorcycle Concord, Concord, NC
Big St. Charles Motorsports Mall, St. Charles, MO
Gene's Gallery Inc., Springfield, MO
Class of 2016 – By State
More than two dozen states are represented in this year's winning class. States with the highest number of winning dealerships are Texas (nine winners), North Carolina (5), Michigan (4) and Virginia (4). A list of the Top Dealers is provided below.
ALASKA – House of Harley-Davidson (Anchorage)
ARIZONA – Ride Now Powersports Peoria (Peoria), Sierra Cycles (Sierra Vista)
CALIFORNIA – Irv Seaver Motorcycles (Orange), Del Amo Motorsports of Redondo Beach (Redondo Beach)
COLORADO – Fay Myers Motorcycle World (Greenwood Village)
FLORIDA – Fun Bike Center Motorsports (Lakeland), Jaguar Power Sports (Jacksonville)
GEORGIA – Atlanta Highway Indian Motorcycle (Alpharetta), Freedom Powersports McDonough (McDonough)
ILLINOIS – Conrad's Harley-Davidson (Shorewood)
INDIANA – Bud's Harley-Davidson (Evansville)
KENTUCKY – Lexington Motorsports LLC (Lexington)
MICHIGAN – Lakeside Motor Sports (Mecosta), Babbitt's Sports Center (Muskegon), Hot Rod Harley-Davidson (Muskegon), Nelsons Speed Shop (Greenville)
MINNESOTA – Simply Street Bikes (Eden Prairie)
MISSOURI – Big St. Charles Motorsports Mall (St. Charles), Gene's Gallery Inc. (Springfield)
MISSISSIPPI – Hattiesburg Cycles (Hattiesburg)
NORTH CAROLINA – Indian Motorcycle Charlotte (Lowell), Ray Price Inc. (Raleigh), Smokin' Harley-Davidson (Winston-Salem), Select Cycle (Greensboro), Ride Now Powersports Concord / Indian Motorcycle Concord (Concord)
NEW YORK – Pioneer Motorsport Inc. (Sardinia), Bob Weaver Motorsports & Marine Inc. (North Tonawanda)
OHIO – Mad River Harley-Davidson (Sandusky), Napoleon Harley-Davidson (Napoleon), Piqua Harley-Davidson (Piqua)
OKLAHOMA – Myers-Duren Harley-Davidson (Tulsa)
SOUTH CAROLINA – Black Jack Harley-Davidson (Florence)
TEXAS – Cycle Center of Denton (Denton), Central Texas Powersports (Georgetown), Texas Harley-Davidson (Bedford), Harley-Davidson of Waco (Waco), Freedom Powersports Weatherford (Hudson Oaks), Lumberjack Harley-Davidson (Nacogdoches), Roughneck Harley-Davidson (Longview), Texarkana Harley-Davidson (Texarkana), Texoma Harley-Davidson (Sherman)
UTAH – Addictive Behavior Motor Works (Salt Lake City)
VIRGINIA – Commonwealth Powersports (Prince George), Friendship Motorsports (Bristol), Black Bear Harley-Davidson (Wytheville), Black Wolf Harley-Davidson (Bristol)
WASHINGTON – South Sound Honda Suzuki Polaris (Olympia)
WEST VIRGINIA – Black Sheep Harley-Davidson (formerly Charlie's Harley-Davidson, Huntington), Cole Harley-Davidson (Bluefield)
WISCONSIN – Road Track and Trail LLC (Big Bend), Open Road Harley-Davidson (Fond du Lac), The House of Harley-Davidson (Greenfield)