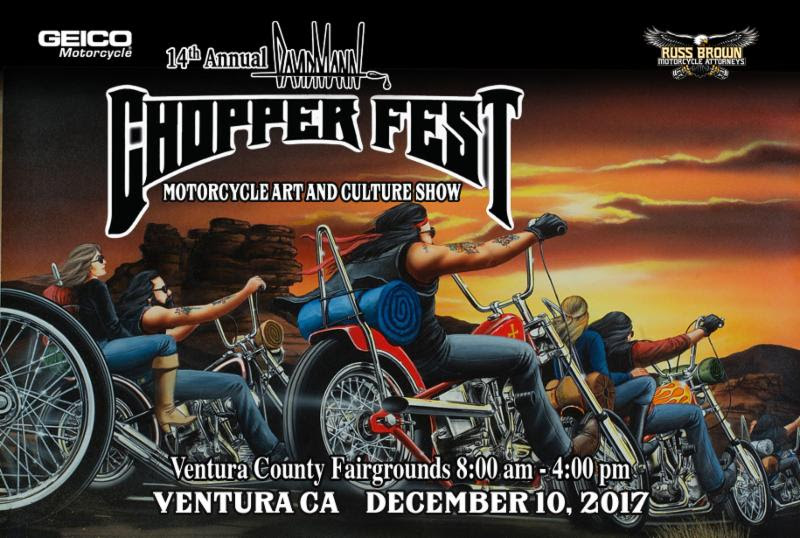 David Mann's "Family" – first ran in Easyriders magazine in August 1986.
The 14th Annual David Mann Chopperfest will be held Sunday December 10th 2017 at the Ventura County Fairgrounds in Ventura CA from
8am – 4pm
.
The event features: The "If You Build It They Will Come" All Brand Antique and Custom Motorcycle Show; Custom Bike Builder Displays featuring World Class Bike Builders; The "David Mann & Friends" Motorcycle Art and Culture Exhibit, Hundreds of Motorcycle/Culture Vendors; a New and Used Motorcycle Parts Swap Meet; Live music by Gethen Jenkins,  Kellys Lot, and Special Guests; Food and 805 Firestone Beer!
General Admission is $15, Military with ID $10, kids 12 & under Free
The "If you build it they will come" All Brand Motorcycle Show will feature over 15 classes of motorcycles from Antique & Old School to Radical Design, check out the Chopperfest website Bike Show link below for more details on all the classes and entering your motorcycle. If you have a bike that fits one of these classes please enter it, it's only $40 and you get 1 admission and a David Mann Chopperfest t-shirt. The trophy's are amazing one of a kind pieces of art by Sonny Boy.  Plus there is a $2500 cash prize for Best Of Show bike presented by Geico Motorcycle Insurance.
Bike Show Registration Form:
Vendor and Swapmeet registration is now open, Vendor/Swapmeet forms can be downloaded by clicking the link below or at www.chopperfestival.com or you can call or email Tory to reserve your space. 805.217.2113 tory@chopperfestival.com
Vendor Application Form:
**Attention returning vendors**
– if you would like to reserve your same spot or move closer please submit application and payment by
October 10th
. After that date your space will be open to vendors on the waiting list wishing to move closer towards the front. Thank you.
Thank you to our sponsors: Russ Brown Motorcycle Attorneys, Geico Motorcycle Insurance, 805 Firestone Beer, INK FX Screen Printing, Ventura Harley-Davidson,
Duane Ballard Custom Leather, Biltwell Inc., Chop Cult, The Shop, Easyriders Magazine,  Barnett Clutches and Cables, Bison Motorsports, Jims Machine, Schapiro and Leventhal Motorcycle Attorneys, Corbin Saddles, Speed Merchant, Exile Cycles, Sonny Boy Paint and Pinstripping, Dice Magazine, Cycle Source Magazine, Cro Customs, Street Chopper Magazine, Paughco,  Iron & Resin, Final Details, Show Class Magazine, Burly Brand, Kiwi Indian, KD Customs, My Garage, 1927 Barbershop, Black Bike Wheels, Goodtimes Revival, Vivid Seats, Basket Case Magazine, and Learn To Ride VC.
We'd also like to thank all the attendees, volunteers, friends and family who make this event happen and help keep David Mann's spirit alive.
See you there!
"If You Build It They Will Come"
All Brand Motorcycle Show presented by Russ Brown Motorcycle Attorneys and Geico Motorcycle Insurance.
Follow us on Facebook, Instagram and join the Chopperfest blog to see event pics, get info on artists, sponsors, bike show & vendor info. hotel deals, pre-parties and much more!

Follow us on Instagram @ Chopperfest
Main street aka (Ross "Kiwi" Tomas street) Everyone checking out all the vendors and builders.
The spirit of David Mann lives on!
This photo of David and Jacquie is from their wedding day. They got married at our annual motorcycle swap meet at the Ventura Fairgrounds. That was quite a party, and its an honor and privilege to help keep the tradition going in David's memory. Thank you all for your support!
In the meantime we hope to see you all on
October 15th
at Exile Cycles "Rider Round Up At The Ranch"