Shayna Texter earns back-to-back wins in AFT Singles
SACRAMENTO, Calif. (May 20, 2017) – The massive crowd of American Flat Track fans who flooded the Cal Expo Fairgrounds for the Harley-Davidson Sacramento Mile presented by Cycle Gear witnessed both a rider and a manufacturer in action at the height of their powers.

Once again, Bryan Smith demonstrated his mastery of the Mile with a tactically brilliant victory aboard his No. 1 Indian Motorcycle Racing backed by Allstate Scout FTR750.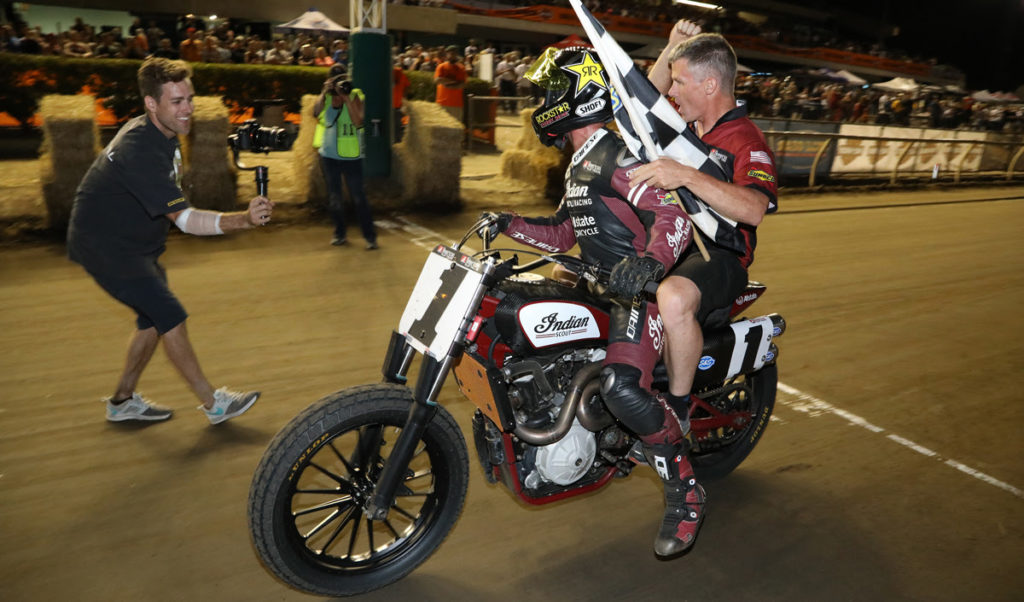 And in doing so, the reigning Grand National Champion not only extended Indian's 2017 win streak, he led the third Indian Motorcycle Racing podium sweep this season in AFT Twins presented by Vance & Hines competition.
Smith and his fellow members of the Indian Wrecking Crew, Jared Mees (No. 9 Indian Motorcycle Rogers Racing Scout FTR750) and Brad Baker (No. 6 Indian Motorcycle Racing backed by Allstate Scout FTR750), were again in a class of their own on Saturday night.
Almost immediately, the Indian-mounted teammate/rivals ripped away from the rest of the Main Event field. They then waged an intra-team battle that alternately required pace, patience, slipstreaming and strategy for practically the entirety of the 25-mile distance.
While all three took their turns at the front, Baker appeared to be in control, even pulling a small gap as he sailed past the white flag. However, that was only an illusion, as Smith leapt past Mees to slot into second on the final trip down the back straight, and then blasted past Baker once they hit the front straight to steal away the win as they raced to the checkered flag.
Mees followed in Smith's wake to tow past Baker as well, transforming what had seemed a likely win for Baker into a third-place run in just fractions of a second.
Smith's victory came by a minuscule 0.025-second margin over Mees, with Baker a further 0.05 seconds adrift in third. The win was Smith's seventh in succession at the Sacramento Mile, and his third in a row this season.
After securing sole possession of the championship lead, Smith said, "I played my cards just right. I sat back there, saved my tire, and went hard the last couple laps. That pace Brad set was pretty hard, and I didn't know if the tires would hold up, so I just cruised back in third. I saw 'five to go' and wanted to inch up there. I led it there for a minute with three to go and knew I wanted to be back (in third). I was a sitting duck. So I waited to the last lap to make my move and fortunately drafted Brad. I'm so happy to get seven in a row in front of this great crowd in Sacramento. This place is definitely special to me"
Speaking for the field, the fans in the grandstands, and motorcycle racing fans around the world, Smith added, "We're all thinking about Nicky Hayden. That one's for him. Get well, buddy – we'll be seeing ya."
While he got pushed out of at least a share of the championship lead for the first time this season, Mees did manage to maintain his perfect 2017 podium streak with his runner-up result in Sacramento. And encouragingly, for the second consecutive weekend he showed the speed to push the likes of Smith and Baker right to the brink around a big track.
Mees said, "I've got to give a big shout out to my team. We were a little off in the Semi and Bryan really put it to us. In the Main Event, we turned things upside down, and we were able to be a player rather than just hanging on.
"It was a good race, and it's great to get another Indian sweep with these guys. It stinks getting second, especially to a guy you're battling in points, but it's great for Indian Motorcycles. I'm honored to be a part of it. You can't complain about seconds and thirds – we'll get some wins, that's for sure."
Baker was again left with a bitter taste in his mouth following an otherwise stellar performance, especially after practically tasting his first Scout FTR750-mounted victory.
"I didn't know if I was controlling the race, or if I was just the mouse getting chased," Baker said. "It turns out I was just the mouse getting chased. Great job to Jared and Bryan.
"It kind of sucks, getting second and third over and over again, especially at these Miles where I want to win so badly… Jared and Bryan just had a little bit better strategy there at the end. I led over the stripe so many times, I thought I might be able to get there on the last one. But I guess I just spun it up a little bit too much and let those guys squeak on by."
Sammy Halbert (No. 69 Estenson Logistics Yamaha FZ-07) tracked down a quick-starting Jeffrey Carver Jr. (No. 23 Carver's BBQ Kawasaki Ninja 650) and then proceeded to outduel him over the Main Event's second half to snatch away fourth place by a narrow 0.050 seconds.
Texter Scores Second Straight AFT Singles Win
While it took Richie Morris Racing's Shayna Texter almost four seasons to claim her seventh career AFT Singles victory, it took just an additional week to earn her eighth.
Texter won out in a thrilling battle that saw her and Tristan Avery (No. 16 Ron Ayers Honda CRF450R) run down early leader Kevin Stollings (No. 99 Ben Evans Honda CRF450R), who had built a sizable early advantage.
Once together on track, the three traded haymakers, including a memorable sequence in which Texter split her rivals as they momentarily ran three abreast before she emerged from third in first with just two laps remaining.
The final lap required that Texter pull one final rabbit out of her helmet. She launched the No. 52 Richie Morris Racing Honda CRF450R off the final corner and shot past Avery to claim the checkered flag by 0.065 seconds.
Stollings, who led the bulk of the race, ended up third, 0.170 seconds off the win.
Asked about her strategy, Texter admitted, "I really wasn't thinking; I was just trying to get up to the front and stay there. It took a long time to catch Kevin. He was riding his butt off and he was really strong in the corners and I kept spinning it up. It seemed like I caught Stollings, and then Tristan came out of nowhere.
"I knew that I could do it if I could get out there and make my marks right, but honestly, this Mile racing is a little bit of a gamble and luck. You just have to be in the right spot at the right time. I saw Tristan spun it a little bit coming out of four, and I just tried to do the opposite. I was able to get a nice drive off of him, and it was enough to hold off Stollings."
The Harley-Davidson Sacramento Mile presented by Cycle Gear will debut on NBCSN on Thursday, August 3, at 10 p.m. ET/7 p.m. PT. For race highlights click here: https://www.facebook.com/AmericanFlatTrack/videos/1530071733693592/
Next Up:
Next week, the American Flat Track will make the first of two 2017 doubleheader stops in Springfield, Ill. with Saturday, May 27's Springfield TT and Sunday, May 28's Harley-Davidson Springfield Mile I. Live coverage can be viewed on FansChoice.tv beginning on Saturday at 3:00 p.m. ET. Tickets are on sale and can be purchased at https://www.springfieldmile.org/.
Fans can also keep up-to-date with race day action by following American Flat Track on Facebook (American Flat Track), Twitter (@AmericanFlatTrk) and Instagram (@AmericanFlatTrack).
Award Updates:
AFT Singles
McElroy Packaging Lucky 7 – #99 Kevin Stollings
Motul Move of the Race – #52 Shayna Texter
AFT Twins presented by Vance & Hines
Ohlins Fastest Lap – #67 Davis Fisher
McElroy Packaging Lucky 13 –  #6 Brad Baker
How to Watch:
NBCSN
and
FansChoice.tv
are the official homes for coverage of American Flat Track events. All 18 rounds, from the season-opening
DAYTONA TT
to the American Flat Track Finals in Southern California, will air in one-hour, tape-delayed telecasts
on Thursday
nights throughout the summer and fall on NBCSN, while FansChoice.tv provides live streaming coverage of American Flat Track events. FansChoice.tv also provides coverage of IMSA's development and single-make series, and NASCAR's touring and weekly series. Catch all the action at
http://www.nbcsports.com/
and
http://www.FansChoice.tv
.
About American Flat Track:
American Flat Track
is the world's premier dirt track motorcycle racing series and one of the longest-running championships in the history of motorsports. Sanctioned by AMA Pro Racing in Daytona Beach, Fla., the series is highly regarded as the most competitive form of dirt track motorcycle racing on the globe. For more information on American Flat Track, please visit
http://www.americanflattrack.com
, follow us on
Twitter
, like us on
Facebook
, live stream the events at
FansChoice.tv
and catch all the American Flat Track racing action on
NBCSN
.