Another nail-biter AFT Twins presented by Vance & Hines race goes to the "Mile Master"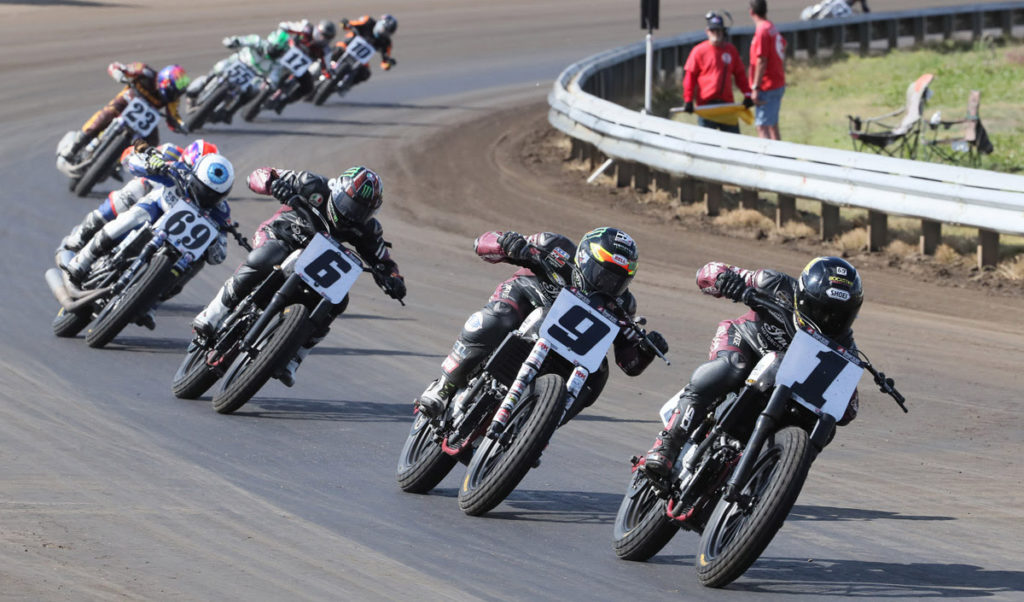 SPRINGFIELD, Ill. (May 28, 2017) – An historic American Flat Track win streak remained in play despite facing its stiffest test yet today in front of a packed house at the Illinois State Fairgrounds to watch the AFT Twins presented by Vance & Hines contest the Harley-Davidson Springfield Mile I.

The streak in question belongs to Bryan Smith, who pulled off a third successive Mile miracle aboard his No. 1 Indian Motorcycle Racing backed by Allstate Scout FTR750. The victory was the defending Grand National Champion's fourth race win in a row overall, making him just the fifth rider in series history to accomplish that feat.

It certainly did not come easily on Saturday afternoon. Smith hoped to make an escape at the start, building up more than a half-second advantage early on before rival Jared Mees (No. 9 Indian Motorcycle Rogers Racing Scout FTR750) slowly reeled him back in.

Soon enough, the third member of the Indian Wrecking Crew, Brad Baker on the No. 6 Indian Motorcycle Racing backed by Allstate Scout FTR750, followed suit.

Adding a bit of spice to the lead pack following a pair of Indian podium lockouts were the respective arrivals of Davis Fisher (No. 67 Bob Lanphere Beaverton Motorcycles Kawasaki Ninja 650) and Sammy Halbert (No. 69 Estenson Logistics Yamaha FZ-07).

In fact, Halbert looked like he might have something for all comers on this day. He continually built up speed as the track came around to his bike set-up, enabling him to throw down the race's fastest lap (34.571) with six to go.

The next man destined to join the fight up front looked to be Springfield master Kenny Coolbeth (No. 2 Harley-Davidson Factory Flat Track Team XG750R). The Main Event was shaping up to be a significant uptick in form for the entire works Harley-Davidson crew with all three riders battling in strong position, led by Coolbeth, who was sixth and closing with the laps winding down.

Unfortunately, a freak incident between Coolbeth and teammates Jake Johnson (No. 5 Harley-Davidson Factory Flat Track Team XG750R) and Brandon Robinson (No. 44 Harley-Davidson Factory Flat Track Team XG750R) dashed the hopes for the Factory trio. A red flag then flew, setting the stage for a six-lap shootout for victory.

Once the race was back underway, Halbert continued to demonstrate race-changing pace and led as the pack took the white flag. Title hopeful Mees dove underneath to slot into first as they entered Turn 1 and held the advantage coming back onto the front straight.

However, he found himself outmaneuvered yet again by Smith, who went around the outside of Halbert on the backstraight and then rocketed off Turn 4 just behind Mees in the decisive run to the stripe.

Smith, Mees, and Halbert took the checkered flag practically three abreast, with the photo finish giving Smith the nod by 0.005 of a second over Mees. Halbert, meanwhile, snapped the run of Indian 1-2-3s in third position, just another 0.039 seconds back.

After discovering he had won, Smith took the checkered flag in his hand and did a reverse victory lap in honor of the late Nicky Hayden.

The victory was the 30th AFT Twins presented by Vance & Hines victory of Smith's career – including eight at the Springfield Mile. After the race, he said, "I've never won here at Springfield by being able to get away, so I put my head down (at the start). I was hoping to break away but I saw Jared trying to reel me in so I chilled. I wasn't sure if we were cooking the tire or not.

"In the shootout, Sammy got up there and made it interesting for me and Jared. Heck, I didn't know who won until I came around and they handed me the checkered flag."

Despite narrowly missing out once again, Mees picked up another big points bounty for his title campaign. His season tally now reads two firsts, three seconds, and one third.

Runner-up Mees said, "Honestly, if I was to do it all over again, that's probably what I would have done again. I was getting through the corners really good and getting off really good. I just came up a little short – that's how it is on these Miles. I wanted to lead it off Turn 4 really bad because I felt I was really strong there, but obviously, I was just a millisecond not strong enough."

The third-place result was Halbert's second podium finish on the year. After the race he said, "For sure Estenson Racing put together a great bike for me – that Yamaha FZ-07 was running great, especially at the end. I was struggling a lot at the beginning and lost the lead draft, but as the track got faster and more hooked up, my set-up came in.

"I put in a lot of work to catch those guys before the red flag, but luckily I was able to get up to the front and lead a couple laps. I definitely had a shot at the win. I wish I would have played my cards a little differently, but I'm stoked to get up here on the box."

Baker came home a close fourth, while a very racy Fisher scored his best result of 2017 to round out the top five.

The Harley-Davidson Springfield Mile I will air on NBCSN on Thursday, August 10, at 10 p.m. ET/7 p.m. PT. Catch the highlights on Facebook (https://www.facebook.com/AmericanFlatTrack/videos/1538534296180669/) and
YouTube (https://youtu.be/HRKqXUanTFk).

Next Up:
Next Saturday night American Flat Track will complete its run of four Miles in four weeks with the Red Mile in Lexington, Kentucky, on June 3. Live coverage can be viewed on FansChoice.tv beginning at 2:00 p.m. ET. Tickets are on sale and can be purchased at https://www.showclix.com/event/red-mile. Fans can also keep up-to-date with race day action by following American Flat Track on Facebook (American Flat Track), Twitter (@AmericanFlatTrk) and Instagram (@AmericanFlatTrack).

Award Updates:
AFT Twins presented by Vance & Hines
Ohlins Fastest Lap – #69 Sammy Halbert
McElroy Packaging Lucky 13 –  #1 Bryan Smith
How to Watch:
NBCSN
and
FansChoice.tv
are the official homes for coverage of American Flat Track events. All 18 rounds, from the season-opening
DAYTONA TT
to the American Flat Track Finals in Southern California, will air in one-hour, tape-delayed telecasts
on Thursday
nights throughout the summer and fall on NBCSN, while FansChoice.tv provides live streaming coverage of American Flat Track events. FansChoice.tv also provides coverage of IMSA's development and single-make series, and NASCAR's touring and weekly series. Catch all the action at
http://www.nbcsports.com/
and
http://www.FansChoice.tv
.
About American Flat Track:
American Flat Track
is the world's premier dirt track motorcycle racing series and one of the longest-running championships in the history of motorsports. Sanctioned by AMA Pro Racing in Daytona Beach, Fla., the series is highly regarded as the most competitive form of dirt track motorcycle racing on the globe. For more information on American Flat Track, please visit
http://www.americanflattrack.com
, follow us on
Twitter
, like us on
Facebook
, live stream the events at
FansChoice.tv
and catch all the American Flat Track racing action on
NBCSN
.