IRVINE, Calif., Feb. 27, 2019 – The Motorcycle Safety Foundation welcomes and appreciates Biltwell Inc.'s generous donation of 1,800 helmets to the National Motorcycle Safety Fund for use at MSF-recognized Rider Training Sites. Training sites have a constant need to replenish their stock of helmets, which are used every weekend by first-time students who take the MSF Basic RiderCourse at over 2,000 locations around the country.With Biltwell's consent, the MSF is selling the helmets to the training sites at a nominal cost, with all proceeds going to the National Motorcycle Safety Fund. The NMSF is MSF's 501(c)(3) charitable division which has funded crash research, motorcycle safety videos and publications, alcohol and drug education programs for motorists, and other initiatives aimed at creating a safer riding environment for all motorcyclists.
Mike Ellis, general manager of Biltwell, said "We had an extra quantity of our Gringo and Gringo S model helmets sitting in inventory and realized we could put them to better use by donating them for use at MSF training sites, which would improve the students' experience."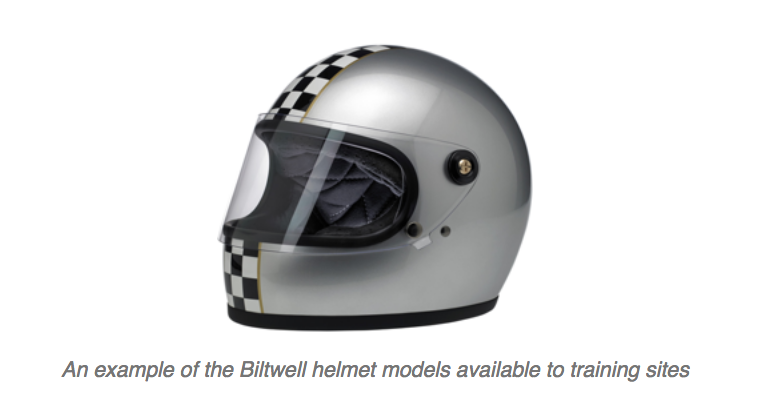 "We always strive to provide the safest and best motorcycle training experience available, and, like motorcycle riding itself, it all starts with putting on a good helmet," said Diane Howells, president of Motorcycle Safety School, Inc., of Brooklyn, NY. "We are grateful to Biltwell for their ongoing support of motorcycle training."
According to MSF president Tim Buche, "These type of donations enable multiple win-win situations. The training sites with their limited budgets can upgrade their helmet inventory at little cost; students can enjoy wearing fresh, modern helmets during the hands-on course; NMSF gains funding for future research and outreach projects; and Biltwell gets the tax benefits of a charitable contribution." Tim implores other companies and individuals to visit the NMSF website, NMSFund.org, and donate to further motorcyclist safety.
The National Motorcycle Safety Fund was created in 1980 to supplement the work of the Motorcycle Safety Foundation. The NMSF is a 501(c)(3) charitable association, governed by the NMSF Board of Trustees consisting of representatives of all of the major U.S. motorcycle manufacturers and distributors. The NMSF supports the work of the Motorcycle Safety Foundation, whose safety programs are part of the lifelong learning of both riders and other roadway users. NMSF can accept personal and corporate contributions, which are generally tax-deductible. One hundred percent of contributions goes to work for the National Motorcycle Safety Fund – none is spent to cover administration or other related costs. Visit msf-usa.org and click on the NMSF logo for more information.
The Motorcycle Safety Foundation® promotes safety through rider training and education, operator licensing tests and public information programs. The MSF works with the federal government, state agencies, the military and others to offer training for all skill levels so riders can enjoy a lifetime of safe, responsible motorcycling. Standards established by the MSF® have been recognized worldwide since 1973.
The MSF is a not-for-profit organization sponsored by the distributors/ manufacturers of BMW, BRP, Harley-Davidson, Honda, Kawasaki, KTM, Indian, Piaggio, Suzuki, Triumph, and Yamaha brand motorcycles. For safety information or to enroll in the RiderCourseSM nearest you, visit msf-usa.org or call (800) 446-9227.