Story and Photos by ITN European Reporter Herve' Rebollo
Salut à toi American rider,
Today, let me introduce a good friend of mine, a great French artist, my bro' Dom', aka NOIR MAT!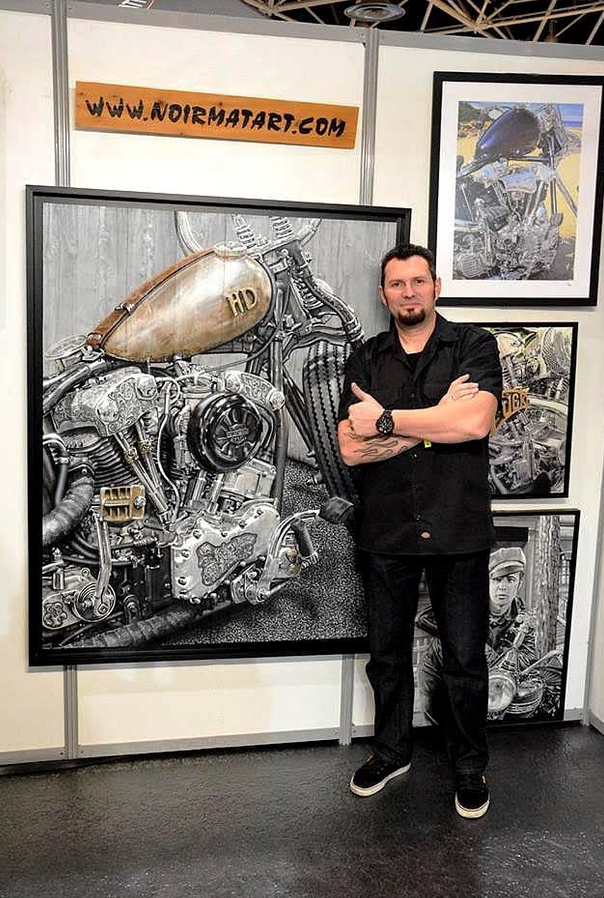 In my mind, my other painter friend Davis UHL and NOIR MAT are currently the two best motorcycle painters.
Dom whose pseudonym is NOIR MAT (you could literally translate it by "Black Mat") is an hyper realist , self – taught painter. Born in 1965, Noir Mat started drawing at a young age, incited by his father who was a painter
Yes, it is his father who taught him very young the way of drawing and painting.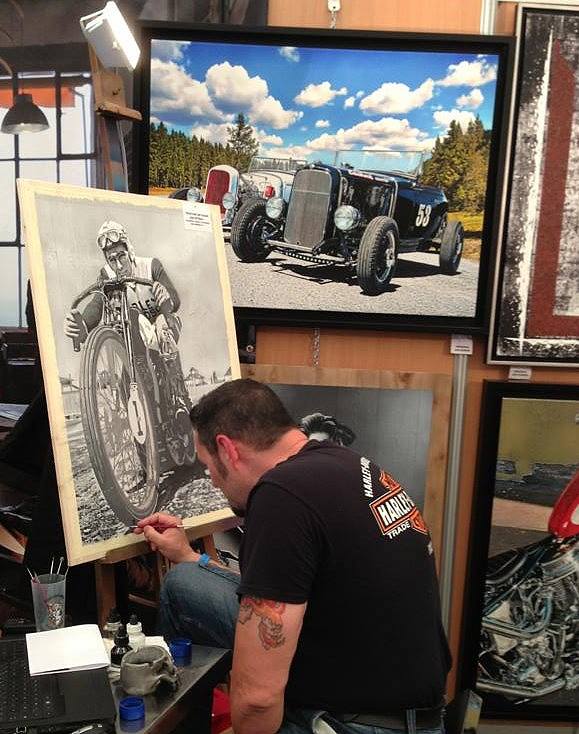 It is the acquisition of a Harley Davidson in 1994 which made him associate his passion of the art with that of the Kustom Kulture and triggered his artistic revolution.
He went from "Kustom Kulture" to studying aerosol paint. He started to paint on all kinds of vehicles and car parts. He then evolved and returned to painting on a canvas. He combines the pictorial technique that his father taught him with what he learned during his studies of aerosol paint.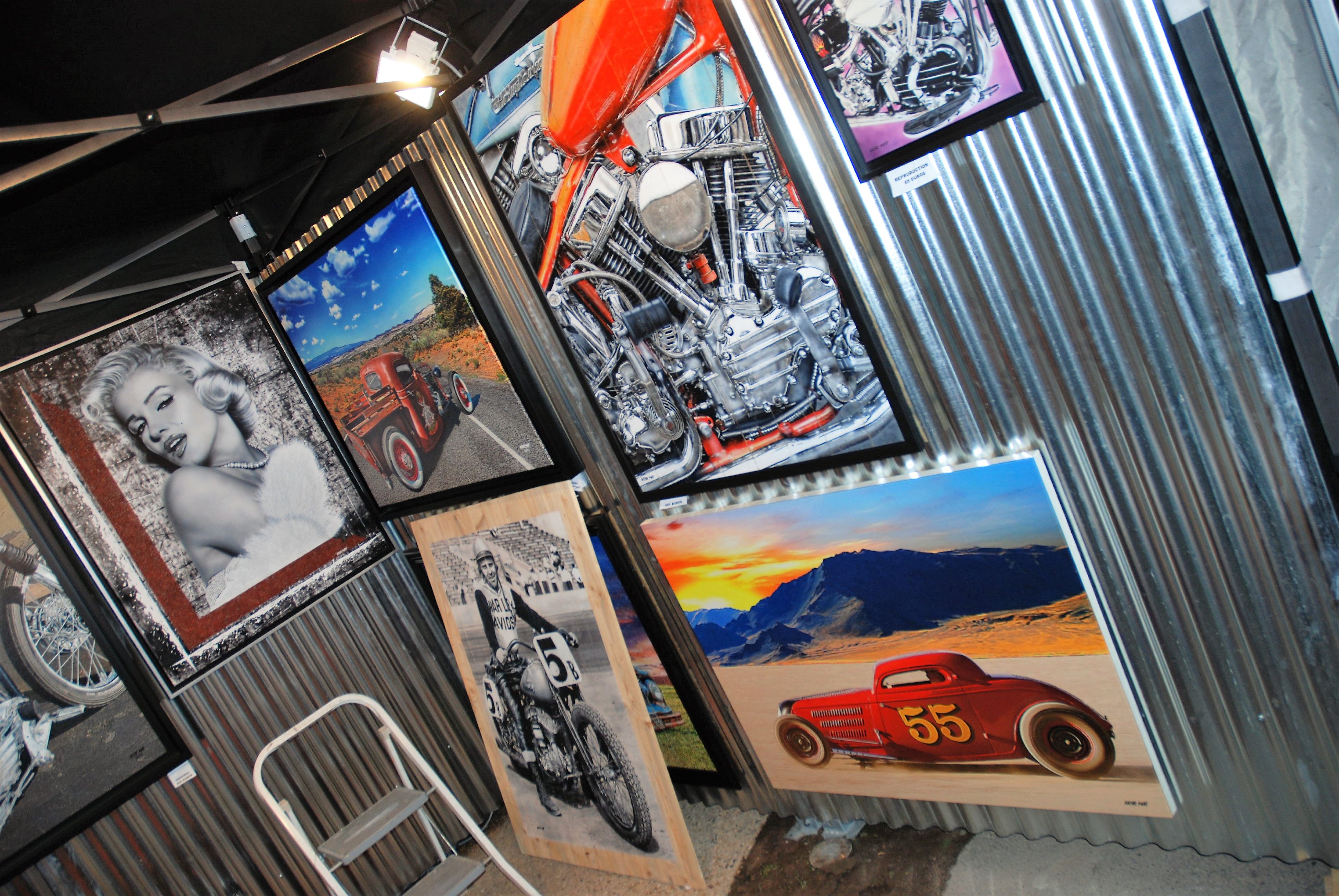 His works are painted with acrylic resin on canvas or wood , with a quality of completion and encreased attention to detail which ends up persuading the observer that he is an integral part of the work which it is admiring.
His style is hyper-realistic, and shows the extreme attention that Noir Mat pays to the details in his work. Some of his canvases require several weeks of work. His purpose is to immerse the observer in the piece. Even if his favorite subject is still the famous Harley Davidson, the artist has managed to be versitile and does animal and urban representation as well as pin-up portraits.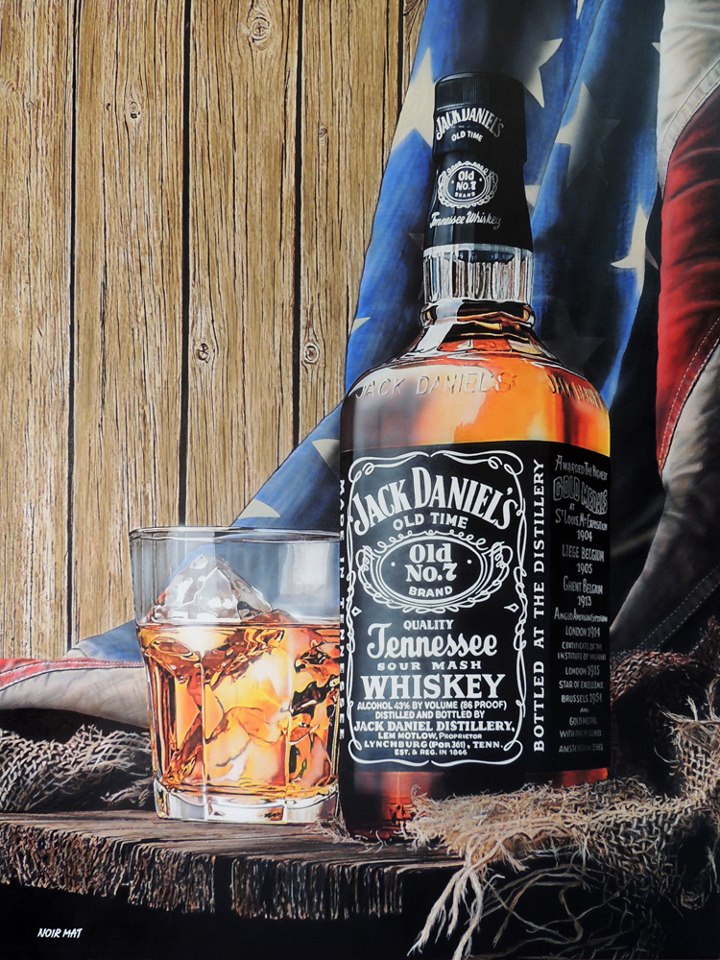 The Artist makes us understand that one foresees reality that the mystery of the reality ; his purpose being to sublimate this reality .
His works reflects his passion , in particular the American Culture , but also of other topics which are dear to him the time of a glance, discover the NOIR MAT's realistic world: https://www.noirmatart.com/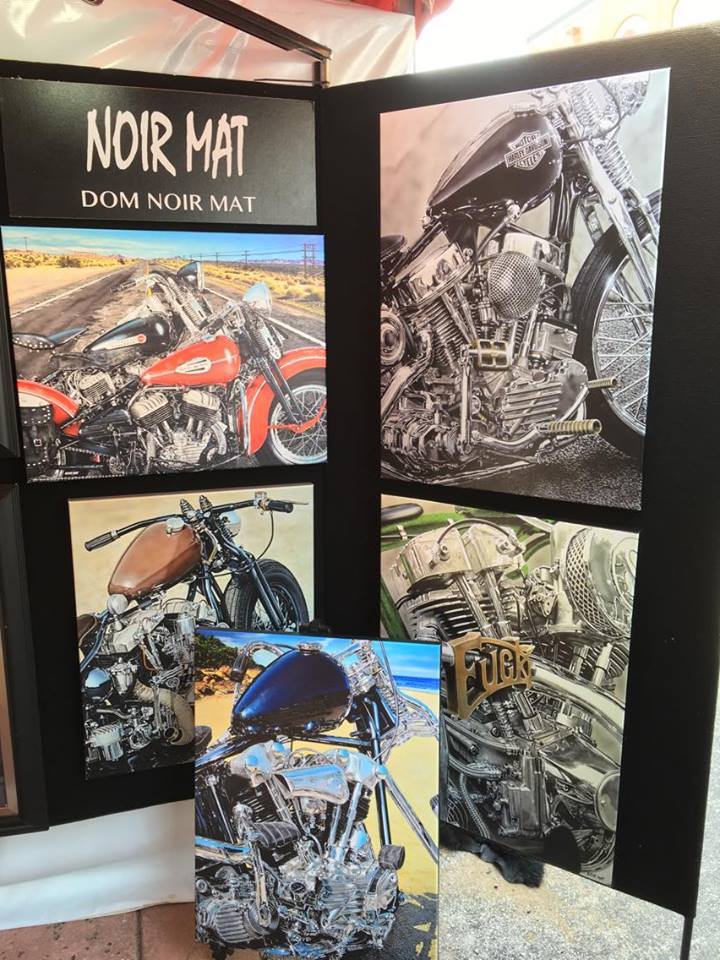 Dom' (I call him by his given name, it's more natural for me) is a real nice man. A biker, a great artist and a gentleman. Talking with him, having a beer or a ride is always a great lifetime.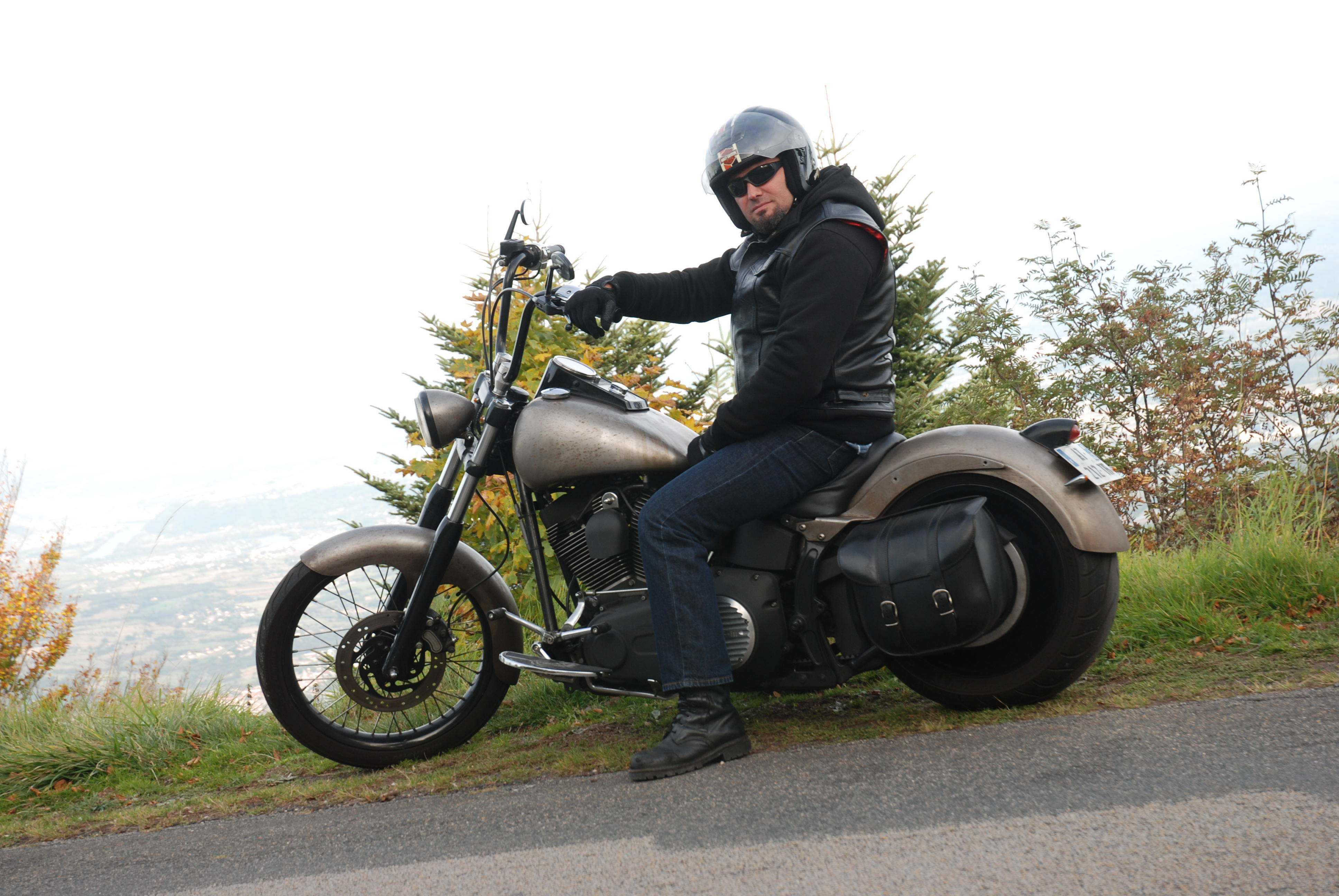 As my lovely wife knows that I am a fan of BLACK MATT, she surprised me four years ago by offering me a picture of my Streetglide, signed NOIR MAT, for my birthday. I couldn't believe it, I was so happy. If one day you come to my office, you will see it proudly hanging over my desk.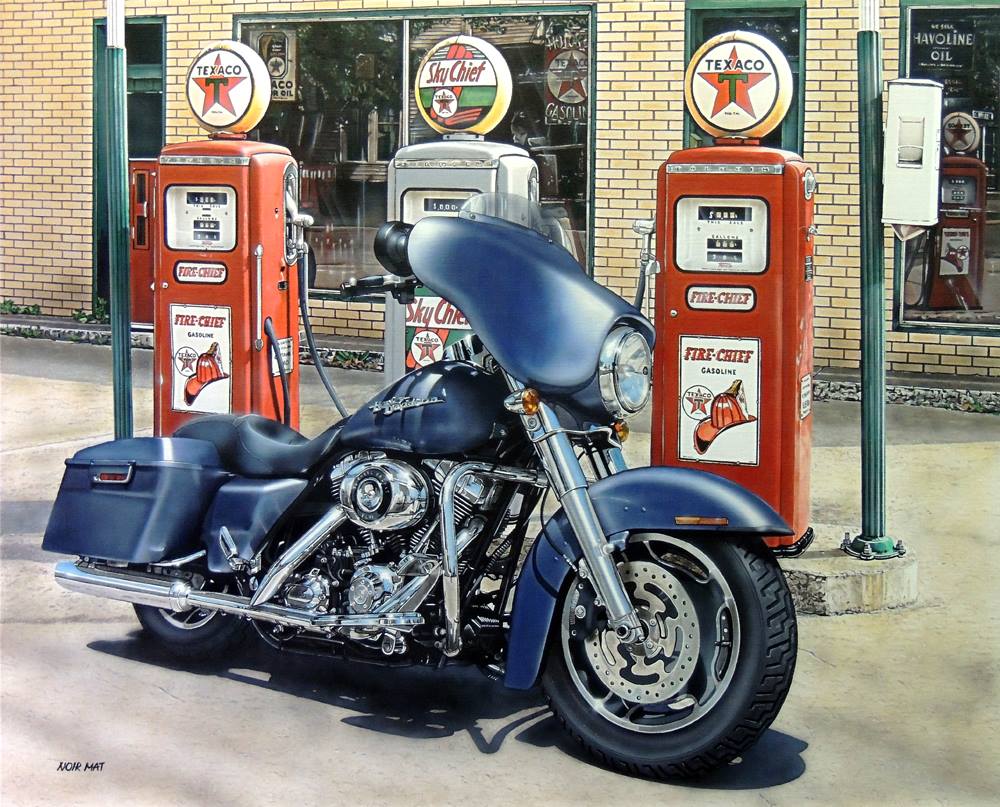 NOIR MAT showed his artwork for the first time to the USA in 2015 for the Sturgis bike week. He wasn't present himself this year (only a dozen of his paintings where shown by his agent at the HD dealership of Rapid City). I was lucky enough to be the first Frenchie to see his artwork exposed in the USA this year.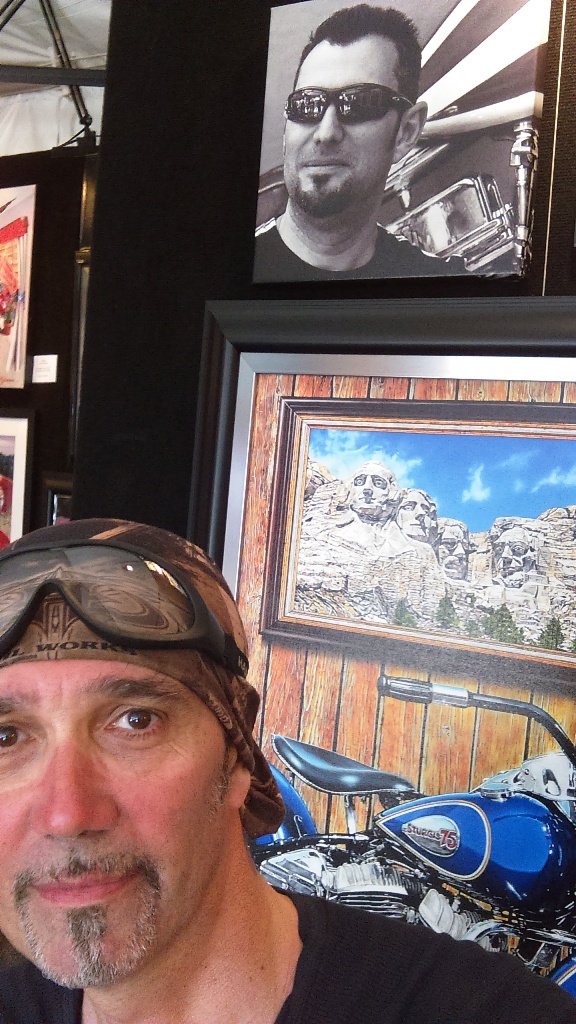 In 2016, Dom' attended the Sturgis rally and was present on his booth at the Black Hills Harley Davidson dealership of Rapid City. He was so happy being there, meeting so many people and especially Willy G and his idol: David Uhl. I clearly claim to be the guy who introduced Dom' to my friend David in 2013 (David and Dom' met a second time during the Daytona bike week 2018).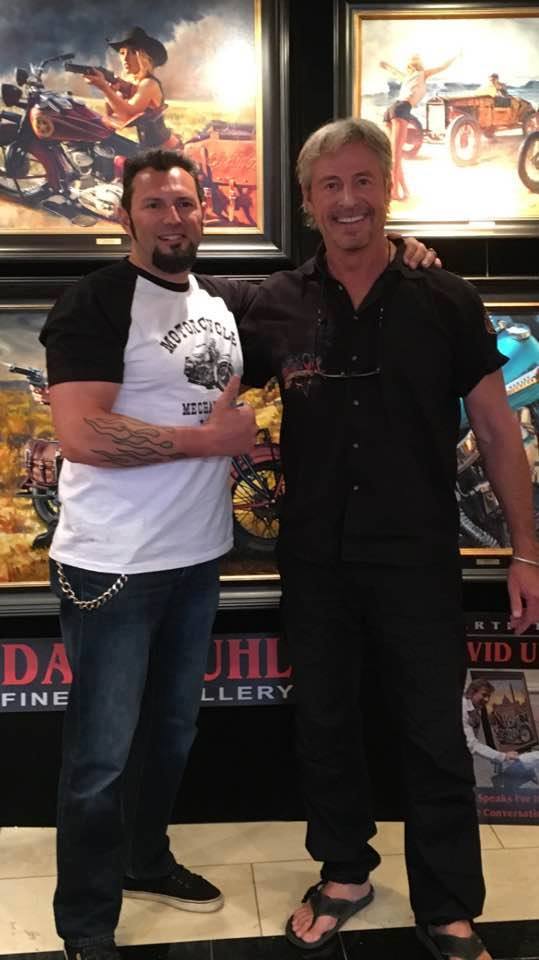 Dom' is really an eclectic painter. He's able to produce artworks about animals which are absolutely amazing.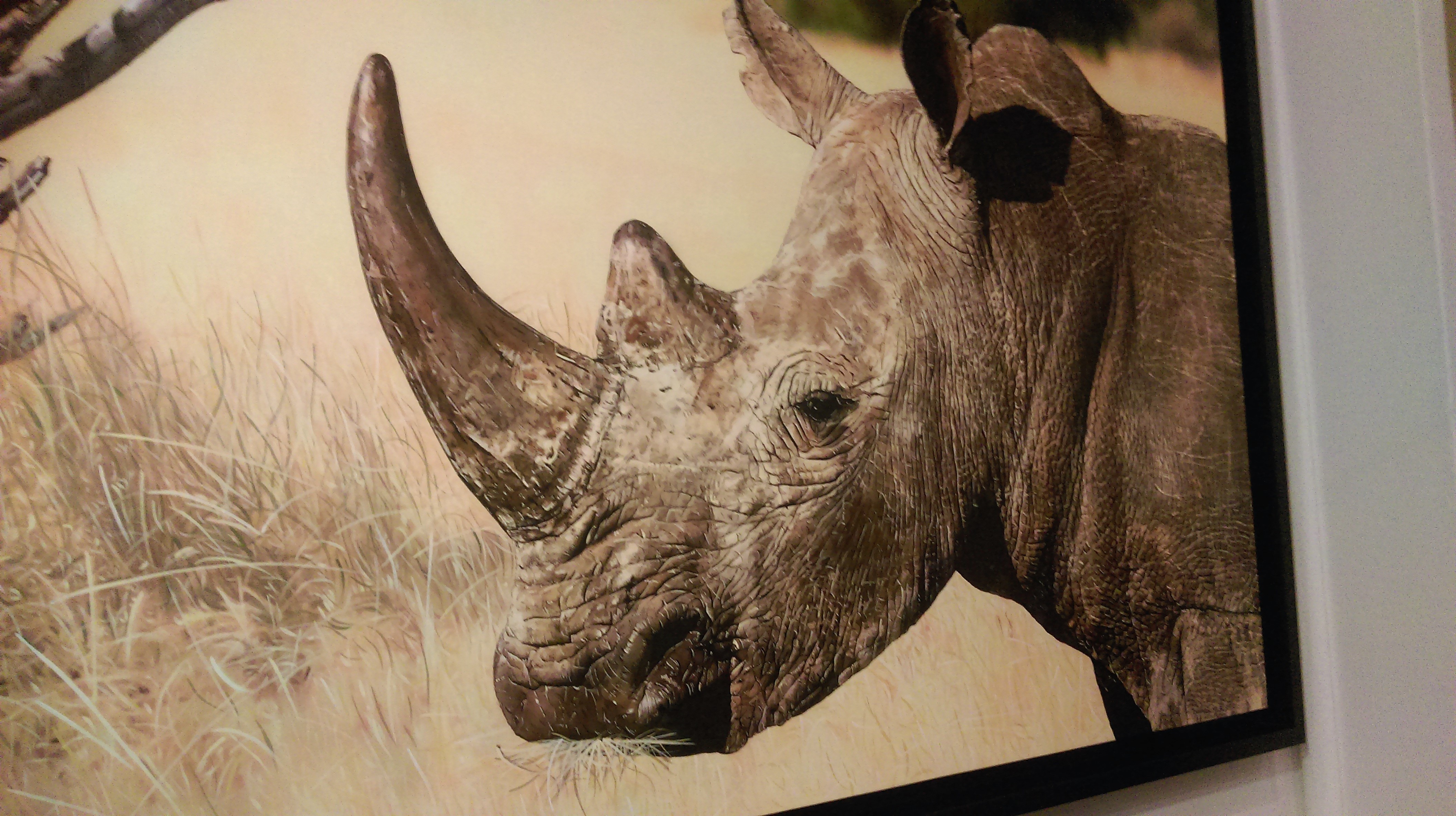 As artist and great fan of the American culture and the USA Dom' dreams to diffuse his artwork among American fans of custom bike / car culture. So do not hesitate to order him the artwork of your lifetime! (you have to know that the price is very reasonable).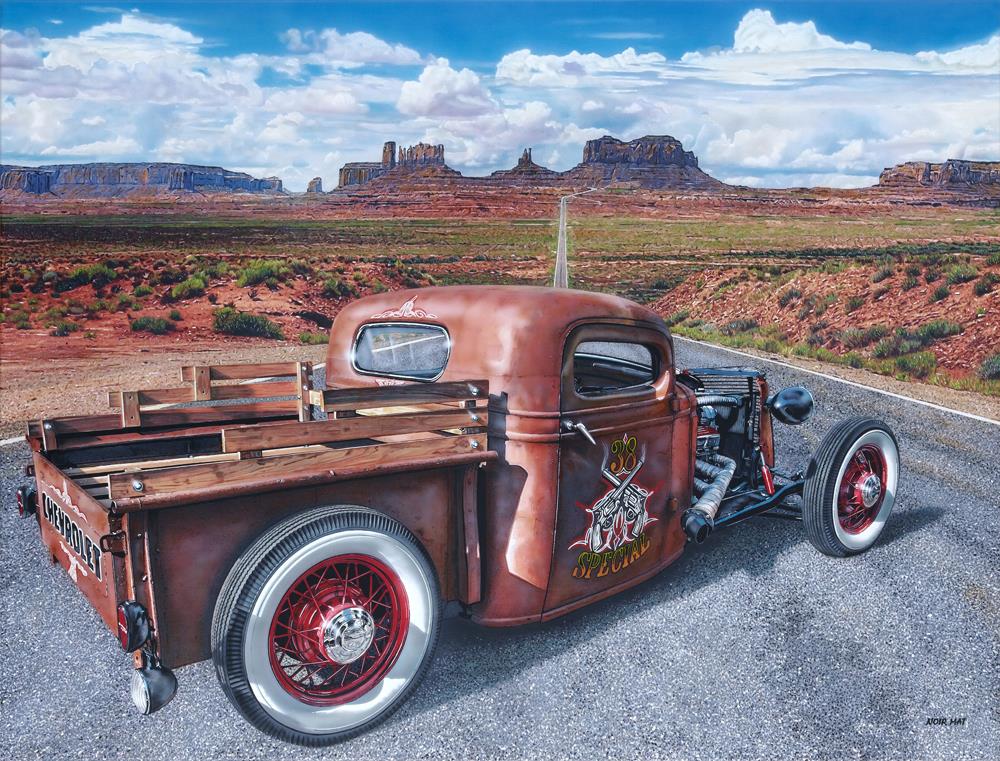 Next time you will come to my home, we'll take our motorcycle and come to have a beer with Dom' / NOIR MAT. Thus, you will discover the French heartland, only by tiny roads: from Paris to Saint-Etienne the city where Dom' is being living with his girlfriend, it will take us about 10 hours …
Waitin' for you.
See ya soon on the road, who knows?
Hervé your French friend.