Text and photography Onno "Berserk" Wieringa www.madnessphotography.nl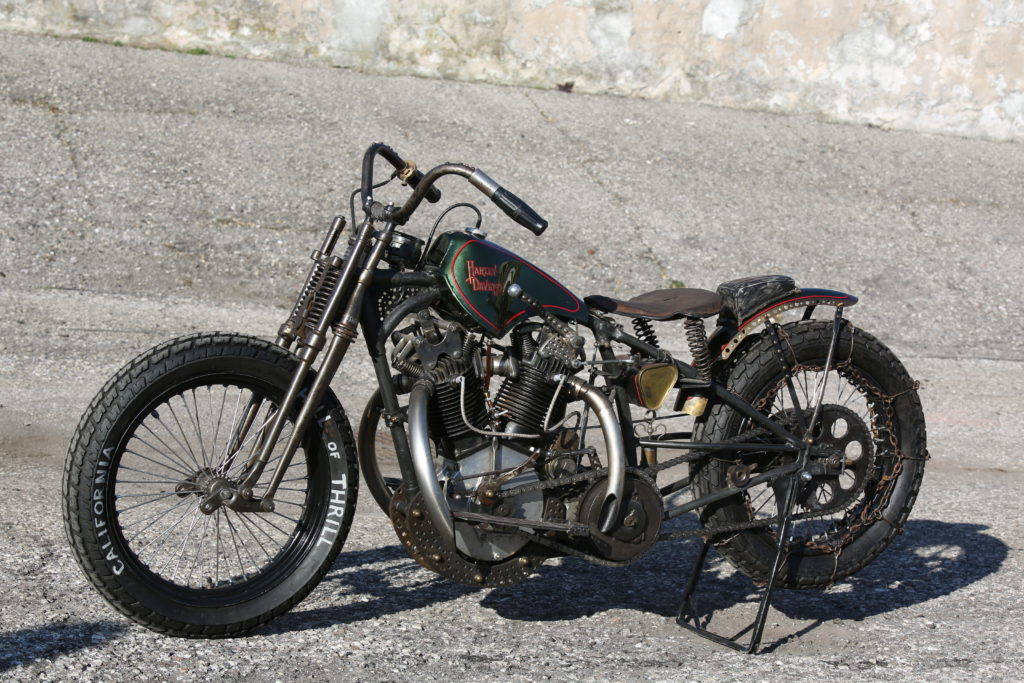 Bergamo is a small town in northern Italy, 50 km from Milan, towards Venice. Here, in October 2012, in an industrial zone built in the early 1900's , a special motorcycle workshop, "PDF Motorcycles" was born.
In 2012 PDF, which stands for Punto Di Fuga (roughly translated as vanishing point, or place to hide) was born with the aim and spirit of wanting to dedicate a "temple" to gasoline powered two-wheelers, mostly H-D, but also looking at historic brands that have at least been part of the history. A unique place where you can give life to new shapes, dictated by a long life experience between motorcycles, lines and the right philosophy. Frenky and Stefano "Il Daddy" are the creators of PDF. And this is the story of the birth of one of these motorcycles released from the PDF. One day, like many others, September 2014, Bruno, a friend and businessman from the area, decided to visit PDF and wanted to discuss the realization of one of his many dreams.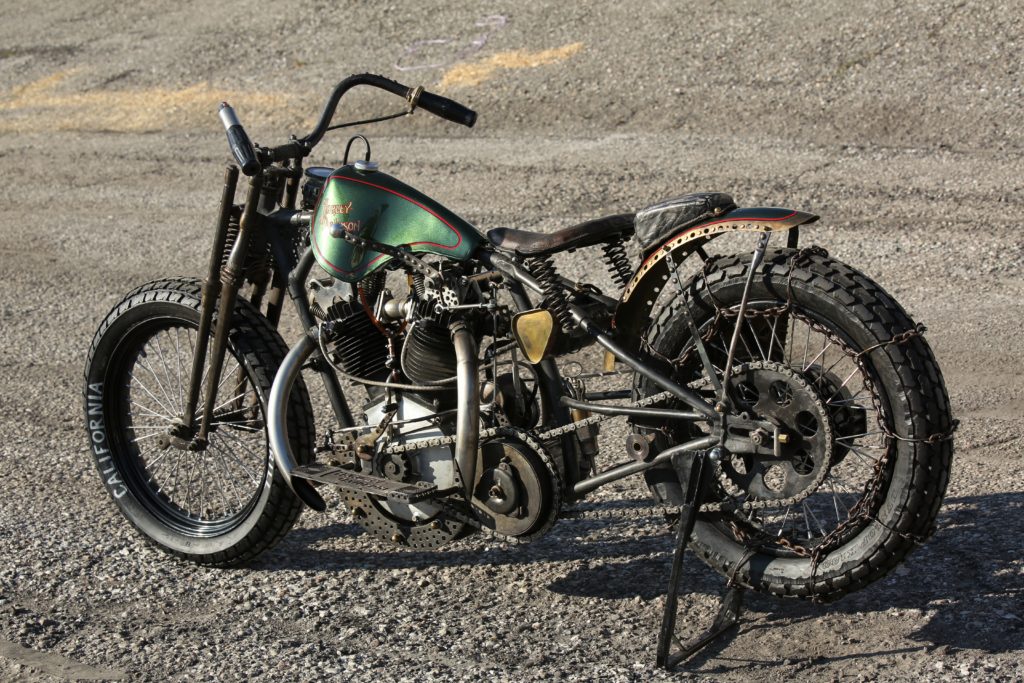 He wanted a motorcycle that represents him and that he would like to exhibit in his office, a more than unique piece and above all with a prized engine. Besides a workshop, PDF is also a meeting place for friends, with good music, a cold beer and above all; good friends. Papa and Frenky didn't expect any success, even with the 'other side' of the PDF, that rocks as well as with the workshop, so over time the PDF club was born. There is a party every Saturday evening with live rock concerts where you'll find everything for a good party, such as motorcycles parked outside, music, beer and lots of friends, but also non-motorcyclists who curiously approach the motorcycle world and become fascinated.
Here the circle of friends and acquaintances widens and here the universe is on their side. Bruno travels all over the world for his job and takes his chances, in the spring of 2015 he gets Dad, Frenky and some friends to come with him to America. They went to Orlando, a few miles from Daytona. Towards the end of the trip, something that nobody expected happened, after the various sightseeing tours, etc. etc. John, a boss of the American company visited by Bruno, invites everyone to join lunch at his home with some other friends.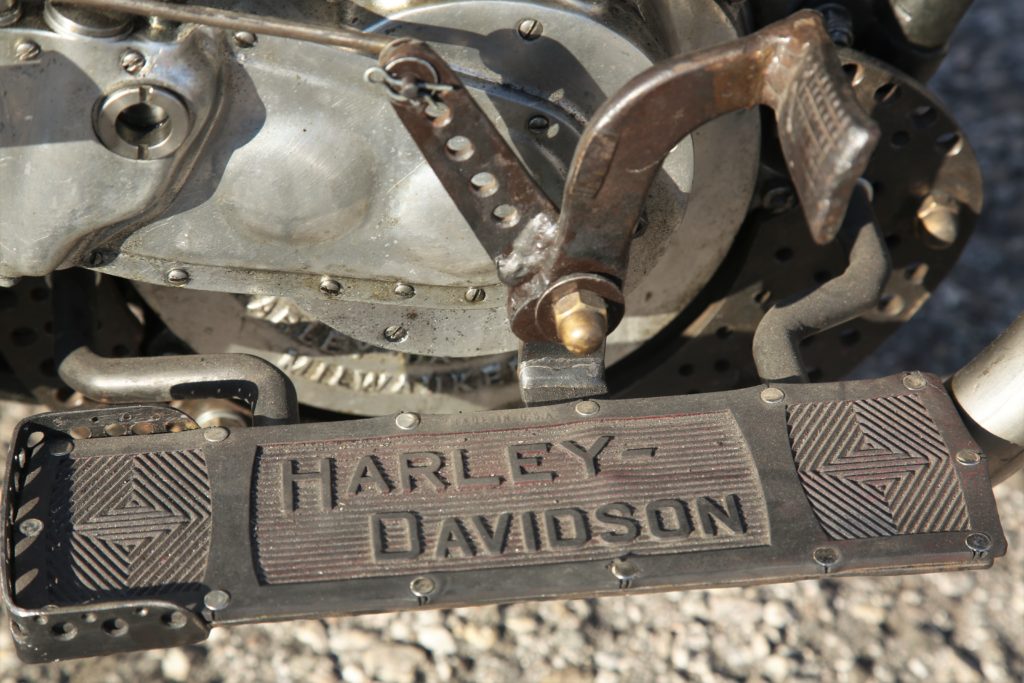 "We were greeted," tells Frenky, "Our new friend John has a motorcycle and is very eager showing it to us. So we get to the back of his house, the garage door is half open and you can already see the silhouette of a motorcycle, but daylight was not enough, 'click!' and there was light… there is a beautiful 50's Panhead sitting, well preserved and with the vintage patina we all love so much. As a gesture of extreme hospitality, John starts the Pan with just three kicks. After this great moment we get to talk about motorcycles and travelling. John then closes the garage door and with the same enthusiasm he takes us to his neighbor, straight inside his garage. We are welcomed by Bob, a somewhat burly and bearded 83-year-old man in mechanic's overalls and dirty with grease and various workshop odors, such as petrol and oil. With a strong handshake he greets everyone and after learning where we're from, he smiles and yells "COOL!" Bob is retired and wants to share his passion for two wheels with us and like a magician discovering his new trick, he makes three wonders appear from under a tarp, a 38-year-old Knucklehead, a more recent Shovelhead and a Moto Guzzi California 1000 from 1980. His enthusiasm for Italians shows clearly! But the best is yet to come."
Frenky takes a deep breath and continues, "Italians do speak mostly with their hands, you know, and as if he mimics the position of a racing bike, Bob gets up and guides everyone too an old wooden shed, all dusty where several pieces of motorcycles have been lying for a while, including pistons and chains. Quietly, without causing too much dust, Bob reveals what's underneath a shelve, an old wooden box with rope handles. He and John take it and put it on the workbench, open the lid, everyone holds their breath, time stops, the sounds are muffled just like as if it just had snowed, this time the magic is even greater."Frenky with a sparkle in his eyes, "A motorcycle, it resembles a jewel placed in its specially designed box, just like a precious jewel like Tiffany's. An 8-valve racing JD from 1927." Bruno, Frenky and Dad's enthusiasm explodes, they look at each other without knowing what to say or do. One of the thousands of questions asked to Bob, is Bruno asking a specific one, and that is to know if he intends to sell that bike.
Bob surprises everyone again and very quietly says 'ok'! Still incredulous, Bruno consults with Stefano and Frenky, of course, yes! "We are at the right time, at the right place. Negotiation begins and after numerous questions and answers we get to come to the final handshake, joy and happiness; the 'heart' of our new project has been found!"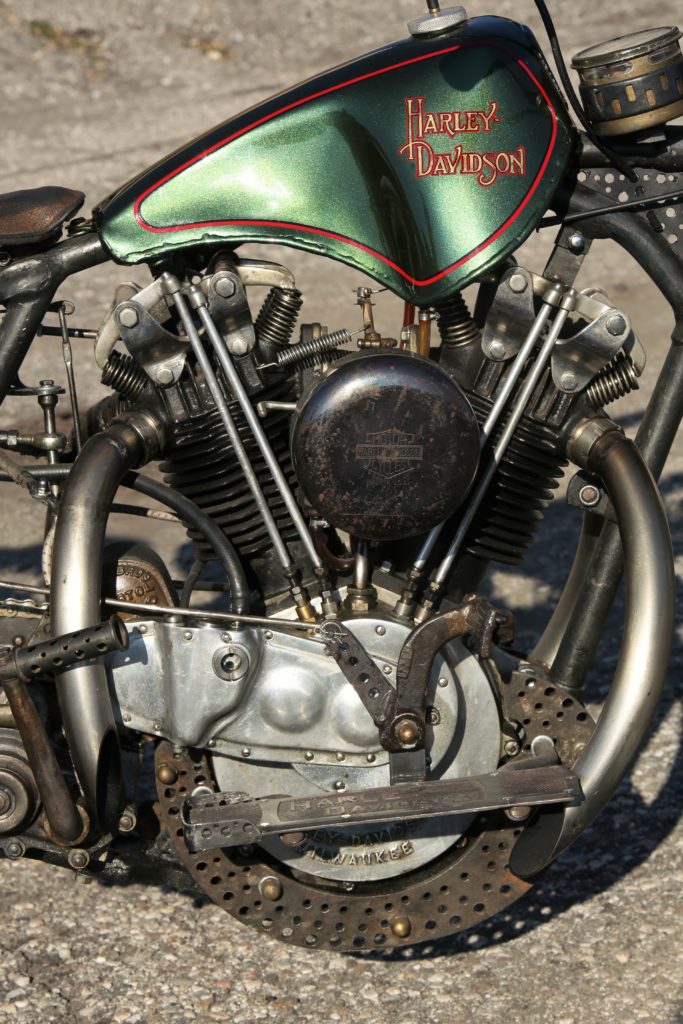 Stefano and Frenky returned to Italy, the following days in anticipation of the package to arrive from America. Meanwhile, PDF starts hunting and searching for other parts, such as the frame and the rest of many missing parts, which takes al lot longer than anticipated. The engine is delayed on the way to PDF because of various bureaucratic reasons, the usual struggle with papers and customs. Meanwhile the PDF crew kept busy with other projects and now and then found some time to search for more parts. "Building a motorcycle from the twenties takes patience, experience and the right opportunities. It helps that budget is not a problem, but you still have to be careful spending large amounts of money," explains Stefano. Almost a year went by and the work is still in progress, but Bruno loses his enthusiasm and makes a sad decision, he doesn't want to see the project finished anymore and doesn't know what to do with the 8-valve JD engine. But the Universe presents something unexpected to PDF, when Bruno proposes a very lucrative deal, hard to refuse. Frenky and Stefano therefore decided to continue the project themselves!
The previously found pieces are dusted off the shelves in the workshop and scattered like puzzle pieces on a large table to see how the situation is. Check out the carburetor, Bosch magnet, several other parts and some cables and various old stuff found at different swap meets around the world, in Italy and abroad, but the most important element, a frame, is missing.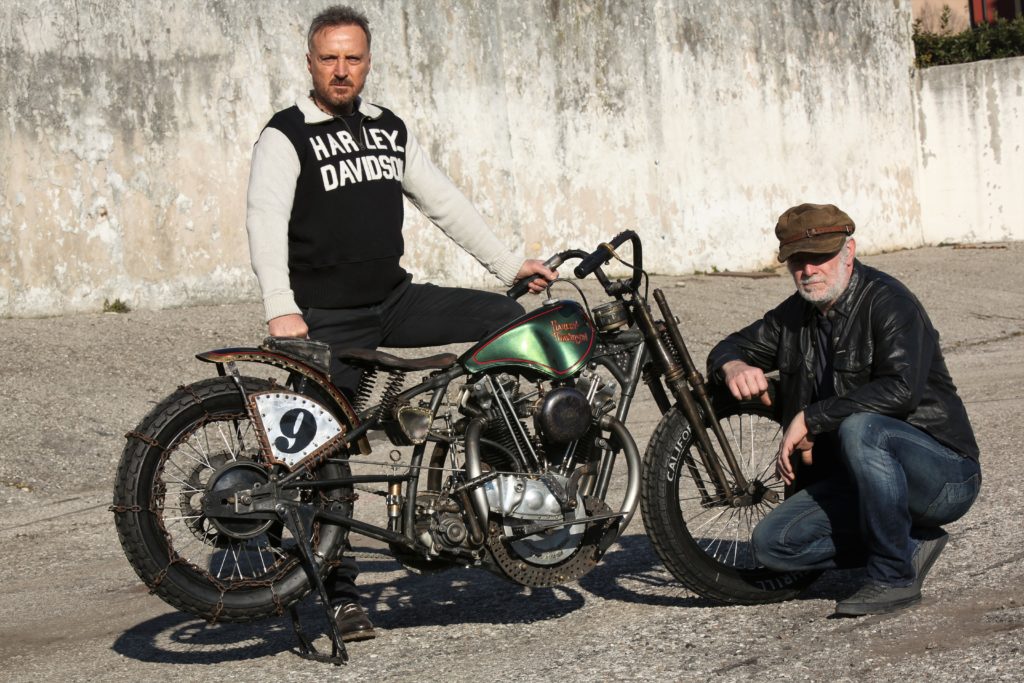 In the next episode of this project we stay in Italy. Through various acquaintances Stefano and Frenky were directed to Tuscany, where a few brothers inherited a warehouse full of 'scrap' from an uncle, but for those who understand it, full of wonderful things. The two brothers don't like motorcycles and they are just thinking about getting rid of all that stuff by making as much money as possible. Instinct lead 'Il Daddy' and Frenky to decide to go to Tuscany, because they think they will find something interesting things.
The town is a few miles from Siena and after finding the new owners, Frenky and Dad managed to convince them to be taken to the warehouse. To their amazement they found cars and motorcycles of all kinds, all locked up for who knows how many years. The old uncle was a true hoarder, and besides beautiful things and dust, there is also a lot of useless scrap. Once inside, the PDF guys begun to make their way, searching between dozens of motorcycles, some very interesting and of decent value, others without the ease of a possible restoration and without value, if not iron in weight. Nothing, nothing interesting was found for the JD project.
However, outside the building a few vintage trucks were parked, all in bad condition and loaded with scrap. Papa's eye fell on the load of one of the trucks and out of curiosity Papa climbs on the bed, a few seconds passed and a cry broke the silence of the rural countryside … "FOUND!' 'Frenky runs towards him and climbs in the truck bed too…it's a miracle! What they discovered was a half disassembled JD with 4 valves from 1920, only the frame, the Springer fork, the wheels and the engine, the rest was missing. The whole negotiation turned out as a happy ending, the PDF guys went back home with a chassis and a whole lot more to continue the 8-valve.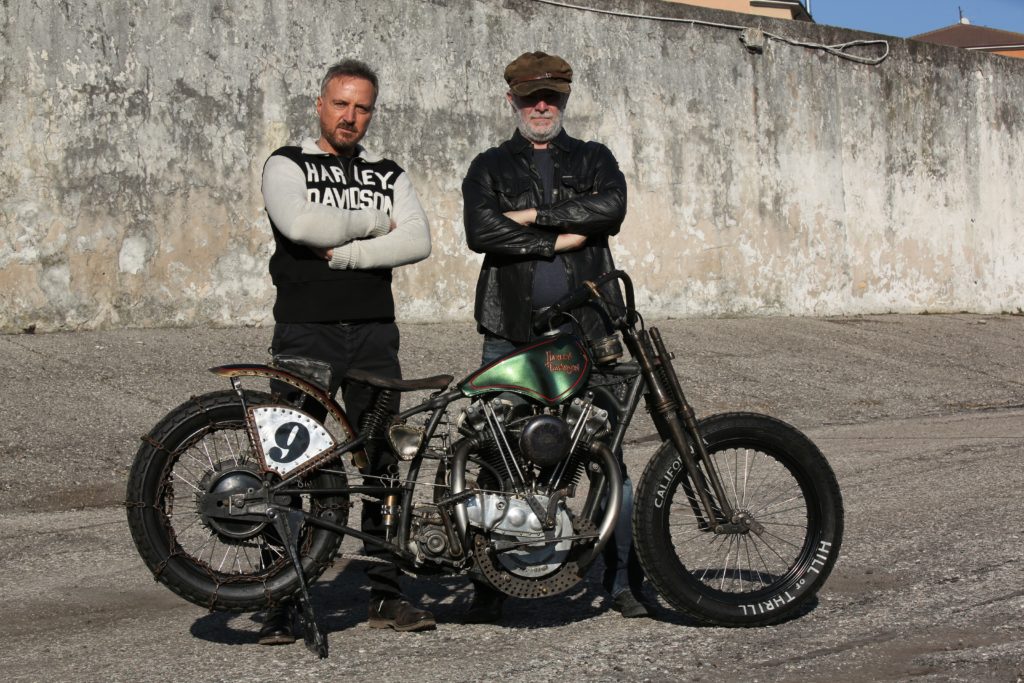 Once at home they immediately got to work and first thing they decided on, was to keep 'the iron' as it was, with its original patina of frame and fork. All the parts fitted together as it should and the pieces gradually find their place. All that glitters is not gold, and once the engine, that should be in mint condition, was opened up, and to their disappointment was bad, very bad and everything had to be redone. The job takes long and keeps the PDF staff busy for more than a year, until the final result was achieved. Big Kahuna was born, an impressive race bike from the Twenties! .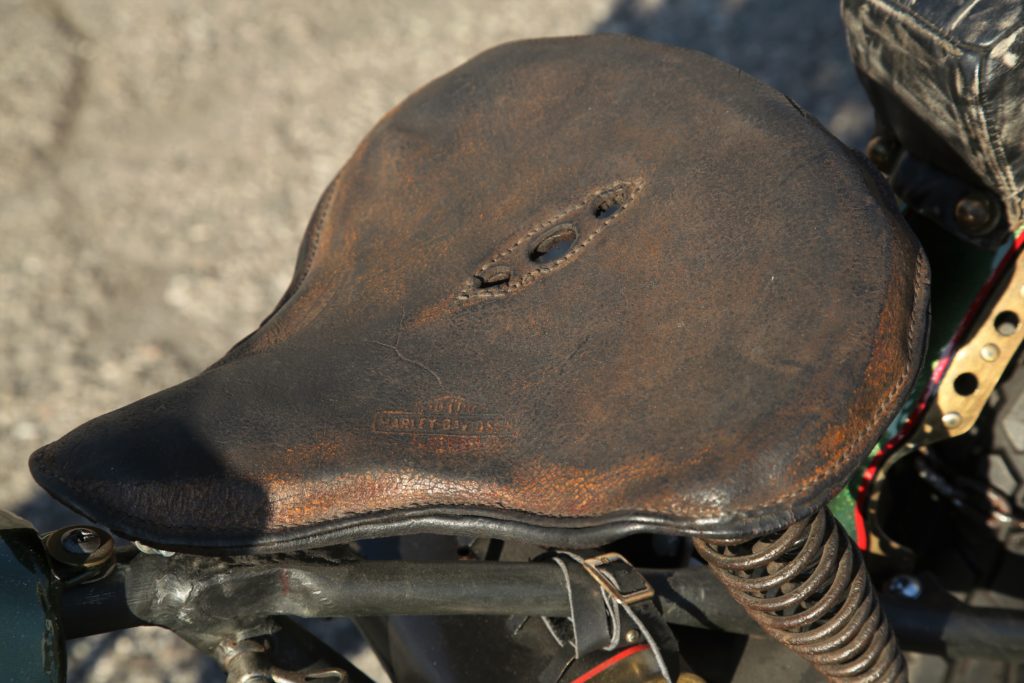 The "Big Kahuna" saw the birth of a 'Board Tracker", modifying the frame of the 4-valve JD to accommodate the 8-valve, 18-inch wheels where the rims are made of aluminum made and supplied by Jonich Weels especially for her, retaining the original 1920 hubs, the gearbox is a three speed. A 1920 clutch and lever operated with homemade PDF mechanism, connects the primary chain to a secondary chain. The tank and out of brass plate made rear fender, PDF homemade handlebars, original 1930 H-D saddle found in Germany, PDF oil tank and a 1930 left-hand carburetor make up some of the many special parts on this bike.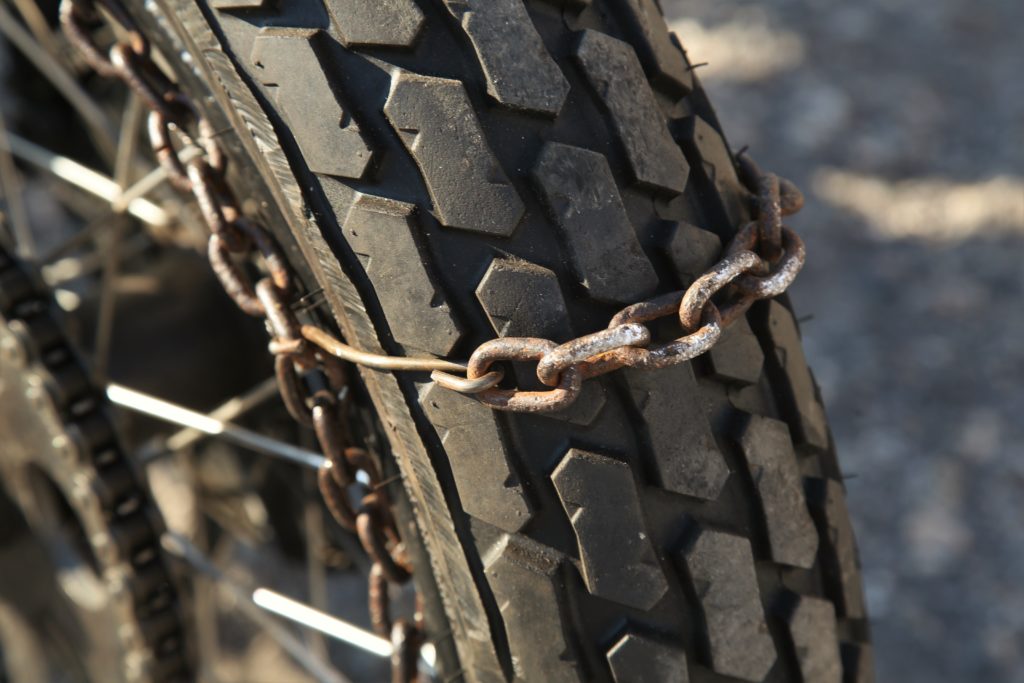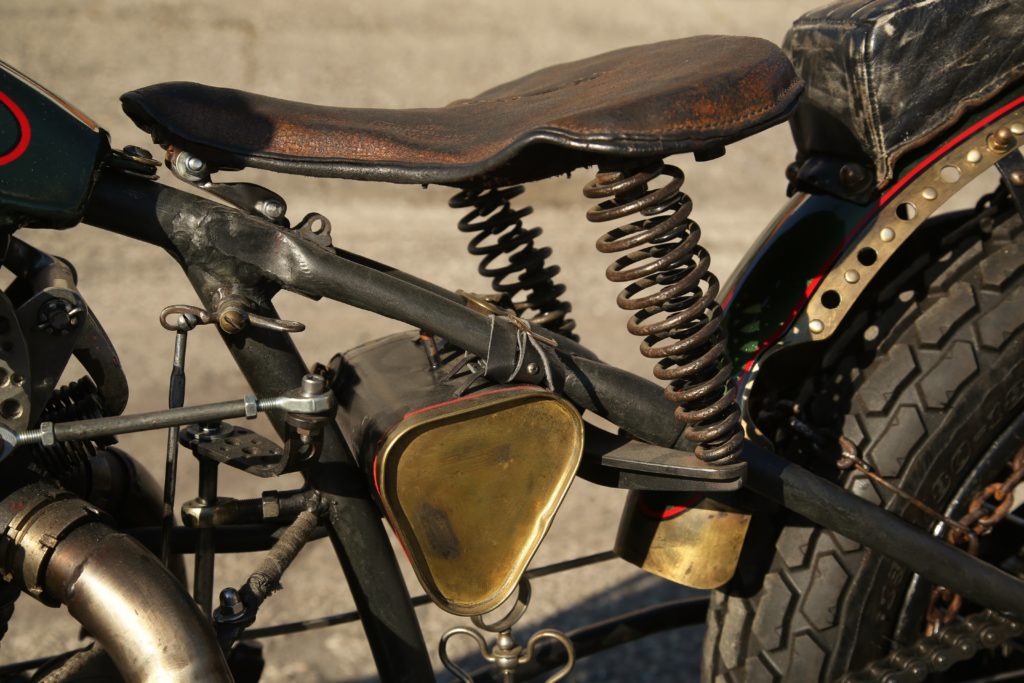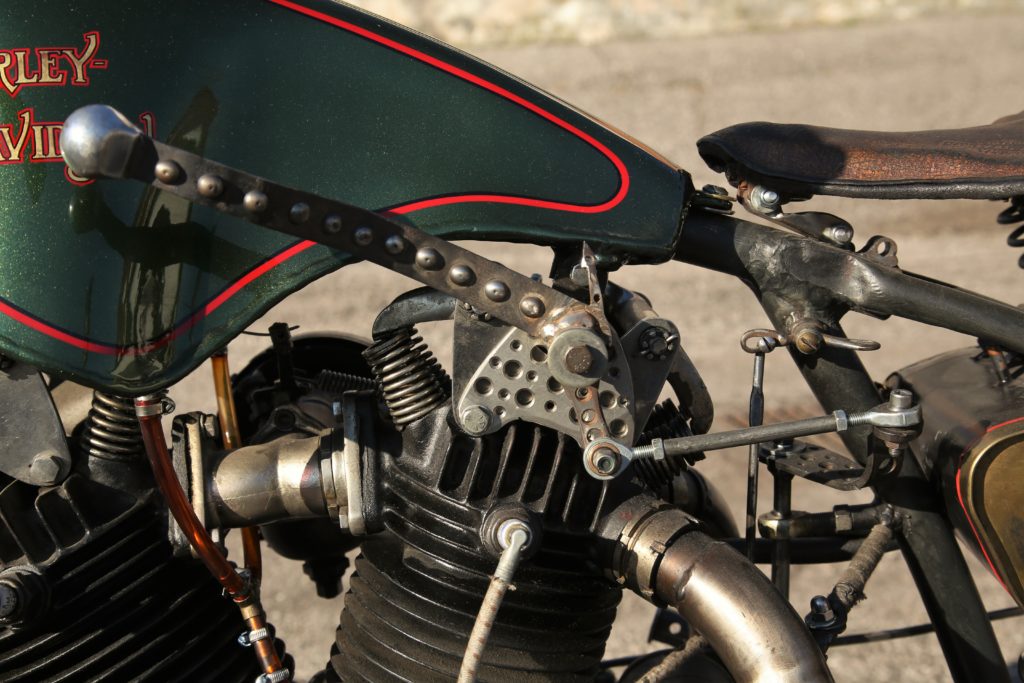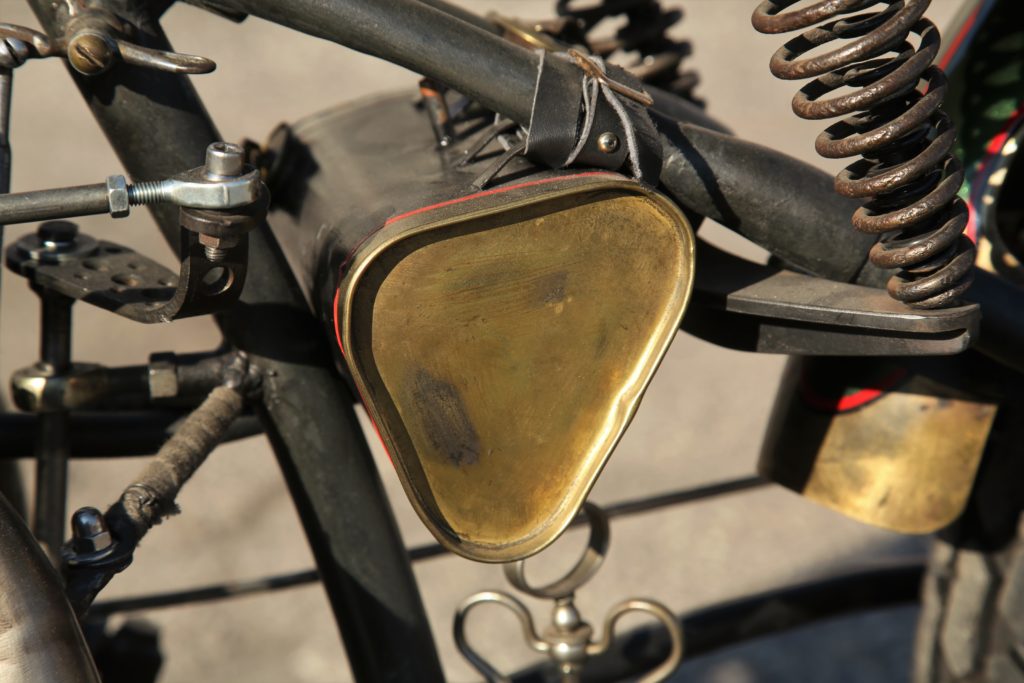 Then, after a few years, the PDF crew decided it was time to build a new bike, but based on the Big Kahuna. After the make-over, the bike lives a second life and now it's a "Hill Climber". It is called "The Faun" and has different characteristics than the first creation.
"Il Fauno" has the same engine, transmission, gearbox and carburetor as it had in the 'first edition', but it now has a completely different line and looks, it has a new tank made of aluminum and painted with colors and livery dictated by time, done by painter Dox Design. The rims are fitted with knobby tires, the frame is the same as before but again modified, extended and reinforced at the rear, the fender, now raised and modified, is painted brass like the tank, the chains on the rear tire are homemade PDF items, the handlebars and grips are from the 1930's with extra inserts homemade by PDF, just like the oil tank and leather passenger saddle. The vintage, Italian odometer was found at a swap meet.
The Faun, a mythological creature, a god. A piece of art on wheels, a vintage racer with so many time-period correct details, one hell of an engine and it oozes patina. And there's more where this one comes from. The special motorcycles made in the PDF Motociclette di Bergamo (Italy) are all unique pieces, not replicable and made with the real custom spirit, all made by hand. At PDF they create custom motorcycles with that vintage look and feel that takes you back in time, right down to the roots of that special racing engine.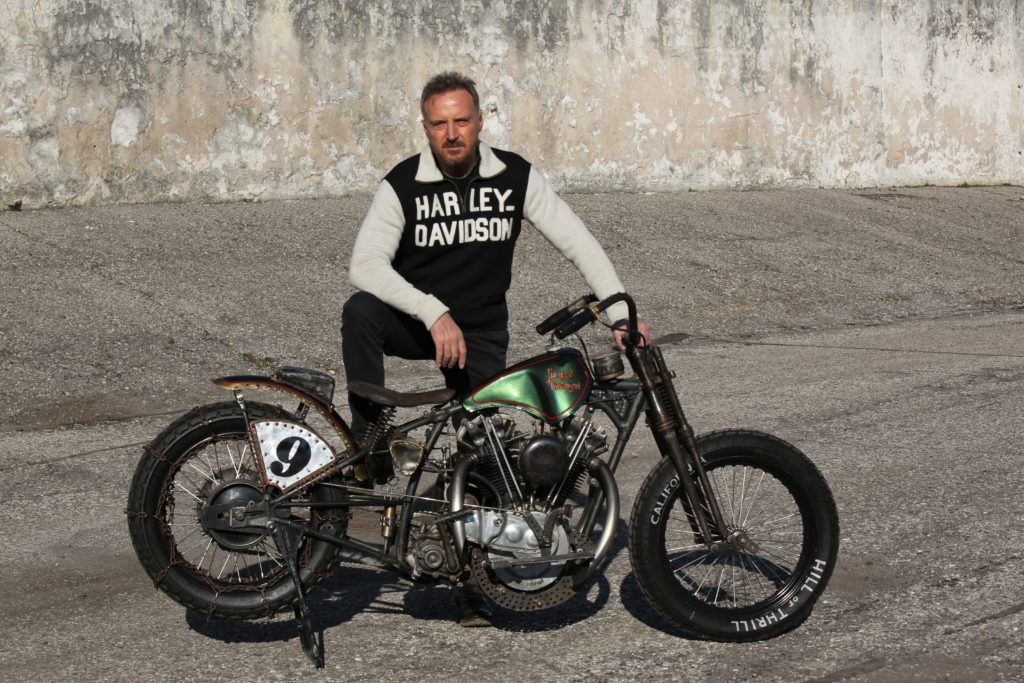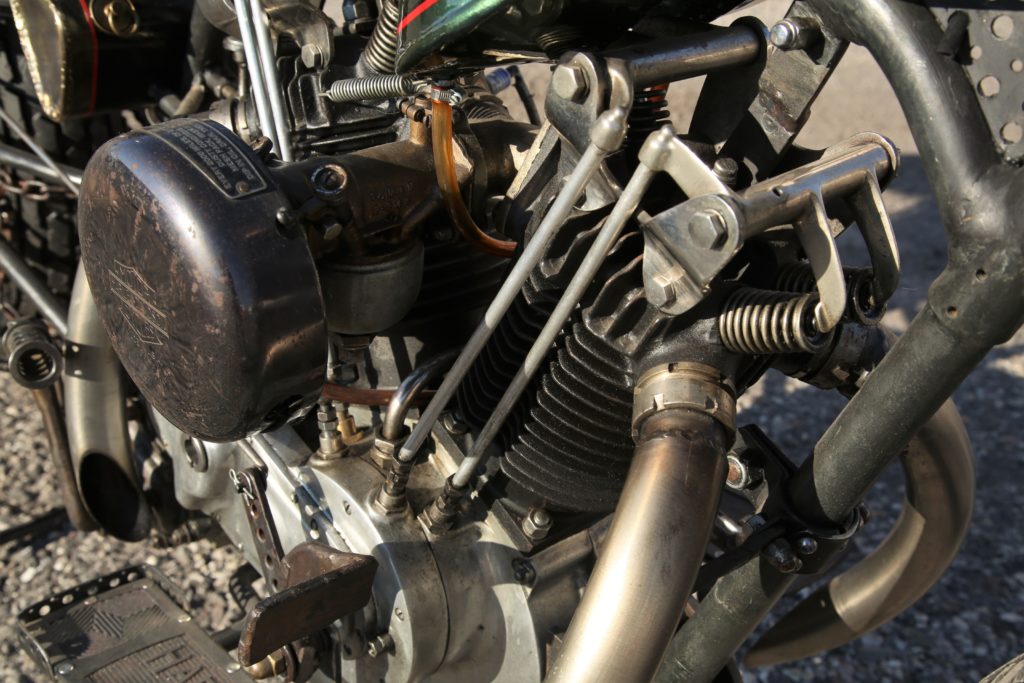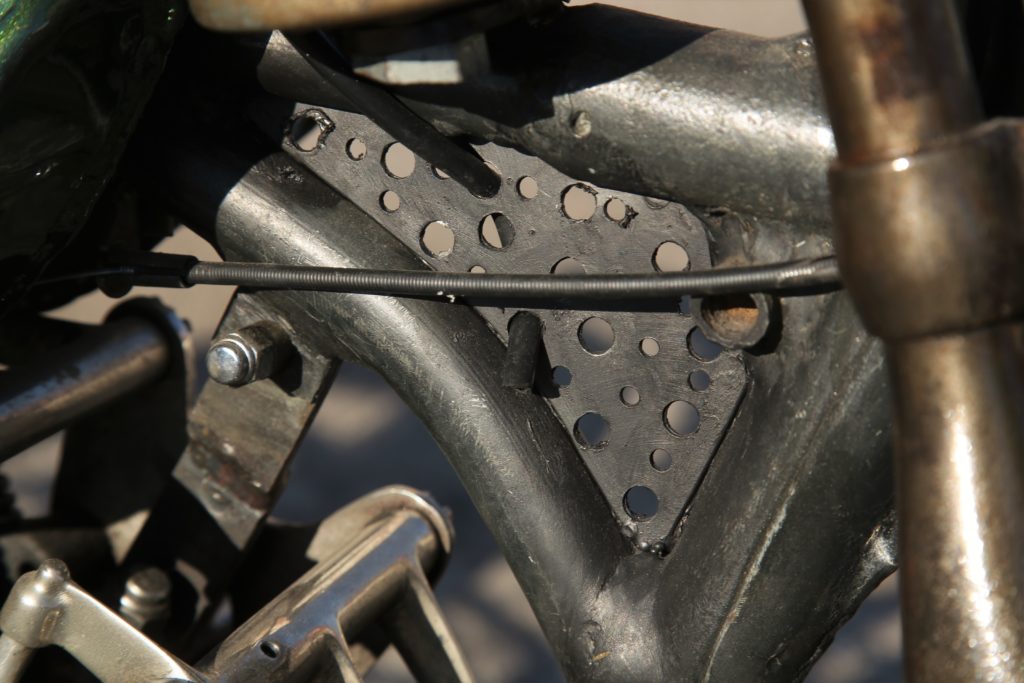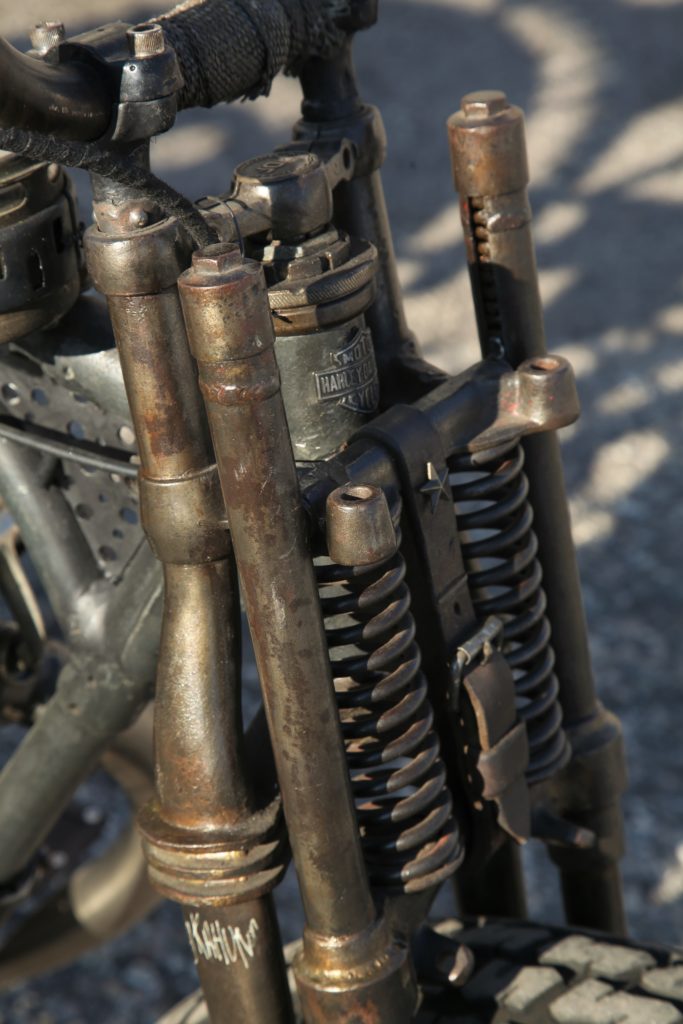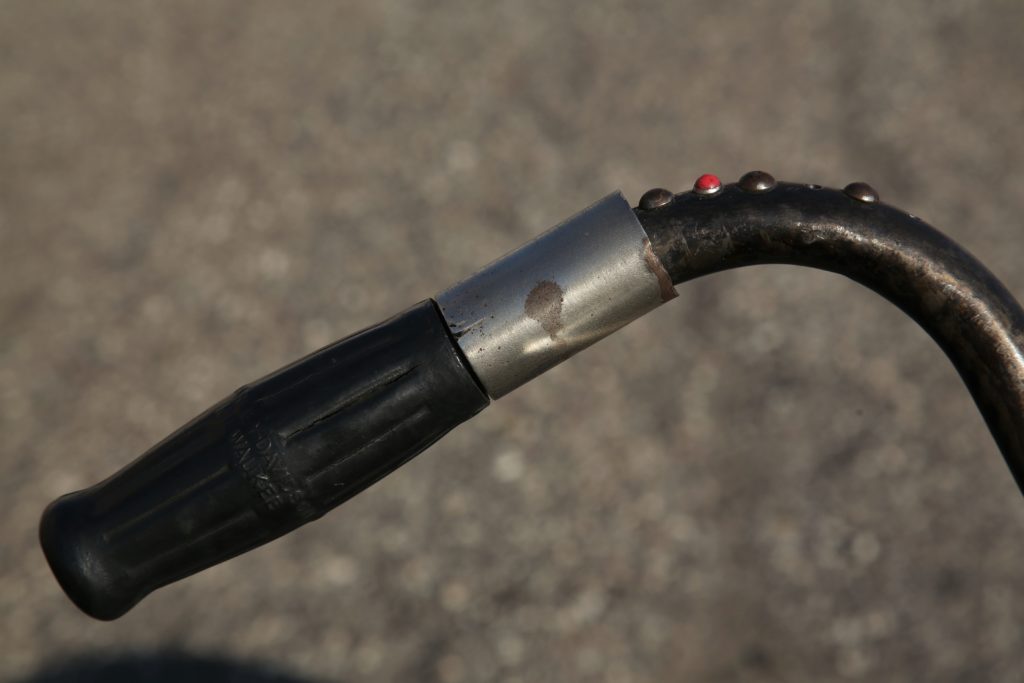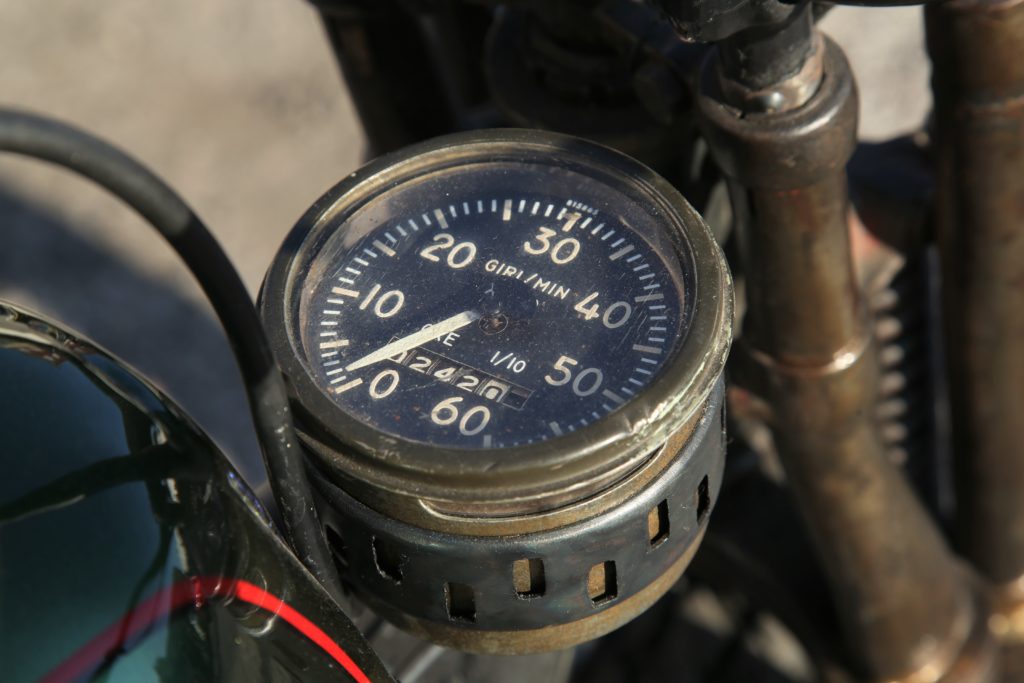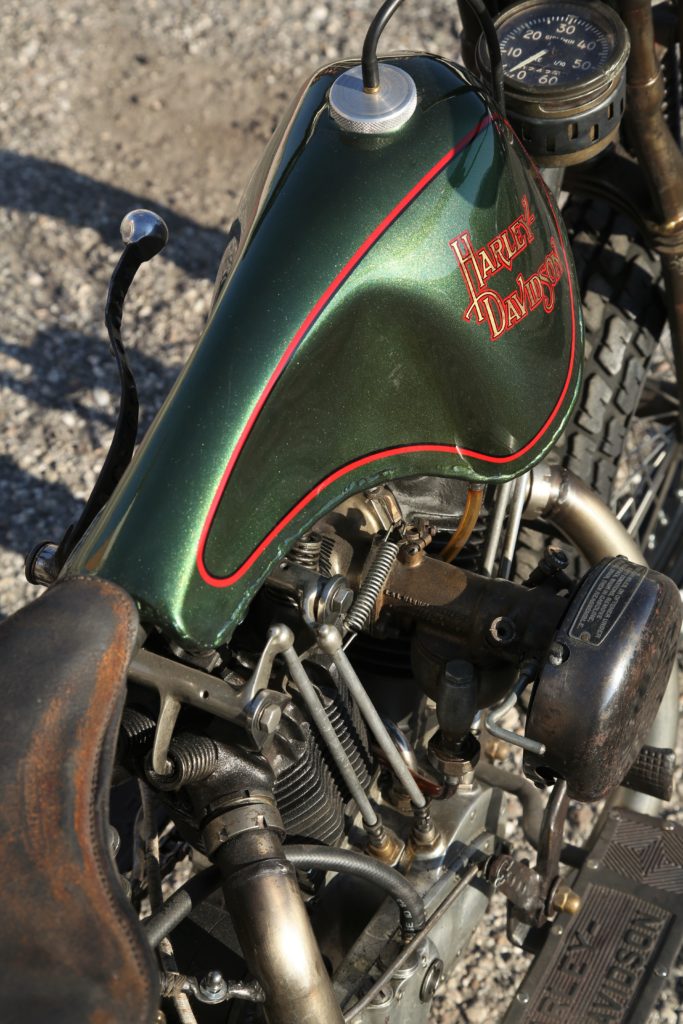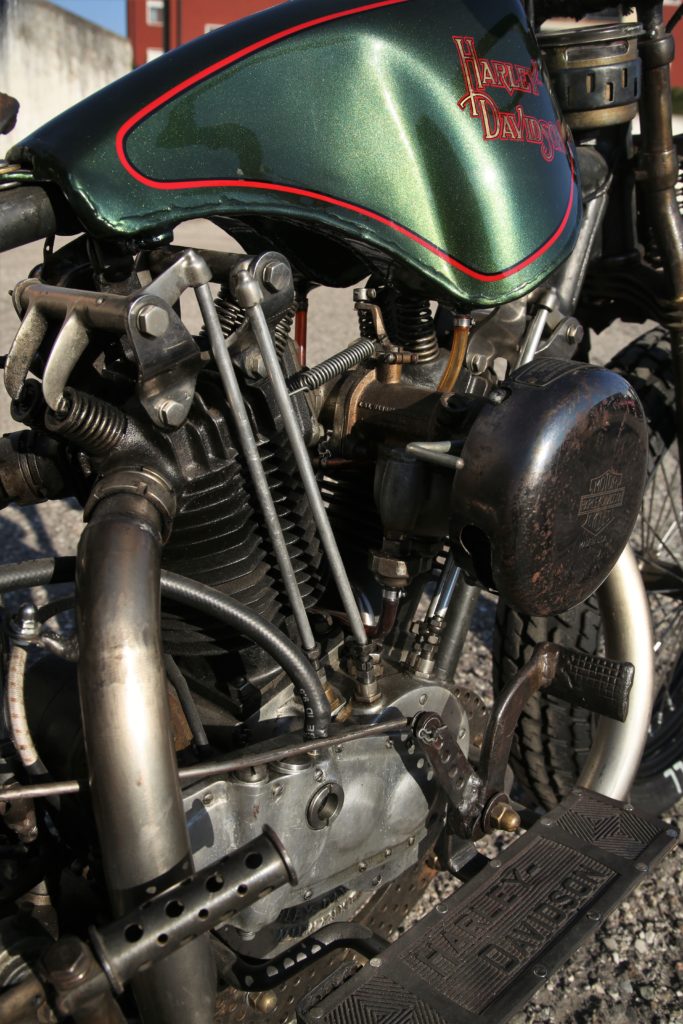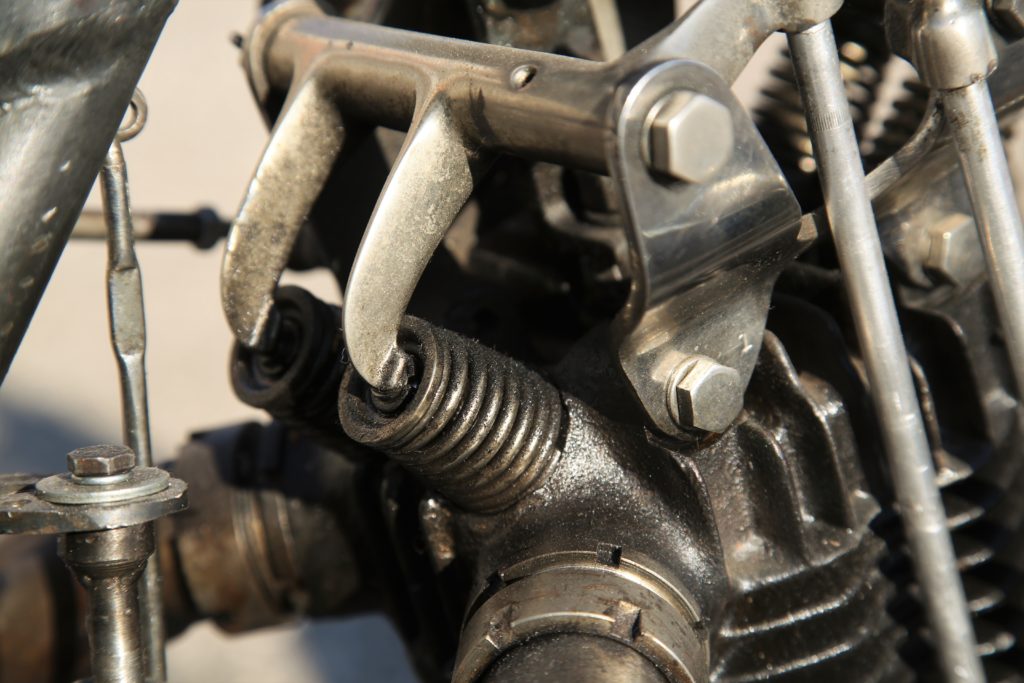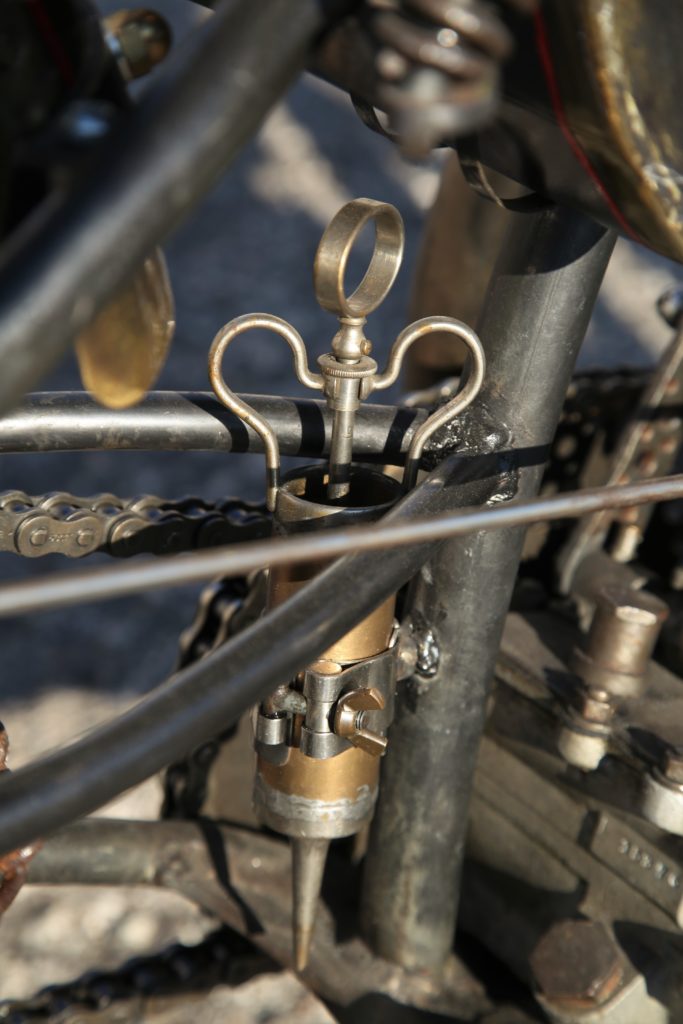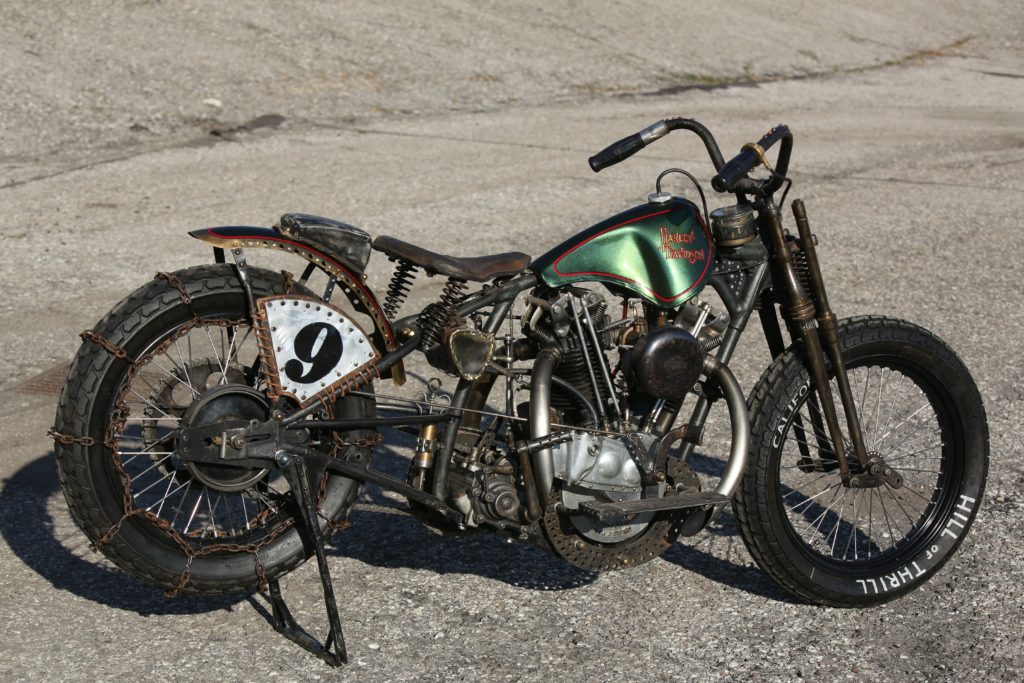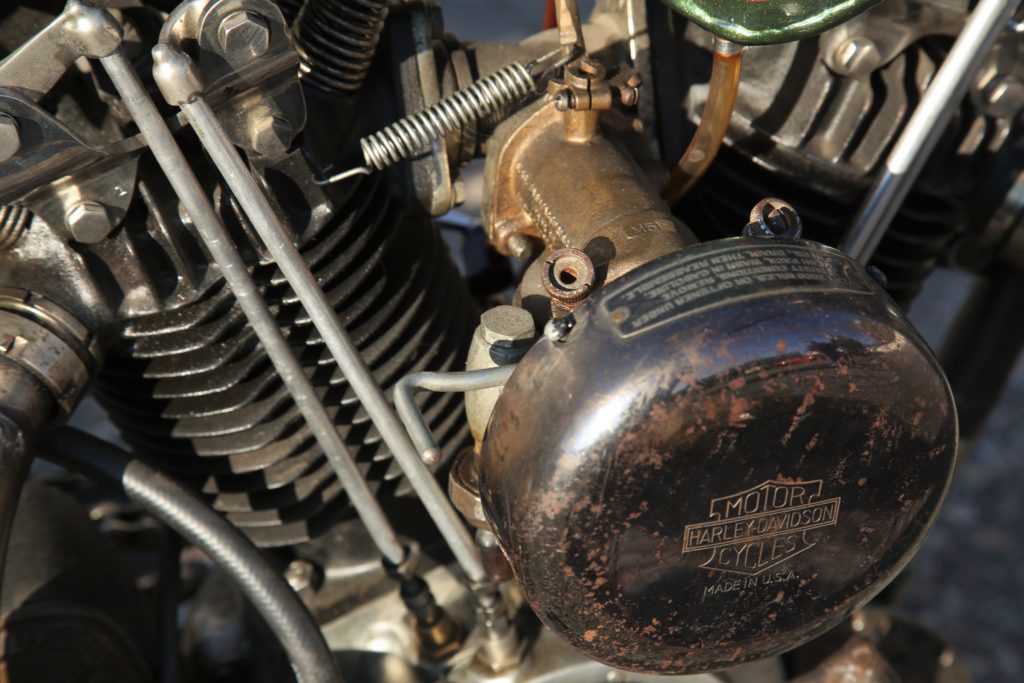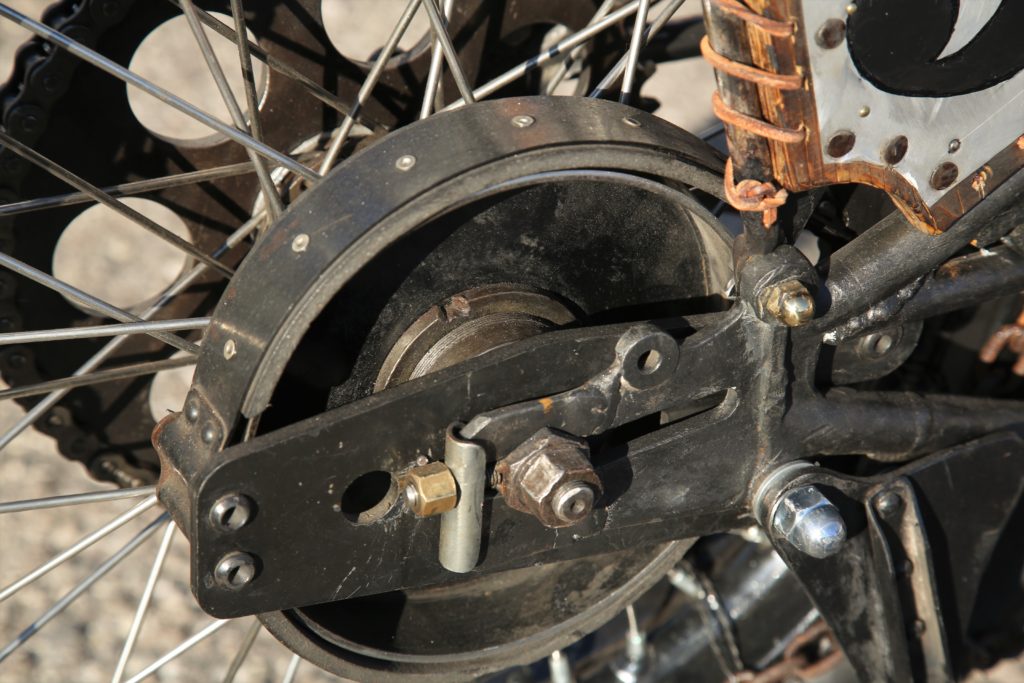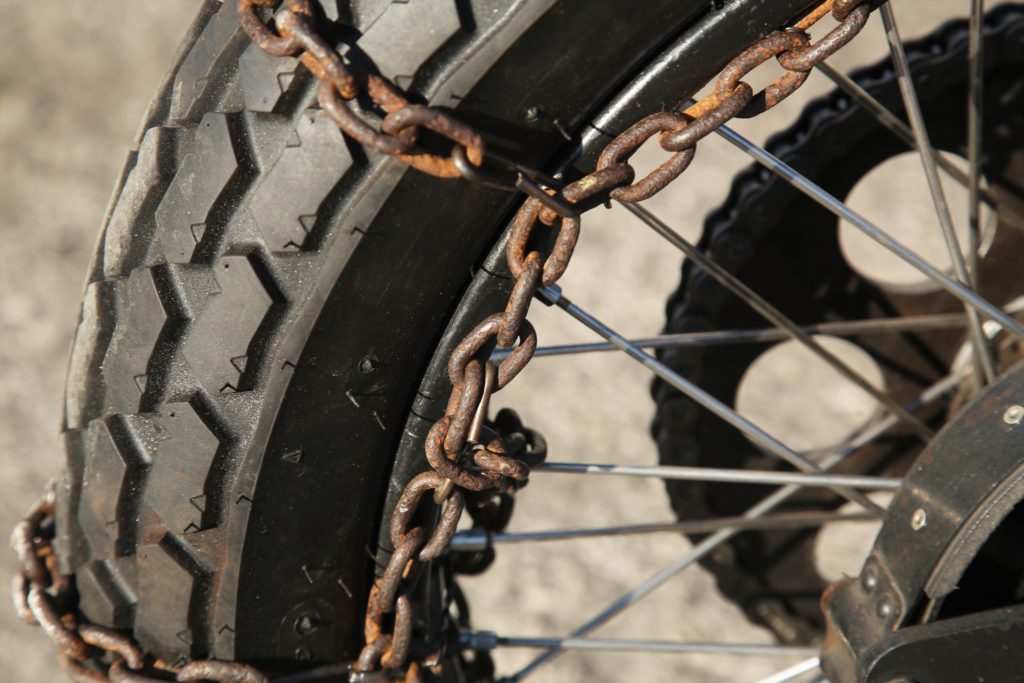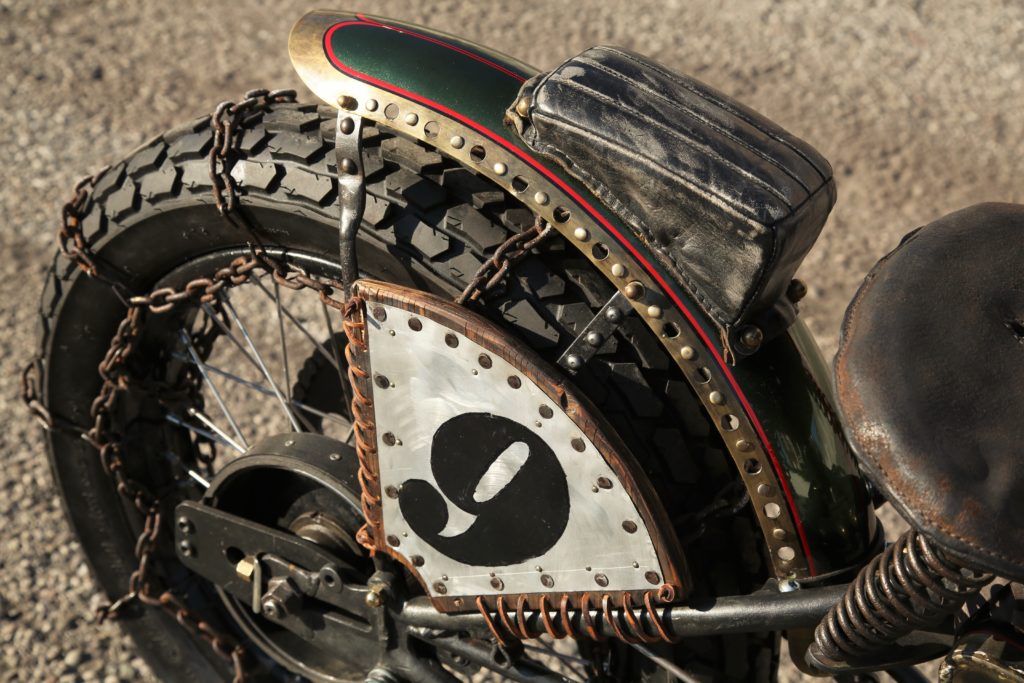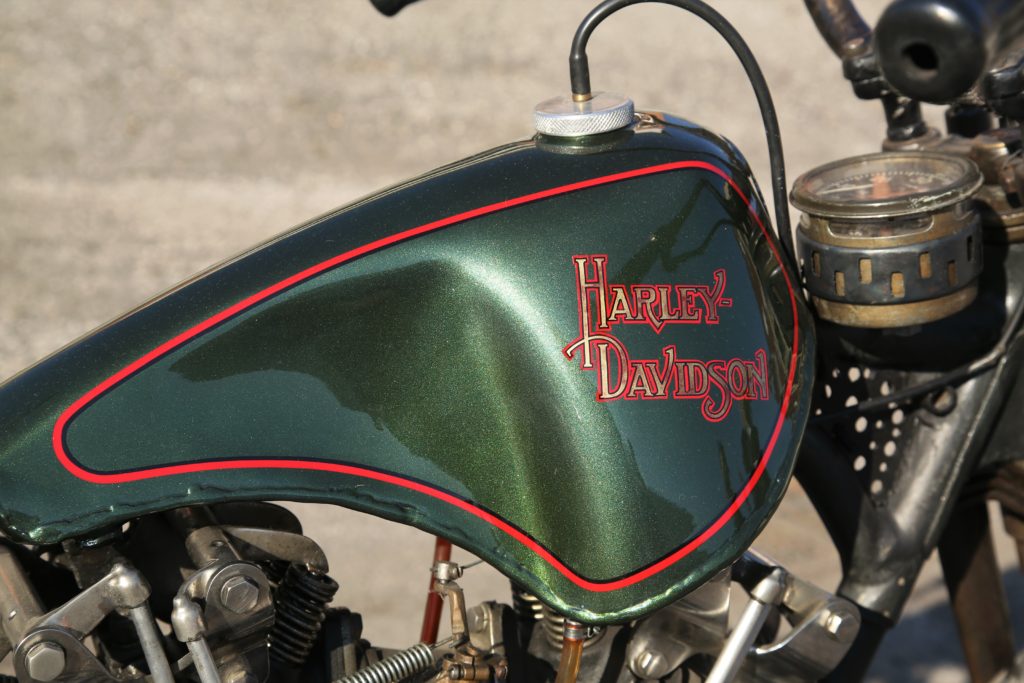 Handmade tanks and other custom made parts, beaten by hand and hammer out of noble materials such as brass and aluminum, chiseling, painting and stripping, all kinds of custom solutions and accessories. You see the distinct 'PDF touch' on all of their motorcycles, a collection consisting of many brands and lines, such as sidecars, cafe racers, bobbers, choppers, scramblers and dirt trackers, and everything that revolves around the custom world, the real one, called with affection; a little "iron"
Contact
PDF
Via per Grumello 61
24127 Bergamo BG, Italy
+39 035 265 0958
puntodifugabg@gmail.com