LC Fabrications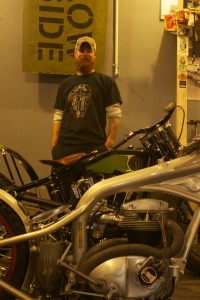 In this new occasional IronWorks series, our troops infiltrate some of the most sacred places in the custom bike-building world: the shops where the magic happens. Venturing into the unknown, we'll do what it takes to gain the access to the physical and mental spaces where the creative process starts and flourishes. So come with us as we wind our way closer to the heart of innovation that keeps the custom world turning 'round. -ed.
One of the first true credits to Jeremy Cupp is easy to spot: he's not ostentatious. He doesn't get in your face, he doesn't push his work on you, and he doesn't walk with the reckless gait of a man whose work has consistently done so well on national and international bike building stages. Frankly, he's a tough nut to crack; how do you start a conversation with a man who looks like he's already asked or answered all the questions already?
His quiet manner is as patient as his shop is hard to find. Located up route US-29 in Grottoes, Virginia, it's simply not a place than anyone but a well-versed local would find. Maybe it's because he's right next to the post office, but the time I spent at LC Fab was punctuated by a string of friends and neighbors dropping by for news, advice, and typical shop banter. For a guy who runs a machine shop 40 hours a week and only works on his custom bikes and parts line on weekends and evenings, he certainly gets a lot of foot traffic in the place.
Maybe that's what's so interesting about Jeremy. To look at one of his bikes, like Old Black or the Panster (featured in the March 2008 issue of IronWorks,) you'd swear his weekdays were filled with sketching,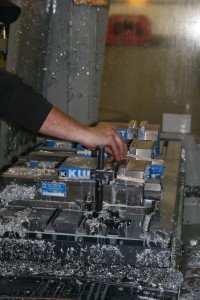 daydreaming, and leisurely mock-ups of fenders, instead of work-a-day concerns. And to look at the bikes he's built, it's actually hard to see Jeremy's style carried over from one project to the next; his attention to the details that make a build cohesive are so different from one bike to the next. Most builders seem to have a signature of some kind; a logo, a frame detail, or use of a specific material like brass. But Jeremy's signature is his commitment to a build; once he has a design in his mind, "I just do it 'till it's right," he says.
His ability to work toward a goal, removed as it might be from his own taste or interests, is impressive. When I dropped by, he was building an oil tank for a terminally ill friend's Big Twin chop, a real off-the-wall project based on an Evo Sportster engine with its transmission lopped off, mated to a Big Twin gearbox. While the build isn't the most exciting part of Jeremy's day, he believes that by doing what he can for a friend, he's making the world a better place. "This bike is kind of ugly, but this is what I can do to help the people around me," he shrugs.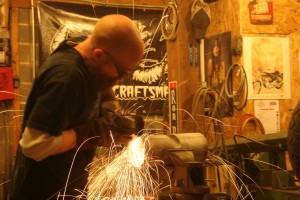 This attitude marks Jeremy as more than a world-class builder; he's an honest-to-God person, using his craft and skill to do far more than just make a buck. Given the rare chance to watch him work, it's really no surprise; "You know, old metal has a really different smell," he murmurs, shaping an old hubcap for its new life as part of an oil bag. But he's still humble, patient, and willing to learn. As he tacks up the cap to the end of the oil bag, he tells me how, just two weeks ago, he was picking up tips on TIG welding from Brew at Brew Bikes at the Charlotte IMS show, where Jeremy's Birmingham Bee-Liner took first place in the Vintage Modified class in the Ultimate Builder show. In an environment that brings out ego and entitlement in most builders, there was Jeremy, quietly learning a little bit more about his craft.
A willingness to learn and work is really what sets Jeremy apart. He's not good at spouting sound bites, he has no staff other than his wife who's in charge of the polishing department for his parts line, and his only CNC equipment is borrowed nights and weekends at the machine shop he runs all week. His shop is modest but it has what's necessary to get he job done. His horizontal band saw was little more than scrap when it came to him; now, thanks to an adjustable hydraulic cutting speed system he devised and some re-engineering of the blade guides, it's a better piece of equipment than ever. Other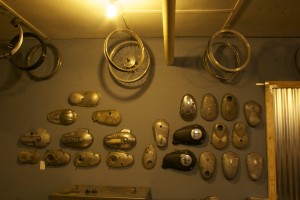 equipment, like the 1920's Chicago-made vertical band saw, were quality pieces that weren't designed to do the sort of work that Jeremy does. "It's geared for wood cutting speeds, so I just bolted up an old BSA transmission to gear it up for cutting steel," he says. Standing is his shop, surrounded by evidence of the work he had to do just to make a place to work, I had to appreciate his efforts. "What little bit I have here, I earned," he adds.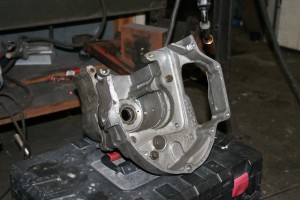 At the end of the day, Jeremy's just a family man with a hankering to make interesting machinery with his hands. He tries to be home by 6 for dinner with his wife and kids, even if after dinner activities often consist of packing up and shipping parts for customers. "My wife gets on me for insisting on checking each box myself, but I want my customers to be happy," he says. "If they spent the money for an American made part, I want them to feel like it was worth it when they open the box. I've bought plenty of parts myself that arrived scuffed or didn't fit. I just don't want to be that guy."
It would be a harsh slur indeed to label Jeremy Cupp as "that guy," but if his work and dedication are any evidence, I don't think he has anything to fear. That label would never stick.
Resource
LC Fabrications
Grottoes, VA
www.lcfabrications.com