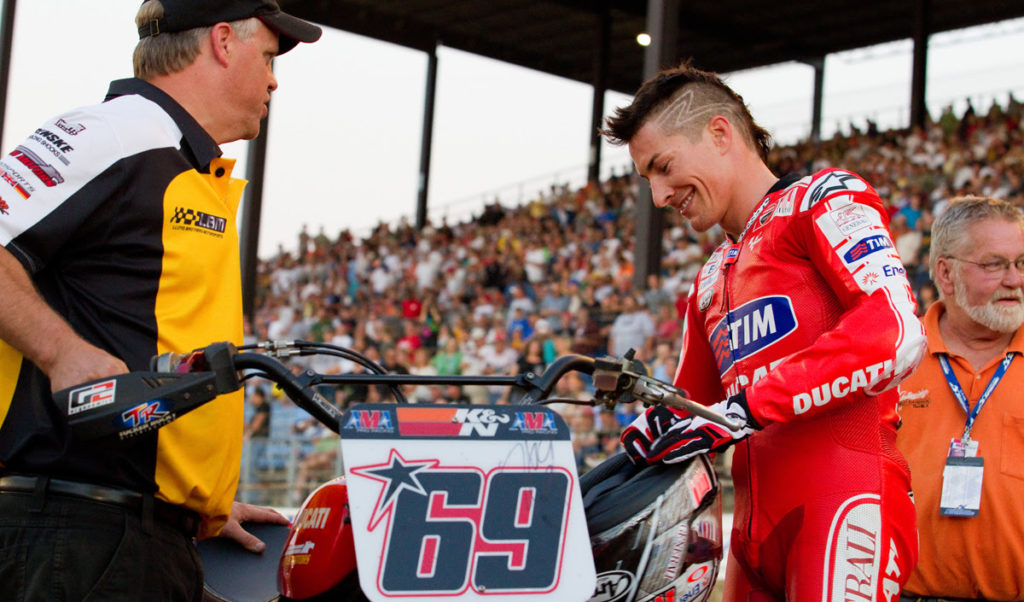 DAYTONA BEACH, Fla. (May 22, 2017) – The American Flat Track community is left in mourning following the tragic passing of American motorcycle racing legend Nicky Hayden and sends heartfelt condolences to the Hayden family.
Nicky's breakout year came in 1999, when he took home his first victory in the Grand National Championship at the Hagerstown Half-Mile and was bestowed American Flat Track Rookie of the Year honors. That same year, as a privateer, he won the AMA Supersport championship and was subsequently named the AMA's Athlete of the Year.
Over the next three seasons, Nicky perfected his craft on American dirt tracks and road courses, grabbing five more GNC victories and winning the DAYTONA 200 en route to capturing the 2002 AMA Superbike championship. In 2003, after dominating the American motorcycle racing scene, Honda tapped the rising star to join the elite Repsol Honda team in MotoGP. At 22 years old, the Kentucky Kid was introduced to the world, and his warm personality, smooth style and Southern charm quickly resonated with fans across the globe.
Four short years later, Nicky's dreams were realized when the American prodigy captured the Grand Prix World Championship in dramatic fashion, cementing his legacy as the best American motorcycle racer of his generation.
About American Flat Track:
American Flat Track
is the world's premier dirt track motorcycle racing series and one of the longest-running championships in the history of motorsports. Sanctioned by AMA Pro Racing in Daytona Beach, Fla., the series is highly regarded as the most competitive form of dirt track motorcycle racing on the globe. For more information on American Flat Track, please visit
http://www.americanflattrack.com
, follow us on
Twitter
, like us on
Facebook
, live stream the events at
FansChoice.tv
and catch all the American Flat Track racing action on
NBCSN
.