The Holy Grail Trail
Story & photos by Mark Joseph Good
            Like so many of you reading this, I was raised in the 1960's and 70's, getting my first taste of motorcycling on a 5 HP Montgomery Ward's mini bike. I saved my lawn mowing and paper route money for over a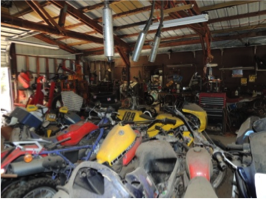 year before I could finally afford to purchase my first little scooter and once acquired I thought I was Mister Fonda himself riding Captain America into the sunset every day after school. As the years went by so did many of my bikes as my taste changed and the motorcycle companies strived to improve their product lines. Oh how I wish that I somehow still had that collection of bikes today.  I could simply visit my stable whenever I pleased and take that walk down memory lane with my babies. It's nice to dream isn't it? I'm sure that we all do, each of us in our own ways.
            All dreaming put aside, I am a one bike owner today and my reality is a large displacement custom cruiser that I created in my spare time. I enjoy the big bike and it keeps me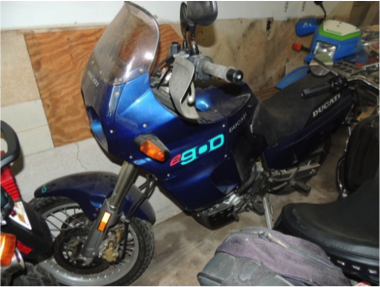 connected to one side of the cycling world…street bikes. My connection to the "other side" of the motorcycle world goes back to my roots in the world of off- road motorcycles, motocross, enduros, and the like as I am the manager of a facility in central Florida called Croom. Technically Croom is the Croom Motorcycle Area, or CMA located near the town of Brooksville, Florida. The facility is owned by the Florida Forest Service and claims 2600 acres of some of the best riding in the southeastern United States. People come there from all over the world to test their metal on the tougher trails, relax on the easier ones, or to take advantage of the training areas for kids and spend time passing on the passion to our younger generations. Travis Pastrana himself started there as a kid and when he gets the time still comes to Florida to play in the sand when commitments allow. My first encounter with Travis was at Croom when he and part of the Nitro Circus gang dropped by for a day of private riding in the park. You just never know who or what you might run into in central Florida and the surrounding areas.
            On that note of "you just never know", I was pleased one sunny afternoon when I met a distinguished older gentleman named Russell that lived in a reasonable distance of my office. One conversation led to another wherein I discovered Russell is a world of motorcycle related information from the 1950's to present day. Part of his life was spent as a motorcycle police officer where he was actually attached to the John F. Kennedy motorcades in the early part of the President's career. He actually met the President and the First Lady, becoming quite fond of them over the years before the Presidents' assassination.
            Russell is currently almost 80 years of age but still stays fit and active on his Suzuki 850 with sidecar. He has the big bike set up with off road tires much like a Ural and amazes me every time I see him running 60 mph down the dirt roads of central Florida. This man was truly "born to ride" like much of the motorcycle population believes in themselves, but Mr. Russell is by all means the real deal.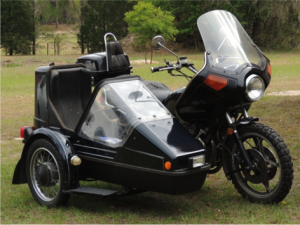 I've known Russell now for 5 years and received a personal invitation to his home and property, a little slice of heaven this side of Orlando, Florida. The property is fenced with an electric gate at the entrance and a dog patrolling the grounds for intruders. There is a moderately sized building on the grounds, call it a barn without the farm animals, but it's a focal point nonetheless. My first visit had Russell taking me straight to the barn and I admit I wondered why. He seemed like he was hiding a secret but wanting to share it at the same time. I felt a bit like I was entering the world of pirates and this man had a treasure map. "So I hear that you're a motorcycle lover?" (He inquired as we approached the barn.)I really wasn't ready for what happened next.
            As Mr. Russell slowly opened the big doors on the front of this facility I was awe-struck at what I began to see as my eyes adjusted to the lighting. I don't want to sound like I'm exaggerating too much but I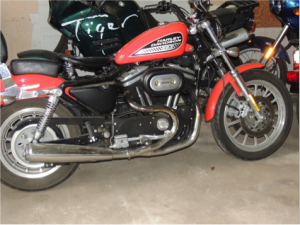 thought I actually heard trumpets sound and the Hallelujah Chorus being sung as my eyes went from one collectable motorcycle to the next! Harley Davidson, Triumphs, Honda, Kawasaki, Yamaha, Ducati, Husqvarna, BMWs, Suzuki, Royal Enfield, street bikes, dirt bikes, racing bikes, quads, three wheelers, you name it! The collection went through several rooms and seemed to never end. Parts were everywhere seemingly waiting for an eager owner to find the bike that they were meant to fit on. As I wandered around admiring his treasures my mind wandered back to younger days and one of the bikes that I never had the chance to acquire. The Honda Trail 70. I had a friend that owned one back in 1971 and I was never able to make it happen as a kid. I wondered…could there actually be one in this building hidden somewhere in this collection of other bikes? Could my childhood "Holy Grail" be resting here in central Florida?
            It didn't take long and yes, I located my treasure under a ¼ inch of dirt and dust. The tires were still under pressure as crazy as that may sound. I was amazed! Russell also had several Honda Trail 50's, the little brother to the 70cc version of this family trail machine. What does he not own in the wonderful collection of his?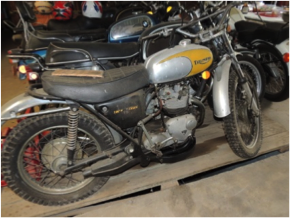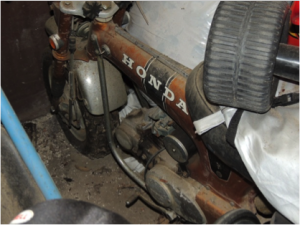 Well, I can honestly say that I am honored to have been invited to share in this gentleman's life, his world, and his collection. He spent a lifetime of collecting motorcycles, a lifetime of riding motorcycles, and a respectable lifetime of simply "living motorcycles". To Russell I say thank you very much for my day on the Holy Grail Trail, and I wonder…which bike represents your Grail in our quest for motorcycle perfection and did it ever make it to your barn?
                  Mark Joseph Good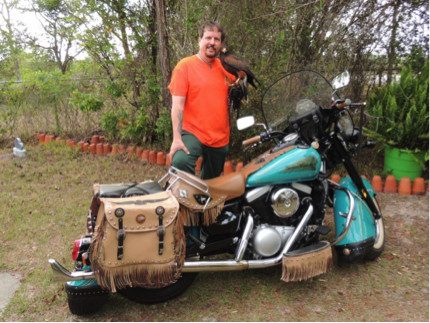 Indian Chief Look-a-like Custom Drifter by author with his
                           permitted hawk, Terra.