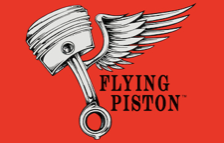 2021 Builder Class Revealed Now
FOR IMMEDIATE RELEASE
Sturgis, SD (May 19, 2021) – When 7 Tiny Custom Strider bikes crossed the block at the prestigious Mecum Las Vegas Auction in early May, first they stole the show then they raised funds to support new rider initiatives.
The little bikes, customized by builders, racers and journalists, were unveiled at the 6th annual Flying Piston Benefit Builders Breakfast last August, held at the Sturgis Buffalo Chip. They comprised the third class of tiny customs, produced to benefit All Kids Bike, a program of the Strider Education Foundation that makes bike-riding part of kindergarten P.E. classes nationwide
The 2020 class of bikes sold for a total of over $15,000 at the Mecum event in May, which had been postponed from January due to Covid. The amount will fund at least three schools. "These little bikes were graced with a very big venue," said Marilyn Stemp, partner in the Flying Piston Benefit. "The Mecum audience is top-notch, both in appreciating the craftsmanship of the bikes and the mission they benefit. We are very grateful to Dana Mecum and Ron Christianson for making us welcome."
Meanwhile, the 2021 class of Strider Builders have been working diligently toward the unveiling of their customs, planned for Sunday, August 8th 2021 at the 7th Annual Flying Piston Builders Breakfast, presented by Russ Brown Motorcycle Attorneys. This exclusive meet & greet held at the Buffalo Chip Crossroads is a must-attend event that kicks-off the Sturgis Rally in style.
Here's the 2021 class of builders: Alexis Dejoria, Diva Amy, Kiwi Mike, Zach Ness, Carl Pusser, John Shope, Nick Trask and Steve Massicotte with Team Paughco. See their bikes, meet them and support All Kids Bike by attending the Breakfast – and bid on one-off skateboard artwork thanks to artists participating in the Gnarly Magazine art contest.
(Tickets: https://www.buffalochip.com/EVENTS/Special-Receptions/Flying-Piston-Breakfast)
Keep track as the new class is revealed at https://www.facebook.com/FlyingPistonBenefit.
Media, Sponsors and Participants: The Flying Piston Builders Breakfast is produced by Marilyn Stemp of Iron Trader News and Jeff Najar of Biker Pros. For sponsor information or to donate auction items contact: Marilyn Stemp, 828-205-8482, marilynstemp@gmail.com.
More at: https://flyingpistonbenefit.com/ and https://www.facebook.com/FlyingPistonBenefit/www.buffalochip.com/FlyingPiston.