Moto2 and American Superbike champion to contest American Flat Track's AFT Singles class at the season finale in Perris, Calif. on October 7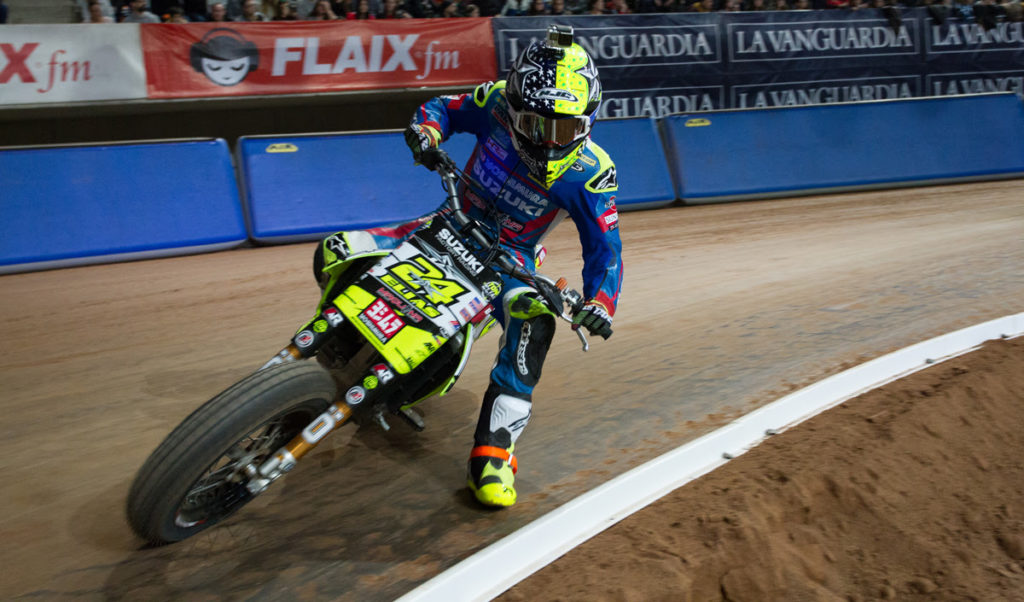 DAYTONA BEACH, Fla. (September 29, 2017) – Yoshimura Suzuki will field road racing standout Toni Elias when the 2010 Moto2 World Champion makes his American Flat Track debut at the Cycle Gear American Flat Track Finals presented by Indian Motorcycle in Perris, Calif. on October 7.
Fresh off of his MotoAmerica Superbike title, Elias will grid up alongside some of the world's fastest flat trackers in the AFT Singles class aboard the No. 324 Yoshimura Suzuki RM-Z450. A full-time road racer, Elias has shown his flat track prowess two years in a row at the Superprestigio Dirt Track in Barcelona as well as the U.S. version in 2015. He turned heads with his second-place finish in 2016, sandwiched between 2013 Grand National Champion Brad Baker and five-time World Champion Marc Marquez.
Although the Spaniard is no stranger to flat track racing, Elias is stepping up to the big leagues next weekend. The former Moto2 World Champion knows that his American Flat Track debut will not be easy, but he enjoys the sport and is very much looking forward to stepping up to the challenge.
"I feel a lot of motivation because this is something new for me, because it will be bigger than Las Vegas Superprestigio and bigger than the Barcelona race," Elias said. "I learned a lot in Vegas which helped me a lot for the two editions I raced in Barcelona. Every year we are improving, learning new things and I think this will be a good way to improve more, to continue learning and to prepare for Barcelona this year. And also, to enjoy a little bit now that we are in the off season."
His Yoshimura team will be there to support their newly crowned Superbike rider and are also looking forward to the new experience.
"Obviously, Toni enjoys the flat track experience, and is excited about the opportunity to race the Perris Finale," said Don Sakakura, Senior Vice President of Yoshimura R&D of America. "Yoshimura will support Toni for this event, and we are all looking forward to the new experience!"
The Cycle Gear American Flat Track Finals presented by Indian Motorcycle will take place on Saturday, October 7 as part of the Southern California Fair in Perris, Calif. Tickets for the Cycle Gear American Flat Track Finals presented by Indian Motorcycle start at just $20 and include fair admission. For general admission tickets, please visit https://events.admitoneproducts.com/tkt_sales.php?test=true&event_id=486517&sales=&coll=159.
Fans interested in an exclusive experience for the season finale can also purchase VIP passes from American Flat Track. VIP passes include VIP parking behind turn two, access to the Turn 1 Cycle Gear VIP Trackside hospitality tent, paddock access, an event program, snacks, a full buffet dinner plus beer and wine. There are only a limited number of VIP passes remaining. For more information, please visit https://www.showclix.com/event/american-flat-track-finals-at-socal-fair.
How to Watch:
NBCSN and FansChoice.tv are the official homes for coverage of American Flat Track events. All 18 rounds, from the season-opening Harley-Davidson DAYTONA TT to the American Flat Track Finals in Southern California, will air in one-hour primetime telecasts throughout the summer and fall on NBCSN. FansChoice.tv remains a cornerstone of AFT's digital strategy and provides live streaming coverage of every event.
About American Flat Track:
American Flat Track is the world's premier dirt track motorcycle racing series and one of the longest-running championships in the history of motorsports. Sanctioned by AMA Pro Racing in Daytona Beach, Fla., the series is highly regarded as the most competitive form of dirt track motorcycle racing on the globe. For more information on American Flat Track, please visit http://www.americanflattrack.com, like us on Facebook, follow us on Twitter, check us out on Instagram, live stream the events at FansChoice.tv and catch all the American Flat Track racing action on NBCSN.