(Mitchell,SD) March 2, 2015 – Klock Werks is launching a new campaign to help riders understand that to ride "bobblehead" free, they need a Klock Werks Flare™ Windshield. Fun videos, a life-size Brian Klock Bobblehead on a red carpet setup, free stickers, and giveaways will all support the start of the campaign!
Why a bobblehead? "As we brought our original and patented Flare™ Windshield to events and rallies with our "Try It Before You Buy It" test ride program, the same response was heard over and over again. Riding with the Klock Werks Flare™ Windshield eliminated head buffeting or "bobbling". So, as we planned our marketing for 2015, the idea of a Brian Klock bobblehead came up." Stated Laura Klock, Vice President and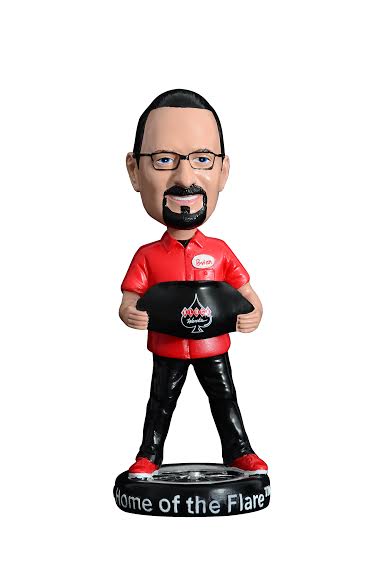 Director of Marketing at Klock Werks. "We felt a Brian Klock bobblehead figure is a LITERAL representation of the "bobblehead syndrome" riders experience when riding with any windshield other than our Klock Werks Flare™. Symptoms described include: buffeting, stiff neck, blurred vision, bugs in their teeth, trouble hearing from wind hitting their ears, hats and glasses flying off, etc. The bobblehead serves as a reminder to "Try a Flare™" because our Brian Bobblehead figure is holding a Flare™ Windshield in his hands! We are really excited about this fun campaign."
Klock Werks will kick the "#EliminateBobblehead" campaign off during Daytona Bike Week, March 6th-15th, with a life size Brian Klock Bobblehead on a red carpet setup! #brianthebobblehead will be ready for photo opportunities for all those who stop by the Klock Werks booth, located across from J&P Cycles at Destination Daytona. The actual bobblehead figures are limited edition, with only 250 total produced that will be promoted throughout 2015 on social media, at events and through Klock Werks' Ambasadors and Krew Members. You could be one of the FIRST winners of the 10 #BrianTheBobblehead figures assigned to Daytona Bike Week as the Klock Werks Krew will be giving them away to select riders during the bike week event. Everyone who stops by will receive a free #BrianTheBobblehead sticker.
If you're not going to be at Daytona, don't worry. There will be online opportunities and more events throughout the year! Be sure to look for fun videos on Klock Werks website, YouTube channel, and Facebook page that will further explain how riding with a Flare™ Windshield can help you #elimniatebobblehead. As always, you can Try a Flare™ Windshield at the Klock Werks booth in Daytona for free, and enjoy free installation of your new Flare™ with purchase.
Klock Werks Flare™ Windshield: Eliminating Bobblehead Since 2006.
About Klock Werks Flare™ Windshield
The Klock Werks original, patented Flare™ Windshield is the best choice for improved air management. Klock Werks Flare™ Windshields feature a patented design that includes "hips" at the sides that re-routes the wind away from you while adding downforce to the front-end of the motorcycle to improve stability vs. riding with the stock windshield. The flip at the top of the Flare™ redirects air back as clean, less turbulent air for rider and passenger. The Flare™ doesn't just block or push the air, it redirects the wind to improve your ride. Bonneville Salt Flats racing, wind tunnel testing and real world riding have proven that Klock Werks Flare™ Windshields continue to be the first, and best choice for riders everywhere. Made in the USA from hard-coated polycarbonate material for added durability and quality.
About Klock Werks
Located in Mitchell, South Dakota, Klock Werks has grown from humble beginnings to a nationally and internationally recognized Brand. Achieving status as "Air Management Experts", Klock Werks credits this to the success of the original, patented, Flare™ Windshield. Also supplying fenders, handlebars, and other motorcycle parts, Klock Werks proudly leads the industry through innovation in design and quality of materials and fitment. Team Klock Werks has been successful for years designing parts, creating custom motorcycles, and setting records on the Bonneville Salt Flats. You will find motorcycles, family, and faith at the core of Klock Werks, along with a commitment to caring for the needs of enthusiasts around the world who enjoy their products.
For More Information please Contact Sara Liberte at Sara@kustomcycles.com