For Immediate Release
Contact:
Ken Conte
Ken@RiseAboveConsulting.com
970.227.3588
K and G Cycles Launches Third Year in Partnership
with Daytona International Speedway
K and G Cycles' Thunder Alley at Daytona Again Features Large at Daytona Bike Week 2015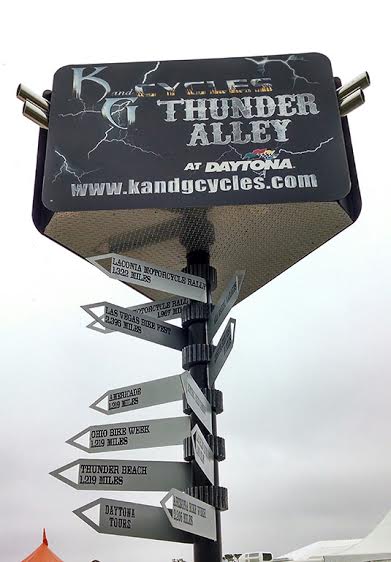 Daytona Beach, Florida (March 3, 2015) – K and G Cycles, your one-stop, online motorcycle parts and accessories superstore, is launching their third year in partnership with Daytona International Speedway during Bike Week 2015. K and G Cycles' Thunder Alley at DAYTONA will host all of the V-twin motorcycle action.
"This year we're bringing more product, hosting more giveaways and providing more tech advice than ever before," said George M. Marakas, K and G Cycles' owner. "The Daytona International Speedway is the most-visited location during Daytona Bike Week, and Thunder Alley sits at the heart of it. It's a big responsibility, and we can't wait!"
"We're excited to once again partner with the leader in online motorcycle parts and accessories," said Daytona International Speedway President Joie Chitwood III. "K and G Cycles' Thunder Alley gets better every year and we have an fun-filled schedule of activities planned for bike enthusiasts visiting the Speedway."
Look for the new K and G Cycles giant arched balloon at the entrance to Thunder Alley. There will be a slew of giveaways off the stage, and make sure to visit the K and G booth to register for a $500 K and G Cycles shopping spree, as well as get your hands on free K and G swag. In addition, K and G Cycles will have customer-service techs on hand to answer any parts- or motorcycle-related questions; visit with current customers to discuss their motorcycle needs; and help customers order parts that'll be waiting for them when they return home. And folks can enjoy computer kiosks that allow for the viewing of a vast array of parts and the ordering of products and accessories. Featured vendors and products include Brukus Security, for latches and security add-ons; Bone Mountain Leather accessories; EarthX lithium batteries; Speedway Shelters; and the famous K and G Cycle Shade.
The K and G Cycles team is also planning a number of events at K and G Cycles' Thunder Alley at DAYTONA, including giveaways, vintage motorcycle displays, fashion events, and special guests. If you can't make bike week this year, be sure to go online and visit the K and G Cycles blogs to keep up with all the action. K and G Cycles will post videos, pictures and stories about all the major Rally happenings at www.vtwinmotorcycleblog.com and www.metricmotorcycleblog.com.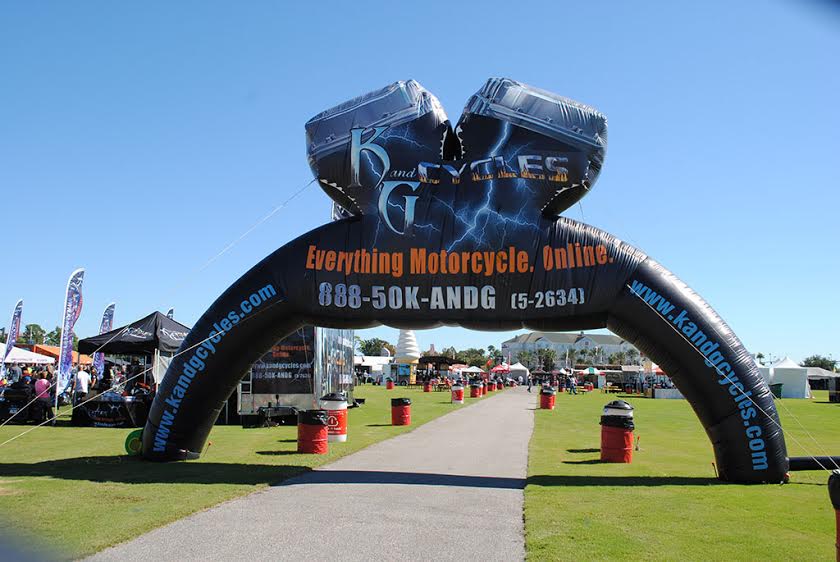 About K and G Cycles
With more than 5,000 categories of parts from over 700 manufacturers and eight major motorcycle parts wholesalers, K and G Cycles guarantees that you will find exactly what you need for your project. K and G's goal is to provide its customers with the widest possible selection of American and foreign-made motorcycle parts, as well as clothing, apparel and gear at prices you simply will not believe. Driven by the love of motorcycling and the idea of creating a new kind of shopping experience within this marketplace, K and G Cycles has streamlined the buying process while offering competitive pricing and great customer service. Visit K and G Cycles on the Web at www.kandgcycles.com or call 888-50K-ANDG (5-2634). You can also follow all the happenings at K and G on Facebook (https://www.facebook.com/kandgcycles), YouTube (http://www.youtube.com/kandgcycles), Google+ (https://plus.google.com/111232032780268447848/posts), or Twitter (https://twitter.com/kandgcycles).
Ken Conte
Rise Above Consulting
970.227.2588
1717 Deweese Street
Fort Collins, CO  80526
A locally owned full service public relations and marketing company specializing in media relations and brand building.