(Mitchell, SD) March 3, 2014 –  Klock Werks Kustom Cycles and Kicker Audio are crankin' the deals on the dial up to "11"  for Daytona Bike Week by offering Klock Werks Powered by Kicker Audio Fit Kits available for $100 OFF, and installed FREE with purchase at Daytona Bike Week, March 6-15! This is your chance to Live Loud, for less!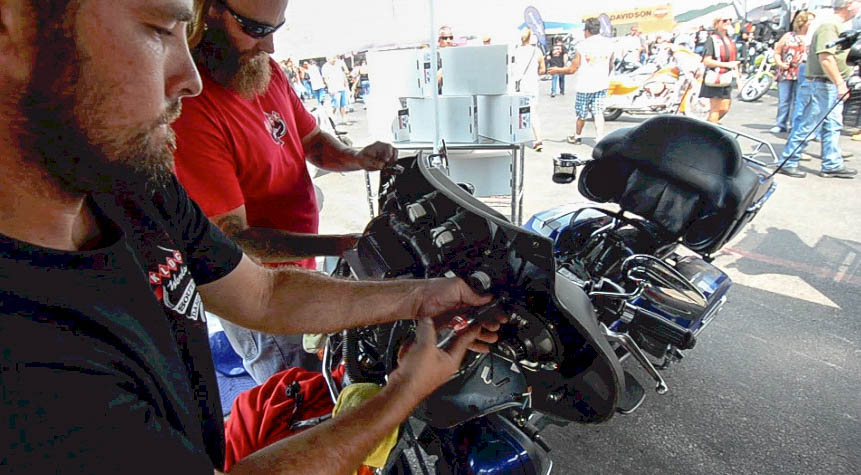 KICKER® Performance Audio and Klock Werks Kustom Cycles joined forces to bring motorcycle riders the clearest and loudest audio equipment available, specifically designed and tuned for power sports applications. The Klock Werks Powered by KICKER® Audio Fit Kits include speakers that fit into factory openings, small footprint amp that mounts inconspicuously using the provided custom stainless steel bracket, and the included custom wiring harness offers 100% plug-n-play installation. Also included in the FIT KIT is all necessary hardware and instructions for easy installation for Harley, Victory, Kawasaki and Indian motorcycle fitments.
"This opportunity to team up with a reputable company in the bagger world gives us instant validation in a segment where we think we can make an impact and bring the legendary KICKER sound to motorcycle enthusiasts everywhere," said Roger Demaree, KICKER Brand Evangelist. "The Klock Werks family is a team of outstanding people with a ton of talent and we're looking for good things to come from the partnership."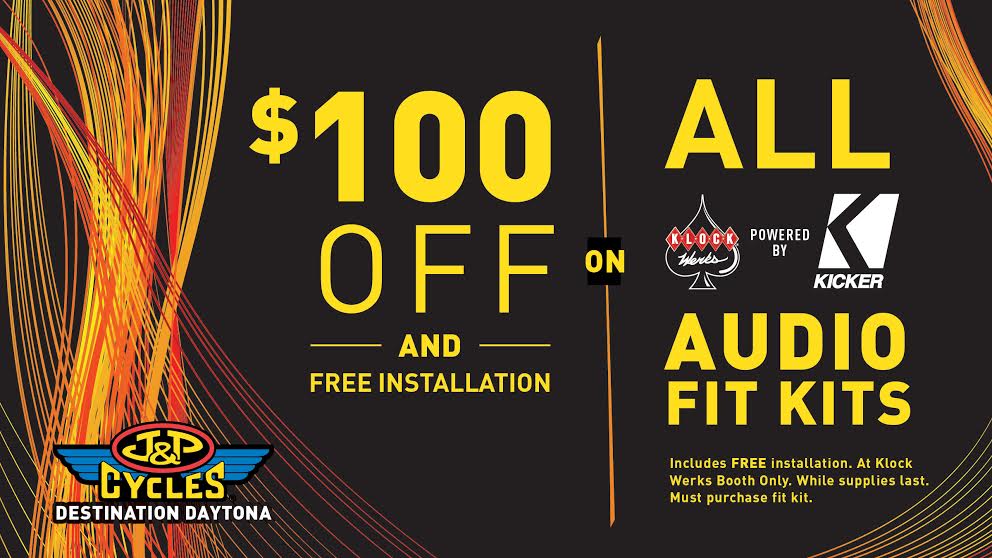 "The Kicker Brand is legendary in other markets, and Klock Werks is known for innovative, quality products that work and are easy to install. This collaboration is a great fit!" said Brian Klock, founder and president of Klock Werks. "Certified Technicians from Kicker are joining us at Daytona Bike Week, and we love offering incentives like the $100 OFF Special, along with FREE Installation to encourage riders to try our new systems. We are confident riders will love the new fit kits!"
Take advantage of the Daytona Bike Week specials, or learn more about the Klock Werks Powered by Kicker Audio FIT KITS at www.kustombaggers.com. Audio Fit Kits are currently available for many models, with more products in development and coming soon!
About Klock Werks
Located in Mitchell, South Dakota, Klock Werks has grown from humble beginnings to a nationally and internationally recognized Brand. Achieving status as "Air Management Experts", Klock Werks credits this to the success of the original, patented, Flare™ Windshield. Also supplying fenders, handlebars, and other motorcycle parts, Klock Werks proudly leads the industry through innovation in design and quality of materials and fitment. Team Klock Werks has been successful for years designing parts, creating custom motorcycles, and setting records on the Bonneville Salt Flats. You will find motorcycles, family, and faith at the core of Klock Werks, along with a commitment to caring for the needs of enthusiasts around the world who enjoy their products.
About Kicker Performance Audio
KICKER Performance Audio products, a division of Stillwater Designs and Audio, Inc.®, are available for the mobile and home audio aftermarket at authorized dealers worldwide, and also through selected Original Equipment Manufacturers. Consumers needing more information on KICKER or Livin' Loud® may call the Consumer Information Line at 1-800-256-5425 or visit the brand website at www.kicker.com. Follow KICKER socially at facebook.com/kickeraudio and twitter.com/kickeraudio.      
For More Information please Contact Sara Liberte at Sara@kustomcycles.com