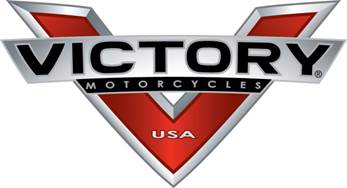 Milan Italy and Long Beach CA November 18, 2015: Victory Motorcycles today revealed the production
version of the engine that powered Project 156 up Pikes Peak this summer, and will power an upcoming
1200cc class motorcycle.
The engine was designed to deliver the strongest power and performance in its class, and was shown off
in a concept motorcycle built by European builder Urs Erbacher. Erbacher is well-known in the European
custom motorcycle scene taking several top awards and gaining international attention.
Erbacher's concept – dubbed the "Victory Ignition Concept" was custom built around the first preproduction
engine off of the line in Osceola Wisconsin. The concept features an aggressive stance and
frames the engine with a cast aluminum chassis, performance suspension and brakes with an aggressive
Project 156-inspired paint scheme. "I'm proud not only of this build, but what it represents for the
future of the Victory Motorcycles brand," says the Swiss builder. "Getting full reigns to wrap the new
engine in an interesting bike is a real highlight in my career, and from what I can see any production bike
utilizing this powertrain will be a fantastic ride."
"Project 156 is a purpose built racer that took our engine design to one of the most challenging races on
the planet – it was a proving ground like no other that set the bar very high for our team," says Victory
Motorcycles General Manager Rod Krois. "This engine platform, which uses designs from other Polaris
products having sold over 200,000 engines, will deliver on the promise of modern American muscle that
is in the DNA of every current and future product we sell. Victory will continue to aggressively plot a new
course for itself and where an American motorcycle brand can go."
"Victory Motorcycle – from day one – has been a brand designed to deliver outstanding in-class performance,
reliability and handling," says Steve Menneto, President of the Polaris Motorcycles
Division. "Our new engine, Urs' concept and news we'll be sharing at the IMS in New York City will plot
the direction not only of this fantastic new platform, but of this brand. We will continue to design and
build the best motorcycles in every class we compete."
The liquid-cooled four-valve engine has a 60-degree vee angle, utilizing double overhead cams that
promise to make class-leading power. Additional details of the engine will be revealed in the months to
come.
For more information on the Ignition concept bike, visit www.victorymotorcycles.com/ignition
The display at EICMA, the international trade and consumer show, will be open for the public starting
Thursday November 19, and continues through the weekend. The Polaris stand is located in Hall 13. For
more information log on to www.eicma.it/en/.
Fans of American performance motorcycles are encouraged to keep an eye on Victory Motorcycles in
the coming weeks for more new product and concept motorcycles announcements.
ABOUT VICTORY MOTORCYCLES
Victory Motorcycles designs, engineers, manufactures and markets a full line of cruisers, baggers and touring
motorcycles. Every Victory model delivers industry-leading performance, comfort, style, storage and reliability. The
first Victory was produced on the Fourth of July, 1998, in Spirit Lake, Iowa, where every Victory motorcycle
continues to be produced today. Information about Victory motorcycles, apparel and accessories is available at
www.victorymotorcycles.com and on Facebook at facebook.com/VictoryMotorcycles
ABOUT POLARIS
Polaris is a recognized leader in the powersports industry with annual 2014 sales of $4.5 billion. Polaris designs,
engineers, manufactures and markets innovative, high quality off-road consumer and military vehicles, including
all-terrain vehicles (ATVs) and the Polaris RANGER and RZR side-by-side vehicles, snowmobiles, motorcycles and
on-road electric/hybrid powered vehicles. Polaris is among the global sales leaders for both snowmobiles and off-road
vehicles and has established a presence in the heavyweight cruiser and touring motorcycle market with the
Victory and Indian Motorcycle and Slingshot brands. Additionally, Polaris continues to invest in the global Work
and Transportation vehicle industry with Global Electric Motorcars (GEM), Goupil Industrie SA, Aixam Mega S.A.S.,
and internally developed vehicles. Polaris enhances the riding experience with a complete line of Polaris
Engineered Parts, Accessories and Apparel, Klim branded apparel and ORV accessories under the Kolpin, Cycle
Country and Pro Armor brands. Polaris Industries Inc. trades on the New York Stock Exchange under the symbol
"PII", and the Company is included in the S&P Mid-Cap 400 stock price index. Information about the complete line
of Polaris products, apparel and vehicle accessories are available from authorized Polaris dealers or anytime at
For more information, including high and low resolution images, log on to www.victorypresskit.com and use
the password: IGNITION. Or email: ROBERT.PANDYA@POLARIS.COM
Media Contact:
Robert Pandya
External Relations Manager
Victory Motorcycles