Santa Fe Springs CA- July 25, 2022 – Vance & Hines' VO2 Air Intake lineup is the company's fastest growing product line, driven by the improved airflow and the dramatic styling upgrade the VO2 units provide to Harley-Davidson V-twins. The lineup of air intakes now includes new styles and finishes, including the addition of "skullcap" styles, which are the definition of minimalistic styling. All of these new additions to the VO2 lineup are priced under $300. 
"We've seen tremendous demand for the improved performance and style offered by our VO2 Air intake products," said Vance & Hines President and CEO Mike Kennedy. "It's only natural that we offer more options for Harley riders looking for the finishing touch for their bike."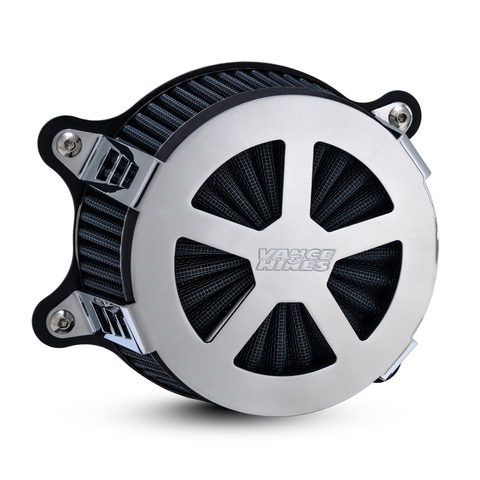 Vance & Hines begins the expansion of their VO2 lineup with this month's launch of the Radiant III and the Radiant V, which are three and five spoke styles allowing the customizer to match the air intake's look with other components on the bike.  
The sleek and minimalistic design delivers maximum air flow to a bike's engine using a high-capacity air filter and the new patent pending Force™ Velocity Stack. The Radiant III and Radiant V deliver increased air flow and give a motorcycle a sleek custom look. Both models are available in Black, Brushed Stainless Steel or Chrome. Fitments are available for Harley-Davidson's Milwaukee 8-powered motorcycles, Throttle By Wire Twin Cam, Sportsters and early Twin Cam models. Radiant III and Radiant V retail for $299 in black(red filter element), $259 in Brushed Stainless Steel(red filter element) and $279 in Chrome(black filter element). 
Also new to the Vance & Hines portfolio of VO2 Air intakes are two "skullcap-style" intakes, the Stingray and the Eliminator. These units are the ultimate in minimalistic styling, allowing the washable filter element to remain in full view while the cover provides visual impact to the engine. Both offer improved airflow using the company's Force Velocity Stack and add a touch of Vance & Hines style to a rider's bike. Available in both Black and Chrome versions, the Stingray and Eliminator are available as a full air intake setup and also as a replacement cover for other Vance & Hines VO2 air intakes.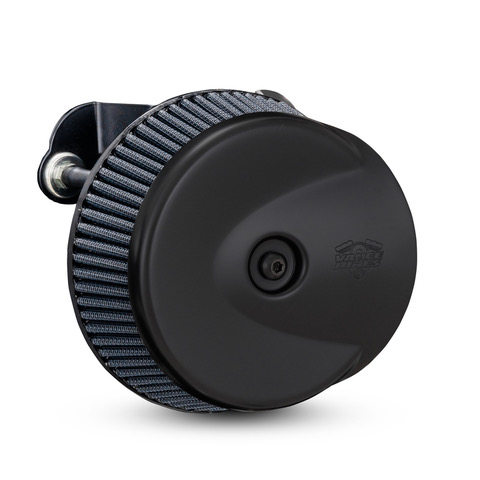 The VO2 Stingray Air Intake is inspired by the scoop hoods of classic high-performance hot rods. The Vance & Hines logo adds the finishing touch to the Stingray cover.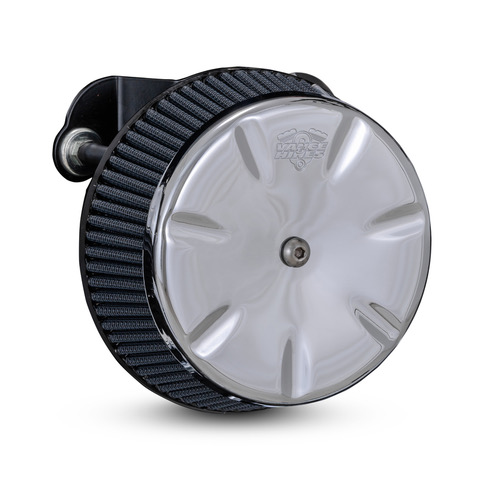 The look of the VO2 Eliminator Air Intake, inspired by the company's racing heritage,emulates the CNC-machined pockets of the billet end caps used on Vance & Hines racing motorcycles from flat track to road racing. 
Fitments are available for Harley-Davidson's Milwaukee 8-powered motorcycles, Throttle By Wire Twin Cam, Sportsters and early Twin Cam models. VO2 Stingray Air Intake Kits and VO2 Eliminator Air Intake Kits retail for $249.99. Stingray and Eliminator skullcap covers, which can also be purchased separately to go on Screamin' Eagle or other aftermarket round filters with a center bolt mount retail for $79.99. 
Rain covers are available for all of the new VO2 Air Intakes. 
ABOUT VANCE & HINES
The Vance & Hines brand has always been about enhancing the exhilaration of the motorcycle ride. It started over 40 years ago, when Terry Vance and Byron Hines were two young enthusiasts in the fledgling Southern California motorcycle drag race scene. Terry always wanted to go faster, and Byron knew how to make that happen. In short order, their on-track success and innovation drew the attention of other racers, riders and motorcycle manufacturers, which ultimately translated to commercial demand for their products and services. Today, the Company's mission and activity is the same; make bikes go faster on the racetrack and take those learnings to make impactful products for riders around the world. Since the Company's inception in 1979, it has run factory race programs in partnership with Suzuki, Yamaha, Ducati and Harley-Davidson in drag racing, road racing and flat track. Vance & Hines is based in Santa Fe Springs CA and has its Racing Development Center in Brownsburg IN. Learn more about the company's history and products at 
www.vanceandhines.com
.