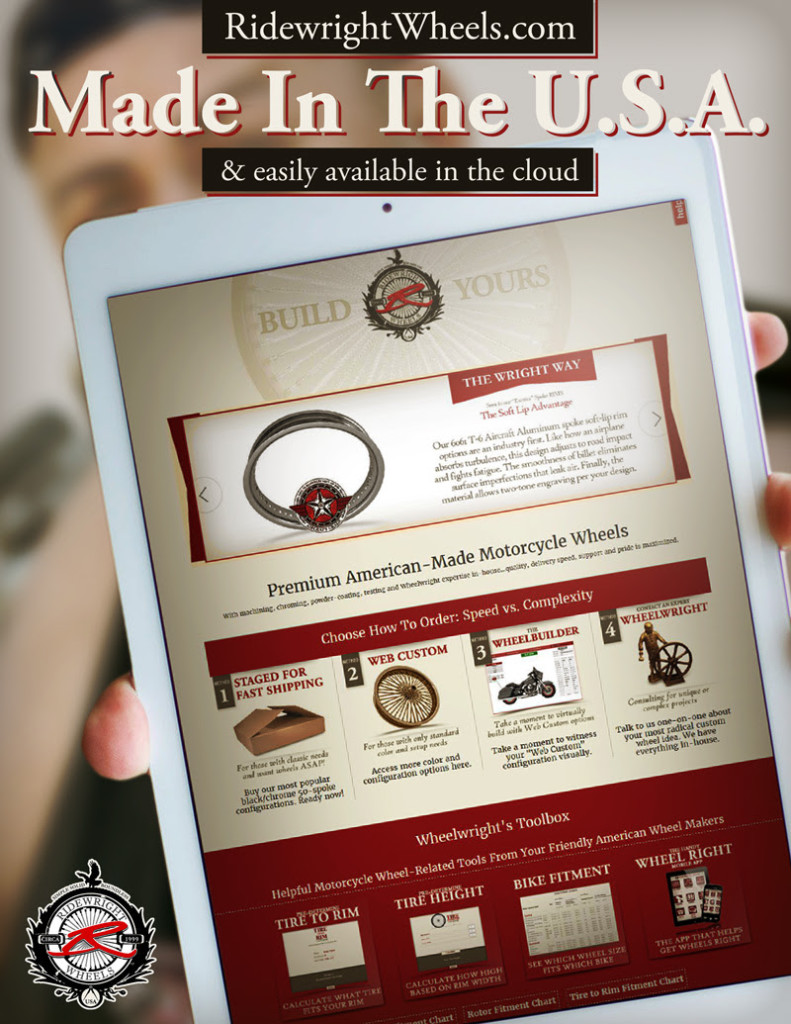 To be an industry leader, one must contribute in order to be worth following. These days, we're finding that contributing usefulness and ease, in addition to great service and quality, is how we're making gains. RidewrightWheels.com has leveraged modernization in order to service today's wheel customer.
As a testament to our helpful way of thinking, Ridewright's new e-commerce site has features that bring ease and simplicity to visitors, customers and fans. Check it out:
Sharing useful knowledge with free online tools
Wheel to bike fitment matrix: Determine what wheel size fits a given H-D motorcycle
Tire to wheel matrix: Determine what tire size fits a given wheel size
Rotor fitment matrix: Determine rotor fitment per given motorcycle model
Pulley fitment matrix: Determine pulley fitment per given motorcycle model
Tire height calculator: Calculate the final tire height based on a wheel's height and width
The "Wheel Right" App that houses the above tools, and more, for Android OS
---
Easy ordering: From fast to creative – 4 trouble-free ways to buy, based on need
Buy 'Staged For Fast Shipping' wheels, online: Various options of Fat 50, (the original "Fat Daddy" spoke wheel), in popular black/chrome configurations – components at the ready and waiting to send out ASAP!
Buy 'Web Custom' options, online: Popular sizes, options and colors of every component within 40, 50, 60 and 80-spoke setups. Swiftly assembled and sent out to customers.
Buy via the 'Wheelbuilder' visualizer, online: An industry first! Choose what sizes, color-configurations and options of a wheel and see what it looks like stand-alone, or on popular H-D models. Same options as Web Custom.
Consult an expert wheelwright: Because every step of the wheel-making process is under one roof – boundless creativity, full control and high quality standards of the most complicated custom request can be handled…with a turn-around faster than most, if not all.
---
Simple, solid security and support
Made in the USA: Entire process to maintain such standards is controlled in-house.
Generous warranty: Lifetime structural/half-year chrome warranty can be effortlessly registered on the website.
Easy factory support: Experts standing by on the website's live-chat. Contact Facebook inbox, email or call our Wheelwrights is always welcome as well.
Sharing knowledge as a dedicated motorcycle wheel company, making ordering simple and being always in support of customers is the Ridewright approach to brand leadership. Experience it for yourself at the new www.RidewrightWheels.com.