Lexington, NC – C&S Custom announced today they are providing high-performance and aerospace-quality HOG-LIGHT swingarms for Harley-Davidson® FXR motorcycles.
C&S Custom asks the question, does your FXR need an attitude adjustment? If so, a lite weight aluminum swingarm will provide a greater performance off idle and in maneuvering by reducing of unsprung weigh by as much as 20 pounds.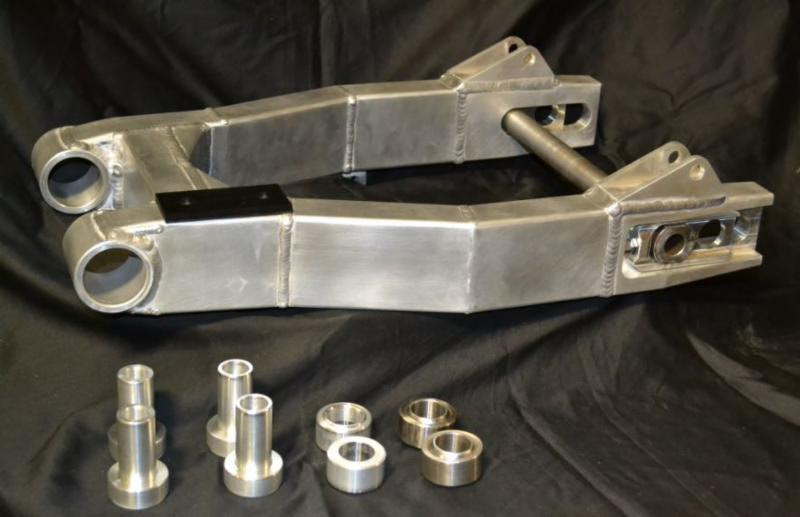 Low Weight FXR Swingarm
For custom or racing applications, enthusiasts can select stock length and up to 6″ over stock. C&S Custom supplies separate units or in kits that include fasteners, wheel and chain, depending upon what is required. The units are designed for all FXRs and all years.
C&S Custom utilizes proven technology to deliver a custom look at affordable prices. The swingarm is machined in house using only military aircraft quality 6061 T6 aluminum. It's specified by C&S because of its tensile strength, fatigue limit and resistant to corrosion even when the surface is abraded.
The FXR swingarms are available in thousands' of powder coat colors, chrome or contrast cut with grooved louvers to match popular aftermarket rims, pulleys and rotors.
"All things being equal, a lighter motorcycle will accelerate faster, stop faster and be easier to turn when changing direction; so when looking for performance, lighter is better," explained Steve Garwood, General Manager. "Our products are designed to go fast and look good doing it."
C&S Custom recommends a professional installation. Pro-consumers who have mechanical ability should budget a weekend for the conversion.
About C & S Custom
Since 1999, C & S Custom has staked out a reputation for being
innovators in the sportbike industry. From simple billet accessories to wide-tire kits to one-off custom built motorcycles, the firm delivers products that are on the leading edge of design. The quality of C & S Custom products and of its custom service always comes first. Visit the company online at
www.candscustom.com/
, as new and innovative products are continually profiled.
____________________________________________________________________________________________________
For dealer information, please contact:
For media information please contact: