(Manheim, PA) December 14, 2018  Post by Sara Liberte

2018 found the Garage-Girls celebrating their 10th anniversary of the Ultimate Biker Makeover.  Contestants (Girls and Guys) were asked to submit a 600 words or less essay – describing why they are most in need of a biker makeover along with a photo. Deadline for entries was June 22nd 2018. Submissions were narrowed down to the final four by selected judges from Garage-Girls. From there, the judges had to make the tough decision of who they felt most deserved the Ultimate Biker Makeover.  Karen's story of powering through not only one type of cancer diagnosis and treatment, but 4 was pretty compelling. How does one get through a blow like that? We all just couldn't get over how tough this must have been for Karen, but were happy to read that riding her motorcycle to chemo and radiation was what empowered her through it all.  This confirmed to us all that we needed to help this woman stay out riding on the road.  Riding was how she was surviving.
Karen has had some time for this all to sink in, her prizes showed up and she got straight to work installing them on her bike. We asked Karen to give us an update on her life since winning the Ultimate Biker Makeover, here is what she shared with us.
"On August 11th, I was standing in a public parking lot when I found my email telling me that I was selected as the winner of the GG Ultimate Biker Makeover.  I screamed, and laughed, and danced around like I was six years old, instead of going on 60!
Just 4 days later, Spectro Oils started the parade of prizes that showed up at my door with everything I needed for my fall tune up!
I had never installed a new fairing on a bike before, and I was so filled with satisfaction and accomplishment when I finished, that I was doing the happy dance in my open garage, all by myself! I am sure if the neighbors were watching, that they would have assumed I was even more eccentric than they originally thought.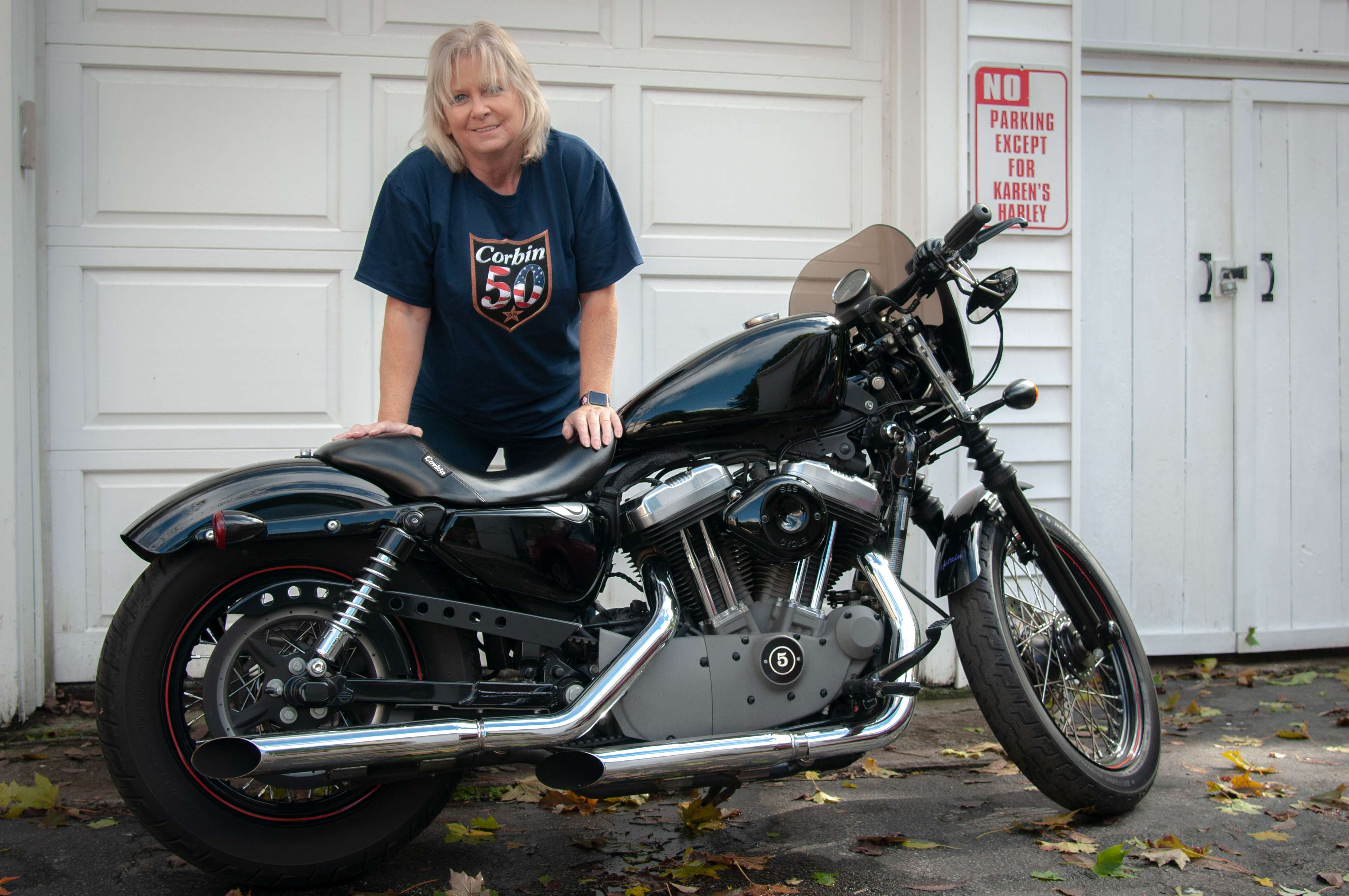 I love the new look that my motorcycle has now. I had always hoped to add these finishing details, but never could allocate the funds. These prizes have really completed the vision I had for my bike in my dreams. My bike's performance has improved with the new air cleaner: no more backfiring!  And installing the fairing certainly helps keep the cold autumn wind off my chest!
I am so grateful and excited, to have been chosen as the winner of this year's contest, that I tell anyone who will listen how awesome Garage Girls and your sponsors are! I am humbled by the extent of the prizes, and I am walking much taller in my new Harley Davidson boots, instead of my old, beat up hand-me downs!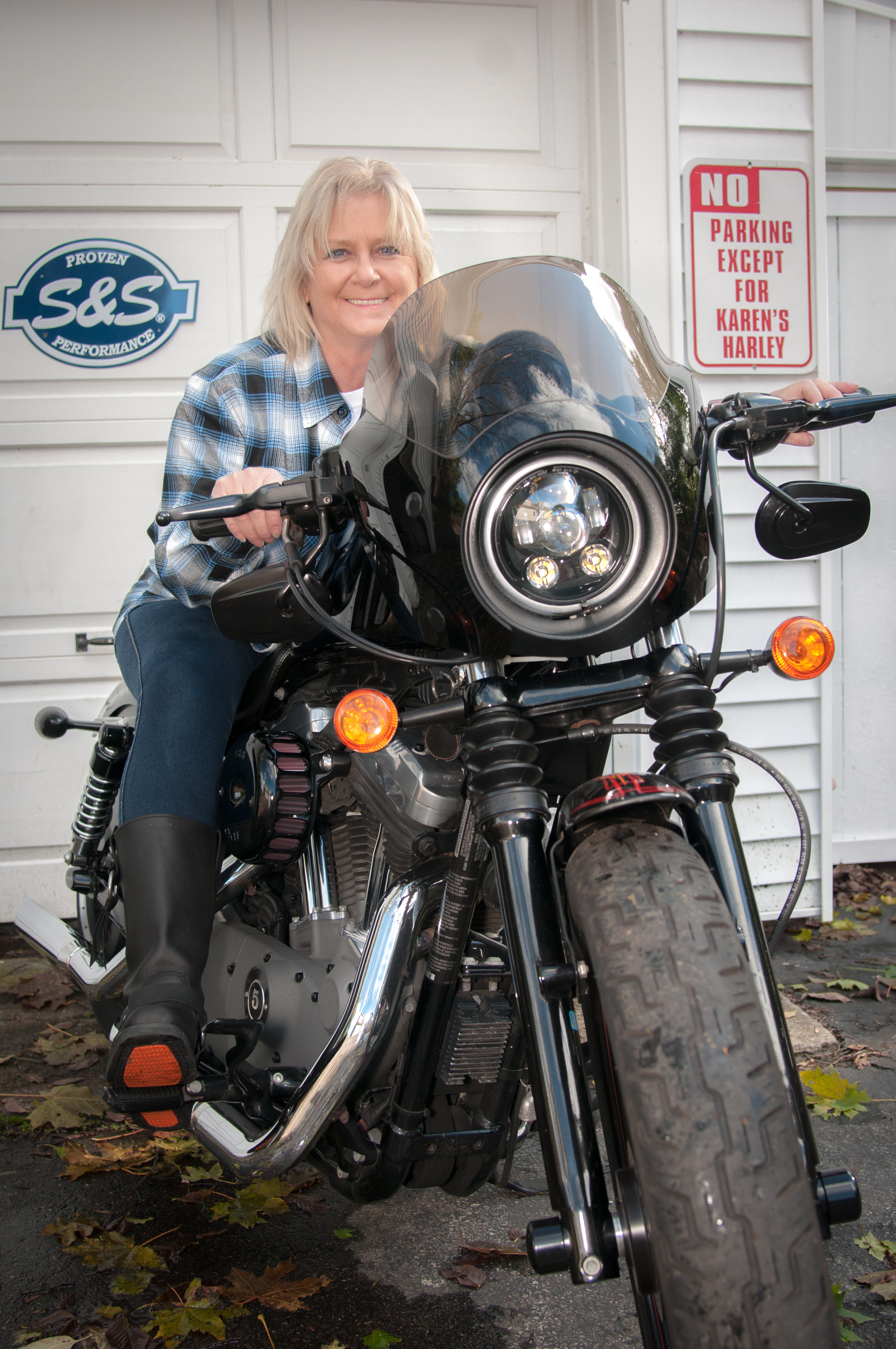 I was a little embarrassed telling my own story to win a contest to only benefit myself. But the actual writing of my story, and having been considered "worthy", has more than made up for my original reluctance! I would certainly encourage every woman to go for the chance to get "Hooked UP" by the Ultimate Biker Makeover. Along with the confidence that being chosen brings, getting down & dirty in your own garage, wrenching on your own bike, is so satisfactory! I love it when guys ask who did the work on my ride, and I simply smugly answer, ME!"