Hot Bike
 

Social Media, Special-Interest Publications and

 

Hot Bike

 

Tour to Continue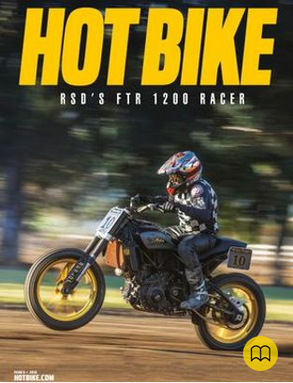 IRVINE, Calif. – (January 10, 2019) Bonnier Corporation announced today it is ceasing publication ofHot Bike magazine, effective immediately. Issue 6 of 2018, on newsstands now, is the brand's last.
"We can't thank Editor-in-Chief Jordan Mastagni and his team enough for making a great magazine," said Bonnier Motorcycle Group Editorial Director Mark Hoyer. "But as media and ad spending continue to change, particularly in the V-twin space, we have shifted our focus and efforts to our larger, more general interest, moto brands."
The

 

Hot Bike

 

brand will continue to be active on social media, in two to three annual special-interest publications, and through events such as the successful

 

Hot Bike

 

Tour that takes place in September.
"For years the

 

Hot Bike

 

magazine has been spared the disruptive changes taking place in the publishing community with ad support from the motorcycle industry," said Bonnier Motorcycle Group SVP, Andy Leisner. "Unfortunately, two significant reductions in ad revenue from an OEM and large aftermarket company hurt the print brand in 2018, and the decision was made to channel this content across other strong Bonnier Motorcycle Group brands."
V-Twin content will continue across

 

Cycle World, the world's largest motorcycle media brand, as well as Bonnier's

 

Motorcyclist

 

and

 

Motorcycle Cruiser

 

titles. Details of the 2019

 

Hot Bike

 

Tour will be announced shortly.
About Bonnier Corporation
Bonnier Corp. is one of the largest special-interest publishing groups in America, with more than 30 multichannel brands extending into all platforms including magazines, digital media, events, and product licensing. Bonnier Corp.'s brands include Popular Science, Saveur, Field & Stream, Yachting, Flying, Salt Water Sportsman, Cycle World, Working Mother, and Outdoor Life. Bonnier Corp. is owned by Swedish-based Bonnier, a multichannel media conglomerate operating in 15 countries.