Old School visual appeal blended with the Rocket III styling and combined with Corbin's attention to aerodynamic design. This stunning fairing looks great while giving excellent wind protection so you can go out and rack up mileage on your Rocket. Subtle sculpting makes it beautiful to look at. Another example of form and function expertly combined in Corbin fashion.
As the fairing is designed to slip through the wind, it creates less turbulence and buffeting, which gives you a quieter and smoother ride than the standard plexiglass windshield. Fairing includes a handy storage pouch on the rider's side to provide convenient access to small items like Sunglasses, Cell phone, or a pair of summer gloves.
If you're looking to keep the Rock rolling, we offer an audio kit upgrade for your Rocket III fairing. Using your Bluetooth device as the source, you'll have 500 watts of power at your fingertips. The dash-mounted controller gives convenient access to most functions so you won't need to fumble with your cell phone– something quite tricky with gloves on. Included with your kit is a pair of JL Audio 5.25″ Coaxial speakers pre-mounted in the fairing.
Corbin's Touring fairing is simple to install with complete directions and all required brackets included. To assure a perfect look on your Rocket the brackets come painted to coordinate with the bike and give a subtle appearance. Installation can be accomplished by an average weekend mechanic. If you opt for dealer installation, it will most likely be only an hour of shop time.
Proudly made in the U.S.A.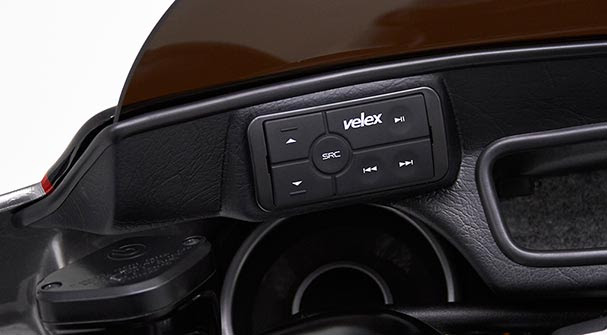 The finest and most comfortable motorcycle saddles available. 
Manufactured with pride in the USA.
#T-R3-20-FAIR                 Touring Fairing for Rocket III, Single Color
#T-R3-20-FAIR-B             Touring Fairing for Rocket III, w/ Multi-Color Graphics
#T-R3-20-AU                    Audio Kit for Rocket III Fairing